Kano Focus, an online publication based in the ancient city of Kano, Nigeria, is established with the aim of reporting on developmental issues and encouraging youth participation in democratic governance to ensure a sane, just and equitable society. Our mission is to report issues affecting all sections of the society, regardless of ethnicity, region, religion or creed.
We are an independent and non-partisan organization that holds public interest sacred and are ready to defend it at all times through factual, courageous, balanced, accurate and fair reporting without fear or favour.
We shall always strive to stand by the truth and hold public office holders to account by keeping tab on fulfillment of electoral promises, exposing misconduct and bringing problems facing members of the public to the knowledge of authorities and stakeholders concerned.
Editorial/Advertorial Policy
We shall not publish or accept any news items, images, videos and other digital material that depict violence and gore, pornography, vulgar, homophobic and xenophobic language or expression of hatred targeted at any religion, region, ethnic identity, personality, gender, group, community or political interests.
We shall endeavour to always avoid reporting or publishing defamatory material against any personality, institution, group, community, gender or professions.
All advertisement content intended to be published on our website must meet the requirements of Advertising Practitioners Council of Nigeria (APCON).
We shall not accept any advertisement on alcohol, illegal drugs, narcotics, intoxicants and other harmful substances, nudity, hate speech and any other material that may be deemed inappropriate.
Our reporters/editors are discouraged from accepting any favours, gifts or gratifications from news sources that may seek to influence their editorial judgment.
To ensure professionalism and to avoid legal pitfalls, we insist that all advertorials/write-ups focusing on politicians and government officials must be screened by our legal advisers before publication. To this end, we shall remove any part of such write-ups that we consider defamatory or inappropriate.
Sponsors of political advertorials/write-ups must also sign an indemnity form before their materials are accepted for publication.
Payment of all advertisements must be made in full and materials must be submitted at least 3 days before publication.
Profile of Publishers:
Maude Rabiu Gwadabe has a PhD in Mass Communication with more than a decade experience in journalism.
He started his career at Triumph newspapers before joining Freedom Radio as a reporter, where he rose to the rank of head of news and current affairs.
He has also worked with BBC Hausa service before he joined Bayero University, Kano where he taught journalism for some years before he set up Kano Today.
Mukhtar Yahaya Usman is a graduate of international relations from Northwest University and has a Master's degree in International Relations and Diplomacy from Bayero University, Kano.
He is the head of international desk at the Freedom radio Kano.
Office Address:
Suite 8, Gidan Yaya, Yahaya Gusau Road, Sharada Phase III
Kano, Nigeria 700234. Tel: 0818 606 9343 and 0808 115 6783
Email: info@kanofocus.com,
Why Nigeria needs deployment of 5G Network – NCC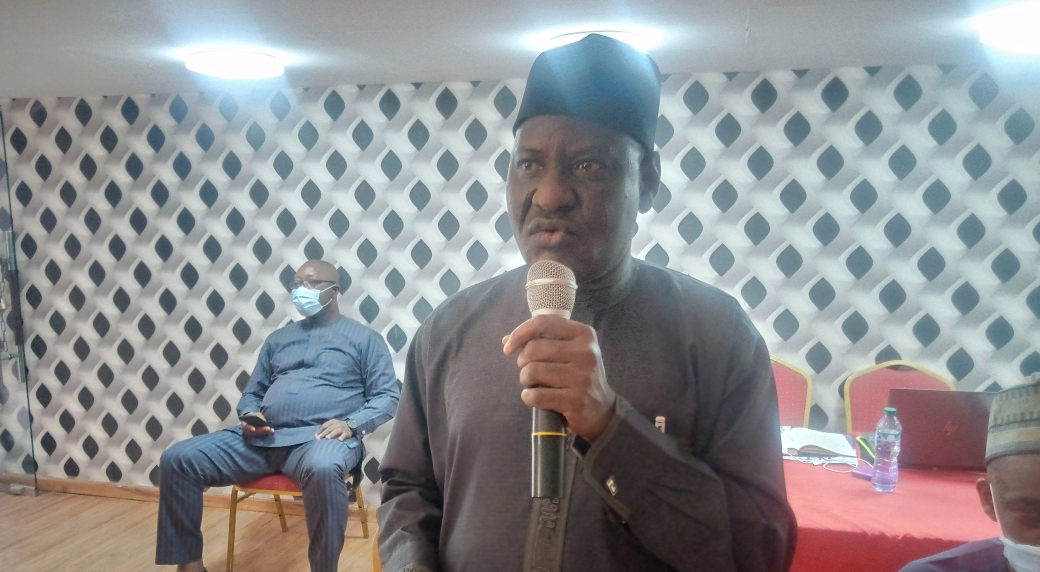 Nasiru Yusuf
The Nigerian Communication Commission (NCC), said Nigeria needs fifth generation (5G) to fully explore the benefits of digital economy.
KANO FOCUS reports that the director technical standards and network integrity in the commission Bako Wakili revealed this at a one day capacity building for media practitioners in Kano.
The workshop themed the role of the media in Nigeria's 5G deployment was to raise awareness amongst media practitioners on 5G deployment.
He said the existing 3G and 4G cannot meet the increasing demand of high speed internet in Nigerian.
According to Wakili, the deployment of 5G technologies will consequently promote the National Digital Economy for a Digital Nigeria that will improve the way Nigerians live and work.
He highlighted some of the benefits of 5G including medical doctors conducting CT scan remotely and factory using data to tweak production.
NCC sets December 10 for mock auction of the 5G
The Executive Vice/CEO of Nigerian Communications Commission, Umar Garba Danbatta said the commission has fixed December 10, for Mock Auction of the 5G in preparation for the Main Auction, which will take place on Monday, December 13, 2021 at the Transcorp Hilton, Abuja.
Danbatta represented by Ikechukwu Adinde, Director Public Affairs of the NCC, Danbatta announced that it is expected that the two slots to be auctioned will be picked up by successful bidders at the end of the auction on Monday, December 13, and following that, the stage will be set for the next phase of 5G roll-out commencing in 2022.
He recalled that on December 1, 2021, the Commission announced that at the close of the bid submission date of November 29, 2021, three companies, namely MTN Nigeria, Mafab Communications Ltd and Airtel Networks Ltd had successfully submitted their bids in line with the requirements of the IM.
The Executive Vice chairman described media as indispensable towards the success of the 5G deployment in Nigeria.
According to him, the theme of the workshop is "5G Deployment and the Next Level of Nigeria's Development.'' is most apt at a time when the Commission is on full throttle to drive the implementation of the deployment of 5G, otherwise called the Fifth Generation Network, in the country following the approval of the Federal Government on September 8, 2021.
"As we progress in our journey of 5G deployment, the media has a critical role in the process by ensuring proper and adequate reportage of the programmes and activities of the Commission as it unfolds the 5G plan.
"From the programme, I can glean that the workshop will feature topics around 5G to equip you with greater insights and knowledge in order to improve your overall understanding of this very important new technology, its usage, opportunities and benefits it offers for the overall development of our socio-economic life," Danbatta said.
He stated that Nigeria's promising 5G Plan has the objectives of ensuring efficient assignment of spectrum for 5G deployment, creating an enabling environment for investment in the telecom industry, ensuring effective deployment of 5G to cover major urban cities by 2025, among others.
He thanked the media for the continuous support to the Commission through effective and unbiased reportage of our regulatory activities, programmes and events.
"We are, therefore, committed to continuing to explore avenues to strengthen and expand the frontiers of our partnership in this regard in order to serve the greater interests of our teeming stakeholders in the telecoms industry, particularly the telecom consumers," he said.
In his presentation, the director public affairs Ikechukwu Adinde said GSM has revolution has greatly impacted on socioeconomic life of Nigerians.
He said so far the telecommunication sector is the most patronise services in Nigeria.
He identified some of GSM contributions including increased availability, accessibility, affordability of telecoms services, major contribution to national economic growth and unprecedented job creation across the industry.
Others are value chain, Increased efficiency in personal, business/official activities, Digital transformation across industry and verticals enabler of other sectors such as banking, media, aviation, medicine, education and agriculture.
Highlights of the event include presentation of certificates and tablets to each participant.
Ganduje jets out to US, transits power to deputy
Kano state governor, Abdullahi Umar Ganduje has travelled to the United States of America (USA) where he is participating in a week-long programme.
KANO FOCUS reports that this was contained in a statement issued by the commissioner for Information, Muhammad Garba on Tuesday.
It indicated that Governor Ganduje was attending an Authentic Leadership Development Programme at Harvard Business School,11 Boston.
He said the governor has transited power and given full mandate to the Deputy Governor, Dr. Nasir Yusuf Gawuna to serve as the Acting governor of the state.
The statement added that all official transactions henceforth should be channeled through the office of the Deputy Governor for necessary action.
Automation, Next Stage of Service Delivery in Public Sector – Danbatta  
Nasiru Yusuf
The Executive Vice Chairman of the Nigerian Communications Commission (NCC), Umar Garba Danbatta has said leveraging the potential of Information and Communication Technology (ICT) to automate service delivery should be the next frontier of excellent service delivery to Nigerians by public institutions.
KANO FOCUS reports that Danbatta made the assertion in a goodwill message presented on his behalf by NCC's Director, Public Affairs, Ikechukwu Adinde, at the opening ceremony of a three-day SERVICOM retreat, which started on December 1, 2021 at the Communications and Digital Economy Complex, Mbora, Abuja.
The retreat focused on, 'Charter Performance Monitoring and Reporting', was aimed at monitoring the implementation of the NCC's Client Service Charter, identifying gaps, measuring and evaluating the progress of service delivery in the Commission.
SERVICOM, an acronym derived from SERVICE COMPACT WITH ALL NIGERIANS, speaks to a special social contract between the Federal Government through its institutions (Ministries, Department and Agencies) and the Nigerian people that ensures services are delivered in a courteous, prompt and efficient manner.
Speaking at the event, attended by staff of NCC, Adinde said the NCC has been living up to its expectation as one of the public institution that has continued to implement the Service Charter with all its various stakeholders.
The Director Public Affairs stated that the digital economy drive of the Federal Government should mean that more services be delivered online to the people of Nigeria and in a more efficient manner in line with the philosophy of SERVICOM.
He said the NCC is an important partner of SERVICOM in its journey towards service delivery and excellence, and invited the participants to recall that fact in the passion and commitment of Prof. Danbatta in ensuring that telecom service providers deliver optimal service to varied categories of stakeholders.
"Therefore, from our perspective as regulator of the digital ecosystem in Nigeria, we feel that automation of service should be the next stage of service delivery.
While we have started this journey with the example of REMITA, which has brought about a lot of efficiency and transparency into the payment remittances by public and Ministries, Department and Agencies (MDAs) of government," Adinde stated.
On the implementation of the NCC Charter for SERVICOM, Adinde said the NCC boasts of one of the best and brightest brains that could be found in the public sector as civil servants, who are ingrained with good work ethics and culture.
"Our staff are renowned for their warmth and geniality when dealing with internal and external stakeholders. They work as a team on the principle of achieving Specific Measurable, Achievable, Realistic, and Time-bound (SMART) objectives of the Commission," he said.
Adinde also listed the roles of the Commission in collaborating with other MDAs in various ways, in order to achieve policy objectives of government in many fronts.
He also highlighted a number of corporate social responsivity (CSR) projects of the Commission being implemented singly or jointly with other MDAs towards achieving the objective of government to serve the citizenry better.
As a further demonstration of the duty NCC owes telecoms consumers, whose interest must be protected in line with Nigerian Communications Act (NCA), 2003, Adinde said NCC created the Consumer Affairs Bureau in September 2001, to ensure consumer protection through policy development and monitoring, advocacy, as well as information and education of all shades of stakeholders.
"Consequently, NCC is one of the few MDAs that has a dedicated toll-free number, designed specifically for the escalation of issues between telecommunications service providers and consumers.
We also constantly monitor the Quality of Service (QoS), ensuring that service delivery issues are within the acceptable key performance indicators (KPIs)," Adinde said.
Meanwhile, the National Coordinator/Chief Executive Officer of SERVICOM, Nnena Akajemili, in her remark at the event, commended NCC for contributing to the cultivation of effective communication between the Commission and its various stakeholders for improved service delivery.
Akajemili acknowledged the commitment of NCC towards facilitating major activities, even as she affirmed that the Commission had improved significantly in delivering its key regulatory functions.
Akajemili also observed that NCC went the extra mile in engaging its stakeholders as well as creating affinity between itself and its stakeholders.
Akajemili stated that she was particularly gratified by NCC's contribution of 11.94 per cent to the nation's Gross Domestic Product (GDP), based on the National Bureau of Statistics (NBS) report for the third quarter of 2021. However, the SERVICOM Chief Executive beseeched the Commission sustain and expand on its collaboration with other Ministries, Departments and Agencies (MDAs) specifically in the area of data management, CSR, Value Added Services (VAS) and short codes, to enhance greater synergy among MDAs.
Head, Legislative and Government Relations, NCC and SERVICOM Nodal Officer at the Commission, Bashir Bello, said SERVICOM, as a service delivery initiative, requires everyone to put in his or her best in achieving desired objectives.
He emphasized the role of Management's support, education, and commitment towards improving and consolidating the various SERVICOM interventions that had been initiated.
The event was attended by SERVICOM Team leads, departmental liaisons officers in the NCC, SERVICOM rapporteurs, and other staff of the Commission.