Kano Focus, an online publication based in the ancient city of Kano, Nigeria, is established with the aim of reporting on developmental issues and encouraging youth participation in democratic governance to ensure a sane, just and equitable society. Our mission is to report issues affecting all sections of the society, regardless of ethnicity, region, religion or creed.
We are an independent and non-partisan organization that holds public interest sacred and are ready to defend it at all times through factual, courageous, balanced, accurate and fair reporting without fear or favour.
We shall always strive to stand by the truth and hold public office holders to account by keeping tab on fulfillment of electoral promises, exposing misconduct and bringing problems facing members of the public to the knowledge of authorities and stakeholders concerned.
Editorial/Advertorial Policy
We shall not publish or accept any news items, images, videos and other digital material that depict violence and gore, pornography, vulgar, homophobic and xenophobic language or expression of hatred targeted at any religion, region, ethnic identity, personality, gender, group, community or political interests.
We shall endeavour to always avoid reporting or publishing defamatory material against any personality, institution, group, community, gender or professions.
All advertisement content intended to be published on our website must meet the requirements of Advertising Practitioners Council of Nigeria (APCON).
We shall not accept any advertisement on alcohol, illegal drugs, narcotics, intoxicants and other harmful substances, nudity, hate speech and any other material that may be deemed inappropriate.
Our reporters/editors are discouraged from accepting any favours, gifts or gratifications from news sources that may seek to influence their editorial judgment.
To ensure professionalism and to avoid legal pitfalls, we insist that all advertorials/write-ups focusing on politicians and government officials must be screened by our legal advisers before publication. To this end, we shall remove any part of such write-ups that we consider defamatory or inappropriate.
Sponsors of political advertorials/write-ups must also sign an indemnity form before their materials are accepted for publication.
Payment of all advertisements must be made in full and materials must be submitted at least 3 days before publication.
Profile of Publishers:
Maude Rabiu Gwadabe has a PhD in Mass Communication with more than a decade experience in journalism.
He started his career at Triumph newspapers before joining Freedom Radio as a reporter, where he rose to the rank of head of news and current affairs.
He has also worked with BBC Hausa service before he joined Bayero University, Kano where he taught journalism for some years before he set up Kano Today.
Nazifi Dawud is a graduate of Mass Communication from Bayero University Kano. He had worked with Daily Trust newspaper for seven years before he voluntarily resigned and established the Daily Focus Online Newspaper.
Mukhtar Yahaya Usman is a graduate of international relations from Northwest University and has a Master's degree in International Relations and Diplomacy from Bayero University, Kano.
He is the head of international desk at the Freedom radio Kano.
Office Address:
Suite 8, Gidan Yaya, Yahaya Gusau Road, Sharada Phase III
Kano, Nigeria 700234. Tel: 0818 606 9343 and 0808 115 6783
Email: info@kanofocus.com, editor@kanofocus.com, adverts@kanofocus.com, opinion@kanofocus.com
Kano state to fully implement TSA by 2020
Nasiru Yusuf
Kano state government has set January 2020 for full implementation of Treasury Single Account (TSA).
Permanent Secretary, Ministry of Finance, Zakari Sadiq Buda disclosed this on Monday at a workshop for Directors of Administration and General Services and Heads of Accounts in public institutions.
Mr Buda, who represented the finance commissioner, Shehu Na Allah Kura said the decision was part of the resolutions of the state executive council meeting of November 2017.
He said the state government has contracted Systems Specs to train civil servants on full implementation of the program.
In his remarks the state TSA program manager, Seth David Gana said the training would expose participants to operate the TSA software.
Mr Gana said TSA implementation would enhance transparency in governance as it enables governments to track its finances at any point.
Only 35% of HIV positive people in Kano are on medication – SACA
Nasiru Yusuf
The Director General of Kano State Agency for the Control of AIDS, Sabitu Shanono  says only 35 % of People Living with HIV/AIDS in Kano are on medication.
KANO FOCUS reports that Mr. Shanono, a medical doctor, revealed this on Monday when he paid an advocacy visit to Emir of Karaye Ibrahim Abubakar II at his palace.
Mr Shanono said the SACA will launch an HIV/AIDS awareness campaign at the newly created Karaye Emirate  next month.
The Director General said the campaign will complement the compulsory HIV test for pregnant women attending ante-natal clinics.
Kano seals off health centre for employing 'unqualified personnel'
Ganduje re-appoints suspended district head as chairman of Kano Contributory Healthcare board
Kano kidney patient, who sought N15m for transplant, dies
He therefore solicited the support of the Karaye Emirate in the fight against HIV/AIDS.
In his remarks the Emir of Karaye, Ibrahim Abubakar affirmed his readiness to provide royal support to ensure the fight against the disease records a huge success.
He also called on his subjects to attend the Heart to Heart centers in public hospitals to verify their HIV status.
KAROTA to limit Adaidaita Sahu tricycles in Kano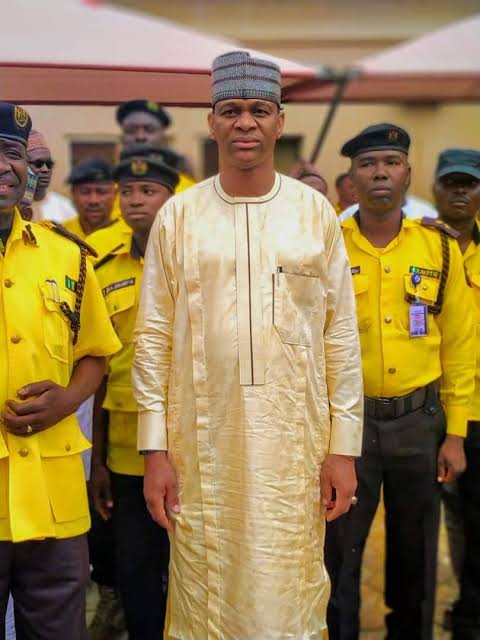 Mukhtar Yahya Usman
The Kano State Road Traffic Agency (KAROTA) has announced plans to reduce the number of Adaidaita Sahu tricycles in Kano.
KANO FOCUS reports that the KAROTA Managing Director Bappa Babba Dan Agundi disclosed this on Monday while defending the agency's budget before the Kano state House of Assembly.
Mr Dan Agundi said KAROTA will introduce a new registration regime that will reduce the number of Adaidaita Sahu tricycles operating in Kano from the current 500,000 to a maximum of 200,000.
He also said that KAROTA will install security trackers on registered Adaidaita Sahu tricycles across the state.
Soldiers in police net for 'brutalizing' KAROTA officers
KAROTA officer crushed to death by runaway motorist
KAROTA convicts 5,000 in one month, considers community service for traffic offenders
"The decision to commence the installation of the trackers on tricycles followed the state government's decision to allow them to continue operating in the state.
"Therefore, it is necessary for us to embark on such installation, aimed at monitoring their operations across the state." He said.
He added that the KAROTA aims to generate a revenue of N6,000,000,000.00 in 2020 via vehicle registration and fines on traffic offenders.
Mr Dan Agundi however said KAROTA will introduce community service as a punishment for traffic regulations offences as its main purpose is not revenue generation.