Kano Focus, an online publication based in the ancient city of Kano, Nigeria, is established with the aim of reporting on developmental issues and encouraging youth participation in democratic governance to ensure a sane, just and equitable society. Our mission is to report issues affecting all sections of the society, regardless of ethnicity, region, religion or creed.
We are an independent and non-partisan organization that holds public interest sacred and are ready to defend it at all times through factual, courageous, balanced, accurate and fair reporting without fear or favour.
We shall always strive to stand by the truth and hold public office holders to account by keeping tab on fulfillment of electoral promises, exposing misconduct and bringing problems facing members of the public to the knowledge of authorities and stakeholders concerned.
Editorial/Advertorial Policy
We shall not publish or accept any news items, images, videos and other digital material that depict violence and gore, pornography, vulgar, homophobic and xenophobic language or expression of hatred targeted at any religion, region, ethnic identity, personality, gender, group, community or political interests.
We shall endeavour to always avoid reporting or publishing defamatory material against any personality, institution, group, community, gender or professions.
All advertisement content intended to be published on our website must meet the requirements of Advertising Practitioners Council of Nigeria (APCON).
We shall not accept any advertisement on alcohol, illegal drugs, narcotics, intoxicants and other harmful substances, nudity, hate speech and any other material that may be deemed inappropriate.
Our reporters/editors are discouraged from accepting any favours, gifts or gratifications from news sources that may seek to influence their editorial judgment.
To ensure professionalism and to avoid legal pitfalls, we insist that all advertorials/write-ups focusing on politicians and government officials must be screened by our legal advisers before publication. To this end, we shall remove any part of such write-ups that we consider defamatory or inappropriate.
Sponsors of political advertorials/write-ups must also sign an indemnity form before their materials are accepted for publication.
Payment of all advertisements must be made in full and materials must be submitted at least 3 days before publication.
Profile of Publishers:
Maude Rabiu Gwadabe has a PhD in Mass Communication with more than a decade experience in journalism.
He started his career at Triumph newspapers before joining Freedom Radio as a reporter, where he rose to the rank of head of news and current affairs.
He has also worked with BBC Hausa service before he joined Bayero University, Kano where he taught journalism for some years before he set up Kano Today.
Nazifi Dawud is a graduate of Mass Communication from Bayero University Kano. He had worked with Daily Trust newspaper for seven years before he voluntarily resigned and established the Daily Focus Online Newspaper.
Mukhtar Yahaya Usman is a graduate of international relations from Northwest University and has a Master's degree in International Relations and Diplomacy from Bayero University, Kano.
He is the head of international desk at the Freedom radio Kano.
Office Address:
Suite 8, Gidan Yaya, Yahaya Gusau Road, Sharada Phase III
Kano, Nigeria 700234. Tel: 0818 606 9343 and 0808 115 6783
Email: info@kanofocus.com, editor@kanofocus.com, adverts@kanofocus.com, opinion@kanofocus.com
Kano schools reopen after 5 months closure
Nasiru Yusuf
Schools in Kano have reopened on Monday after five months closure due to COVID-19 Pandemic.
Kano Focus recalls that the state government has on March 19 directed the closure of public and private schools as part of measures against the spread of COVID-19.
However, on Monday August 3 the government approved the reopening of schools for senior secondary schools students.
The Commissioner of Education Muhammad Sanusi Kiru announced that the opening is to allow SS III students to write their final examinations.
WAEC: Kano merges 33 boarding schools into 12 centers
Kano Focus observed how many students on Monday defied early morning downpour to attend classes, which could be perceived as a clear indication of their commitment to go back to school.
Speaking while on inspection tour to Government Girls Secondary School Shekara and First Lady's College Mariri, Kano state commissioner of education Muhammad Sanusi Kiru said he was happy that the school authorities followed the approved guidelines in preparation for the forthcoming WAEC examinations.
Mr Kiru urged the students to use the PPEs provided for them and maintain social distancing.
He also advised them to be serious in their examinations so as to have good results worthy of pride by their parents and the state.
Blasphemy: Kano court sentences singer to death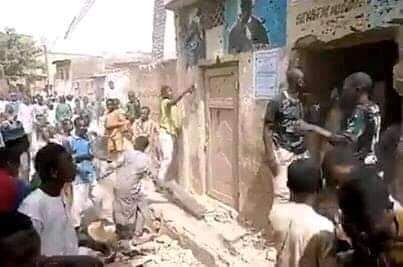 Mukhtar Yahya Usman
The Kano Upper Shari'a Court sitting at Hausawa Filin Hockey has sentenced a 22-year old man to death by hanging for blaspheming against Prophet Muhammad (pbuh).
Kano Focus reports that Khadi Aliyu Muhammad Kani gave the verdict on Monday after finding Yahaya Aminu Sharif guilty as charged.
Sharif, a resident of Sharifai in Kano metropolis was accused of committing blasphemy against the prophet in a song he circulated via WhatsApp in March 2020.
Following the incidence, protestors burnt down the singer's family home and led a procession to the Kano Hisbah Command's headquarters.
Kano blasphemy: Father of suspect disowns son
The court has also sentenced one Umar Farouq of Sharada area of Kano metropolis to 10 years imprisonment for making derogatory statements concerning the Almighty Allah in a public argument.
Rain, hailstones destroy N40 million crops in Bagwai LG
Nasiru Yusuf
Heavy rain and hailstones have destroyed crops worth over N40million in Bagwai local government, according to the council vice chairman Aminu Ibrahim Gogori.
Kano Focus reports that the heavy downpour on Monday night destroyed maize, onion, sesame, millet, and cotton crops.
Mr Gogori said the affected areas are Gadanya, Gadanya Gabas, Jobe, Tsauwa, Tsattawa and Galawa.
He pointed out that over 445 farmers were affected by the disaster.
Pensioners in 14 Kano LGs yet to receive July payment
He said the council is assessing the exact cost of the damage in order to forward it to appropriate authorities for necessary action.
In their separate remarks the village head of Gadanya Shuaibu Abubakar and his counterpart of Jobe village Abdullahi Lawal called on federal and state governments to come to their rescue.
When contacted, the Executive Secretary Kano State Emergency Management Agency (SEMA) Sale Aliyu Jili described the incident as devastating.
Mr Jili appealed to National Emergency Management Agency (NEMA) and corporate organizations to assist the victims.
He pledged that SEMA will do its best to assist disaster victims  in Kano state.