Kano Focus, an online publication based in the ancient city of Kano, Nigeria, is established with the aim of reporting on developmental issues and encouraging youth participation in democratic governance to ensure a sane, just and equitable society. Our mission is to report issues affecting all sections of the society, regardless of ethnicity, region, religion or creed.
We are an independent and non-partisan organization that holds public interest sacred and are ready to defend it at all times through factual, courageous, balanced, accurate and fair reporting without fear or favour.
We shall always strive to stand by the truth and hold public office holders to account by keeping tab on fulfillment of electoral promises, exposing misconduct and bringing problems facing members of the public to the knowledge of authorities and stakeholders concerned.
Editorial/Advertorial Policy
We shall not publish or accept any news items, images, videos and other digital material that depict violence and gore, pornography, vulgar, homophobic and xenophobic language or expression of hatred targeted at any religion, region, ethnic identity, personality, gender, group, community or political interests.
We shall endeavour to always avoid reporting or publishing defamatory material against any personality, institution, group, community, gender or professions.
All advertisement content intended to be published on our website must meet the requirements of Advertising Practitioners Council of Nigeria (APCON).
We shall not accept any advertisement on alcohol, illegal drugs, narcotics, intoxicants and other harmful substances, nudity, hate speech and any other material that may be deemed inappropriate.
Our reporters/editors are discouraged from accepting any favours, gifts or gratifications from news sources that may seek to influence their editorial judgment.
To ensure professionalism and to avoid legal pitfalls, we insist that all advertorials/write-ups focusing on politicians and government officials must be screened by our legal advisers before publication. To this end, we shall remove any part of such write-ups that we consider defamatory or inappropriate.
Sponsors of political advertorials/write-ups must also sign an indemnity form before their materials are accepted for publication.
Payment of all advertisements must be made in full and materials must be submitted at least 3 days before publication.
Profile of Publishers:
Maude Rabiu Gwadabe has a PhD in Mass Communication with more than a decade experience in journalism.
He started his career at Triumph newspapers before joining Freedom Radio as a reporter, where he rose to the rank of head of news and current affairs.
He has also worked with BBC Hausa service before he joined Bayero University, Kano where he taught journalism for some years before he set up Kano Today.
Mukhtar Yahaya Usman is a graduate of international relations from Northwest University and has a Master's degree in International Relations and Diplomacy from Bayero University, Kano.
He is the head of international desk at the Freedom radio Kano.
Office Address:
Suite 8, Gidan Yaya, Yahaya Gusau Road, Sharada Phase III
Kano, Nigeria 700234. Tel: 0818 606 9343 and 0808 115 6783
Email: info@kanofocus.com,
Ganduje donates N3.6m to families of Doguwa flood victims
Nasiru Yusuf
Governor Abdullahi Ganduje of Kano state has paid condolence visit to the families of 18 Doguwa flood victims and donated the sum of two hundred thousand Naira to each of the victims family.
KANO FOCUS reports that Ganduje prayed for the repose of the departed souls of those who died as a result of the heavy downpour.
"When the information of this sad tragedy reached us we were seriously shocked. May Allah Forgive the victims, who died as martyrs, being washed away by flood. May He give them the ultimate reward of Jannatul Fiddaus, ameen," the governor prayed.
Families of the victims expressed appreciation to the governor and his entourage and prayed to God to guide him in steering the affairs of the state.
It will be recalled that on July 23, about 18 persons including six members of a family have perished in a ghastly car accident in Doguwa Local Government Area.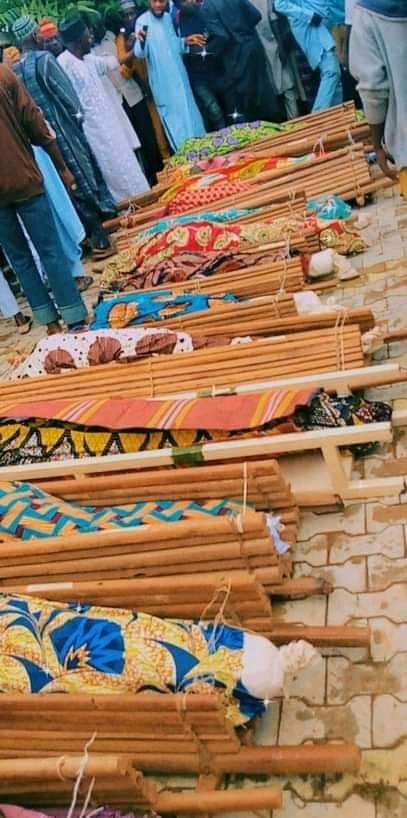 The Sector Commander of the Federal Road Safety Corps (FRSC) in Kano State, Zubairu Mato, said the accident occurred when a bridge linking Riruwai and Doguwa broke down as a result of the heavy downpour, and the driver wasn't aware that the bridge had broken down.
He explained that the vehicle plunged into the water, killing all the 18 passengers on board including six members of same family.
The family members have been identified as Bashir Doguwa, Malami Gidan-Tanimu, Safiya Mukhtar, Shahida Bashir, Fatima Rabi'u, Uzairu Bashir, all of Doguwa Local Government Area of Kano State.
Doguwa and his family were on their way from Doguwa to First Lady Secondary School in Dambatta Local Government Area of the state to visit his daughter, Firdausi Bashir, who is among the students writing the ongoing NECO SSCE examinations.
2021 Museum Day: Danbatta Harps on Innovative Museums for Sustainable Development 
Nasiru Yusuf
The Executive Vice Chairman and Chief Executive Officer (EVC/CEO) of the Nigerian Communications Commission (NCC), Umar Garba Danbatta has called for ingenious ways of collecting antiquities relevant to operations of various organizations in the country in order to preserve the relics that can bridge the knowledge gap needed for sustainable development of Nigeria.
KANO FOCUS reports that Danbatta, who was represented by the Executive Commissioner, Stakeholders Management (ECSM), NCC, Adewolu Adeleke, made the call recently in Abuja when the Commission joined in the celebration of the 2021 international museum day with the theme, "the future of museums: recover and reimagine".
While speaking on the theme, Danbatta said it appropriately captures the reason the commission established a special museum for the telecommunications industry in the country, as it is intended to bridge the historical knowledge gap in the evolution of communication as well as   meeting the need for information by future generations.
"The NCC communications museum was established in November, 2006 for documentation of historical collections on the evolution of communications in Nigeria. Communication artifacts were identified in various locations across the Country where postal and telecommunication offices were established in order to retrieve relics for exhibition".
Danbatta explained further that the museum should be seen as an important resourceful centre that can stimulate critical thinking and creative ideas for expanding the frontiers of knowledge and advancement of development in relevant sectors of the economy.
"Our museum is designed and reinvented to conserve the history of the Nigerian telecommunications industry and we see it as very important to collect, exhibit and preserve telecommunications items to enlighten and educate stakeholders on the evolution of communications with a view to nudging our minds towards critical thinking that will bring about new innovations to assist in building a better future for our industry and the nation.
"The NCC Museum plays valuable roles in supporting the Commission's agenda by providing unique information resources to cater for historical needs of the future generations, while building capacity and stimulating innovations to assist in fashioning out a better future for the Nigerian communications industry," Danbatta added.
Speaking further at the event, Danbatta said the NCC Museum Day is a demonstration of the Commission's commitment to facilitating learning and collaboration with relevant Museum professional bodies, in order to conserve antiquities used to develop the industry, in the best possible manner for socio-economic impact of the nation."
The Museum generally plays important roles in the society by conserving the past and helping to shape the future through providing needed insight into history, while educating future generations and equipping them with the requisite information and knowledge for sustainable development.
The Director General, National Commission for Museums and Monuments (NCMM), Abba Isa Tijani was represented at the event by the Assistant Director, Museums, Kilba Zainab Uche, who presented a brief on the 'Role of Museum in the Digital Era'.
Kano records highest number of sickle cell patients in Nigeria
Nasiru Yusuf
Kano state has the highest sickle cell patients in Nigeria, a consultant haematologist at Aminu Kano Teaching Hospital said.
KANO FOCUS reports that Dalha Halliru Gwarzo disclosed this in an interview with Hospital's newsletter as part of the 2021 World Sickle Cell day.
He added that Lagos is the second state with highest number of sickle cell cases in the country.
Mr Gwarzo said India, Democratic Republic of Congo and Nigeria constituted 90% of the sickle cell patients worldwide.
On the causes of sickle cell disease, Mr Gwarzo said it is a genetic inherited disease from parents who are either SS, or AS genotype as a result of genetic condition or mutation of abnormal form of red blood cell.
He advocated for compulsory screening of infants after birth and school children, pre-marital counseling/tests, subsidising cost of medication/treatment and mass sensitisation campaign on dangers of the disease.
Mr Gwarzo noted that, although there is no known cure for sickle cell disease, but developed countries are using a high technology for manipulation of the genetic cells by bone marrow and stem cells transplant, which cost about fifteen million Naira in countries like United States, Germany, United Kingdom and Canada.