Last week in Kano : Interesing pictures from 17 – 23 December 2018
Ganduje employs 920 health workers
By Nazifi Dawud
Governor Abdullahi Ganduje has presented employment letters to a total of 920 health workers as part of efforts to improve and strengthen healthcare service delivery in Kano state.
The governor issued the letters to the new employees on Friday at Coronation Hall, Government House.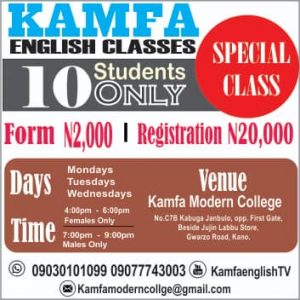 Speaking at the event, Mr Ganduje assured that his administration would ensure that all primary healthcare services are integrated.
"This will ensure quality control and effective management of the system," he said according to a statement by Abba Anwar, his chief press secretary.
"The wisdom behind the One Roof arrangement is to have optimum utilisation of our staff, with all sense of belonging and seriousness. With this, we can be so sure of harmonious synergy and effective management of both staff and resources.
"We are always interested in having stronger institutions for our health care delivery system. At all levels, from primary to secondary and tertiary levels," he added.
The governor also directed the state Commissioner for Health Dr Aminu Ibrahim Tsanyawa to conceive a process that would enable hardworking staff to be recognized and rewarded.
"Let's get best performing doctor, best performing pharmacist, best performing nurse, best performing laboratory technician and all other areas in the health sector. We need to evolve a process of rewarding commitment and hard work," he said.
BUK increases students fees, introduce others
Maude Rabiu Gwadabe
Bayero University Kano (BUK) has increased hostel and administrative fees for both undergraduate and postgraduate students.
KANO FOCUS reports that the university senate approved the increase in its 378th meeting as reported in the BUK official bulletin.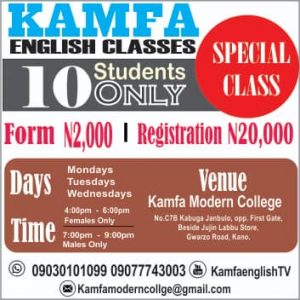 The university registrar, Amina Umar Abdullahi stated that hostel fees for Nigerian postgraduate students has been increased from N12,150 to N25,150.
Mrs Abdullahi said international postgraduate students will pay N80,000 in the 2019/2020 session instead of N60,000.
BUK non-teaching staff join nationwide strike
BUK lecturer saves Kano-Abuja trees from Julius Berger
BUK expels 24 students for falsifying qualifications
Also undergraduate students will pay N20,090 hostel fee  instead of the previous N12,090, while a bed space without mattress will now cost N12,090 instead of the former N7,090.
In addition, the university has doubled the acceptance fee for all undergraduate courses from N5,000 to N10,000.
Mrs Abdullahi added that the re-issuance of statement of result now costs N1,000 as against the former N500.
The registrar also announced the introduction of new administrative charges.
According to her, Certificate of English Proficiency, re-issuance of admission letters, and correction of names on the admission letter now attract charges of N1,000 each.
She added that reprinting of Course Registration Forms (CRFs) or evidence of payment of registration fees will now cost N500 each.
NOTAP empowers BUK to patent research results
SSANU distributes motorcycle loans in BUK
The BUK senate has also introduced the payment of additional N3,000 for Pharmaceutical Science students and N20,000 for M.Sc. Architecture students.
Other charges approved by the senate include N5,000 per session for B.Sc. and B.Sc.(Ed) Geography in the School of Continuing Education as well as N10,000 for field trip for Level 500 students of both courses.
The registrar added that the BUK senate has also increased membership fees of all students associations from N200 to N300 which will now be collected centrally with effect from the 2019/2020 session.
Kano doctor emerges best staff at Nigeria's primary healthcare agency
By Nasiru Yusuf
A Kano-born medical doctor, Laila Umar Ibrahim has emerged as the 2018 best performing staff at the National Primary Health Care Development Agency (NPHCDA).
The "best performing staff" award tagged 'Professor Shehu Umar', was introduced by the NPHCDA as a way of rewarding staff who exhibit "extraordinary commitment and selfless service."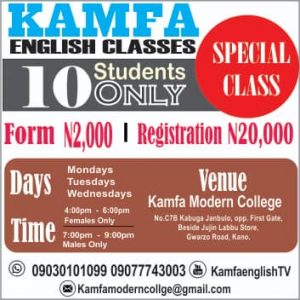 Commending the awardee at a special ceremony held at Emir's Palace, Kano on Thursday, Executive Director of the agency Faisal Shuaib described Mrs Ibrahim as "a strong staff who excelled in working with government institutions and development partners to improve service delivery in primary health care."
Mr Shuaib, a medical doctor, said the award was conceived to appreciate the selfless contribution of the agency's staff towards attainment of the NPHCDA mandate.
He added that Mrs Ibrahim played a significant role in the newly established National Emergency Maternal and Child Health Intervention Centre (NEMCHIC).
In his remarks Emir of Kano Muhammad Sanusi II described Mrs Ibrahim as a perfect example of success in his campaign for girl-child education.
Mr Sanusi said he hoped Mrs Ibrahim's success would encourage other parents to allow their female children to receive good education while husbands would also allow their wives to participate in public service.
The monarch also thanked the agency for initiating the award and called on others to follow suit.
On his part, the awardee's father, Umar Ibrahim thanked the management of NPHCDA for recognizing and rewarding his daughter's effort.