How Almajirai can fetch N3bn quarterly revenue for Kano state
Abbas Yushau Yusuf
Recently there has been a controversy regarding a statement issued by the National Security Adviser that federal government is mooting the idea of banning Almajiranci in northern states. The statement generated uproar as government did not expatiate on how to go about the policy. Later, presidential spokesman Garba Shehu said the ban is not an immediate one.
For almost a decade Nigeria has been confronted with security challenges like kidnapping, armed robbery and above all insurgency. Some individuals have associated the rising crime to neglect of the child especially in Northern Nigeria.
Almajiranci has been bastardized by the very people who are operating it. Many Nigerians from the South see it as a phenomenon that breeds crime, which is far from the truth.
Every society has a system of imparting knowledge to the people. Almajiri is a dignified being. The word Almajiri was derived from Arabic word Almuhajir. It means someone who migrated from his native town in search of knowledge, not a criminal as some ignorant people are insinuating.
It wasn't so
In the olden days when a child was taken to a Tsangaya, that is, an Almajiri school, his father accompanied him with foodstuff and some dues to be given to the Qur'anic scholar who teaches and supervises the students from the first stage of learning to a time when the child will graduate.
The Almajiranci system of Qur'anic education is a great heritage among the Muslims in northern Nigeria and is among the best systems of acquiring sound knowledge. There are international Islamic scholars that are graduates of the Almajiranci system. Some have written the Qur'an, and have traversed this world.
Instead of banning Almajiranci there are ways that government can reform the system, so that the northern society will continue to wax stronger in terms of knowledge and scholarship.
224,134 pupils write Common Entrance Exam in Kano
Kano state cannot educate all pupils – SUBEB
22 Corps members to repeat service year in Kano
The best knowledge among mankind is the knowledge of the Qur'an which is the word of Allah, our creator. There are many scientific words from the Qur'an that shape and guide old and emerging scientists the world over.
Statistics show that in Kano alone there are three million children roaming the streets and it is said that they are mostly Almajirai. Kano is the hub of northern Nigeria in every aspect of human endeavor and if the state is rotten many northern states will smell and they too will be rotten.
As a result of politics and incoherent policies, Kano state governments are not seriously exerting their power to reform the Almajiri system which other northern states may follow suit. Kano state Government under Ibrahim Shekarau took some steps to reform the system but successive governments in the state did not take steps to consolidate the achievement made by  Shekarau on Almajiranci.
Mining Camps to the rescue
In one of the best discussions on Almajirai I had with a researcher in northern Nigeria Comrade Sabiu Sani Abubakar known as Comrade Mala, who is now called the Ambassador of Almajirai, he told me that there are ways to reform the system if northern governments are serious about it.
Comrade Mala conducted a research in Northern Nigerian states where they have Almajirai by sampling the schools. He found that they are still the best in giving Qur'anic knowledge to the people. He said as there are levels of education in formal schools across the world it's also found at Almajirai School. His research revealed the following categories of Almajirai; Kotso, Kolo, Titibiri, Gardi, Alaramma, Gangaran, Gwani and Mahiru. Kotso corresponds to nursery pupils, Kolo; primary, Titibiri; junior secondary, Gardi; SSCE graduates, Alaramma; university graduates, Gangaran; Master's degree holders, Gwani; PhD holders, while Mahiru corresponds to a professor.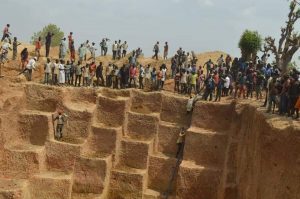 Comrade Mala said for Kano to reform Almajiranci and gain employment for the teeming Almajirai and generate revenue the following strategy should be adopted. Kano state is blessed with sites where there are mines at Rano, Doguwa and Dambatta. The government should create mining camps at each site, where three thousand Almajirai at the level of Gardi would be employed.
The three mining camps should be set up in conjunction with foreign companies. The one thousand Almajirai in each camp will be spending six days mining for six hours with the exception of Friday. In each of the three camps the Almajira will spend 6 hours every day which is 36 hours. If you multiply the working hours by three months you will get 432,000 hours.
This will enable the Kano state government to generate N3billion quarterly. Part of the money will be used to feed the Almajiri workforce, pay them allowances and pay their tutors. The Almajirai could be taught science courses like Mathematics and Mining Technology in the camp. That would absolve them from indolence.
Unfortunately, talent is not honored in Nigeria.
Abbas Yushau Yusuf can be reached at abyushau2@gmail.com
Sex for marks and the culture of victim blaming
Hadiza S. Ibrahim
The 'sex for grades' phenomenon uncovered by the BBC Africa Eye documentary in the University of Lagos was published on YouTube on October 7, 2019, and has gone viral in the social media. This has led to a domino's effect in other higher institutions.
In response to this, some commentators are of the view that it is not only the universities' male lecturers that are to be blamed, but the female students should be blamed even more. They argue that some female students lead the lecturers on or seduce them by making sexual advances to the lecturers privately in their offices when they fail to meet up pass marks.
Sex for marks: Blame the students
However, even though some female students seduce male lecturers into having sex for grades, we cannot dispute that female students stand at more risk of being pressurized and exploited by male lecturers in the pursuit for sex for marks. There are more facts of vulnerability as seen in the documentary, from the side of the female students who are sometimes underage and become victims of sexual harassment from male lecturers at different variations ranging from verbal or physical abuses, blackmail, molestation or rape.
For the lecturers, they stand no risk at all. First, they have a choice, whether to fall into the temptation of their female students' sexual advancement or turn them down. If they agree to the advances of their female students, they end up not as victims but rather as counterparts to the criminal offenses.
Sex for Marks: Kano Poly to punish randy lecturer
Kano court remands Vice Principal over sexual harassment
On the other hand, the female students who are sexually harassed by their male lecturers find themselves victimized. They are left with the choice of either being sexually abused or stand the risk of forgoing their grades; or in some instance, repeating a class/year of academic study, or even get withdrawn from the school. Consequently, such female students stand the risk of being oppressed, silenced and depressed. In some cases, where there is no immediate help, with no justice after being threatened by their predators, such female students go as far as attempting suicide because of trauma from the experience of sexual harassment, molestation or even rape.
In cases where lecturers are reported, the authorities are reluctant in implementing policies regarding criminal offenders or do nothing about it. This has led to a culture of impunity among the lecturers. For example, in the BBC Sex for Grades documentary there is even room commonly known as the 'cold room' in the Senior Staff Club of the University of Lagos where lecturers have affairs with students openly.
Sex for Marks: How Kano students are suffering in silence
So, the question is, who is at a greater risk of being victimized, the female students or the male lecturers? The gravity or effect of these occurrences in the lives of the victims is what is of greater concern.
Hadiza S. Ibrahim is a Life Coach based in Kano
Sex for marks: Blame the students
Abba Ibrahim Gwale
The BBC has indeed conducted an excellent investigation into the sexual harassment of female university students by the lecturers, but I blame the students more.
A lecturer once told me that one of his female students came late to a test. After the test, the student entered another class, ruffled her dress, and exposed half her breasts, retouched her make-up and approached the lecturer's office. Before going, she confided to her friends that she was going to seduce the lecturer into giving her another test.
Unknown to her, a male student overheard her and reported to the lecturer. The moment she entered the office, the lecturer shouted at her to get out. From that day she had been avoiding the lecturer.
Another lecturer told me that a female student once told him that she couldn't pass his examination however much she tried and was therefore willing to give him whatever he wanted from her.
"Whatever I want?" he asked her.
"Yes, you do understand what I mean." She replied.
Also, when I was in Level 200, one of my female course mates was unable to submit an assignment on schedule. She went and wore a revealing dress and knocked on the lecturer's door. Fortunately for him, he wasn't in.
Sex-for-marks: How we caught Kano Poly lecturer–Muhuyi
Sex for Marks: Kano Poly to punish randy lecturer
Kano Poly lecturer in prison 'for sexually harassing female student'
I know another lecturer who received a text message from a female student after she had sat for his exam. In the text, she wrote that she knew she didn't perform well but needed to pass the exam. She therefore was willing to offer herself to him. She ended the message by begging him to tell her where he would like to meet her.
There is another lecturer who was told by a married woman that she was willing to have sex with him if only she would pass his course. She even urged him not to waste time as her husband was about to return from a journey.
There is yet another lecturer who I found in a sad mood in his office. He told me that he was about to terminate his employment with the university. When I asked him for a reason, he confided that his students have been trying to seduce him. He narrated a lot of stories regarding several female students.
Kano court remands Vice Principal over sexual harassment
Sex for Marks: How Kano students are suffering in silence
This problem is also prevalent in secondary schools where many male teachers suffer from the seductive cravings of female students.
However this is not to absolve the lecturers from blame as they are also guilty of harassing students sexually. In fact, the lecturers initiated the problem by demanding sex from their students. Nevertheless the students have become willing partners in this heinous crime.
Abba Ibrahim Gwale is a journalist based in Kano.
How Kano has become Kidnappers Den
Abbas Yusha'u Yusuf
For the past four years Nigerians are awash with news of kidnappings of high and low profile personalities. Citizens whose loved ones are frequent travelers on Nigerian highways are not that tranquil unless until they relations return safely from their journeys.
A number of deviant Nigerians are exploiting the opportunity to make money from kidnapping; some are obscure while others are prominent. The horrors with which kidnappers are visiting Nigerians have made them to lose hope as if the crime is getting out of government's hands. The security and welfare of people should be the primary responsibility of government.
For the past thirty years the springing of disperse settlements are making Kano city to be a haven for different categories of people apart from those living in the ancient city surrounded by  the old city wall.
Previous governments have frowned at how unorganized settlements are frustrating efforts in making the city one of the best even though its master plan has been disrupted severally by allocation of plots by the same governments calling on residents to help organized the city.
Wadume: Notorious kidnapper arrested in Kano
The failure of urban planning in Kano metropolis
The plight of rural dwellers in Kano
No one will purchase a piece of land or a house without a ward head or a village head signing the receipt but the big question is why are kidnappers hiding in Kano?
When Magajin Garin Daura was abducted for more than 42 days, his captors brought him to Kano. People were thinking that Magajin Garin Daura was not even alive or was flown out of the country, but unfortunately he was found in Kano.
The most terrifying thing of recent was that of Hamisu Bala Wadume, a kidnapper who escaped from the Intelligence Response Team of the Nigerian Police with the aid of soldiers as he confessed. His port of call was Kano.
Every sane person knows very well that government alone cannot commit enough resources to secure the whole of Kano people. Kano residents must therefore stand up and initiate ways to ensure their security so that they will not be sleeping with kidnappers and other criminal elements.
Recently, Tudun Yola community has started taken measures to tackle the security situation. Tudun Yola is a middle class and elite community in Kano. The residents have cooperated and registered every household in their area, the occupants, and their means of earning a livelihood. Even the watchmen guarding various houses are registered by the community after providing valid addresses and references. These steps will make the community to address insecurity bedeviling the area.
Every Tom, Dick, and Harry may come to Kano and hide if government did not address how future settlements develop. If Wadume from one of the farthest northern states will hide in Kano after escaping from the police, who else cannot?
The money spent in creating Emirates in the state would have been used to cooperate with ward and village heads to address hidden criminals in their midst.
Abbas Yushau Yusuf can be reached at abyushau2@gmail.com