Nigerian universities will never reach world class – IBK
Maude Rabiu Gwadabe
Ibrahim Bello-Kano (IBK), a professor of English literature at Bayero University Kano (BUK) says Nigerian universities have degenerated into 'Super Secondary Schools' and there is no hope for recovery.
Mr Bello-Kano asserted this a roundtable program on reviving the culture of debate and critical thinking in the Nigerian university system.
The event was organized by the Centre for Information Technology and Development (CITAD) in Kano.
"Nigerian universities have declined irretrievably and will never be better than they are now", said IBK.
The radical professor lamented that Nigerian lecturers have become mere civil servants with a teaching function rather than academics pursuing knowledge.
He recalled with nostalgia the intellectual ferment in Nigerian universities during the 70s and early 80s when inter-disciplinary scholarship was the norm.
Sex for Marks: How Kano students are suffering in silence
22 Corps members to repeat service year in Kano
224,134 pupils write Common Entrance Exam in Kano
Four factors
Mr Bello-Kano attributed the decline in the quality of Nigerian universities to four factors.
These include poor quality of students entering the university, lack of diversity in the academic staff, poor quality of university administrators, as well as dubious processes of recruitment and promotion of lecturers.
According to him, these factors have combined to rob Nigerian universities of their former glories and will never allow them to recover.
He therefore argued that the university system is beyond recovery and all hope is now pinned on "spirited and committed intellectuals within the system" as well as independent research centres to produce cutting edge knowledge.
Overhaul basic education
In his submission, head of the MacArthur Foundation, Africa regional office, Kole Shettima urged for the total overhaul of Nigeria's basic education system.
Mr Shettima, who has a PhD in Political Science said the universities cannot be revitalized without reforming primary and secondary education.
He argued that the current system does not allow children the chance to grow critical minds but is targeted at developing their capacity to pass examinations through memorization.
"My son who attends primary school in Canada is learning four subjects while his counterparts in Nigeria are grappling with 16," he said.
NOTAP empowers BUK to patent research results
Shekarau highlights need to teach Science and Technology in indigenous languages
SOAS London confers honorary doctorate on Emir Sanusi II
In his remarks, chairman of the occasion, Ibrahim Mu'azzam of the department of Political Science, BUK cautioned the National Universities Commission (NUC) against its plan of transforming Nigerian universities based on a market model.
Mr Mu'azzam said treating students as clients is a sure recipe for the demise of Nigerian university system.
He added that Latin American countries have tried it in the past and have failed woefully.
NCC sensitises telecom consumers at 2021 Enugu international trade fair
The Nigerian Communications Commission (NCC), in line with its tradition of exploring avenues to engage with telecom consumers, has taken advantage of the opportunity of this year's edition of the Enugu International Trade Fair to enlighten telecom consumers on their rights and privileges within the telecommunications sector.
Addressing a large audience of telecom consumers during the NCC Special Day held at recently-concluded 32nd Enugu International Trade Fair organised by the Enugu Chamber of Commerce, Industry Mines and Agriculture (ECCIMA), the Executive Vice Chairman (EVC) of the Commission, Umar Garba Danbatta, said events of this nature provide the opportunity for NCC, as a telecom regulator, to interact with consumers and attend to their service-related concerns.
In attendance at the NCC Special Day were the Director, Public Affairs, NCC, Ikechukwu Adinde; Director, Consumer Affairs, Efosa Idehen; Zonal Controller, NCC Enugu Zonal Office, Ogbonnaya Ugama, and  executive members of ECCIMA.
Represented by the Director, Public Affairs, NCC, Ikechukwu Adinde, Mr Danbatta, who spoke around the theme of the Fair: "Promoting New Technologies, Business Ideas and Strategies for Rapid Economic Growth and Development in Nigeria," highlighted some of the regulatory initiatives emplaced by the Commission for protecting, informing and educating the consumers.
These initiatives include the NCC Emergency Toll-free Number 112; the NCC Consumer Complaint Toll-Free Number 622; the Do-Not-Disturb (DND) Short Code 2442, the Regulation on Forceful Subscription and measures put in place to check cases of pre-registered Subscriber Identity Module (SIM) cards.
Mr Danbatta emphasised the importance of the ongoing National Identity Number (NIN)-SIM data linkage exercise, in order to ensure credible citizen database for improved national security. He stressed the need for consumers to be cybersecurity-conscious while online and to always ensure efficient management of e-waste for a safer environment, noting that this year's World Consumer Rights Day (WCRD), which was observed on March 15, 2021 focused on 'Tackling Plastic Pollution' in line with the e-Waste Regulation being pursued by the Commission.
Mr Danbatta praised the efforts of Chamber at sustaining the Fair over the years, pointing out that it remains the largest and most important business event South-East of the country. "The Fair is pivotal to bolstering the economic and industrial transformation of the region in view of its enormous business potential," Danbatta said.
In attendance during the NCC Day at the Fair were Executive members of the ECCIMA. Earlier in his welcome address, the President of the Chamber, Emeka Nwandu, who was represented by the Chamber's Deputy President, Jasper Nduagwuike, extolled the role of the Chamber in the facilitation and promotion of robust exchange of business engagements in the South-East region of the country over the years through various initiatives, such as the Trade Fair.
During an interactive executive session with the ECCIMA executives at the Commission's pavilion, Adinde and Idehen fielded questions ranging from consumer complaints management, the recent Unstructured Supplementary Service Data (USSD) policy, NIN-SIM linkage exercise and other industry-related issues.
The event attracted many multinational, international and national exhibitors, who took advantage of the Fair to reach out to their customers in the South-East and South-South zones of the country.
The NCC has, over the years, been a regular participant at international trade fairs across the country and has been consistent in its participation at the Enugu International Trade Fair.
COEASU FCE (T) Bichi commences one week warning strike over poor leadership in the college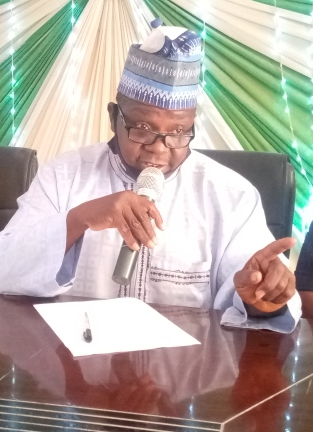 Nasiru Yusuf
The Colleges of Education Academic Staff Union (COEASU) Federal College of Education (Tech) Bichi has commenced a one week warning strike.
Kano Focus reports that the chairman of the union Muhammad Salisu Yunusa announced this on Tuesday while briefing journalists at Press Centre.
The COEASU chairman has accused the management of the college under Muhammad Bashir Fagge with non remittance of twenty five million Naira deduction made on behalf of the staff multi purpose cooperative society.
According to him as at August 2017, the college management had incurred a debt stock amounting to about eighty million Naira, being the cumulative sum of deductions from staff salaries that were not remitted to the college's staff cooperative society.
Mr Yunusa alleged that teaching and learning is being conducted under unbearable condition due to dilapidated infrastructure.
He also alleged that the management of the college has failed to pay legitimate staff allowances including 10 months peculiar academic allowance, Students Industrial Work Experience Scheme (SIWES) supervision allowance; teaching practice allowance and series of outstanding payment of the centre for continuing education.
" Academic infrastructures are dilapidating due to lack of maintenance; laboratories, workshops and studios are not functioning optimally due to lack of equipments and consumables.
"Insecurity and lawlessness is alarming due to complacency of the current management of the college; while staff morale is at low level, due to non payment of staff allowances and other statutory entitlements among other pressing issues," Mr Yunusa alleged.
According to him the college is yet to issue college graduands their Teachers' Registration Council (TRCN) certificate and National Certificate in Education (NCE) certificates for 2014/2015 and 2015/2016 sessions.
"The failure to issue TRCN certificates to our former students may be viewed by the general public as a corporate fraud, considering the fact that they had paid for the processing of the certificates in advance as part of their NCE III school fees while in college.
"The non-payment of security personnel for about seven months has further threatened the security of lives and properties of the institutions. This situation has culminated in serious theft in the students hostels," the chairman alleged.
Mr Yunusa called on the appropriate authorities to to prevail on the management of the college to immediately remit this money back to college's cooperative as soon as possible as failure to to do this will further worsen the welfare condition of some staff, some of whom have invested a larger chunk of their life saving in cooperative society.
"We will never soccumb to the intimidation of 'No work, no pay' by the college management until our demands are met," he said.
We've never added a penny on the price of our products during Ramadan – Dangote 
The chairman of Dangote Group Alhaji Aliko Dangote, has categorically urged people not to panic over price hike in his products during this Ramadan.
Kano Focus recalled that every Ramadan, sugar is one of the most used substance to prepare varieties of drinks and other edibles, even though it often goes higher than usual that a common man cannot afford to buy.
This problem according to many Muslim faith, is associated with the business people in commodity markets – who purchase such most used substances during the fasting period.
However, Mr Dangote said that he has massively filled markets with sugar across the country to avoid shortage during this Ramadan, which according to him to will not heighten the price of the sugar.
Dangote who spoke through his Manager, Garba Ibrahim El- Suleiman in Kano, says the Company presently has bathed all the markets across the country with products, "because our President, Alhaji Aliko Dangote respects and values month of Ramadan to the level that he has never added a penny on the price of his products during the time." He added.
"Our dealers also are very good people and we're rest assured that none of them would be able to take up the price of any product." Garba said.
Speaking with Salisu Sambajo, one of the Dangote Company's major Dealers in Nigeria, says there has never been a time when the Dangote increases prices of his products in any parts of the country during Ramadan.
"The price of every bag of sugar we sell is N18,500 only, therefore whenever you find out that a kobo is added to that, it is from the retailers. These people buy goods from us, they pay for transport, tax and many – so when they some amount on it, it is not Dangote that added it…we cannot force them not to." Sambajo said.
Also, Sabo Dankoli, another dealer of Dangote products explained that they have never experienced a hike in price from Dangote unless in 2020, when there was lockdown due to COVID-19 pandemic, "and that also was not from Dangote, it's because the commodities have gone out of store and people started to add money." He said.
Commending the Dangote Group efforts to ensure that there is no price increase during the fasting period, Chairman of the Kano State Public Complaints and Anti- Corruption Commission (PCACC), Muhuyi Magaji Rimingado has thanked Aliko Dangote for taking measures to ensure that his products have not gone out of store or too expensive to consumers during Ramadan.
''I was informed that the company has flooded the market with commodities that can last till after the Ramadan period and not only in Kano but across the northern states, ''Muhuyi Rimingado said.
''That was why we appreciated the company with a letter of Commendation last week. I hope the company will sustain the initiative even after the holy month of Ramadan.''