Nigerian universities will never reach world class – IBK
Maude Rabiu Gwadabe
Ibrahim Bello-Kano (IBK), a professor of English literature at Bayero University Kano (BUK) says Nigerian universities have degenerated into 'Super Secondary Schools' and there is no hope for recovery.
Mr Bello-Kano asserted this a roundtable program on reviving the culture of debate and critical thinking in the Nigerian university system.
The event was organized by the Centre for Information Technology and Development (CITAD) in Kano.
"Nigerian universities have declined irretrievably and will never be better than they are now", said IBK.
The radical professor lamented that Nigerian lecturers have become mere civil servants with a teaching function rather than academics pursuing knowledge.
He recalled with nostalgia the intellectual ferment in Nigerian universities during the 70s and early 80s when inter-disciplinary scholarship was the norm.
Sex for Marks: How Kano students are suffering in silence
22 Corps members to repeat service year in Kano
224,134 pupils write Common Entrance Exam in Kano
Four factors
Mr Bello-Kano attributed the decline in the quality of Nigerian universities to four factors.
These include poor quality of students entering the university, lack of diversity in the academic staff, poor quality of university administrators, as well as dubious processes of recruitment and promotion of lecturers.
According to him, these factors have combined to rob Nigerian universities of their former glories and will never allow them to recover.
He therefore argued that the university system is beyond recovery and all hope is now pinned on "spirited and committed intellectuals within the system" as well as independent research centres to produce cutting edge knowledge.
Overhaul basic education
In his submission, head of the MacArthur Foundation, Africa regional office, Kole Shettima urged for the total overhaul of Nigeria's basic education system.
Mr Shettima, who has a PhD in Political Science said the universities cannot be revitalized without reforming primary and secondary education.
He argued that the current system does not allow children the chance to grow critical minds but is targeted at developing their capacity to pass examinations through memorization.
"My son who attends primary school in Canada is learning four subjects while his counterparts in Nigeria are grappling with 16," he said.
NOTAP empowers BUK to patent research results
Shekarau highlights need to teach Science and Technology in indigenous languages
SOAS London confers honorary doctorate on Emir Sanusi II
In his remarks, chairman of the occasion, Ibrahim Mu'azzam of the department of Political Science, BUK cautioned the National Universities Commission (NUC) against its plan of transforming Nigerian universities based on a market model.
Mr Mu'azzam said treating students as clients is a sure recipe for the demise of Nigerian university system.
He added that Latin American countries have tried it in the past and have failed woefully.
Security: Kano trains 5,504 Police constabulary to aid community Policing 
Kano state governor Abdullahi Ganduje said his administration has trained 5,504 constabulary to support community policing.
KANO FOCUS reports that Ganduje revealed this on Sunday while inaugurating Rano Emirate community policing committees in Doguwa local government area.
The governor explained how community policing strategy goes deeply into the fabric of Kano society, as a political entity.
While enumerating reasons behind the recorded achievements in the security of the state, governor said, "Our administration found it necessary to support community participation in the security of our state."
"We have gone further by recruiting Police constabulary, who are assisting the security agencies. And also we are assisting the various community policing committees.
"We trained in Kaduna 704 graduates of Police Constabulary. Also for each of the rural local governments, the 36 local governments, we are training 100 Police constabulary. Making a total of 3,600 Police constabulary."
"For the 8 metropolitan, local governments we are training 150 in each of the 8 local governments. Giving rise to 1,200 Police Constabulary. Having a total of 4,800 Police Constabulary in addition to 704 that have already been trained. Which all stands at 5,504 Police Constabulary now at hand."
"Community participation, apart from community policing is necessary for us to achieve a desirable situation from all ramifications. As such, we are also inviting corporate social responsibility in the management of security situation in Kano state."
Part of the factors that played an important role in the security situation in the state, he acknowledged and appreciated that, "Our security agencies have succeeded in building full synergy among themselves. And we have extended coordination in order to get security information and action in Kano state.
"We have to thank the Police, the Department for State Security (DSS), the Air Force, the Army, the Civil Defence (NSCDC), Immigration, Customs and Excise, Correctional Homes, traditional institutions, National Agency for the for the Prohibition of Trafficking in Person (NAPTIP), the Vigilante Groups, representatives of various communities, we have to thank them all. They are all contributing to the security situation in Kano state."
Mr Ganduje he stressed that, "There is no doubt security is an issue of topical nature in Nigeria. Is an issue that bothers almost everybody, all governments in Nigeria. And is an issue that we must come altogether in order to solve it.
"We can see the effort of our security agencies that are working round the clock in order to keep Nigeria safe. In Kano state we are also conscious of the security of our state. Therefore we developed various strategies in order to secure Kano state."
"First of all we examined the issue of metropolitan, Kano being a metropolitan city and a mega city, we have taken necessary steps in order to ensure the security of our own mega city."
"We built what we call Security Dormitories on the major entrance of metropolitan Kano. That each of the dormitories houses 600 policemen. And also we have developed CCTV programme.
"Which is working very well. While the control room is with our security agencies. We have other technology employed in order to check security issues."
In his remarks, the Emir of Rano, Kabiru Inuwa Muhammad, commended the effort being put by governor Ganduje in securing all parts of the state, with the Divine help from Almighty Allah.
He said, "Today is a historic day that we cannot forget. All our people are happy with this special event taking place in our Emirate, Rano Emirate. We are always ready to cooperate with your policies and programmes Your Excellency Sir. Especially this issue of community policing."
Ganduje donates N3.6m to families of Doguwa flood victims
Nasiru Yusuf
Governor Abdullahi Ganduje of Kano state has paid condolence visit to the families of 18 Doguwa flood victims and donated the sum of two hundred thousand Naira to each of the victims family.
KANO FOCUS reports that Ganduje prayed for the repose of the departed souls of those who died as a result of the heavy downpour.
"When the information of this sad tragedy reached us we were seriously shocked. May Allah Forgive the victims, who died as martyrs, being washed away by flood. May He give them the ultimate reward of Jannatul Fiddaus, ameen," the governor prayed.
Families of the victims expressed appreciation to the governor and his entourage and prayed to God to guide him in steering the affairs of the state.
It will be recalled that on July 23, about 18 persons including six members of a family have perished in a ghastly car accident in Doguwa Local Government Area.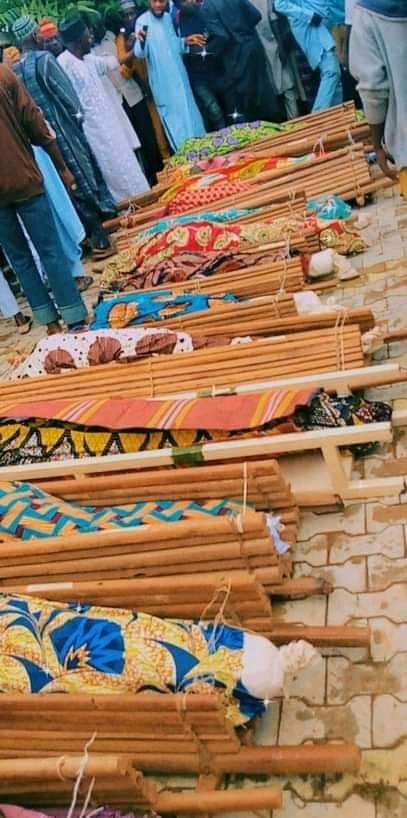 The Sector Commander of the Federal Road Safety Corps (FRSC) in Kano State, Zubairu Mato, said the accident occurred when a bridge linking Riruwai and Doguwa broke down as a result of the heavy downpour, and the driver wasn't aware that the bridge had broken down.
He explained that the vehicle plunged into the water, killing all the 18 passengers on board including six members of same family.
The family members have been identified as Bashir Doguwa, Malami Gidan-Tanimu, Safiya Mukhtar, Shahida Bashir, Fatima Rabi'u, Uzairu Bashir, all of Doguwa Local Government Area of Kano State.
Doguwa and his family were on their way from Doguwa to First Lady Secondary School in Dambatta Local Government Area of the state to visit his daughter, Firdausi Bashir, who is among the students writing the ongoing NECO SSCE examinations.
2021 Museum Day: Danbatta Harps on Innovative Museums for Sustainable Development 
Nasiru Yusuf
The Executive Vice Chairman and Chief Executive Officer (EVC/CEO) of the Nigerian Communications Commission (NCC), Umar Garba Danbatta has called for ingenious ways of collecting antiquities relevant to operations of various organizations in the country in order to preserve the relics that can bridge the knowledge gap needed for sustainable development of Nigeria.
KANO FOCUS reports that Danbatta, who was represented by the Executive Commissioner, Stakeholders Management (ECSM), NCC, Adewolu Adeleke, made the call recently in Abuja when the Commission joined in the celebration of the 2021 international museum day with the theme, "the future of museums: recover and reimagine".
While speaking on the theme, Danbatta said it appropriately captures the reason the commission established a special museum for the telecommunications industry in the country, as it is intended to bridge the historical knowledge gap in the evolution of communication as well as   meeting the need for information by future generations.
"The NCC communications museum was established in November, 2006 for documentation of historical collections on the evolution of communications in Nigeria. Communication artifacts were identified in various locations across the Country where postal and telecommunication offices were established in order to retrieve relics for exhibition".
Danbatta explained further that the museum should be seen as an important resourceful centre that can stimulate critical thinking and creative ideas for expanding the frontiers of knowledge and advancement of development in relevant sectors of the economy.
"Our museum is designed and reinvented to conserve the history of the Nigerian telecommunications industry and we see it as very important to collect, exhibit and preserve telecommunications items to enlighten and educate stakeholders on the evolution of communications with a view to nudging our minds towards critical thinking that will bring about new innovations to assist in building a better future for our industry and the nation.
"The NCC Museum plays valuable roles in supporting the Commission's agenda by providing unique information resources to cater for historical needs of the future generations, while building capacity and stimulating innovations to assist in fashioning out a better future for the Nigerian communications industry," Danbatta added.
Speaking further at the event, Danbatta said the NCC Museum Day is a demonstration of the Commission's commitment to facilitating learning and collaboration with relevant Museum professional bodies, in order to conserve antiquities used to develop the industry, in the best possible manner for socio-economic impact of the nation."
The Museum generally plays important roles in the society by conserving the past and helping to shape the future through providing needed insight into history, while educating future generations and equipping them with the requisite information and knowledge for sustainable development.
The Director General, National Commission for Museums and Monuments (NCMM), Abba Isa Tijani was represented at the event by the Assistant Director, Museums, Kilba Zainab Uche, who presented a brief on the 'Role of Museum in the Digital Era'.