Shara: Kano community where nobody has primary school certificate
By Nazifi Dawud
Three years ago, officials of the Kano state government as well as representatives of a non-governmental organization gathered on a small parcel of land beneath a giant tree in Shara–a remote farming village tucked deeply into Sumaila local government area of Kano state.
The aim of the meeting was to build a classroom block for the over 500 school-age children who were forced to stay at home or engage in hawking due to absence of a school in the village.
It was in a bid to address this concern that then Deputy Governor of Kano State, Professor Hafiz Abubakar, who doubled as the state Commissioner for Education, sent representatives to the village to assure residents that a school would be provided for their children.
Kano Focus reports that the nearest school to Shara community was located more than seven kilometers in neighbouring Matigwai village, which is separated by a ditch that often becomes over-flooded during rainy season. Currently, classes no longer hold at the community school because of the rain season.
Residents told our correspondent that when dry season sets in, children as young as five had to trek the seven kilometer distance to access the school. They added that the footpath that leads to Matigwai village is also full of thorny bushes that put the children at risk of snake bites and other harms.
It was gathered that for decades, none of the residents in Shara village was able to acquire a primary school leaving certificate due to lack of a school in the community.
At the gathering in Shara, which took place precisely in March 2016, government officials at both state and local levels made promises to erect a fully equipped classroom block on a larger piece of land donated by the community members for a school.
Idris Aliyu Rimi, the Education Secretary of the Local Education Authority (LEA) in Sumaila local government council, had told Daily Trust then that the government had not forgotten about the Shara school project.
"You should tell the community members that we are aware of their plight. But as you know, education is a costly venture. There are no projects going on anywhere because there are no funds. So, let them allow their children to continue attending the community school since a teacher has been dispatched," he had said.
Also, Umar S. Muhammad Kibiya, the Permanent Member 1 of SUBEB, then had also told the newspaper that Shara village would get a classroom block by 2017 as the project was already included in the 2017 budget.
"The village lacks a school because of a river or valley that prevents children from attending schools (elsewhere) especially during the rainy season.
"I reported the issue to the executive chairman and he directed the Director of Physical Planning and the Director, Planning and Statistics to include Shara village in our action plan for 2017 to build a classroom to accommodate the children. By 2017, Shara would enjoy a classroom by God's grace," he had said.
However, despite all these promises, Kano Focus reports that three years later, Shara community is still operating a makeshift school under a tree without instructional materials.
"All the promises that were made to us by the government officials have vanished into thin air. Our children are losing interest in education because they have been deceived over and over again by our leaders. We want our children to be educated but the government has abandoned us," Dayyabu Musa, a resident told journalists.
Another resident, Rabilu Musa, said even the teacher that was dispatched to the makeshift school became bored and stopped coming.
"Our children are now staying at home. They can't go to the school in Matigwai because they cannot cross the ditch which is flooded by rain water. It is too dangerous to cross even for an adult," he said.
Even though they were literally abandoned by government, members of Shara community have gotten assistance from the Centre for Information Technology and Development (CITAD), in order to maintain the makeshift community school.
On September 9, 2019, CITAD donated instructional materials including books, sets of uniforms and a board to the Shara school to encourage the children to continue with classes.
In his remarks, Sagir Ado, a representative of CITAD, lamented how the care-free attitude of government officials towards education is causing backwardness in Kano state.
"For three years, nobody brought a single building block in the name of constructing a classroom after series of promises. We have sent letters to lawmakers at both the state and national assembly on the need to build a school in Shara. But all our efforts have ended in vain," he said.
"If we continue like this, the residents in this village would lose interest in education. This is why we are supporting them to sustain this makeshift school in spite of the challenges.
However, Mukhtar Uba Sumaila, a representative of the Local Education Secretary, Idris Aliyu Rimi, begged the community to be patient, promising that a teacher would be dispatched to the community school while efforts would be made to provide a classroom structure in the village.
"There is a 17-member committee called the SBMC being formed at every school. I'll guide you on how to set up this committee so that the school can access benefits. I was informed that you have donated a plot of land for a proper school.
"Through the SBCM committee, you can have audience with the chairman of Sumaila local government area Ismaila Hamisu Rimi to discuss how a classroom block can be erected. In addition to this, your children can also benefit from the ongoing free feeding program" he said.
Kano state to fully implement TSA by 2020
Nasiru Yusuf
Kano state government has set January 2020 for full implementation of Treasury Single Account (TSA).
Permanent Secretary, Ministry of Finance, Zakari Sadiq Buda disclosed this on Monday at a workshop for Directors of Administration and General Services and Heads of Accounts in public institutions.
Mr Buda, who represented the finance commissioner, Shehu Na Allah Kura said the decision was part of the resolutions of the state executive council meeting of November 2017.
He said the state government has contracted Systems Specs to train civil servants on full implementation of the program.
In his remarks the state TSA program manager, Seth David Gana said the training would expose participants to operate the TSA software.
Mr Gana said TSA implementation would enhance transparency in governance as it enables governments to track its finances at any point.
Only 35% of HIV positive people in Kano are on medication – SACA
Nasiru Yusuf
The Director General of Kano State Agency for the Control of AIDS, Sabitu Shanono  says only 35 % of People Living with HIV/AIDS in Kano are on medication.
KANO FOCUS reports that Mr. Shanono, a medical doctor, revealed this on Monday when he paid an advocacy visit to Emir of Karaye Ibrahim Abubakar II at his palace.
Mr Shanono said the SACA will launch an HIV/AIDS awareness campaign at the newly created Karaye Emirate  next month.
The Director General said the campaign will complement the compulsory HIV test for pregnant women attending ante-natal clinics.
Kano seals off health centre for employing 'unqualified personnel'
Ganduje re-appoints suspended district head as chairman of Kano Contributory Healthcare board
Kano kidney patient, who sought N15m for transplant, dies
He therefore solicited the support of the Karaye Emirate in the fight against HIV/AIDS.
In his remarks the Emir of Karaye, Ibrahim Abubakar affirmed his readiness to provide royal support to ensure the fight against the disease records a huge success.
He also called on his subjects to attend the Heart to Heart centers in public hospitals to verify their HIV status.
KAROTA to limit Adaidaita Sahu tricycles in Kano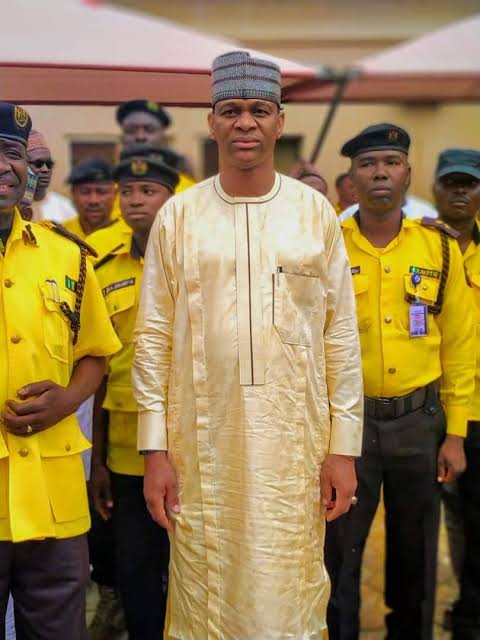 Mukhtar Yahya Usman
The Kano State Road Traffic Agency (KAROTA) has announced plans to reduce the number of Adaidaita Sahu tricycles in Kano.
KANO FOCUS reports that the KAROTA Managing Director Bappa Babba Dan Agundi disclosed this on Monday while defending the agency's budget before the Kano state House of Assembly.
Mr Dan Agundi said KAROTA will introduce a new registration regime that will reduce the number of Adaidaita Sahu tricycles operating in Kano from the current 500,000 to a maximum of 200,000.
He also said that KAROTA will install security trackers on registered Adaidaita Sahu tricycles across the state.
Soldiers in police net for 'brutalizing' KAROTA officers
KAROTA officer crushed to death by runaway motorist
KAROTA convicts 5,000 in one month, considers community service for traffic offenders
"The decision to commence the installation of the trackers on tricycles followed the state government's decision to allow them to continue operating in the state.
"Therefore, it is necessary for us to embark on such installation, aimed at monitoring their operations across the state." He said.
He added that the KAROTA aims to generate a revenue of N6,000,000,000.00 in 2020 via vehicle registration and fines on traffic offenders.
Mr Dan Agundi however said KAROTA will introduce community service as a punishment for traffic regulations offences as its main purpose is not revenue generation.