How renewed KAROTA fury hurts Kano road users
By Mukhtar Yahya Usman
On 8 September, 2019, just like any ordinary day, Yusuf Baba had left his pregnant wife and five children at home.
As he rode on his motorcycle on his way to the Kano Sports Commission along Club Road in Nasarawa local government area of Kano state, where he served as a weightlifting coach, it never crossed his mind that it was his last day on earth.
Mr Baba was just a few meters to his destination when, without warning, a dark blue Volkswagen saloon car, swerved to his side of the road on top speed and crushed him to death.
An eyewitness told Kano Focus that the commercial vehicle, with registration number KTG 174 AA, had the accident due to a nasty struggle for control of its steering wheel between its driver and a personnel of the Kano Road Traffic Agency (KAROTA), who was determined to stop the driver from fleeing.
This was how Mr Baba's wife, Zainab was widowed and his five children orphaned in one of the several reckless confrontations between overzealous KAROTA officers and road users that often disregard traffic rules.
It was one death too many for the family as Mr Baba left behind a mentally disabled son, Umar, who relied totally on his father for his monthly follow up at a psychiatric hospital in Kano, where he receives expensive medications.
In addition, Zainab's unborn child has also been deprived of its father.
Both the KAROTA officer and the driver of the Golf car were subsequently arrested and detained by the Kano Police Command.
About a week earlier, some KAROTA officials had also flagged down a trailer truck at Ibrahim Taiwo Road by Bello Road roundabout and attempted to arrest the driver on a charge of unlawfully using additional headlamps.
It was learnt that the KAROTA personnel ordered the driver, Kabiru Muhammad to park but before he could comply, one of them reportedly requested to drive the truck, a demand the driver refused.
Without warning, the angry traffic official insulted Mr Muhammad just as another hit him on the head with a stick, causing him a serious injury from which blood gushed out and covered his face and clothing.
In protest at the maltreatment of their colleague, other truck drivers turned off their engines in the middle of the road, causing a massive traffic gridlock that was only cleared after the arrival of police operatives who arrested the errant KAROTA officials.
On August 15, 2019, a magistrate court sentenced a KAROTA official to jail after he was found guilty of hitting one Hassan Zamzam with a stick in the leg and inflicting a fracture on him.
The victim was attacked by the angry KAROTA officer for allegedly beating traffic.
Kano Focus reports that the air waves in Kano are replete with complaints on excesses of KAROTA officers on the roads, especially their act of carrying sticks which they routinely use to smash heads and windshields of motorists, tricycle riders and other vehicle owners who dared to cross paths with them.
The renewed vigour of KAROTA officials in assaulting motorists manifested since the appointment of the agency's new Managing Director, Bappa Babba DanAgundi, a former lawmaker at the Kano state House of Assembly, who failed in his re-election bid during the 2019 general elections.
It was under Mr DanAgundi's leadership that KAROTA operatives started using sticks that are painted in the yellow and black colours of the agency to assault motorists and other road users who violate traffic rules.
Commercial drivers often complain of being extorted and forced to pay exorbitant fines, which are higher than those charged by any of the federal agencies that supervise road safety.
As a result, many commercial motorists have stopped transporting traders to Kano, causing a sharp decline in commerce and trade, a situation that threatens the economic prosperity of the state.
Since it was established in 2014 by former Governor Rabiu Musa Kwankwaso, KAROTA has been a fiery traffic outfit that attracts anger and hatred due to its persistent clashes with motorists in the course of enforcing traffic rules.
Even though it has succeeded in restoring sanity and instilling discipline in Kano's erstwhile lawless motorists, recently, the agency has been accused of contradicting its own motto: "Sanity and Safety" by chasing moving vehicles to the point of causing accidents and in some cases leading to serious injuries or outright loss of lives.
Observers have also pointed out that while KAROTA is harsh on poor and weak road users especially commercial vehicle owners who are struggling to make ends meet, they often fail to punish powerful politicians and security agencies who move in convoys and break traffic rules with impunity.
"This leaves us with no option that to believe that the rules are meant to punish only the weak and the poor and also serve as a means of extorting and further impoverishing them, while allowing the rich and powerful to do as they please," a driver Garba Adamu told our correspondent.
"The government should overhaul KAROTA in order to make them more humane in their operations," he added.
However, in his reaction, the KAROTA Managing director Bappa Babban Danagundi has explained why personnel of the agency carry sticks on the roads while controlling traffic in Kano city.
Dan-Agundi said KAROTA officers are using sticks to protect themselves from attacks by angry motorists and other road users who are not happy with how the traffic officials conduct their duty.
He said many KAROTA personnel have been attacked by errant motorists, adding that some of them are still in hospital with fractures and other serious injuries.
Although Dr. Dan-Agundi admitted that using weapons is against the laws of KAROTA, he however, pointed that the Nigerian Constitution has given citizens the right to defend themselves from harm including government officials.
He also said that apart from restoring sanity on Kano roads, KAROTA officials have been commended by security agencies for arresting a fake soldier and handing him over to the appropriate authority for prosecution.
Kano state to fully implement TSA by 2020
Nasiru Yusuf
Kano state government has set January 2020 for full implementation of Treasury Single Account (TSA).
Permanent Secretary, Ministry of Finance, Zakari Sadiq Buda disclosed this on Monday at a workshop for Directors of Administration and General Services and Heads of Accounts in public institutions.
Mr Buda, who represented the finance commissioner, Shehu Na Allah Kura said the decision was part of the resolutions of the state executive council meeting of November 2017.
He said the state government has contracted Systems Specs to train civil servants on full implementation of the program.
In his remarks the state TSA program manager, Seth David Gana said the training would expose participants to operate the TSA software.
Mr Gana said TSA implementation would enhance transparency in governance as it enables governments to track its finances at any point.
Only 35% of HIV positive people in Kano are on medication – SACA
Nasiru Yusuf
The Director General of Kano State Agency for the Control of AIDS, Sabitu Shanono  says only 35 % of People Living with HIV/AIDS in Kano are on medication.
KANO FOCUS reports that Mr. Shanono, a medical doctor, revealed this on Monday when he paid an advocacy visit to Emir of Karaye Ibrahim Abubakar II at his palace.
Mr Shanono said the SACA will launch an HIV/AIDS awareness campaign at the newly created Karaye Emirate  next month.
The Director General said the campaign will complement the compulsory HIV test for pregnant women attending ante-natal clinics.
Kano seals off health centre for employing 'unqualified personnel'
Ganduje re-appoints suspended district head as chairman of Kano Contributory Healthcare board
Kano kidney patient, who sought N15m for transplant, dies
He therefore solicited the support of the Karaye Emirate in the fight against HIV/AIDS.
In his remarks the Emir of Karaye, Ibrahim Abubakar affirmed his readiness to provide royal support to ensure the fight against the disease records a huge success.
He also called on his subjects to attend the Heart to Heart centers in public hospitals to verify their HIV status.
KAROTA to limit Adaidaita Sahu tricycles in Kano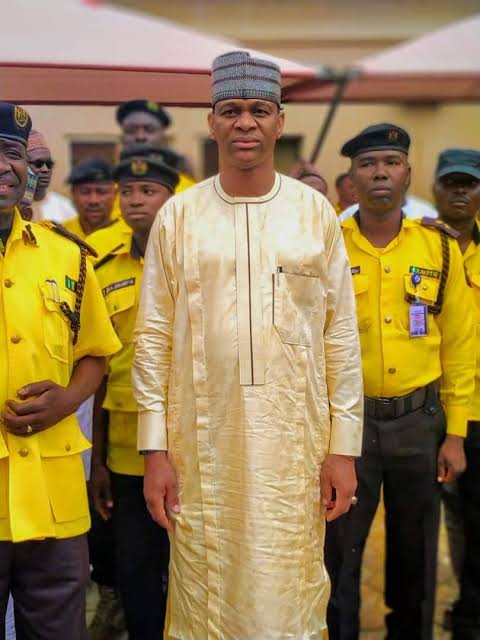 Mukhtar Yahya Usman
The Kano State Road Traffic Agency (KAROTA) has announced plans to reduce the number of Adaidaita Sahu tricycles in Kano.
KANO FOCUS reports that the KAROTA Managing Director Bappa Babba Dan Agundi disclosed this on Monday while defending the agency's budget before the Kano state House of Assembly.
Mr Dan Agundi said KAROTA will introduce a new registration regime that will reduce the number of Adaidaita Sahu tricycles operating in Kano from the current 500,000 to a maximum of 200,000.
He also said that KAROTA will install security trackers on registered Adaidaita Sahu tricycles across the state.
Soldiers in police net for 'brutalizing' KAROTA officers
KAROTA officer crushed to death by runaway motorist
KAROTA convicts 5,000 in one month, considers community service for traffic offenders
"The decision to commence the installation of the trackers on tricycles followed the state government's decision to allow them to continue operating in the state.
"Therefore, it is necessary for us to embark on such installation, aimed at monitoring their operations across the state." He said.
He added that the KAROTA aims to generate a revenue of N6,000,000,000.00 in 2020 via vehicle registration and fines on traffic offenders.
Mr Dan Agundi however said KAROTA will introduce community service as a punishment for traffic regulations offences as its main purpose is not revenue generation.