Tribute: Adieu Comrade Shehi Ali Abubakar
By Dr Ibrahim Musa
"For each and everyone of us men and women, the young and old, the leaders and the led, the haves and have-nots; there is a time to be born and a time to die. In between is a privilege to live; to live to the glory of your creator, to the glory of humanity and to the glory of your nation." ~ James Haruna Audu
When I picked the pen to write about you, it suddenly dawned on me that you are gone forever. I will never see you again and nor will you ever get to read my tribute about you. Such an overwhelming thought finally broke my emotional shield and tears flowed like a river on my cheeks.
I have tried first to convince myself that the news of your death was just a nightmare, hoping that I would wake up with a racing heart to see everything going on fine. Alas! As the clock ticked and ticked, and time passed- the shocking reality began to sink: "Kulli man alaiha faan. Wa yabqa wajhu Rabbika zuljalali wal ikram."
Shehi is someone I adored for his stellar qualities. His charisma, courage, demeanor, taste and enterprising style made him a dream leader for our generation. Although by rank and age he was far above me, yet he treated me as one of his closest allies and a confidant.
Whenever I was bored with work at office, I would rush to his tastefully furnished office where we usually dwelled in socio-political discourse. He was always angry at the sorry state of our national infrastructures. He was literally bitter about the bad leadership that came to define the Nigeria of our generation. Little wonder that for the past 16 years he had devoted to the Project Buhari and invested so much in his own unique way to see that Buhari has emerged as the president of Nigeria. Immediately Buhari was announced as the winner of 2019 election, Shehi joyfully organized one of the biggest open-invite "walima" to celebrate the victory.
He remained optimistic that Buhari would eventually turn around the fortunes of this country. This was the typical Shehi who was so passionate about his choices. Love or hate him, you would not find pretense in his dictionary. At a point he was offered a political appointment to be the head of a health-related agency- but he instantly turned down the offer by pointing out to the government his conflict of interest. Even the person who brought the news of that appointment to him was left completely amazed by his forthrightness. I am not aware of many people capable of doing that.
To say that I am presently devastated is an understatement. Losing such kind of a trusted and dependable comrade at a prime age always create a huge void. We had many shared dreams for the development of our state, Kano and country, Nigeria. As our most distinguished mentor Dr. Michael DeBaun would say, "Shehi has done more non-imaging transcranial Doppler scan (TCD) for patients with SCD than any other expert in the world."
He had successfully trained several radiologists, medical officers and nurses the rare skills to do TCD, which has now become a standard of care for our patients in Kano and Kaduna states. If not for his untimely demise, he would have been the first radiologist in the world to use the Artificial Intelligence (AI) mannequin specifically designed for TCD training.
I remember his vision of venturing into big data science for TCD. Professionally, he had his path well laid down for him. On the business front, the Ray Scan he founded a couple of years ago is probably the biggest indigenously driven private diagnostic center in Kano. He was like the proverbial Midas, everything he touched turned into gold. His was a life completely devoted to family and humanity- from philanthropy, leadership of professional groups to community service. Considering that these legacies would survive him, I take solace in the fact that he lives through his good deeds.
I have a take home message for his immediate family. He was certainly a good man! His son Murad, daughter Fatima and the unborn child would live to be proud of him as a father. He did everything humanly possible to leave behind a good family name; and I could see that his kids have that trait to step into the big vacant shoes with time. To Zainab (his dearest wife), I pray that you may have the fortitude to bear this irreparable loss. This is, indeed, a trying time but God is sufficient for you. We pray for Allah to repose Shehi's soul in Jannatul Firdaus.
Adieu brother
Adieu comrade
Dr Musa, is a Consultant Hematologist at AKTH
Photo News: Emir Sanusi visits Sultan of Sokoto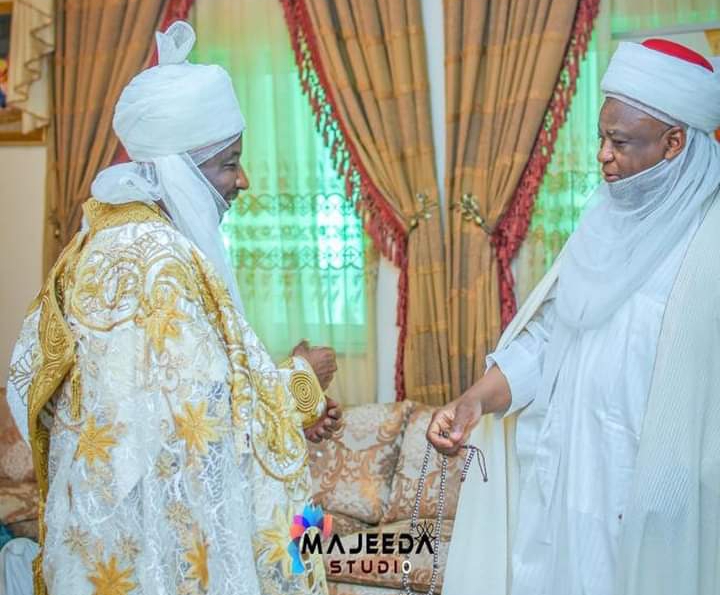 The former Emir of Kano has on Monday paid a courtesy visit to Sultan of Sokoto Muhammad Sa'ad Abubakar lll.
Kano Focus reports that the pictures of the visit were published on a Facebook page linked to former Emir named 'Sanusi ll Dynasty'.
Though the reason of the visit was not stated, but the former Emir has paid similar visit to Lamido of Adamawa in his capacity as leader of Tijjaniyya sect in Nigeria.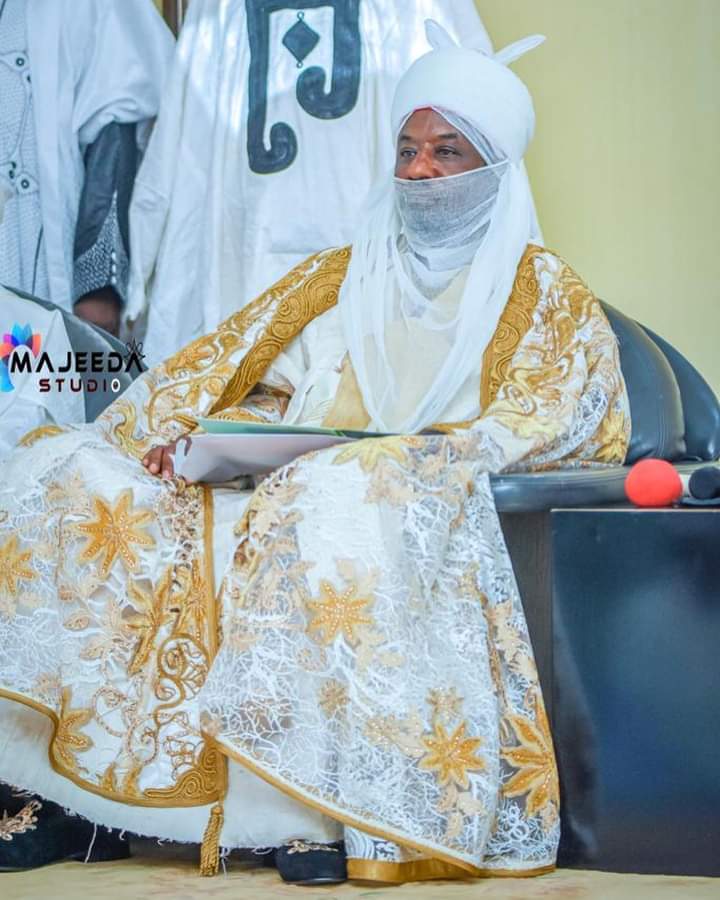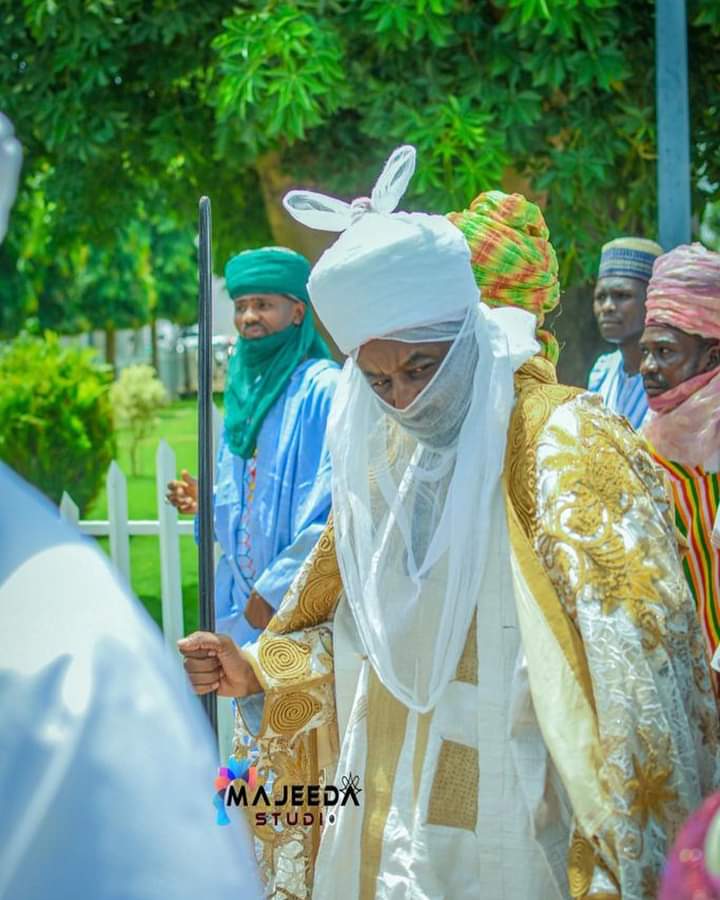 Kano to revive bilateral relationship with Pakistan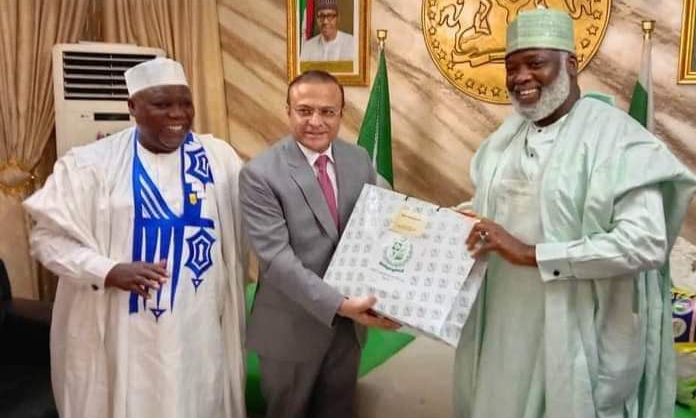 Aminu Abdullahi
Kano State Government has expressed commitment to revive the long existing relationship with Pakistan.
KANO FOCUS reports that Governor Abdullahi Umar Ganduje gave the assurance on monday while receiving the Pakistani High Commissioner to Nigeria Muhammad Tayyab Azam at the Government House.
Ganduje represented by his deputy Nasiru Yusuf Gawuna said Kano endowed with lots of potentials is open for people to come and invest, particularly those from Pakistan.
"We are happy for showing commitment towards reviving the long relationship between us. I can remember the partnership we have in the engagement of Pakistani teachers in our schools which has yielded a lot today."
"Even in the area of agricultural mechanization we have partnered with Pakistan especially in the supply of tractors to our farmers,therefore I feel if we continue to explore agriculture it will be beneficial to both Kano and Pakistan".
The Governor also commended Pakistan for showing interest in reviving the bilateral relationship with Kano State.
In his remarks the Pakistani High Commissioner Muhammad Tayyab Azam described the visit to Kano as historic and important being the first state he visited since assuming office.
"I know the importance of Kano as hub of business in Nigeria, after Lagos Kano is next where there is business opportunity".
"There was a time in Kano when most schools   have many Pakistani teachers..my aim is to bring back that relationship".
He however pointed out that Kano and Pakistan have similarities in both values and culture therefore it is important to deepen the relationship so as to sustain the partnership in  the areas of health and agriculture as that will create opportunities for our people towards boosting the economy.
The High Commissioner was accompanied during the visit by Pakistani Consul General in Kano Ahmed Ibrahim Yakasai.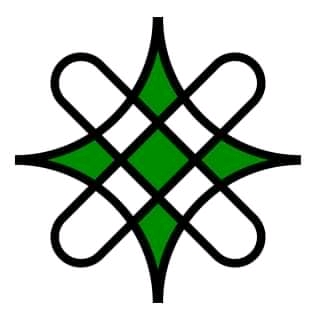 The Arewa Consultative Forum ( ACF) has resuscitated it Kano State chapter and nominated a 14- member Interim Executive Committee to run its affairs for the next six months.
Kano Focus reports that the Forum has mandated the new leadership to organise a general congress that may elect a new council.
A statement issued on Monday by the publicity secretary of the Forum Bello Sani Galadanchi reported that at the inaugural ceremony presided by a member of ACF Board of Trustees, Halliru Akilu, the non- partisan voluntary organization also nominated delegates to its National Executive Committee ( NEC) engagements.
Akilu, a retired Brigadier- General, tasked the new leadership to work in unity, and restore all ACF organs and activities for the betterment of our society.
He stressed that the ACF which is apolitical, believes in the unity of the country, but aspires to see the glory of the north restored, and the economic fortunes of the region tapped for the greater benefit of our people and the nation as a whole.
In his acceptance speech, the new Chairman of the ACF Interim Committee, NaShehu Hassan Abubakar thanked the congregation for finding him worthy of the enormous responsibility.
Abubakar, a retired Air Vice Marshall (AVM) assured the ACF National body and people of Kano State of his determination to steer the ship creditably, selflessly and in strict compliance with ACF desire to improve the lot of our people, as well as agitate for their rights.
Other committee members nominated at the ceremony include Aishatu Yakubu Maijama'a (Deputy Chairperson); Shehu Aliyu (Vice- Chairman); Muhammad Mustapha Yahaya (Secretary); Sani Bala Tela (Assistant Secretary); Rabia Hussein Adamu (Treasurer); and Mairo Bello (Assistant Treasurer).
Others   are Mahadi Sadiq Abubakar, (Financial Secretary);  Hafsat Namadi Bebeji (Assistant Financial Secretary); Bello Sani Galadanchi (Publicity Secretary); Tanimu Ibrahim Getso (Assistant  Publicity Secretary); Kabir Mukhtar (Legal Adviser); Muhammad Kabir Haruna (Assistant Legal Adviser); and Azimi Namadi Bebeji (Auditor).
The inaugural ceremony attracted Youth and Women wings of the ACF whose members were nominated into both the executive committee and the NEC.
Arewa Consultative Forum (ACF) is apolitical and socio-cultural association of leaders in Northern Nigeria formed in 2000 to protect Northern interest in the political scene.