Top 10 Kano stories of November, 2019
By Mukhtar Yahya Usman
Parents of abducted Kano children deserve arrest–Emir Sanusi
Emir of Kano Muhammad Sanusi II had said that parents of the nine Kano children who were abducted, forcefully converted to Christianity and sold in Anambra state, deserved to be arrested by the police for "criminal negligence."
Mr Sanusi, who broke his silence on the issue for the first time, had said when the abductions were first reported to him at his palace, he had asked his aides to find out from the Kano Police Command if there was any law on negligence.
The Emir spoke at the 2019 public campaign on drug abuse organized by League for Societal Protection Against Drugs Abuse (LESPADA) held in Kano.
Kano court dissolves 4 emirates created by Ganduje
A Kano High Court dissolved the four first class emirates carved out of the Kano emirate by the Kano state government.
KANO FOCUS recalls that Kano state governor Abdullahi Ganduje had on May 8, assented to a law establishing Bichi, Karaye, Rano, and Gaya emirates.
However, the court presided by Justice Usman Na'Abba had declared the law as null and void.
Mr Na'Abba had ruled that the Kano state House of Assembly did not follow the proper procedures in making the law.
My comments on Kano abducted children were deliberately twisted–Emir Sanusi
Emir of Kano Malam Muhammad Sunusi II has complained that his recent comments on the abduction of native Kano children by Igbo kidnappers, were deliberately misinterpreted by journalists.
Kano Focus reports that Mr Sanusi had November 9, 2019 sparked controversy after he accused parents of abducted children in the state of "criminal negligence", with many people describing his comments as "insensitive".
However, reacting to the controversy, Mr Sanusi had said his comments were deliberately misinterpreted by journalists.
He spoke while receiving the Commander-General of the state Hisbah board Sheikh Muhammad Harun Sani Ibni Sina, who had paid him a visit at his palace.
"So, you have to understand. We know journalists and we have already said it that our comments will be deliberately twisted and misinterpreted and that was what happened. Even these latest comments I am making will be misinterpreted," he had said.
Kano gov't seizes Emir Sanusi's N250m land, pays monarch N4.5m compensation
The Kano State Government seized a plot of land worth N250 million belonging to the Emir of Kano Muhammad Sanusi II and approved a peanut N4.5 million as compensation to the monarch.
There is a brewing crisis between Governor Abdullahi Ganduje and the emir, which culminated in whittling the influence of the latter by creation of four additional emirates and first-class emirs in Bichi, Rano, Karaye and Gaya.
A Kano High Court had last week nullified the law that created the emirates and the emirs, triggering fears that the judgement might trigger the simmering crisis.
 Ganduje appoints new commissioners
Kano state governor Abdullahi Umar Ganduje inaugurated 21 commissioners after six months without a cabinet.
The governor swore-in the commissioners and assigned portfolios to them less than 48 hours after their screening by the Kano State House of Assembly.
Mr Ganduje held his first state executive council meeting just hours after inaugurating the new cabinet members.
Appeal Court upholds Ganduje's election
The Kaduna division of the Court of Appeal upheld the March 23 election of Governor Abdullahi Umar Ganduje as the governor of Kano State.
In its ruling, the appellate court dismissed the appeal filed by the People's Democratic Party (PDP) and its candidate Abba Kabir Yusuf, challenging Mr Ganduje's election victory.
Kano Focus recalls that on October 2, 2019 chairman of the Kano Election Tribunal, Justice Halima Shamaki had dismissed the petition filed by the PDP and Mr Yusuf for lack of proof.
Kano Assembly cuts break to consider Education Development Support bill
 The Kano state House of Assembly resumed its plenary session to consider a bill for the establishment of an Education Development Support Board.
KANO FOCUS recalls that the Assembly had gone on break on November 07, to resume on December 16.
However, the Assembly Clerk, Abdullahi Alfa said the House will resume to consider the bill.
The bill was approved by the Kano state Executive Council in a meeting held at the Government House, Kano.
Yusuf Maitama Sule varsity to start medicine course next year
Yusuf Maitama Sule University, Kano (YUMSUK) has revealed that it would commence degree programme in medicine and surgery (MBBS) by 2020.
The Vice Chancellor of the university Professor Mustapha Ahmad Isah disclosed this while defending the university's budget before the Kano Assembly Committee on Higher Education.
Mr. Isah had said the institution is set to enroll its first set of medical students in the next academic session, Kano Focus reports.
He said the sum of N3 billion was budgeted for the university in order to renovate the site for the purpose of the medical programme.
Swiss foundation honors Kano journalist
 The Fetisov Charitable Foundation based in Geneva, Switzerland has shortlisted Kano-born journalist Abdulaziz Abdulaziz for its international journalism award.
KANO FOCUS reports that Abdulaziz Abdulaziz of the Premium Times was shortlisted in the Outstanding Investigative Reporting category for his series of stories that led to the resignation of former minister of finance, Kemi Adeosun.
Mr Abdulaziz had exposed how Ms Adeosun skipped the mandatory one year national service and used a forged exemption certificate to secure public service appointments illegally.
Kano blogger accuses PPRO of human rights violations
A Kano based blogger, Bashir Bashir Galadanci has petitioned the state police command to investigate its public relations officer over alleged abuse of office and violations of fundamental human rights.
Mr Galadanchi had accused Abdullahi Haruna Kiyawa, a Deputy Superintendent of Police, of illegal detention, torture, and coercing him into making a false confession.
KANO FOCUS recalls that Mr Galadanci was arrested on September 11 for allegedly divulging police internal information on social media without authorization.
In a videotaped confession that went viral, Mr Galadanci apologized to the police command and alleged that he was sponsored by a former PPRO to tarnish the image of the Kano state police command.
Just In: Kano closes 10 boarding schools over students abduction
Nasiru Yusuf
Kano state government has closed 10 boarding schools over the fear of incessant abduction of school students in some Northern states.
The commissioner of education Muhammad Sanusi Kiru announced this in an audio message sent to journalists on Friday.
He said the closure followed a thorough analysis and assessment of persistent abduction of boarding students during night hours in some Northern states.
This according to commissioner led Kano state government to close ten boarding schools spread across the state.
He said the schools closed include Government Secondary School Ajingi, Government Girls Secondary School Sumaila, Government Girls Secondary School Jogana, Government Girls Secondary School Gezawa and Government Secondary School Kafin Maiyaki.
Others according to Mr Kiru are Maitama Sule Science Secondary School Gaya, Government Girls Unity School Kachako, Government Girls Secondary School Kunchi, Government Unity College Karaye and Government Girls Arabic College Albasu.
Mr Kiru called on parents whose children are in affected schools to go and pick them immediately.
The announcement comes less than 24 hours after the abduction of 317 students of Government Girls Secondary School Jangebe, Zamfara state in the early hours of Friday.
Danbatta, others endorse book on telecoms law, regulations
Nasiru Yusuf
The Executive Vice Chairman of the Nigerian Communications Commission (NCC), Umar Danbatta was among eminent personalities that have endorsed a new book on Nigeria' telecommunications industry's legal and regulatory ecosystem.
Kano Focus reports that the book titled, "Nigerian Telecommunications Law and Regulation", which is co-authored by Quasim Odunmbaku, a telecoms regulatory professional at the NCC and Rotimi Akapo, a lawyer, who specialises in Telecommunications, Media and Technology (TMT) practice, is written in 18 chapters and over 600 pages.
Speaking at the virtual public presentation of the book on Thursday, Danbatta, who was the chairman and lead presenter at the event, said that law and regulation are two critical pillars, which influence the speed and impact of innovation in the telecoms sector.
"As important as these two factors are, they typically lag behind technology – it, therefore, behoves on all legal and regulatory practitioners in the sector to keep abreast of developments so that knowledge gaps do not stifle innovation and/or deny consumers of the optimum value," he said.
Represented by the Executive Commissioner Stakeholder Management at NCC, Adeleke Adwolu, the EVC acknowledged that there is a noticeable paucity of well-researched books and reference materials on the legal and regulatory regime governing the telecommunications and indeed the ICT sector in Nigeria.
"I am, therefore, delighted that the authors of "Nigerian Telecommunications Law and Regulation" have taken up the challenge and have produced a comprehensive reference material which touches on practically every aspect of the subject."
The official public presentation of the book was done by the Minister of Youth and Sports, Sunday Dare, who, who incidentally was a former ECSM at NCC, and had worked closely with one of the authors. Dare described the book as "a compendium that will greatly enrich the level knowledge needed to enhance telecoms growth."
Reviewer of the book,  Mohammed Suleh-Yusuf, after an insightful review of the book, said, "The book is highly useful to practitioners and lay readers alike. It serves as a window into what shapes the industry and ensures readers are familiar at surface, to the basic rules and norms that influence the industry."
Other telecoms stakeholders have overwhelmingly endorsed the book, describing it as a good reference material and comprehensive guide, reference material and source-book on the policy, legal and regulatory framework governing the Nigerian telecommunications sector, which, many stakeholders said, will fill a critical contemporary knowledge gap for legal practitioners, investors and the academia.
According to the Head of Sub-Saharan Africa Operations, Global System for Mobile Communications Association (GSMA), Akinwale Goodluck, "As an industry practitioner, I have thoroughly enjoyed reading the book and recommend it very strongly for everyone with an interest in the Industry. It also provides invaluable insight for other countries in Sub-Saharan Africa to learn from the Nigeria experience."
Immediate past President, Association of Telecom Companies of Nigeria (ATCON), Olusola Teniola, and incumbent ATCON President, Ike Nnamani, aligned in their views, saying the authors have challenged the industry by putting together an encyclopaedia behind the growth of the Telecommunications industry from the perspective of legal, regulatory, economic, social and technological impacts.
In his comment, Chairman, Association of Licensed Telecoms Operators of Nigeria (ALTON), Gbenga Adebayo, said "the book carefully dissects the policies, rules, regulations and industry best practices which makes the Nigerian telecommunications industry the success story that it is today, despite numerous challenges."
Other stakeholders, who rated the book very high both in contents and relevance to industry practitioners include Chairman, Section of Business Law, Nigeria Bar Association (NBA), Ayuli Jemide; Director, Legal & Regulatory Affairs/Company Secretary, Airtel Networks Limited, Shola Adeyemi; Principal Partner and Head, ICT Law & Regulation, Sceptre Law, Lagos, Otu Etuk;  Abiola Sanni of the Faculty of Law, University of Lagos, among others.
The stakeholders were in accord that the book, which sets out with great clarity and in the greatest detail the history, current status and how to navigate the policies and regulation of the Nigerian telecommunications sector in the real world, is a must-read for regulators, investors, scholars and industry practitioners.
KAROTA succumb to Tricyclists' protest, accepts POS payment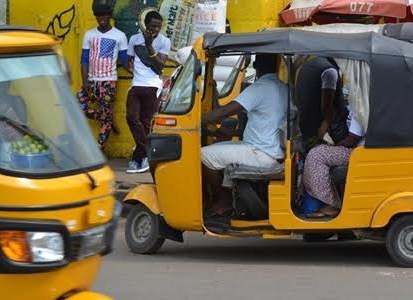 Nasiru Yusuf
The Kano Road Traffic Agency (KAROTA) has succumb to protesting tricyclists and agreed to accept payment of one hundred Naira tax via POS or mobile banking.
Kano Focus reports that the tricyclists have earlier agreed to pay the one hundred Naira tax daily, but protested against making payments via REMITA platform.
The tricyclists requested for cash payment, mobile banking or via POS, a request KAROTA leadership rejected outrightly.
However, at a negotiation facilitated by Kano state leadership of Nigeria Labour Congress (NLC) and Kano Civil Society Forum Ibrahim Waiya, KAROTA agreed to accept payment via POS mobile transfer after initial payment through REMITA.
A copy of the resolutions reached by leadership of tricyclists and Managing Director of KAROTA Bappa Babba Dan'agundi on Tuesday in the presence of NLC chairman Kabiru Ado Minjibir and that of  directed all tricycle operators to call off their protest and resume operation.
The resolutions obtained by Kano Focus reads in part "After extensive and fruitful deliberations which lasted for over two hours. The following resolutions were reached.
"That all tricycle riders in the state are to pay a token of N 100 daily as provided by the Kano state revenue administration law, schedule 2 item 9 congestion charges amendment law 2017.
"That the first payment of N100 should be through REMITA to enable data capture in Kano state Board of Internal Revenue/KAROTA which should be done within two weeks effective from today 23 February, 2021, after which KAROTA will commence enforcement and the server shutdown, so that nobody will access it to enable control.
"That the subsequent payment of N100 daily tax should follow by the tricycle operators which can be done through their Android phones or P. O. S (Point of Sale) with an option of daily, monthly, quarterly or annual payment at the cafe (which is not compulsory).
"That the hire purchase owners will assist the tricycle riders in the provision of additional REMITA points to enable members to make payment with ease.
"That the leadership of organised labour and Kano Civil Society Forum will continue to engage the leadership of tricycle riders/owners association in the state for smooth conduct of their business through public enlightenment, awareness activities and training on professional conduct to ensure peaceful coexistence in the state and hitch business atmosphere.
"That a joint Press briefing should be conducted at KAROTA office and emergency meeting of all units of tricycle association should be summon immediately to enable striking riders go back to their business and suspend the strike.
"That all tricycle riders in the state should write their number boldly at the back of each tricycle for easy identification and security purposes."