Top 10 Kano stories of November, 2019
By Mukhtar Yahya Usman
Parents of abducted Kano children deserve arrest–Emir Sanusi
Emir of Kano Muhammad Sanusi II had said that parents of the nine Kano children who were abducted, forcefully converted to Christianity and sold in Anambra state, deserved to be arrested by the police for "criminal negligence."
Mr Sanusi, who broke his silence on the issue for the first time, had said when the abductions were first reported to him at his palace, he had asked his aides to find out from the Kano Police Command if there was any law on negligence.
The Emir spoke at the 2019 public campaign on drug abuse organized by League for Societal Protection Against Drugs Abuse (LESPADA) held in Kano.
Kano court dissolves 4 emirates created by Ganduje
A Kano High Court dissolved the four first class emirates carved out of the Kano emirate by the Kano state government.
KANO FOCUS recalls that Kano state governor Abdullahi Ganduje had on May 8, assented to a law establishing Bichi, Karaye, Rano, and Gaya emirates.
However, the court presided by Justice Usman Na'Abba had declared the law as null and void.
Mr Na'Abba had ruled that the Kano state House of Assembly did not follow the proper procedures in making the law.
My comments on Kano abducted children were deliberately twisted–Emir Sanusi
Emir of Kano Malam Muhammad Sunusi II has complained that his recent comments on the abduction of native Kano children by Igbo kidnappers, were deliberately misinterpreted by journalists.
Kano Focus reports that Mr Sanusi had November 9, 2019 sparked controversy after he accused parents of abducted children in the state of "criminal negligence", with many people describing his comments as "insensitive".
However, reacting to the controversy, Mr Sanusi had said his comments were deliberately misinterpreted by journalists.
He spoke while receiving the Commander-General of the state Hisbah board Sheikh Muhammad Harun Sani Ibni Sina, who had paid him a visit at his palace.
"So, you have to understand. We know journalists and we have already said it that our comments will be deliberately twisted and misinterpreted and that was what happened. Even these latest comments I am making will be misinterpreted," he had said.
Kano gov't seizes Emir Sanusi's N250m land, pays monarch N4.5m compensation
The Kano State Government seized a plot of land worth N250 million belonging to the Emir of Kano Muhammad Sanusi II and approved a peanut N4.5 million as compensation to the monarch.
There is a brewing crisis between Governor Abdullahi Ganduje and the emir, which culminated in whittling the influence of the latter by creation of four additional emirates and first-class emirs in Bichi, Rano, Karaye and Gaya.
A Kano High Court had last week nullified the law that created the emirates and the emirs, triggering fears that the judgement might trigger the simmering crisis.
 Ganduje appoints new commissioners
Kano state governor Abdullahi Umar Ganduje inaugurated 21 commissioners after six months without a cabinet.
The governor swore-in the commissioners and assigned portfolios to them less than 48 hours after their screening by the Kano State House of Assembly.
Mr Ganduje held his first state executive council meeting just hours after inaugurating the new cabinet members.
Appeal Court upholds Ganduje's election
The Kaduna division of the Court of Appeal upheld the March 23 election of Governor Abdullahi Umar Ganduje as the governor of Kano State.
In its ruling, the appellate court dismissed the appeal filed by the People's Democratic Party (PDP) and its candidate Abba Kabir Yusuf, challenging Mr Ganduje's election victory.
Kano Focus recalls that on October 2, 2019 chairman of the Kano Election Tribunal, Justice Halima Shamaki had dismissed the petition filed by the PDP and Mr Yusuf for lack of proof.
Kano Assembly cuts break to consider Education Development Support bill
 The Kano state House of Assembly resumed its plenary session to consider a bill for the establishment of an Education Development Support Board.
KANO FOCUS recalls that the Assembly had gone on break on November 07, to resume on December 16.
However, the Assembly Clerk, Abdullahi Alfa said the House will resume to consider the bill.
The bill was approved by the Kano state Executive Council in a meeting held at the Government House, Kano.
Yusuf Maitama Sule varsity to start medicine course next year
Yusuf Maitama Sule University, Kano (YUMSUK) has revealed that it would commence degree programme in medicine and surgery (MBBS) by 2020.
The Vice Chancellor of the university Professor Mustapha Ahmad Isah disclosed this while defending the university's budget before the Kano Assembly Committee on Higher Education.
Mr. Isah had said the institution is set to enroll its first set of medical students in the next academic session, Kano Focus reports.
He said the sum of N3 billion was budgeted for the university in order to renovate the site for the purpose of the medical programme.
Swiss foundation honors Kano journalist
 The Fetisov Charitable Foundation based in Geneva, Switzerland has shortlisted Kano-born journalist Abdulaziz Abdulaziz for its international journalism award.
KANO FOCUS reports that Abdulaziz Abdulaziz of the Premium Times was shortlisted in the Outstanding Investigative Reporting category for his series of stories that led to the resignation of former minister of finance, Kemi Adeosun.
Mr Abdulaziz had exposed how Ms Adeosun skipped the mandatory one year national service and used a forged exemption certificate to secure public service appointments illegally.
Kano blogger accuses PPRO of human rights violations
A Kano based blogger, Bashir Bashir Galadanci has petitioned the state police command to investigate its public relations officer over alleged abuse of office and violations of fundamental human rights.
Mr Galadanchi had accused Abdullahi Haruna Kiyawa, a Deputy Superintendent of Police, of illegal detention, torture, and coercing him into making a false confession.
KANO FOCUS recalls that Mr Galadanci was arrested on September 11 for allegedly divulging police internal information on social media without authorization.
In a videotaped confession that went viral, Mr Galadanci apologized to the police command and alleged that he was sponsored by a former PPRO to tarnish the image of the Kano state police command.
EFCC Grills Rabiu Kwankwaso
The Economic and Financial Crimes Commission (EFCC) on Saturday grilled former governor of Kano State, Rabiu Musa Kwankwaso over allegations of abuse of office, diversion of public funds and fraudulent allocation of government properties to cronies.
KANO FOCUS reports that Kwankwaso, a chieftain of the Peoples Democratic Party, was first invited by the EFCC in September but failed to honour the invitation as reported by Channels TV.
An associate of the politician informed Channels Television that Kwankwanso may have been invited in relation to a petition by some retired employees of the Kano State Government.
The retired employees had told the EFCC that the former governor mismanaged pension remittances to the tune of N10 billion between 2011 and 2015, to fund a housing project for his cronies.
EFCC spokesperson, Wilson Uwujaren did not comment on the interrogation of the former governor when contacted on Saturday.
Crisis rocks Kano APC as Ganduje, Shekarau hold parallel Congress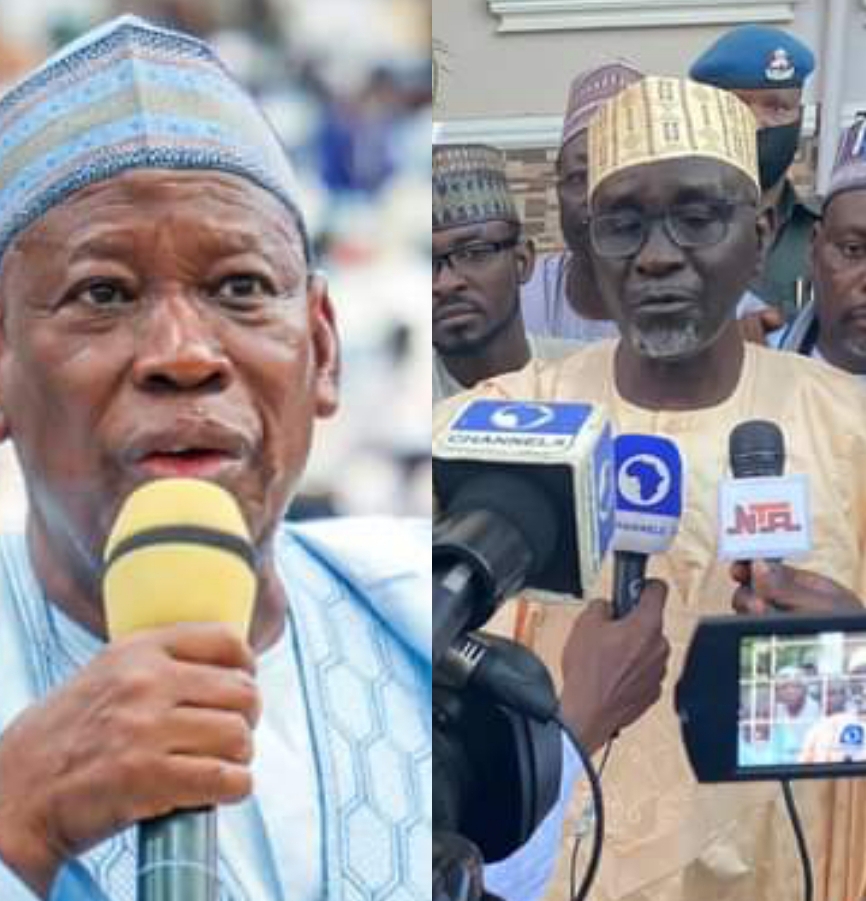 Aminu Abdullahi
Crisis rocked Kano chapter of All Progressive Congress (APC), as Governor Abdullahi Umar Ganduje and faction loyal to former governor of Kano and serving Senator Ibrahim Shekarau held parallel state congress.
KANO FOCUS reports that while Ganduje group held their congress at Sani Abacha stadium, faction loyal to Shekarau had their own at Janguza town, Tofa local government area.
Ganduje's led group endorsed Abdullahi Abbas as state chairman of APC for a second term in a consensus arrangement, while the faction loyal to Shekarau announced Ahmadu Haruna Zago as newly elected chairman of APC in Kano state.
Reports shows that the security have earlier disrupted Shekarau's camp congress at Sani Abacha youth centre and sealed the premises before they moved to Janguza where they held the election.
Below are some pictures of the parallel Congress.
NCC moves to address poor network service at densely populated Kano markets – Prof Danbatta.
Nasiru Yusuf
The Executive Vice Chairman of the Nigerian Communication Commission (NCC) Umar Garba Danbatta says the commission will address the poor network at Kantin Kwari, Sabongari Singer and Kurmi markets.
KANO FOCUS reports that Danbatta announced revealed this while responding to complaint raised by a participant at a two day stakeholders consultative meeting tagged 'talk to the regulator' organised by Nigerian Communications Commission in Kano.
The complainer noted that that there is poor telecommunications service in Kantin Kwari, Sabongari, Singer and Kurmi markets in Kano metropolitan area.
Danbatta responded that the commission will deploy investigative team to determine the nature of the problem and proffer solution.
"We have the capacity to monitor the performance of MNOs, that is the most important thing. Because of this valid observation by our stakeholder, we are going to direct our searchlight in those areas where we think the quality of service needs to improve.
"And if it is necessary, we will send the investigative team what is the nature of the quality of service in such places with a view to improve the quality of the service," Danbatta said.
The Executive Vice Chairman explained that the commission considers stakeholder feedback "as a critical component of our forward – looking regulatory model."
"Hence, the overarching objective of this forum is to get direct feedback from our licensees on how we, as a regulator, are meeting your expectations, and on areas where we can improve our regulatory service, particularly those that have to do with licensing.
"We also intend to use this forum to seek your support for the several initiatives that the commission has carefully developed in our quest to enhance market opportunities for all our licensees."
Danbatta added that the commission will focus it's energies for the next five years on five strategic pillars.
The pillars according to him include "organisational renewal for operational efficiency and regulatory excellence.
"Facilitate the provision of infrastructure for a digital economy which fosters national development.
"Improve quality service (QoS) for enhanced consumer quality of experience (QoE).
"Promote fair competition, inclusive growth, increased investment and innovative services as well facilitate strategic collaboration and partnership."
He disclosed that the federal government has articulated a number of critical policy objectives for the sector such as those articulated in the National Digital Economy Policy and Strategy (NDEPS), the Nigerian National Broadband Plan (2020-2025), the Revised National Digital Identity Policy for SIM Registration among others.
He added that the instruments require the full and unalloyed commitment of all stakeholders to ensure their successful implementation, and the meeting in Kano would provide a veritable channel for licensees' buy-in.
In his address the Director of Licensing and Authorisation Department, Mohammed Babajika, said the commission is further liberalising the telecoms industry by finalising the framework for Mobile Virtual Network Operators (MVNOs) and is currently reviewing existing regulations.
"The Commission is also finalising the Information Memorandum (IM) for 5G deployment, emerging trends like Internet of Things (loT), Artificial Intelligence (AI), Over The Top (OTT) Services and Big Data Analytics, all aimed at initiating strategies to improve service delivery that is accessible and affordable.