Stop creation of new emirates to avoid tragic end–Sheikh Dahiru Bauchi warns Ganduje
By Nazifi Dawud
Sheikh Dahiru Bauchi, a revered Islamic scholar and foremost spiritual leader of the Tijjaniya sect in Nigeria has warned Governor Abdullahi Ganduje to shelve plans to restore his four first-class emirates, which were dissolved by a Kano high court.
Kano Focus reports that Mr Ganduje had transmitted a new executive bill to the Kano State House of Assembly seeking to re-create the four controversial emirates in Rano, Gaya, Bichi and Karaye, after they were nullified by court.
On November 21, 2019 Justice Usman Na'abba had ruled that the Kano assembly did not follow due process in passing the law that established the additional emirates.
However, in a statement on Monday, Malam Muhammad Garba, the state commissioner for information, said the creation of the new emirates "was…informed by the need to bring traditional institution closer to the people in addition to facilitating speedy socio-economic development and security in the state."
Mr Garba added that "some of these Emirate have even pre-dated Kano in ancient times, while the effort to revive them during the Second Republic was short-lived."
The creation of the additional emirates is widely believed to be a ploy by Mr Ganduje to whittle down the influence of Emir Muhammad Sanusi II over perceived political differences.
'Bad news'
But in an audio clip obtained by BBC Hausa, Sheikh Bauchi expressed dismay with Mr Ganduje's decision to re-introduce a bill to restore the nullified emirates.
He advised the governor to shelve any plans to create additional emirates in the state in the interest of peace.
"As a leader of the Tijjaniya sect, I heard a bad news that Governor (Abdullahi) Ganduje is still trying to restore those emirates that have been dissolved by court. I heard he had asked members of the state assembly to give him the chance to restore the sacked emirates. So, I am begging Ganduje in the name of Allah and the Noble Prophet (Muhammad), to promote peace in Nigeria not only in Kano.
"All of us members of Tijjaniya in Nigeria are in support of the Kano Emirate and the Kano Emirate Council. Anything that affects the Kano Palace also affects us and we won't allow it.
"I am therefore, drawing the governor's attention to cancel his plans and accept the decision of the court which has restored Kano to the way it was for more than 1,000 years," the cleric said.
'Spiritually powerful'
"What is best for (Ganduje) is to be at peace with the people and stop attracting curses and calamitous prayers for himself. There are many of us in Tijjaniya and all of us not only in Nigeria are fully supporting the Kano Emirate because it brought Shehu Ibrahim Nyass to Nigeria and even Africa.
"We will never forget the good thing the Emirate did to us. So we are with them and we are against anyone that opposes them. I am drawing the Governor's attention not to cause trouble and unrest for us. All Tijjaniya members are with the Emir of Kano (Muhammad Sanusi II). I am warning that whatever affects that Emirate affects us all and we will not allow it. Even though we are not strong physically but we have spiritual powers. So, I am calling on Ganduje to leave Kano alone the way he and his parents met it.
"The white man (colonialists) came and did his nonsense for 60 years but he never mutilated and dismembered Kano the way Ganduje is doing, the military also came and left Kano the way they met it, so he should also admonish himself and avoid trouble and leave Kano the way Allah allowed it to be for centuries," the Islamic scholar warned.
'Terrible idea'
"Dismembering Kano is a terrible idea, (Ganduje) should stay away from it to avoid terrible curses and evil prayers against his person by Tijjaniya followers. Even Shehu Dan Fodio and his children like Mohammad Bello and his brother Abdullahi had acknowledged that Kano is a blessed land.
"Shehu Ibrahim (Nyass) also said even though he had left Kano, but his mind was with Kano and he had repeatedly blessed Kano because his faithful followers were in Kano.
"So, I am repeating my advise to Ganduje, he should desist from dismembering and mutilating Kano and leave it alone the way he and his parents met it. He should concentrate on ending his public career peacefully without attracting evil prayers and terrible curses
"He should strive to have a peaceful end not a terrible one. I hope Governor Ganduje has heard this and would follow my advice," Sheikh Bauchi added.
AIG orders investigation of Policeman seen voting in Kano APC Congress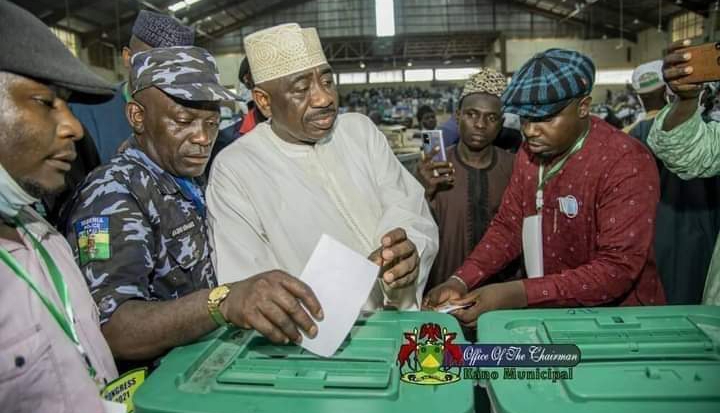 Aminu Abdullahi
The Assistant Inspector General of Police in charge of Zone Abubakar Sadiq Bello has ordered the investigation of unprofessional conduct of a policeman caught on camera voting during state congress of All progressive Congress (APC) in Kano.
KANO FOCUS reportsthat in view of the unprofessional conduct of the policeman, the AIG has referred the matter to the Zonal X-Squad for investigation.
A statement issued on Monday by Zonal Police Public Relations Officer Abubakar Zayyanu identified the police officer as Bashir Mohammed attached to the government house, Kano, from where he was deployed to work with the state Chairman of APC Abdullahi Abbas as a security aide.
Mr Zayyanu noted that if the inspector is found to have committed an offence by this action, the appropriate disciplinary measure will be taken against him.
He further assured the general public that further development on the matter will be communicated.
The statement reads in part.
"The attention of the Inspector-General of Police Zone one Headquarters, Kano has been drawn to a trending picture on social media, of an inspector of police casting vote at the recently conducted Kano State congress of the APC along with his principal, the state party chairman, Abdullahi Abbas.
"The inspector of police has been identified as Bashir Mohammed of the Special Protection Unit, Base One, Kano. The inspector is attached to the government house, Kano from where he was deployed to work with the said Abdullahi Abbas as a security aide.
"In view of this seemingly unprofessional conduct of the inspector, the AIG has referred the matter to the Zonal X-Squad for investigation.
"If the inspector is found to have committed a disciplinary offence by this action, the appropriate disciplinary measure will be taken against him.
"Finally,  we want assure members of the public that further development on the matter will be communicated please."
EFCC Grills Rabiu Kwankwaso
The Economic and Financial Crimes Commission (EFCC) on Saturday grilled former governor of Kano State, Rabiu Musa Kwankwaso over allegations of abuse of office, diversion of public funds and fraudulent allocation of government properties to cronies.
KANO FOCUS reports that Kwankwaso, a chieftain of the Peoples Democratic Party, was first invited by the EFCC in September but failed to honour the invitation as reported by Channels TV.
An associate of the politician informed Channels Television that Kwankwanso may have been invited in relation to a petition by some retired employees of the Kano State Government.
The retired employees had told the EFCC that the former governor mismanaged pension remittances to the tune of N10 billion between 2011 and 2015, to fund a housing project for his cronies.
EFCC spokesperson, Wilson Uwujaren did not comment on the interrogation of the former governor when contacted on Saturday.
Crisis rocks Kano APC as Ganduje, Shekarau hold parallel Congress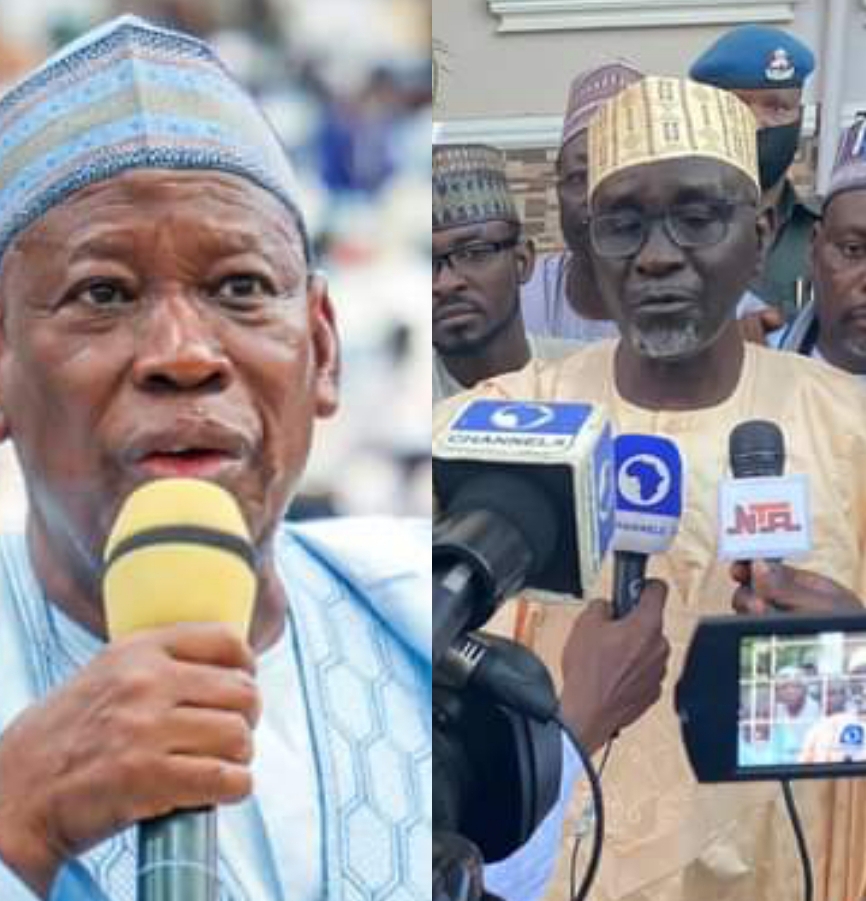 Aminu Abdullahi
Crisis rocked Kano chapter of All Progressive Congress (APC), as Governor Abdullahi Umar Ganduje and faction loyal to former governor of Kano and serving Senator Ibrahim Shekarau held parallel state congress.
KANO FOCUS reports that while Ganduje group held their congress at Sani Abacha stadium, faction loyal to Shekarau had their own at Janguza town, Tofa local government area.
Ganduje's led group endorsed Abdullahi Abbas as state chairman of APC for a second term in a consensus arrangement, while the faction loyal to Shekarau announced Ahmadu Haruna Zago as newly elected chairman of APC in Kano state.
Reports shows that the security have earlier disrupted Shekarau's camp congress at Sani Abacha youth centre and sealed the premises before they moved to Janguza where they held the election.
Below are some pictures of the parallel Congress.