Customs officials "shoot" student in Kano
Nasiru Yusuf
Some customs officials in Kano have allegedly wounded both legs of  a postgraduate student when they fired at his car.
KANO FOCUS learnt that the student, Jibrin Yahya Maikifi  was driving back to Kano from Gashua, Yobe state on Monday when he was stopped by  customs officers at Zakirai, Kano.
Mr Maikifi, who spoke from a hospital bed, said the customs officers fired at the car after he had applied instant brake.
According to him, the officers were not wearing full uniform and they had not mounted a roadblock.
Customs seize petrol tanker laden with foreign rice
Customs impounds 18,816 bags of foreign rice in Kano and Jigawa
Mr Maikifi, an Msc Computer Engineering student at University of East London alleged that the customs officers zoomed off in their car when they realized that the shots had injured him.
However, spokesperson of Nigeria Customs Service Kano/Jigawa area command Isa Danbaba said the command is yet to confirm the incident.
Mr Danbaba said the command is investigating the matter, as there are three layers of customs officers operating in the area.
"There is a Federal unit, a special unit from the Controller-General's office, and the Kano/Jigawa area command." He said.
The spokesperson however said criminals could disguise as customs officers to commit atrocities.
On Wednesday a police sergeant attached to UBA Malam Kato square in Kano had also shot a 21 year graduate of Computer science from Noida International University India, Mus'ab Muhammad.
However, the police spokesperson in Kano, Abdullahi Kiyawa said the command would prosecute the policeman after investigating the circumstances that led to the killing.
Kano Anti corruption investigates refugee commission over alleged diversion of palliatives
Aminu Abdullahi
Kano State Public Complaints and Anti-Corruption Commission says it will investigate alleged corrupt practices in the disbursement of relief materials by National Commission for Refugees, Migrants and Internally Displaced Persons (NCFR).
Kano Focus reports that the chairman of the commission Muhyi Magaji Rimin Gado revealed this while receiving the new Commissioner Independent Corrupt Practices and ther related offences Commission (ICPC ) in charge of Kano zone.
Mr Rimin Gado said PCACC will partner ICPC to investigate the alleged corrupt practices in the disbursement of relief materials.
He noted with dismay that some officials saddled with the responsibility of distributing the items to the needy, was accused of diverting it.
While congratulating the new Commissioner over his recent posting to Kano office of the ICPC, Mr Rimingado solicit for synergy between the two commissions towards checkmating corrupt practices in the state.
In his remarks, the state Commissioner of ICPC, Ibrahim Kagara, assured to work with PCACC in the fight against corruption.
Kagara, described corruption as a serious problem that required a concerted efforts of all stakeholders to tackle it decisively.
Court jails Cameroonian for human trafficking
A Federal High Court sitting in Kano, on Thursday, sentenced a 36-year-old Cameroonian, Hoth Simplice-Patrick, to 15 years in correctional centre without option of fine for human trafficking.
Kano Focus reports that the convict, who lives at Sabon Gari Quarters Kano, was arraigned by the National Agency for the Prohibition of Trafficking in Persons(NAPTIP) on three-count charge bordering around human trafficking.
The trial judge, Sa'adatu Ibrahim-Mark, said the court found the defendant guilty for human trafficking.
She sentenced the convict to five years in correctional centre each on the three count charge without option of fine, adding that the sentence starts from the date of his arrest.
Earlier, The Prosecution Counsel, Abdullahi Babale, told the court that NAPTIP in collaboration with Joint Border Task Force(JBTF) arrested the defendant in July 2020.
Mr Babale said that on July 15, 2020 the convict acting on behalf of his Principal master one Albany now at large "procured the illegal entry of two female and one male between the ages of 17 to 29-years-old, of Lagos State to Libya enroute Kano  in which they are not permanent residents or citizens "
The convict, Simplice-Patrick, pleaded guilty to the charges.
According to the prosecutor, the offence contravenes Section 26 (1) of the trafficking in Persons(Prohibition) Act 2015.
The defence counsel, Murtala Isa, pleaded to court for leniency on behalf of his client as he is first time offender.
Court convicts ponzi scheme operator in Kano, orders return of N110m to victims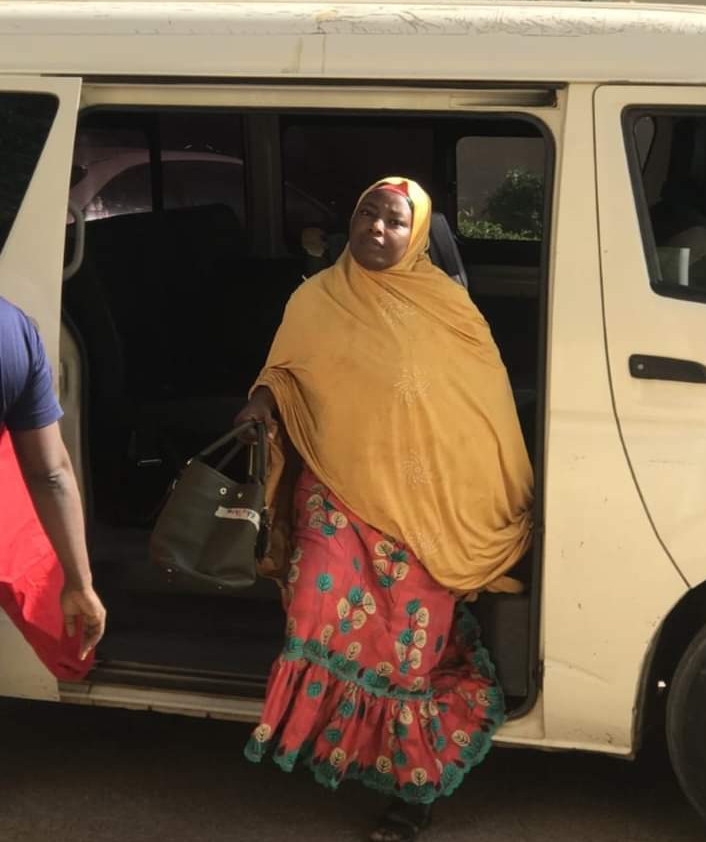 The Federal High Court Kano presided over by Lewis Allagoa has convicted one Maryam Abu Shinga on one count amended charge of retention of proceeds of crime. She was also ordered to pay the sum of N110, 000,000 in restitution to victims
Kano Focus reports that the convict was said to have lured her victims into a phony gold mining investment where she represented that the investor stands to earn 300% profit.
She claimed that when an investor invests N500, 000, such investor could earn one million five hundred thousand Naira as returns on investment over a period of four weeks.
Investigation, however, revealed that the convict was never into gold mining or any such investment. It was also discovered that even though Shinga was able to pay some early investors with funds taken from later investors, she allegedly diverted three hundred and ninety-four million, five hundred and forty-one thousand, nine Hundred and ten Naira belonging to other investors.
Upon arraignment, Shinga pleaded 'not guilty' thereby setting the stage for trial.
During the trial which commenced on January 23, 2020, the prosecution called five witnesses and tendered several documents in evidence. However, before the prosecution could close its case, the convict opted for a plea bargain.
In his judgment, Allagoa accepted the terms of a plea bargain agreement, convicted and sentenced the defendant to restitute the complainants in the sum of N110, 000,000.