Kano task force confiscates two truckloads of fake drugs
Nasiru Yusuf
The Kano State Task Force on Fake and Counterfeit Drugs has intercepted 147 cartons of expired drugs stored in an uncompleted building located at Unguwar Dabai in Dala Local government area of the state.
Addressing journalists shortly after the operation, the Director Pharmaceutical Services at the state Hospital Management Board, Ghali Sule said the raid followed a tip off by a good samaritan who briefed the committee about irregular movements within the area by unknown persons.
Mr Sule, a pharmacist restated state government's commitment in ridding the state of fake, illicit drugs and substance abuse.
He said arrangements have been completed for relocating of Sabon Gari drugs market to its permanent site at Dangwauro village in Kumbotso local government area.
According to him this would allow the government to strictly monitor the movement of drugs and other substances.
Mr Sule enjoined well meaning individuals to complement the efforts of government in fighting drugs, by reporting any irregular movement of drugs to the state ministry of health for prompt response.
Kano has been rated among states with highest rate of substance abuse in Nigeria.
A senator from Jigawa state had once told the Nigerian senate during plenary that at least 3 million bottles of codeine were consumed on a daily basis in Kano and Jigawa states.
In an attempt to address the menace, a former governor of Kano, Rabiu Kwankwaso had banned the trading of pharmaceutical drugs at Sabongari market and established the Kiru Reformatory Institute to rehabilitate youths that abuse drugs.
Ganduje donates N3.6m to families of Doguwa flood victims
Nasiru Yusuf
Governor Abdullahi Ganduje of Kano state has paid condolence visit to the families of 18 Doguwa flood victims and donated the sum of two hundred thousand Naira to each of the victims family.
KANO FOCUS reports that Ganduje prayed for the repose of the departed souls of those who died as a result of the heavy downpour.
"When the information of this sad tragedy reached us we were seriously shocked. May Allah Forgive the victims, who died as martyrs, being washed away by flood. May He give them the ultimate reward of Jannatul Fiddaus, ameen," the governor prayed.
Families of the victims expressed appreciation to the governor and his entourage and prayed to God to guide him in steering the affairs of the state.
It will be recalled that on July 23, about 18 persons including six members of a family have perished in a ghastly car accident in Doguwa Local Government Area.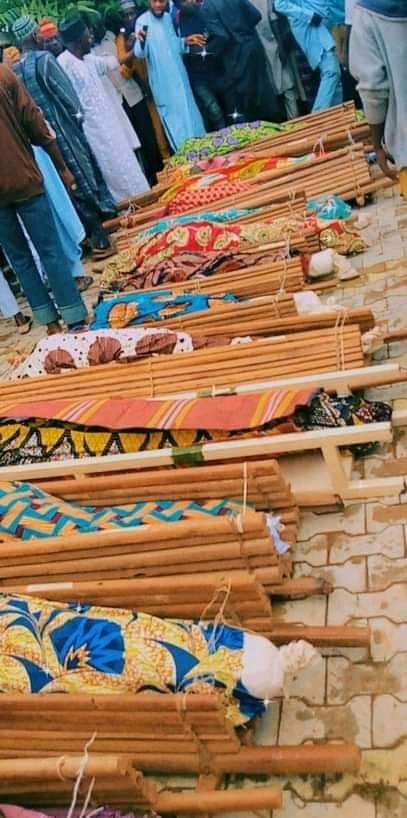 The Sector Commander of the Federal Road Safety Corps (FRSC) in Kano State, Zubairu Mato, said the accident occurred when a bridge linking Riruwai and Doguwa broke down as a result of the heavy downpour, and the driver wasn't aware that the bridge had broken down.
He explained that the vehicle plunged into the water, killing all the 18 passengers on board including six members of same family.
The family members have been identified as Bashir Doguwa, Malami Gidan-Tanimu, Safiya Mukhtar, Shahida Bashir, Fatima Rabi'u, Uzairu Bashir, all of Doguwa Local Government Area of Kano State.
Doguwa and his family were on their way from Doguwa to First Lady Secondary School in Dambatta Local Government Area of the state to visit his daughter, Firdausi Bashir, who is among the students writing the ongoing NECO SSCE examinations.
Kano records highest number of sickle cell patients in Nigeria
Nasiru Yusuf
Kano state has the highest sickle cell patients in Nigeria, a consultant haematologist at Aminu Kano Teaching Hospital said.
KANO FOCUS reports that Dalha Halliru Gwarzo disclosed this in an interview with Hospital's newsletter as part of the 2021 World Sickle Cell day.
He added that Lagos is the second state with highest number of sickle cell cases in the country.
Mr Gwarzo said India, Democratic Republic of Congo and Nigeria constituted 90% of the sickle cell patients worldwide.
On the causes of sickle cell disease, Mr Gwarzo said it is a genetic inherited disease from parents who are either SS, or AS genotype as a result of genetic condition or mutation of abnormal form of red blood cell.
He advocated for compulsory screening of infants after birth and school children, pre-marital counseling/tests, subsidising cost of medication/treatment and mass sensitisation campaign on dangers of the disease.
Mr Gwarzo noted that, although there is no known cure for sickle cell disease, but developed countries are using a high technology for manipulation of the genetic cells by bone marrow and stem cells transplant, which cost about fifteen million Naira in countries like United States, Germany, United Kingdom and Canada.
Kano missing children: Court convicts Paul Owne 104 Years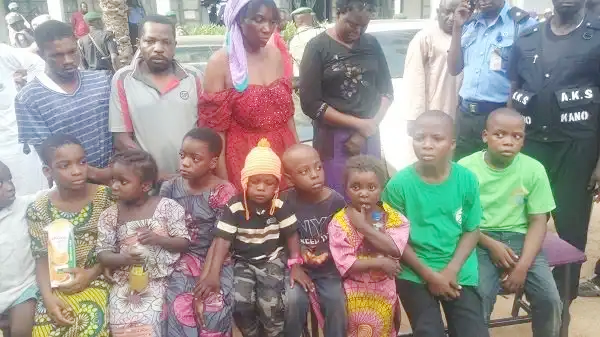 Kano State High Court has sentenced Paul Owne to 104 years without option of fine for abducting under five children and sold them in Onitsha, Anambra state.
KANO FOCUS reports that Mr Owne was reported to have conspired with six others in committing the crime.
Delivering the judgement on Friday Justice Zuwaira Yusuf sentenced the convict after pleaded guilty to all his 38 count charge against him by Kano State Government.
The court upheld that the convict was found guilty in count 2, 8, 9, 2, 27 and 34 therefore convicted him to 7 years each without option of fine in addition with the sum of N100,000 fine.
Similarly, the court found Owne guilty in count 3, 5, 10, 11, 22, 28 and 38 head count he was sentenced to 7 years.
Mrs Yusuf said the action of Owne was in contravention of count 4, 12, 13, 29 and 38, she convicted him to 4 years on each count without option of fine.
She ordered that all the count shall run Consecutively.
The 5 other defendants who pleaded not guilty to all the charges read over to them namely: Ogbono, Emanuel Igwe, Loise Duru, Monica Oracha and Chinelo Ifedigwe.
Kano Focus reports that the Kano Police Command had rescued nine missing children and paraded six Igbo persons who have confessed to abducting the kids, renaming and forcefully converting them to Christianity before selling them in Onitsha, Anambra state.