Sulaiman's Kano girlfriend surfaces, speaks on boyfriend's American lover
Nazifi Dawud
Nafisa Tahir, the Hausa girlfriend of Sulaiman Isah, the 26-year-old Instagram lover of an American woman Ms Janine Sanchez, has emerged from the shadows to speak on her now ex-boyfriend's new found love.
Ms Nafisa, who spoke to famous broadcast journalist Salisu Zango, said she was not perturbed by Mr Sulaiman's romance with 46-year-old Ms Sanchez, who came all the way from the United States to meet and propose marriage to the young man.
KANO FOCUS reports that Ms Sanchez fell in love with Mr Sulaiman after they met on social network app Instagram over 10 months ago.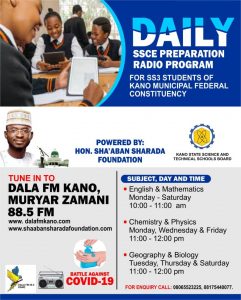 The American mom of two has already declared her intention to marry Mr Sulaiman and move with him to the United States in March, 2020.
Mr Sulaiman's parents have given their blessings to Ms Sanchez's proposal to marry their son.
His father, Mr Isa, a retired police officer had told Kano Focus that he had no objection his son's relationship to the American woman as long as she agrees to sponsor Mr Sulaiman's education and allow him to retain his Islamic faith.
However, Ms Nafisa said though she felt betrayed but she was happy that her ex boyfriend has revealed his "true colours" early enough.
She said she was glad Ms Sanchez's emergence had exposed Mr Sulaiman's "hidden character", adding that she wished the lovers well.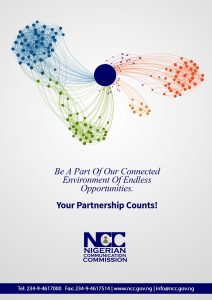 Opinion: Kano's shoddy border closure: A personal experience
By Rauf Musa
I took a very important trip to Kano on Saturday, April 4, 2020 and in the course of this trip I observed some anomalies in the way security and health officials implement the movement restriction directive issued by the Kano state government, to prevent the spread of the coronavirus (COVID-19).
Despite all the media hype Governor Abdullahi Umar Ganduje created last week, when he was captured on video turning back a truckload of travelers coming into Kano, the state remains largely insecure and porous.
It seems that Kariya village, about 75 kilometers to the entry point to Kano state, is the only point where travelers coming from Kaduna axis are stopped for checks, just before Kwanar Dangora.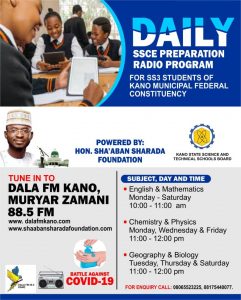 On that particular spot are personnel of the police, Civil defence, Kano Road Traffic Agency (KAROTA) and some health workers. The place was very chaotic and disorganized.
Even though these agents are doing their best to do their jobs, nothing suggests that travelers could not come into Kano.
Drivers of commercial vehicles simply drop their passengers before reaching the check point, where motorcycle riders are readily waiting to pick them and cross the checkpoint with them.
Thereafter, the travelers would simply rejoin their respective vehicles and proceed with their trip right into the heart of the city, with brazen impunity.
At the checkpoint, I noticed only ONE health worker, who appeared to be overwhelmed and confused as he tried to check the body temperature of a horde of travelers.
As for drivers of trailers and articulated vehicles, they pass freely without undergoing any checks!  These vehicles mostly carry non-essential items such as building materials.
The entire scene depicts total derailment from what was intended to be achieved.
From that village, travelers continue their movement freely into Kano without any other checkpoint. It was business as usual.
Even though, to this moment, there was no recorded outbreak of the COVID-19 in our dear state, but there is absence of vigorous campaign in the media on the looming danger in our horizon.
Our people need rigorous sensitisation and awareness on COVID 19 pandemic, at least on basic precautions.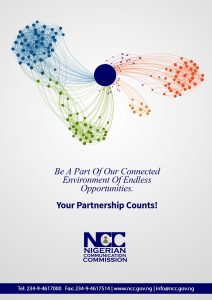 NCC alerts Nigerians on fake website advertising fraudulent internet claims
Nasiru Yusuf
The Nigerian Communications Commission (NCC) has caution telecoms consumers on the fraudulent message being spread on the internet by a fraudulent website.
A statement issued by the Deputy Manager Online Media and Special Publication, NCC, Kunle Azeez said the fake website (https://covid-19-fg-grant.blogspot.com/?=1) is asking Nigerian citizens to apply for a free internet bundle ostensibly being given by the Nigerian government in collaboration with NCC.
"Nigerian government, in collaboration with NCC, is offering all Nigerian citizens up to 20GB of data to stay at home and get up-to-date information in a bid to counter the spread of COVID-19. All Nigeria citizens are entitled to free Internet connection to stay at home safely and enjoy the Internet in a bid to control the spread of COVID-19. The free Internet package is available to everyone starting from Friday, 27th March, 2020," the deceptive website claims in its message.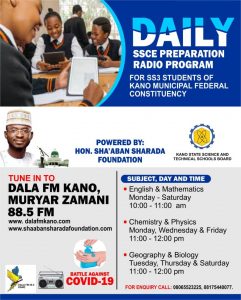 "The website suspiciously asks Nigerians to apply for the free Internet by clicking a web link, which automatically takes them to a webpage with a dialogue box where they are expected to fill in their bio data and other demographics.
The NCC stated that neither the Nigerian government nor the Commission has issued such a message to Nigerian citizens.
The Commission strongly advised Nigerians and all telecom consumers to beware of this fraudulent, false and spurious claim. The general public should discountenance the falsehood which has gained traction by the rise in tempo of its circulation.
The NCC cautioned that the message should be disregarded in its entirety as the said website is a sham and a total deception to dupe Nigerians of their hard-earned money, and to harness personal data for fraudulent purposes.
Consistent with the consumer-centric policy of NCC, the Commission wishes to sensitise Nigerians to the antics of cyber criminals, who will want to take advantage of this challenging period of a rampaging pandemic, and the stay-at-home directive of the government to scam telecom consumers and the general public.
The NCC, therefore, uses this opportunity to reiterate its commitment towards deepening access to telecoms services and its dedication to strengthening the protective measures it has instituted to safeguard the rights of over 128 million internet users across mobile networks in Nigeria.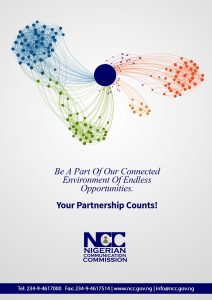 No licence has been issued for 5G in Nigeria – Pantami
Nasiru Yusuf
The Minister of Communications and Digital Economy Dr Isa Ali Ibrahim Pantami says the federal government has not granted the fifth generation (5G) license to any telecoms operators in Nigeria.
In a statement sent to KANO FOCUS on Saturday, Mr Pantami said no license has been issued for the deployment of 5G in the country.
The minister noted that as chairman of the National Frequency Management Council (NFMC), the council has not deliberated on or released any bulk frequency spectrum for the deployment of 5G.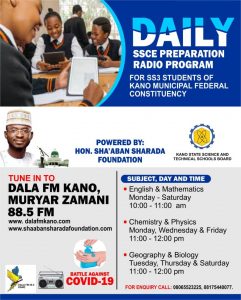 He recalled that a 3-month study trial has commenced on the 25th of November, 2019 in order to critically review and study the health and security implications of deploying 5G in Nigeria.
"As part of the study trial process, I directed the Nigerian Communications Commission (NCC) to ensure that a team of experts, security agencies and other stakeholders fully participate in the trial process and my office also invited these agencies to participate in the trial; and the trial process has been concluded and the study and reporting process is currently ongoing.
"His Excellency, President Muhammadu Buhari, GCFR, places a premium on the welfare, health and security of Nigerians. As such, our desire for technological advancement will never be at the expense of the health and welfare of our citizens," he assured.
Mr Pantami revealed that he has directed the NCC to engage citizens on any questions or concerns they may have regarding 5G, as government will not act on the speculations only, but rather we will take an informed decision on 5G after due consultation with experts and the public.
The minister assured Nigerians that government will always take the welfare, health and security of the public into account while considering the deployment of any technology.