Facebook partners NCC on digital infrastructure
Nasiru Yusuf
Top management staff of Facebook, a leading global social network platform, have sought partnership with the Nigerian Communications Commission (NCC) on deployment of digital infrastructure to strengthen connectivity.
Mr Ibrahima Ba, Network Investment Lead at Facebook Office in the United States, who led the Facebook delegation to NCC, stated that robust infrastructure is the bedrock of the massive connectivity that signposts Facebook, WhatsApp and Instagram.
He said without adequate and right type of infrastructure there can be no robust connectivity.
Mr Ba recalled that Facebook had successfully undertaken two connectivity projects in Edo and Ogun involving a total of 800 kilometers of fibre connecting institutions and operators towers.
He said considering the connectivity gap that still exists in the country, there is a great need for expansion of infrastructure to deepen penetration of services.
According to Ba, Nigeria is very important to Facebook for many reasons but particularly because it is Africa's most populous country.
He emphasised that Facebook looks forward to seeing opportunities for partnerships manifest because such collaboration will result in kilometres of infrastructure expansion in fibre connectivity.
He advised the Commission to facilitate further liberalisation of partnership and collaboration processes with stakeholders.
Edoyemi Ogoh, Deputy Director Technical Standards and Network Integrity at NCC, who received the Facebook team, on behalf of the NCC Vice Chairman Professor Umar Dambatta, thanked them for the visit.
He commended the group for the model it has adopted in participating in the Nigerian market by partnering with licencees of the Commission, and assured the team of NCC's irrevocable commitment to infrastructure expansion to enhance better connectivity.
He affirmed that NCC is aware of how central infrastructure is to the expansion of telecom services, and said that the realisation explained NCC's adoption of the Open Access Model (OAM) and the licensing of infrastructure companies (Infracos) to cascade fibre to the hinterland of Nigeria.
Mr Ogoh also informed the guests that President Muhammadu Buhari's recent re-designation of NCC's supervising ministry as Ministry of Communications and Digital Economy shows the federal government's commitment to encouraging more citizens to embrace digital culture.
He declared that the Commission is central to these processes, and the Minister of Communications and Digital Economy, Dr. Isa Ali Ibrahim Pantami, has continued to also demonstrate his commitment to tackling bottlenecks to infrastructure expansion.
He cited the recent meetings between the Minister, the EVC and Dr. Kayode Fayemi, the Governor of Ekiti State and Chairman of Nigerian Governors Forum (NGF) which focused on streamlining and standardizing Right of Way (RoW) charges as eloquent testimony to Government's commitment in this regard.
Mr Ogoh also stated that the Commission is finalising processes to institute the 'Dig Once Policy' that will encourage operators and other key players in infrastructure segment to have greater strategic collaboration in the laying of fibre especially in the context of the upcoming National Broadband Plan 2020-2025.
Mr Ba came to NCC with four of his colleagues – Erik Schmidt, Network Strategy Manager, Facebook Infrastructure; Adaora Ikenze, Head West Africa (Public Policy); Imran Abass, Partner Manager, Sub Sahara Africa; and Fargani Tambeayuk, Africa Public Policy Manager (Connectivity).
Kano Covid-19 cases step-up to 230
Mukhtar Yahya Usman
The number of people infected with Coronavirus in Kano has stepped-up from 227 to 230 on Monday according to the Ministry of Health.
Kano focus reports that 5 new cases were confirmed after testing 280 people while no patient was discharged on Monday.
So far Kano state has tested 17,568 people of which 1,309 turned out positive.
However, 1,030 have been discharged while 52 have died.
Emir Bayero reverses father, returns Dan Agundi to Emirate Council
Meanwhile, the number of infected persons in Nigeria had risen from 18,202 on Sunday to 19482 on Monday.
According to the Nigeria Center for Disease Control (NCDC) the country on Monday recorded 595 news cases of Covid-19.
So far 33,153 persons have tested positive to Coronavirus in Nigeria.
However 13,671 have recovered, while 744 have died.
Emir Bayero reverses father, returns Dan Agundi to Emirate Council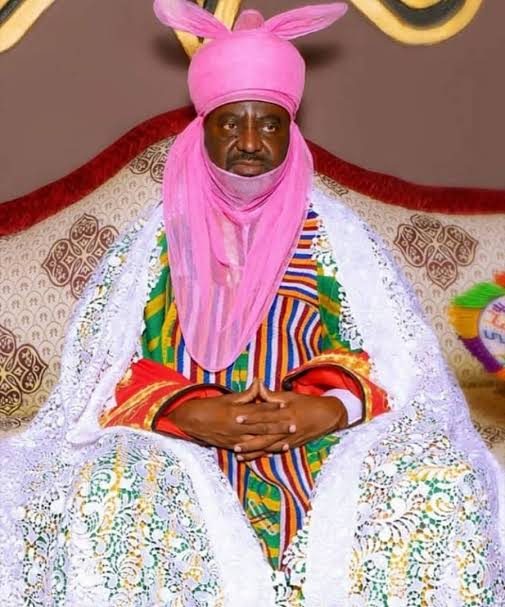 Maude Rabiu Gwadabe
The Emir of Kano Aminu Ado Bayero has approved the appointment of deposed Sarkin Dawaki Mai Tuta Aminu Babba Dan Agundi as Sarkin Dawaki Babba and member of Kano Emirate council.
Kano Focus reports that this is a reversal of the decision taken by the monarch's late father, Emir Ado Bayero who deposed Mr Dan Agundi for insubordination.
Mr Dan Agundi's new appointment is contained in a letter obtained by Kano Focus on Monday written to secretary to the state government Alhaji Usman Alhaji by deputy secretary of Kano Emirate council Sarki Waziri (Dan Rimin Kano).
The late Emir Bayero had in 2003 dethroned Dan Agundi as District Head of Gabasawa and Sarkin Dawaki Maituta over alleged insubordination.
Emir of Kano tasks TCN on electricity supply
Kano Emirate to constitute anti-rape committee
Supreme Court upholds late Bayero's deposition of Aminu Babba
Mr Dan Agundi was accused of disobeying an order from the late emir, who invited him to appear before him.
Shortly after his dethronement, Mr Dan Agundi dragged the late emir and Kano emirate council to a state high court for redress.
The high court judge, Sadi Mato ruled that Dan Agundi be reinstated and be paid all his entitlements.
However, the Kano Emirate Council appealed the judgment but the Court of Appeal also affirmed the verdict of the lower court.
The Emirate Council under deposed Emir Sanusi II, filed an appeal at the Supreme Court challenging the judgments of the two lower courts.
On June 5, 2020 – six years after the death of late Ado Bayero – the Supreme Court affirmed Emir Ado Bayero's decision of sacking Aminu Babba Dan'agundi as Sarkin Dawaki Mai Tuta and District head of Gabasawa.
Neither Emir Aminu Ado Bayero nor the Kano state Emirate Council has explained their reasons for returning Mr Dan Agundi as Council Member with the new title of Sarkin Dawaki Babba.
Meanwhile Emir Bayero has also appointed his elder brother deposed Chiroman Kano Sanusi Ado Bayero as Wamban Kano and member of Kano Emirate council.
Mr Sanusi Bayero was appointed Chiroman Kano by his father, former Emir Ado Bayero, and was believed to be his favored successor.
However, when he failed to secure the throne after his father's death, Mr Sanusi Bayero exiled himself to Abuja and refused to pay homage to Emir Sanusi II in line with Kano Emirate tradition.
His action prompted Mr Sanusi to sack him and replace him with his younger brother the present Emir of Bichi, Nasiru Ado Bayero.
The new Wamban Kano has since paid homage to Emir Bayero which signaled his resumption to the Kano Emirate fold.
Kano state government is yet to approve the new appointments.
College of Education donates house to staff who converted to Islam
Nasiru Yusuf
Sa'adatu Rimi College of Education, Kumbotso through its Charity Trust Fund, SAR-TA'AWUN, has donated a 3- Bedroom flat at Wailari Na'ibawa to one of its staff Abubakar Miller.
Kano Focus reports that Abubakar Miller accepted Islam on Thursday July 2, 2020.
Provost of the college, Yahaya Isa Bunkure said the gift was to strengthen the Islamic brotherhood.
Mr Bunkure described Malam Abubakar as a hardworking and dedicated staff who has done a lot to the development of the College and urged him to maintain the tempo.
Why I joined the Army – Kano female recruit
The beneficiary, Abubakar Miller described the day as a memorable one which he will never forget.
He said he was overwhelmed by the love, care, and brotherhood shown to him.
Mr Miller pledged to be more dedicated to his duties and prayed to Allah to grant his mercy to the college community.