Finding the ultimate peace: A tribute to Dr Habib Musa Fagge
Dr Muhammad Sulaiman Fagge
I can't remember the last time I saw so many people, young and old, crying as a result of losing someone. Probably the nearest I can remember was during the demise of the famous Sheikh, Sheikh Ja'far Mahmud Adam, who was murdered while leading Subh prayer somewhere in 2007.
The death of Dr. Habib, an anaethesiologist and a medical consultant with Aminu Kano Teaching Hospital, Kano Nigeria, has been a great tragedy which directly touched thousands of people.
Dr. Habib was born around 47 years ago. Born from the family of Alhaji Musan Kwalle in Fagge, Kano, he had his early Islamic education in Fagge, partly in Saqafah Islamiyya and in other places.
He attended Kwakwaci Secondary School and later proceeded and obtained his medical degree from University of Maiduguri. He became a medical doctor who worked with honesty, dedication and for the sake of Allah, Almighty. His qualifications didn't in any way go into his head or made him feel superior to others.
Throughout the days of his academic struggles, Malam Dr. Habib was truly a hard working servant of Allah who devoted his time, energy, and meagre resources for the sake of humanity.
Dr. Habib Musa was a philanthropist per excellence. He never needed to know you personally before he offered his helping hand. As a government worker, he went the extra mile to help and assist anyone who came his way, and to the best of his ability.
I am a living witness to how he had assisted one of our students, who sought for his assistance. I heard many people narrating how he had also assisted them, paid for their medication and transport fare back home. This is incredible.
Sheikh Bin Usman, on returning to Nigeria from a foreign trip, directly branched at Fagge, Dr. Habib's family house, to pay his condolence and pray for the deceased. It was there that he narrated and showed a text message which showed Dr. Habib donating more than a hundred thousand naira, just two weeks before his final exit.
People have mentioned a lot of good about him. Thousands of mouths described him as "mutumin kirki" – a righteous person. The mention is too much and too high. As I told his brother, Sheikh Musa Musa that, even his (Dr. Habib's) family, will never know half of what Dr. Habib did to help others during his lifetime. With all the pouring revelations, these cannot reveal half of what he has done to those in need.
He was a doctor for all! He cared and prescribed cures for his family, friends, friends of his families, friends of friends of his families, and to even those who were not known to him personally. He helped all those who went to him accordingly.
On the 28th of September, 2019, as the President of Islamic Medical Association of Nigeria (IMAN), Dr. Habib and many other doctors like him, celebrated the day and made it a duty upon themselves to sensitize and make people aware of simple and quick methods of saving lives.
They tagged and gave a theme of "LifeSavers" for the event internationally. Dr. Habib sacrificed the day and chose our two mosques, at Rijiyar Zaki (Assalam Juma'at Mosque) and Dambare (Darul Hamd Juma'at Mosque) for his personal demonstrations.
Dr. Habib was very cool, cute and calm. A right honourable gentle man! You will never see him in the middle of anything! He always chose to be at a side, hardly to be noticed by anyone. He didn't want to be known unless where necessary. Someone may easily [mis]perceive him as an introvert, not knowing that he can overtake a whole crowd when there is need.
A day after his death, it was said that Lassa fever killed him. This is up to the authorities to confirm, however, Dr. was known to have an ailment which repeatedly put him to bed, almost every year.
"If Lassa fever was the culprit in Dr Habeeb's death, then it was indeed merciless and evil. It took away the wrong person at the wrong time."
It didn't know the right person to be taken. We have no worries whatever as to the cause of his death. We are worried that Dr. Habeeb is no longer in our midst with his charming smile and soothing frame.
After he was buried, people stayed around the grave for a very long time. They just stayed and stared. They didn't want to leave. I was there wondering and praying for him to answer his questions right! He has truly done that insha Allah. Finally, one his brothers, Malam Adamu Sarki, too weak and crying, stood up and said, "jama'a mu tafi", and there we left!
His life is a life worth of lessons to be emulated. It was a life of a man who struggled from grass to grace and from the soil to the stars! May we copy and do more than what he did.
May the almighty Allah forgive him. May the almighty Allah make him to be among the dwellers of Jannatul Firdaus. May the almighty Allah make us to have more people like him and more! May almighty Allah give his family, friends, colleagues, all and sundry the fortitude to bear the irreparable loss, amen! Allah Ya sa mu riske ku da alheri, amin. Ina yi wa 'yan'uwa da kowa da kowa ta'aziyya.
Photo News: Emir Sanusi visits Sultan of Sokoto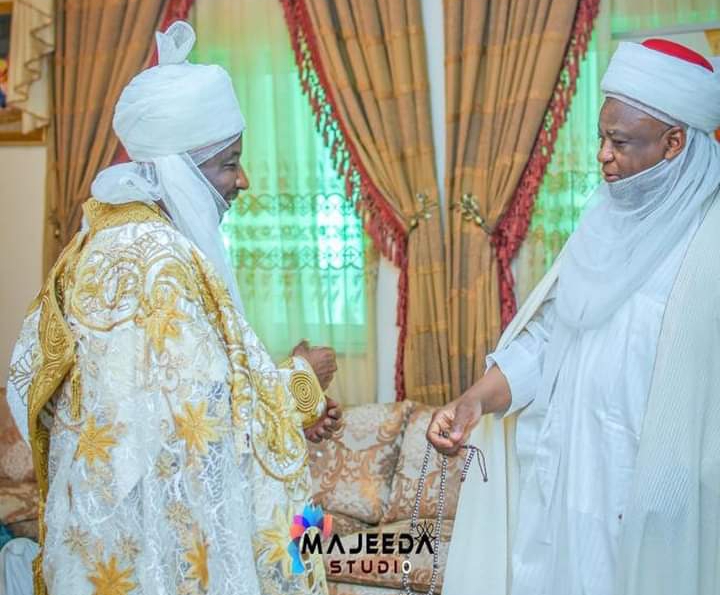 The former Emir of Kano has on Monday paid a courtesy visit to Sultan of Sokoto Muhammad Sa'ad Abubakar lll.
Kano Focus reports that the pictures of the visit were published on a Facebook page linked to former Emir named 'Sanusi ll Dynasty'.
Though the reason of the visit was not stated, but the former Emir has paid similar visit to Lamido of Adamawa in his capacity as leader of Tijjaniyya sect in Nigeria.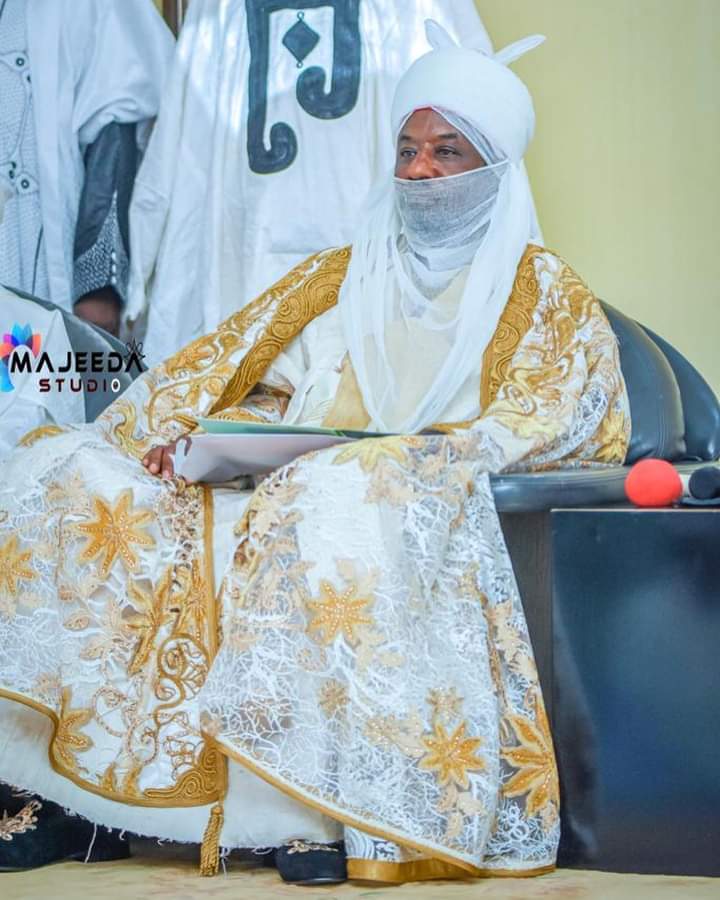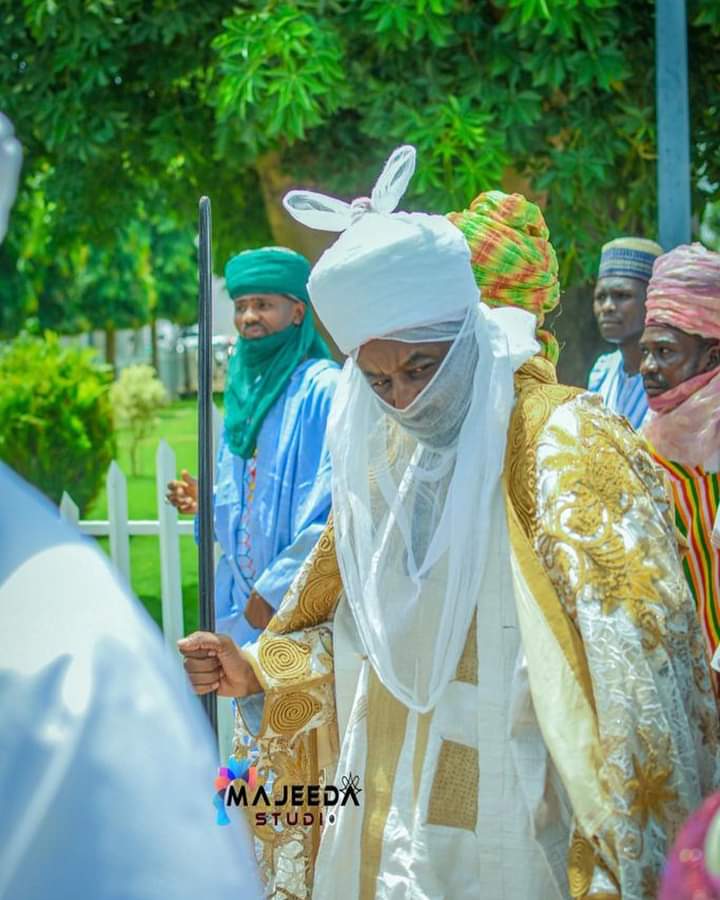 Kano to revive bilateral relationship with Pakistan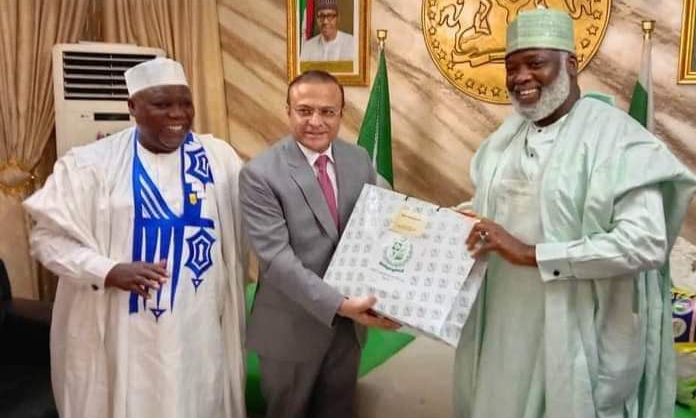 Aminu Abdullahi
Kano State Government has expressed commitment to revive the long existing relationship with Pakistan.
KANO FOCUS reports that Governor Abdullahi Umar Ganduje gave the assurance on monday while receiving the Pakistani High Commissioner to Nigeria Muhammad Tayyab Azam at the Government House.
Ganduje represented by his deputy Nasiru Yusuf Gawuna said Kano endowed with lots of potentials is open for people to come and invest, particularly those from Pakistan.
"We are happy for showing commitment towards reviving the long relationship between us. I can remember the partnership we have in the engagement of Pakistani teachers in our schools which has yielded a lot today."
"Even in the area of agricultural mechanization we have partnered with Pakistan especially in the supply of tractors to our farmers,therefore I feel if we continue to explore agriculture it will be beneficial to both Kano and Pakistan".
The Governor also commended Pakistan for showing interest in reviving the bilateral relationship with Kano State.
In his remarks the Pakistani High Commissioner Muhammad Tayyab Azam described the visit to Kano as historic and important being the first state he visited since assuming office.
"I know the importance of Kano as hub of business in Nigeria, after Lagos Kano is next where there is business opportunity".
"There was a time in Kano when most schools   have many Pakistani teachers..my aim is to bring back that relationship".
He however pointed out that Kano and Pakistan have similarities in both values and culture therefore it is important to deepen the relationship so as to sustain the partnership in  the areas of health and agriculture as that will create opportunities for our people towards boosting the economy.
The High Commissioner was accompanied during the visit by Pakistani Consul General in Kano Ahmed Ibrahim Yakasai.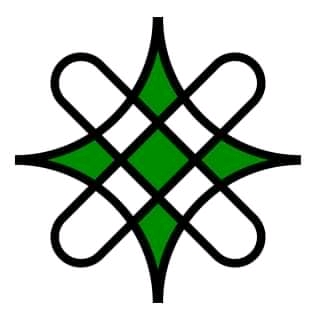 The Arewa Consultative Forum ( ACF) has resuscitated it Kano State chapter and nominated a 14- member Interim Executive Committee to run its affairs for the next six months.
Kano Focus reports that the Forum has mandated the new leadership to organise a general congress that may elect a new council.
A statement issued on Monday by the publicity secretary of the Forum Bello Sani Galadanchi reported that at the inaugural ceremony presided by a member of ACF Board of Trustees, Halliru Akilu, the non- partisan voluntary organization also nominated delegates to its National Executive Committee ( NEC) engagements.
Akilu, a retired Brigadier- General, tasked the new leadership to work in unity, and restore all ACF organs and activities for the betterment of our society.
He stressed that the ACF which is apolitical, believes in the unity of the country, but aspires to see the glory of the north restored, and the economic fortunes of the region tapped for the greater benefit of our people and the nation as a whole.
In his acceptance speech, the new Chairman of the ACF Interim Committee, NaShehu Hassan Abubakar thanked the congregation for finding him worthy of the enormous responsibility.
Abubakar, a retired Air Vice Marshall (AVM) assured the ACF National body and people of Kano State of his determination to steer the ship creditably, selflessly and in strict compliance with ACF desire to improve the lot of our people, as well as agitate for their rights.
Other committee members nominated at the ceremony include Aishatu Yakubu Maijama'a (Deputy Chairperson); Shehu Aliyu (Vice- Chairman); Muhammad Mustapha Yahaya (Secretary); Sani Bala Tela (Assistant Secretary); Rabia Hussein Adamu (Treasurer); and Mairo Bello (Assistant Treasurer).
Others   are Mahadi Sadiq Abubakar, (Financial Secretary);  Hafsat Namadi Bebeji (Assistant Financial Secretary); Bello Sani Galadanchi (Publicity Secretary); Tanimu Ibrahim Getso (Assistant  Publicity Secretary); Kabir Mukhtar (Legal Adviser); Muhammad Kabir Haruna (Assistant Legal Adviser); and Azimi Namadi Bebeji (Auditor).
The inaugural ceremony attracted Youth and Women wings of the ACF whose members were nominated into both the executive committee and the NEC.
Arewa Consultative Forum (ACF) is apolitical and socio-cultural association of leaders in Northern Nigeria formed in 2000 to protect Northern interest in the political scene.