Kiru-Bebeji polls: We did our best to help Kofa–Abdullahi Abbas
Mukhtar Yahya Usman
Abdullahi Abbas, chairman of the All Progressives Congress (APC), Kano chapter has said the party did its best to help its candidate, Abdulmumin Jibrin Kofa, win the by-election in his Kiru-Bebeji constituency but voters rejected him.
KANO FOCUS reports that Mr Kofa was defeated by his main rival Datti Ahmed Yako of the opposition Peoples Democratic Party (PDP) during the polls which held last Saturday.
Declaring the results, the returning officer of the Independent National Electoral Commission (INEC), Professor Abdullahi Arabi said Yako scored 48,601 votes to defeat Kofa who pulled 13,507 votes.
Speaking on the outcome of the election, Mr Kofa said he had accepted the results, even though he had alleged that the exercise was characterized by violence, rigging and other irregularities.
But in an exclusive interview with KANO FOCUS, Mr Abbas said APC leaders in the state had campaigned vigorously for Mr Kofa in all the "nooks and crannies" of Kiru and Bebeji local government areas but people didn't want him to return.
'Architect of his own failure'
"He brought his failure upon himself. He knelt before us because he wanted us to help him win the election.
"He wanted us to beg people because he has created a lot of problems in his constituency during the years he had represented them," Mr Abbas said.
"We tried our best with the Kano state governor (Abdullahi Umar Ganduje), we entered all the nooks and crannies in Kiru and Bebeji to ask people's forgiveness and beg them to vote for him.  That's why he got even little vote he scored, but I assure you his people don't want him to return," he added.
'Democracy, not anti-party'
The party chairman also dismissed allegations that the APC stalwarts in the state ganged up against the former lawmaker over his alleged support for Mr Ganduje's opponent Abba Yusuf during the 2019 governorship polls.
"We just exercised democracy and allowed people to vote for who they want. This shows you we  are democratic people.
"Sincerely speaking we are unhappy for losing the constituency, but we cannot force people to vote for somebody they don't like," Mr Abbas said.
Kano schools reopen after 5 months closure
Nasiru Yusuf
Schools in Kano have reopened on Monday after five months closure due to COVID-19 Pandemic.
Kano Focus recalls that the state government has on March 19 directed the closure of public and private schools as part of measures against the spread of COVID-19.
However, on Monday August 3 the government approved the reopening of schools for senior secondary schools students.
The Commissioner of Education Muhammad Sanusi Kiru announced that the opening is to allow SS III students to write their final examinations.
WAEC: Kano merges 33 boarding schools into 12 centers
Kano Focus observed how many students on Monday defied early morning downpour to attend classes, which could be perceived as a clear indication of their commitment to go back to school.
Speaking while on inspection tour to Government Girls Secondary School Shekara and First Lady's College Mariri, Kano state commissioner of education Muhammad Sanusi Kiru said he was happy that the school authorities followed the approved guidelines in preparation for the forthcoming WAEC examinations.
Mr Kiru urged the students to use the PPEs provided for them and maintain social distancing.
He also advised them to be serious in their examinations so as to have good results worthy of pride by their parents and the state.
Blasphemy: Kano court sentences singer to death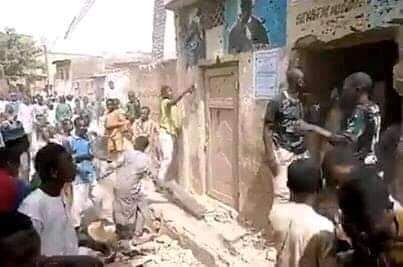 Mukhtar Yahya Usman
The Kano Upper Shari'a Court sitting at Hausawa Filin Hockey has sentenced a 22-year old man to death by hanging for blaspheming against Prophet Muhammad (pbuh).
Kano Focus reports that Khadi Aliyu Muhammad Kani gave the verdict on Monday after finding Yahaya Aminu Sharif guilty as charged.
Sharif, a resident of Sharifai in Kano metropolis was accused of committing blasphemy against the prophet in a song he circulated via WhatsApp in March 2020.
Following the incidence, protestors burnt down the singer's family home and led a procession to the Kano Hisbah Command's headquarters.
Kano blasphemy: Father of suspect disowns son
The court has also sentenced one Umar Farouq of Sharada area of Kano metropolis to 10 years imprisonment for making derogatory statements concerning the Almighty Allah in a public argument.
Rain, hailstones destroy N40 million crops in Bagwai LG
Nasiru Yusuf
Heavy rain and hailstones have destroyed crops worth over N40million in Bagwai local government, according to the council vice chairman Aminu Ibrahim Gogori.
Kano Focus reports that the heavy downpour on Monday night destroyed maize, onion, sesame, millet, and cotton crops.
Mr Gogori said the affected areas are Gadanya, Gadanya Gabas, Jobe, Tsauwa, Tsattawa and Galawa.
He pointed out that over 445 farmers were affected by the disaster.
Pensioners in 14 Kano LGs yet to receive July payment
He said the council is assessing the exact cost of the damage in order to forward it to appropriate authorities for necessary action.
In their separate remarks the village head of Gadanya Shuaibu Abubakar and his counterpart of Jobe village Abdullahi Lawal called on federal and state governments to come to their rescue.
When contacted, the Executive Secretary Kano State Emergency Management Agency (SEMA) Sale Aliyu Jili described the incident as devastating.
Mr Jili appealed to National Emergency Management Agency (NEMA) and corporate organizations to assist the victims.
He pledged that SEMA will do its best to assist disaster victims  in Kano state.