Why Kano power project is yet to be completed–Water resources minister
Abubakar Abdulkadir Dangambo
The Federal Government has explained that the ongoing Kano state independent power project could not be completed because the state government has not specified the amount of water it needs to power the plant from Tiga Dam.
Kano Focus reports that the Tiga and Challawa hydro-power plants, which were designed to collectively generate about 35 mega watts of electricity, were initiated by former governor Rabiu Kwankwaso in 2013 at the cost of N14 billion.
In October 2019, Governor Abdullahi Ganduje had said his government was trying to secure a permission for the use of Tiga Dam from the Federal Ministry of Water Resources before the project could be completed.
The governor had explained that when completed, the 10 megawatt capacity Tiga project would "take care of the industrial sector of the state".
"Our state will bounce back to its industrial might. These 10 megawatts, as we mentioned will take care of our industries and street lights in the metropolis.
"Our priority is to make sure that problem of electricity supply is washed aside. When investment will also thrive in the state. We are simply creating more enabling environment for businesses to bounce back. Other small businesses will also thrive and that will go a long way in addressing unemployment problem among our people," he had said.
"We are about to get that permission from federal government. We are in touch with the federal Ministry of Water Resources. So very soon this project will see the light of the day," Mr Ganduje added.
However, in a phone interview with KANO FOCUS on Tuesday, Suleiman Adamu, the Minister of Water Resources, said an agreement would soon be reached with the Kano government once it provided details of its water requirement from the Tiga Dam.
Mr Adamu said they are currently waiting for the state government to respond to a set of guidelines issued by his ministry before getting the required amount of water supply from Tiger Dam for the power station.
''There are rules and procedures for using dams, you must be sure that the amount of water that will be for consumption purpose is safe, then the issue of irrigation should be taking into consideration and then you talk of generating power. In fact you need to know how many litters or gallons you need, so this is what we are waiting from Kano state government'' he said.
"I was informed recently that, the state government has already sent a letter to us indicating that they have agree to all the terms and guidelines.
"I also visited the independent power station site as you said the project is about 80 to 90 percent completion stage.
"So any moment from now we can meet and sign the agreement. As soon as that is achieved, we can give them water, but we will make sure our irrigation and water supply systems are not affected," the minister added.
Mr Adamu also debunked rumors that the federal government is planning to privatize all dams across the country.
Security: Kano trains 5,504 Police constabulary to aid community Policing 
Kano state governor Abdullahi Ganduje said his administration has trained 5,504 constabulary to support community policing.
KANO FOCUS reports that Ganduje revealed this on Sunday while inaugurating Rano Emirate community policing committees in Doguwa local government area.
The governor explained how community policing strategy goes deeply into the fabric of Kano society, as a political entity.
While enumerating reasons behind the recorded achievements in the security of the state, governor said, "Our administration found it necessary to support community participation in the security of our state."
"We have gone further by recruiting Police constabulary, who are assisting the security agencies. And also we are assisting the various community policing committees.
"We trained in Kaduna 704 graduates of Police Constabulary. Also for each of the rural local governments, the 36 local governments, we are training 100 Police constabulary. Making a total of 3,600 Police constabulary."
"For the 8 metropolitan, local governments we are training 150 in each of the 8 local governments. Giving rise to 1,200 Police Constabulary. Having a total of 4,800 Police Constabulary in addition to 704 that have already been trained. Which all stands at 5,504 Police Constabulary now at hand."
"Community participation, apart from community policing is necessary for us to achieve a desirable situation from all ramifications. As such, we are also inviting corporate social responsibility in the management of security situation in Kano state."
Part of the factors that played an important role in the security situation in the state, he acknowledged and appreciated that, "Our security agencies have succeeded in building full synergy among themselves. And we have extended coordination in order to get security information and action in Kano state.
"We have to thank the Police, the Department for State Security (DSS), the Air Force, the Army, the Civil Defence (NSCDC), Immigration, Customs and Excise, Correctional Homes, traditional institutions, National Agency for the for the Prohibition of Trafficking in Person (NAPTIP), the Vigilante Groups, representatives of various communities, we have to thank them all. They are all contributing to the security situation in Kano state."
Mr Ganduje he stressed that, "There is no doubt security is an issue of topical nature in Nigeria. Is an issue that bothers almost everybody, all governments in Nigeria. And is an issue that we must come altogether in order to solve it.
"We can see the effort of our security agencies that are working round the clock in order to keep Nigeria safe. In Kano state we are also conscious of the security of our state. Therefore we developed various strategies in order to secure Kano state."
"First of all we examined the issue of metropolitan, Kano being a metropolitan city and a mega city, we have taken necessary steps in order to ensure the security of our own mega city."
"We built what we call Security Dormitories on the major entrance of metropolitan Kano. That each of the dormitories houses 600 policemen. And also we have developed CCTV programme.
"Which is working very well. While the control room is with our security agencies. We have other technology employed in order to check security issues."
In his remarks, the Emir of Rano, Kabiru Inuwa Muhammad, commended the effort being put by governor Ganduje in securing all parts of the state, with the Divine help from Almighty Allah.
He said, "Today is a historic day that we cannot forget. All our people are happy with this special event taking place in our Emirate, Rano Emirate. We are always ready to cooperate with your policies and programmes Your Excellency Sir. Especially this issue of community policing."
Ganduje donates N3.6m to families of Doguwa flood victims
Nasiru Yusuf
Governor Abdullahi Ganduje of Kano state has paid condolence visit to the families of 18 Doguwa flood victims and donated the sum of two hundred thousand Naira to each of the victims family.
KANO FOCUS reports that Ganduje prayed for the repose of the departed souls of those who died as a result of the heavy downpour.
"When the information of this sad tragedy reached us we were seriously shocked. May Allah Forgive the victims, who died as martyrs, being washed away by flood. May He give them the ultimate reward of Jannatul Fiddaus, ameen," the governor prayed.
Families of the victims expressed appreciation to the governor and his entourage and prayed to God to guide him in steering the affairs of the state.
It will be recalled that on July 23, about 18 persons including six members of a family have perished in a ghastly car accident in Doguwa Local Government Area.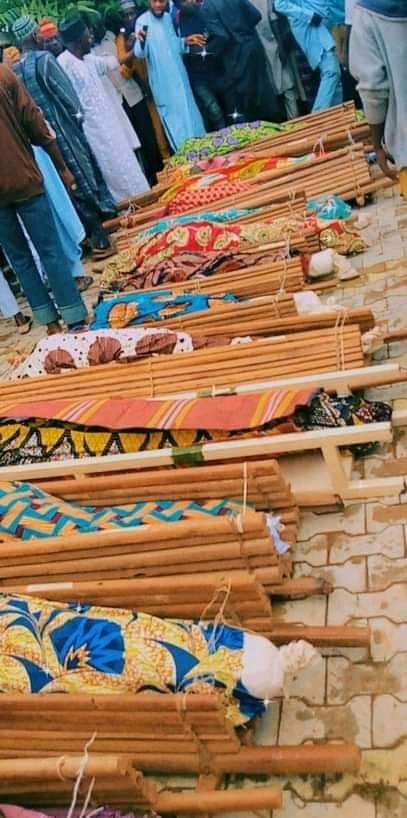 The Sector Commander of the Federal Road Safety Corps (FRSC) in Kano State, Zubairu Mato, said the accident occurred when a bridge linking Riruwai and Doguwa broke down as a result of the heavy downpour, and the driver wasn't aware that the bridge had broken down.
He explained that the vehicle plunged into the water, killing all the 18 passengers on board including six members of same family.
The family members have been identified as Bashir Doguwa, Malami Gidan-Tanimu, Safiya Mukhtar, Shahida Bashir, Fatima Rabi'u, Uzairu Bashir, all of Doguwa Local Government Area of Kano State.
Doguwa and his family were on their way from Doguwa to First Lady Secondary School in Dambatta Local Government Area of the state to visit his daughter, Firdausi Bashir, who is among the students writing the ongoing NECO SSCE examinations.
Kano records highest number of sickle cell patients in Nigeria
Nasiru Yusuf
Kano state has the highest sickle cell patients in Nigeria, a consultant haematologist at Aminu Kano Teaching Hospital said.
KANO FOCUS reports that Dalha Halliru Gwarzo disclosed this in an interview with Hospital's newsletter as part of the 2021 World Sickle Cell day.
He added that Lagos is the second state with highest number of sickle cell cases in the country.
Mr Gwarzo said India, Democratic Republic of Congo and Nigeria constituted 90% of the sickle cell patients worldwide.
On the causes of sickle cell disease, Mr Gwarzo said it is a genetic inherited disease from parents who are either SS, or AS genotype as a result of genetic condition or mutation of abnormal form of red blood cell.
He advocated for compulsory screening of infants after birth and school children, pre-marital counseling/tests, subsidising cost of medication/treatment and mass sensitisation campaign on dangers of the disease.
Mr Gwarzo noted that, although there is no known cure for sickle cell disease, but developed countries are using a high technology for manipulation of the genetic cells by bone marrow and stem cells transplant, which cost about fifteen million Naira in countries like United States, Germany, United Kingdom and Canada.