ANALYSIS: Who banished Sanusi to Nasarawa?
Nazifi Dawud & Mukhtar Yahya Usman
A fresh controversy is raging following a claim by Ibrahim Mukhtar, Attorney-General of Kano state and Commissioner for Justice, that the Kano state government did not banish Muhammad Sanusi II, from Kano state after removing him as Emir of Kano.
KANO FOCUS reports that Mr Mukhtar made the claim during a live programme on Channels Television on Wednesday, when he was asked if the decision of the state government to expel Mr Sanusi to Nasarawa state did not violate section 35 of Nigeria's 1999 constitution, which grants citizens the right to personal liberty.
In response, the attorney-general said:
"If you listen to the secretary to the state government when he was addressing the press on the issue of the removal of the emir from office, there was nowhere he stated that the emir was banished from Kano State.
"So, the decision of the government when the emir was removed on Monday was that he was removed from office and a new one appointed. The issue of banishment was not part of the decision of the Kano State government.
"We have been hearing from the media that he has been banished but what I know is that he was taken out of Kano State, but banishment was not part of our decision. There is no such decision, to the best of my knowledge."
Mr Muktar later confirmed to KANO FOCUS that the Kano state government did not authorize the expulsion of Mr Sanusi to Nasarawa state but that security agents decided to take him away for security reasons.
"Section 35 of the Constitution was quoted, where it talked about right to personal liberty. People are saying we breached that law but I said you cannot claim that a law was breached without getting security report on why they took him (Sanusi) to Nasarawa.
"I said it could be for his (Sanusi's) safety, it is a possibility because I didn't get the report. It could be for the safety of his family or the security of people in Kano state. So, because there are exceptions in Section 35, you can detain someone and other things and he may end up being the beneficiary.
"But security agents are the ones that can explain this. So, I'm saying it is too early to say that Section 35 was breached," he said.
'Kano government has no powers to detain Sanusi'
Mr Mukhtar also told this newspaper that the Kano state government does not have the legal powers to order for the detention of anybody.
"Because Kano state government has no authority to order the detention of someone. That is a decision of the court. Even the federal government cannot do that. But a person can be detained by an order of court.
"So, it is not possible to say that the Kano state government ordered for the detention of the Emir. Only a court can do that and that's what I said.
"May be, the security agents took a precautionary measure to protect the emir from people who might harm him or members of his family or to prevent breakdown of law and order in Kano state. But I'm not saying this is the case, I'm only saying it is a possibility of (why they took Sanusi away)," he explained.
The contradiction
On 9 March, 2020, Usman Alhaji, secretary to the Kano state government (SSG) announced that Muhammad Sanusi II, the Emir of Kano had been dethroned and removed from office by the state Executive Council led by Governor Abdullahi Umar Ganduje.
Mr Alhaji, who later released a press statement, said Mr Sanusi was removed due to reasons such as "disrespect to lawful authorities" and 'refusal to attend programmes and meetings organized by government, which is viewed as an act of insubordination".
Less than an hour after the formal announcement, an image of the acknowledgement letter sent to Mr Sanusi informing him of his dethronement was leaked on various social media platforms, where it soon went viral.
The first paragraph of the letter, which was signed by Mr Alhaji clearly indicated that it was the Kano state government that directed Emir Sanusi's "removal, dethronement and relocation to Nasarawa state".
The letter reads thus:
I wish to inform you that the Kano State Executive Council under the chairmanship of His Excellency, the Executive Governor of Kano State, Dr Abdullahi Umar Ganduje, OFR, during its sitting on 9th March, 2020/14, Rajab, 1441 A.H has approved and directed for your immediate removal and dethronement as the Emir of Kano, and also for your relocation to Nasarawa state, which is done in line with relevant section of the Kano State Emirate Council Law of 2019. 
2. Kindly note that this decision was taken due to your general disrespect to lawful instructions from the authorities, including persistent refusal to attend programmes and meetings organized by government, which is viewed as an act of insurbordination.
3. In the light of the foregoing and having made appropriate consultations with relevant stakeholder, the decision was reached to safeguard the sanctity, culture, tradition and prestige of the Kano Emirate which was established and sustained over one thousand years ago. 
4. While assuring you that a new Emir of the Kano Emirate Council, will soon be appointed, I implore you, your subjects and surbodinates to remain calm and go about your normal businesses 
5. Accept my warmest regards and best wishes please."
How Sanusi was taken into custody by police–Emir's lawyers
On Tuesday, March 10, 2020, a team of lawyers to former emir Sanusi led by Abubakar Balarbe Mahmoud, addressed a news conference, in which he narrated how the Emir was informed reportedly by the Kano State Commissioner of Police Habu Sani that he was instructed to transport him to Nasarawa state.
Mr Mahmoud, a senior advocate of Nigeria (SAN) recounted how the Police Commissioner rejected Mr Sanusi's offer to move to Lagos state in company of his family in a private jet sent by his friends to evacuate them.
The dethroned emir's lawyer narrated what happened thus:
"Since the deposition was announced, I was at the Palace yesterday (Monday 9 March, 2020) afternoon in the company of one of my colleagues to consult with the Emir. We met him in good spirit in company of his family and a few associates.
"He said to us that he was waiting for the deposition letter from the Government House and was informed that the Commissioner of Police was on his way along with certain government officials. While waiting there was commotion in the private wing the palace as some unauthorized persons tried to gain entry into the family section.
"This led to some scuffle and teargas were fired by the security operatives. Normalcy was restored after the unauthorized persons along with armed security operatives retreated from the inner part of the palace.
"I subsequently, along with my colleagues was able to meet with the Commissioner of Police and other security operatives and with the permission of the emir, they were led to one his sitting rooms where the deposition letter was served on him by an agent of the State Government.
"The Emir accepted the letter and decided to acknowledge it personally after writing some Quranic Verses in the Arabic script along with his signature. This was handed over the government official. In the letter of deposition, it was stated that the Emir was to be removed to Nassarawa State. We requested to know if he was under arrest and if so we needed to see the warrant.
"The Commissioner of Police informed us that he was not under arrest. We informed the Commissioner of Police that was illegal and violation of his constitutional rights to remove to Nassarawa State against his wish.
"The Emir informed the Commissioner of Police that his friends had sent an aircraft to fly him and his family to Lagos and requested that they should be provided with necessary security to the airport so that he could leave.
"The Commissioner refused saying that was not their instruction. They were willing to allow the family to leave for Lagos but he was to be flown to Abuja then onwards taken to Nassarawa State. It was clear to us that both the Emir and ourselves were helpless and the police and other security agents were willing to take any measure and use force to achieve their objective.
"In order not to jeopardize the Emir's safety or the safety of any member of his family or indeed other persons around, the Emir decided to cooperate and proceed in the vehicles provided by the operatives.
"We accompanied the Commissioner of Police to the Nigerian Airforce base in Kano where the Emir was put a private aircraft and departed at about 6.40pm. The family subsequently boarded the aircraft arranged by his friends and departed for Lagos about 15 minutes later."
Mr Mahmoud then issued a 24-hour ultimatum to Mr Ganduje to release his client, the dethroned emir from "illegal detention" or face legal action.
The lawyer explained that the emir, through his chief of staff Munir Sunusi had ordered them to challenge the legality of his detention and banishment, adding that the action by the state government is illegal and unconstitutional.
He said the basis of the denial of personal liberty are set out clearly in the relevant sections of the Nigerian constitution.
"We are of the firm view that this action is illegal and unconstitutional. Section 35 of our constitution guarantees every citizen the right to personal liberty.
"The basis of the denial of personal liberty are set out clearly in this Section of the Constitution.   None applies to the case of the Emir.
"We are totally perplexed at resort to this practice in present day Nigeria by its political leaders.
"The illegality of this practice was pronounced by the Nigerian court of Appeal in Attorney-General of Kebbi state vs HRH Alhaji Mustapha Jokolo and ors 2013 where the court pronounced it illegal and unconstitutional and gross violation of the right of the emir," Mr Mahmud said.
"We are concerned about the personal safety and security of HH Muhammdu Sanusi II and wish to call on all well-meaning Nigerians and the International Community to bring their influence to bear to ensure that HH Muhammadu Sanusi regains his liberty immediately and to guaranty his safety and security," he added.
Therefore, Mr Sanusi's lawyers called on the Inspector-General of Police, the Director-General of Department of State Services (DSS) and Attorney-General of the federation to ensure the immediate release of the emir so that he can re-unite with his family.
Police keep mum
KANO FOCUS had tried to get the comments of the Kano State Police Command, but the state Commissioner of Police (CP) Habu Sani Ahmadu, did not respond to a phone call and neither replied to a text message sent to him.
What lawyers say on banishment of deposed emirs
Several legal experts and human rights groups have condemned the banishment of ex-Emir Sanusi to Nasarawa state after his removal from office, describing the action as illegal and unconstitutional.
Barrister Bulama Bukarti, a famous human rights lawyer has argued that "banishment is a barbaric customary practice that was reinforced by British imperialists who did all they could to humiliate and bully anyone that disagreed with them."
"The constitutionality of banishment & incarceration of removed emirs has been settled by the Court of Appeal in 2013 in the case of deposed Emir Jokolo of Gwandu. The Court held that the practice contravenes Sections 34 & 41 of the 1999 Constitution and thus illegal, null & void.
"The Court held that a dethroned emir has the right to reside anywhere and move freely in Nigeria and around the world. It said to allow a Governor to control the life and movement of a removed emir is akin to making the emir a slave of the Emir and slavery is unconstitutional," Mr Bukarti wrote on his Facebook wall. 
Similarly, Auwal Musa Rafasanjani, Executive Director of Civil Society Legislative Advocacy Centre (CISLAC), averred that banishment of a deposed emir contravenes several sections of Nigeria's 1999 Constitution.
"The imposed banishment of the dethroned emir to Loko Local Government, Nassarawa state, (is) nothing but clear infringement of the fundamental rights as guaranteed under Sections 34, 35, 36, 40 and most especially section 41 of the 1999 Constitution of the Federal Republic of Nigeria as amended, which safeguards the right of every citizen of Nigeria to move freely throughout Nigeria and to reside in any part thereof.
"We vehemently and categorically uphold our position on citizens' right to freedom of expression and movement as guaranteed under Section 39 and 41 of the Constitution. There is no justification for the humiliation, inhumane and degrading treatments as imposed on Sanusi upon his banishment.
"Just as the pronounced banishment by the State Government contravenes Section 35 of the Constitution which safeguards every person's right to his/her personal liberty, stating that no person should be deprived of such liberty except in circumstances set out in Subsection 35(a-f), given the procedure permitted by law as none of such procedure is followed in the instance case.
"We are amused at the open-display of rascality and disproportionate deployment of some government mercenaries including police force and other security institutions to amplify tussles, public harassment, extrajudicial implementation of imposition of restriction of movement and personal liberty of the dethroned monarch without iota of respect to the rule of laws and various Constitutional provisions.
"We call on President Muhammadu Buhari to sincerely and constructively intervene by upholding the Constitutional provisions to ensure that the rule of laws is adhered to and the dethroned Sanusi enjoys all his rights and freedom of movement, as clear demonstration for leadership, respect for civility, democratic core values and the Constitution," Mr Rafsanjani said in a statement.
Just In: Kano closes 10 boarding schools over students abduction
Nasiru Yusuf
Kano state government has closed 10 boarding schools over the fear of incessant abduction of school students in some Northern states.
The commissioner of education Muhammad Sanusi Kiru announced this in an audio message sent to journalists on Friday.
He said the closure followed a thorough analysis and assessment of persistent abduction of boarding students during night hours in some Northern states.
This according to commissioner led Kano state government to close ten boarding schools spread across the state.
He said the schools closed include Government Secondary School Ajingi, Government Girls Secondary School Sumaila, Government Girls Secondary School Jogana, Government Girls Secondary School Gezawa and Government Secondary School Kafin Maiyaki.
Others according to Mr Kiru are Maitama Sule Science Secondary School Gaya, Government Girls Unity School Kachako, Government Girls Secondary School Kunchi, Government Unity College Karaye and Government Girls Arabic College Albasu.
Mr Kiru called on parents whose children are in affected schools to go and pick them immediately.
The announcement comes less than 24 hours after the abduction of 317 students of Government Girls Secondary School Jangebe, Zamfara state in the early hours of Friday.
Danbatta, others endorse book on telecoms law, regulations
Nasiru Yusuf
The Executive Vice Chairman of the Nigerian Communications Commission (NCC), Umar Danbatta was among eminent personalities that have endorsed a new book on Nigeria' telecommunications industry's legal and regulatory ecosystem.
Kano Focus reports that the book titled, "Nigerian Telecommunications Law and Regulation", which is co-authored by Quasim Odunmbaku, a telecoms regulatory professional at the NCC and Rotimi Akapo, a lawyer, who specialises in Telecommunications, Media and Technology (TMT) practice, is written in 18 chapters and over 600 pages.
Speaking at the virtual public presentation of the book on Thursday, Danbatta, who was the chairman and lead presenter at the event, said that law and regulation are two critical pillars, which influence the speed and impact of innovation in the telecoms sector.
"As important as these two factors are, they typically lag behind technology – it, therefore, behoves on all legal and regulatory practitioners in the sector to keep abreast of developments so that knowledge gaps do not stifle innovation and/or deny consumers of the optimum value," he said.
Represented by the Executive Commissioner Stakeholder Management at NCC, Adeleke Adwolu, the EVC acknowledged that there is a noticeable paucity of well-researched books and reference materials on the legal and regulatory regime governing the telecommunications and indeed the ICT sector in Nigeria.
"I am, therefore, delighted that the authors of "Nigerian Telecommunications Law and Regulation" have taken up the challenge and have produced a comprehensive reference material which touches on practically every aspect of the subject."
The official public presentation of the book was done by the Minister of Youth and Sports, Sunday Dare, who, who incidentally was a former ECSM at NCC, and had worked closely with one of the authors. Dare described the book as "a compendium that will greatly enrich the level knowledge needed to enhance telecoms growth."
Reviewer of the book,  Mohammed Suleh-Yusuf, after an insightful review of the book, said, "The book is highly useful to practitioners and lay readers alike. It serves as a window into what shapes the industry and ensures readers are familiar at surface, to the basic rules and norms that influence the industry."
Other telecoms stakeholders have overwhelmingly endorsed the book, describing it as a good reference material and comprehensive guide, reference material and source-book on the policy, legal and regulatory framework governing the Nigerian telecommunications sector, which, many stakeholders said, will fill a critical contemporary knowledge gap for legal practitioners, investors and the academia.
According to the Head of Sub-Saharan Africa Operations, Global System for Mobile Communications Association (GSMA), Akinwale Goodluck, "As an industry practitioner, I have thoroughly enjoyed reading the book and recommend it very strongly for everyone with an interest in the Industry. It also provides invaluable insight for other countries in Sub-Saharan Africa to learn from the Nigeria experience."
Immediate past President, Association of Telecom Companies of Nigeria (ATCON), Olusola Teniola, and incumbent ATCON President, Ike Nnamani, aligned in their views, saying the authors have challenged the industry by putting together an encyclopaedia behind the growth of the Telecommunications industry from the perspective of legal, regulatory, economic, social and technological impacts.
In his comment, Chairman, Association of Licensed Telecoms Operators of Nigeria (ALTON), Gbenga Adebayo, said "the book carefully dissects the policies, rules, regulations and industry best practices which makes the Nigerian telecommunications industry the success story that it is today, despite numerous challenges."
Other stakeholders, who rated the book very high both in contents and relevance to industry practitioners include Chairman, Section of Business Law, Nigeria Bar Association (NBA), Ayuli Jemide; Director, Legal & Regulatory Affairs/Company Secretary, Airtel Networks Limited, Shola Adeyemi; Principal Partner and Head, ICT Law & Regulation, Sceptre Law, Lagos, Otu Etuk;  Abiola Sanni of the Faculty of Law, University of Lagos, among others.
The stakeholders were in accord that the book, which sets out with great clarity and in the greatest detail the history, current status and how to navigate the policies and regulation of the Nigerian telecommunications sector in the real world, is a must-read for regulators, investors, scholars and industry practitioners.
KAROTA succumb to Tricyclists' protest, accepts POS payment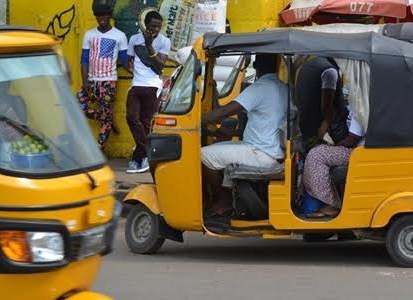 Nasiru Yusuf
The Kano Road Traffic Agency (KAROTA) has succumb to protesting tricyclists and agreed to accept payment of one hundred Naira tax via POS or mobile banking.
Kano Focus reports that the tricyclists have earlier agreed to pay the one hundred Naira tax daily, but protested against making payments via REMITA platform.
The tricyclists requested for cash payment, mobile banking or via POS, a request KAROTA leadership rejected outrightly.
However, at a negotiation facilitated by Kano state leadership of Nigeria Labour Congress (NLC) and Kano Civil Society Forum Ibrahim Waiya, KAROTA agreed to accept payment via POS mobile transfer after initial payment through REMITA.
A copy of the resolutions reached by leadership of tricyclists and Managing Director of KAROTA Bappa Babba Dan'agundi on Tuesday in the presence of NLC chairman Kabiru Ado Minjibir and that of  directed all tricycle operators to call off their protest and resume operation.
The resolutions obtained by Kano Focus reads in part "After extensive and fruitful deliberations which lasted for over two hours. The following resolutions were reached.
"That all tricycle riders in the state are to pay a token of N 100 daily as provided by the Kano state revenue administration law, schedule 2 item 9 congestion charges amendment law 2017.
"That the first payment of N100 should be through REMITA to enable data capture in Kano state Board of Internal Revenue/KAROTA which should be done within two weeks effective from today 23 February, 2021, after which KAROTA will commence enforcement and the server shutdown, so that nobody will access it to enable control.
"That the subsequent payment of N100 daily tax should follow by the tricycle operators which can be done through their Android phones or P. O. S (Point of Sale) with an option of daily, monthly, quarterly or annual payment at the cafe (which is not compulsory).
"That the hire purchase owners will assist the tricycle riders in the provision of additional REMITA points to enable members to make payment with ease.
"That the leadership of organised labour and Kano Civil Society Forum will continue to engage the leadership of tricycle riders/owners association in the state for smooth conduct of their business through public enlightenment, awareness activities and training on professional conduct to ensure peaceful coexistence in the state and hitch business atmosphere.
"That a joint Press briefing should be conducted at KAROTA office and emergency meeting of all units of tricycle association should be summon immediately to enable striking riders go back to their business and suspend the strike.
"That all tricycle riders in the state should write their number boldly at the back of each tricycle for easy identification and security purposes."