COVID-19: 3 suspected cases test negative in Kano
Mukhtar Yahya Usman
The Kano State commissioner for Health Dr Aminu Ibrahim Tsanyawa has said three suspected cases of Coronavirus aka COVID-19 have tested negative in Kano.
KANO FOCUS reports that Dr Tsanyawa disclosed this on Wednesday while briefing journalist on the coronavirus situation in Kano.
Mr Tsanyawa said 33 people were screened for the virus across four states in the country, and the FCT Abuja.
He added that three samples of the 25 people that tested negative to the virus were from Kano.
Mr Tsanyawa said following the report of the outbreak, Kano state government immediately swung in to action to ensure that covid-19 is prevented in Kano.
He added that the measures taken by the government to include activation of Rapid Response Team (RRT), and the reactivation of 'Yar-Gaya isolation centre in Dawakin Kudu local government area of the state.
Mr Tsanyawa also explained that the state government has further intensified coronavirus surveillance through engagement of traditional and religious institution.
The commissioner said other steps being taken to tackle the COVID-19 include training of health personnel in tertiary, secondary and primary health facilities and sensitizing traditional leaders, KAROTA, NATO, NURTW, and organized private sector.
"I wish to call on all and sundry to disregard any rumours. I wish to enjoin the general public to ensure regular and thorough hand-washing with soap and running water.
"Observe proper coughing/ sneezing etiquettes, cover mouth and nose with handkerchief or tissue or your sleeve at the bent elbow and then dispose-off any used item," he said.
Kano Emergency hotlines on Coronavirus (COVID-19)
1- Dr Imam Wada Bello, Director of Public Health and Disease Control 08050303343.
2- Dr Bashir Lawan Muhammad, State Epidemiologist/Incident Manager, Emergency Operation Centre (EOC) 08099973292.
3- Sulaiman Ilyasu, State Disease Surveillance and Notification Officer (SDSNO) 08039704476.
4- State Coordinator, World Health Organisation (WHO), Kano 08037038597.
5- Dr Sharif Yahaya Musa, Director Disease Control and Epidemiologist 08176677497.
What is coronavirus?
According to the World Health Organization (WHO), coronaviruses are a family of viruses that cause illnesses ranging from the common cold to more severe diseases such as severe acute respiratory syndrome (SARS) and the Middle East respiratory syndrome (MERS).
These viruses were originally transmitted from animals to people. SARS, for instance, was transmitted from civet cats to humans while MERS moved to humans from a type of camel.
Several known coronaviruses are circulating in animals that have not yet infected humans.
The name coronavirus comes from the Latin word corona, meaning crown or halo. Under an electron microscope, the looks like it is surrounded by a solar corona.
The novel coronavirus, identified by Chinese authorities on January 7 and since named SARS-CoV-2, is a new strain that had not been previously identified in humans. Little is known about it, although human-to-human transmission has been confirmed.
What are the symptoms?
According to the WHO, signs of infection include fever, cough, shortness of breath and breathing difficulties.
In more severe cases, it can lead to pneumonia, multiple organ failure and even death.
Current estimates of the incubation period – the time between infection and the onset of symptoms – range from one to 14 days. Most infected people show symptoms within five to six days.
However, infected patients can also be asymptomatic, meaning they do not display any symptoms despite having the virus in their systems. (Source: Aljazeera.com)
AIG orders investigation of Policeman seen voting in Kano APC Congress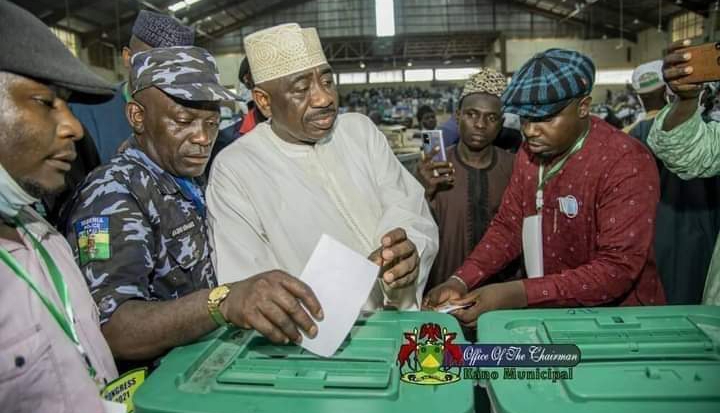 Aminu Abdullahi
The Assistant Inspector General of Police in charge of Zone Abubakar Sadiq Bello has ordered the investigation of unprofessional conduct of a policeman caught on camera voting during state congress of All progressive Congress (APC) in Kano.
KANO FOCUS reportsthat in view of the unprofessional conduct of the policeman, the AIG has referred the matter to the Zonal X-Squad for investigation.
A statement issued on Monday by Zonal Police Public Relations Officer Abubakar Zayyanu identified the police officer as Bashir Mohammed attached to the government house, Kano, from where he was deployed to work with the state Chairman of APC Abdullahi Abbas as a security aide.
Mr Zayyanu noted that if the inspector is found to have committed an offence by this action, the appropriate disciplinary measure will be taken against him.
He further assured the general public that further development on the matter will be communicated.
The statement reads in part.
"The attention of the Inspector-General of Police Zone one Headquarters, Kano has been drawn to a trending picture on social media, of an inspector of police casting vote at the recently conducted Kano State congress of the APC along with his principal, the state party chairman, Abdullahi Abbas.
"The inspector of police has been identified as Bashir Mohammed of the Special Protection Unit, Base One, Kano. The inspector is attached to the government house, Kano from where he was deployed to work with the said Abdullahi Abbas as a security aide.
"In view of this seemingly unprofessional conduct of the inspector, the AIG has referred the matter to the Zonal X-Squad for investigation.
"If the inspector is found to have committed a disciplinary offence by this action, the appropriate disciplinary measure will be taken against him.
"Finally,  we want assure members of the public that further development on the matter will be communicated please."
EFCC Grills Rabiu Kwankwaso
The Economic and Financial Crimes Commission (EFCC) on Saturday grilled former governor of Kano State, Rabiu Musa Kwankwaso over allegations of abuse of office, diversion of public funds and fraudulent allocation of government properties to cronies.
KANO FOCUS reports that Kwankwaso, a chieftain of the Peoples Democratic Party, was first invited by the EFCC in September but failed to honour the invitation as reported by Channels TV.
An associate of the politician informed Channels Television that Kwankwanso may have been invited in relation to a petition by some retired employees of the Kano State Government.
The retired employees had told the EFCC that the former governor mismanaged pension remittances to the tune of N10 billion between 2011 and 2015, to fund a housing project for his cronies.
EFCC spokesperson, Wilson Uwujaren did not comment on the interrogation of the former governor when contacted on Saturday.
Crisis rocks Kano APC as Ganduje, Shekarau hold parallel Congress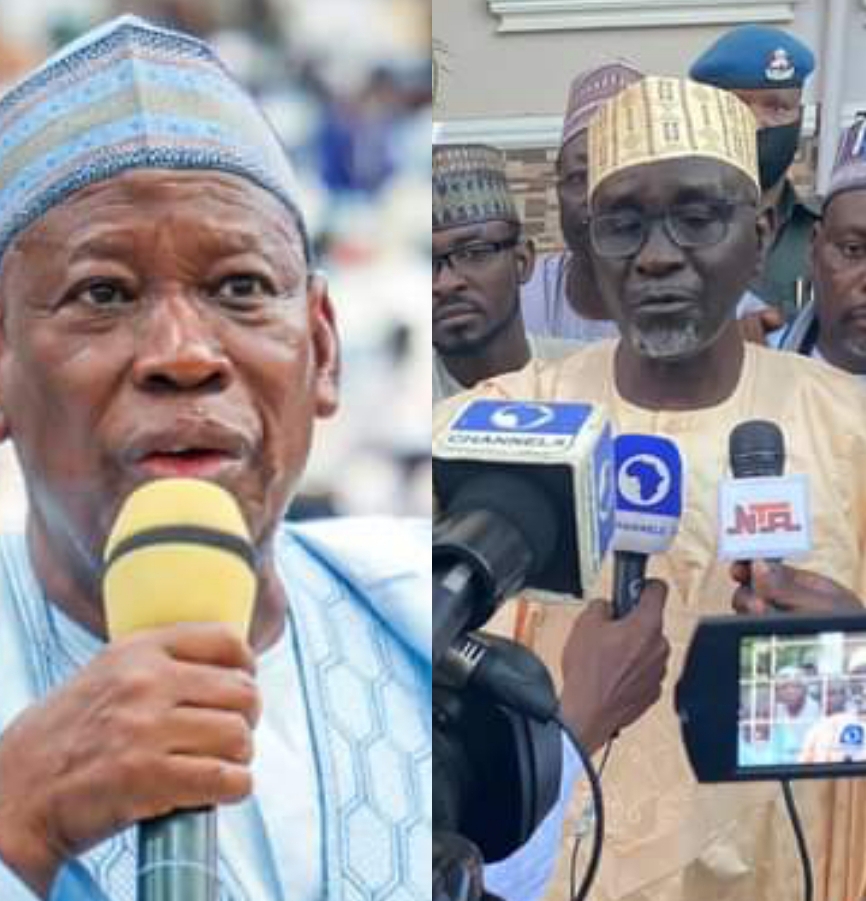 Aminu Abdullahi
Crisis rocked Kano chapter of All Progressive Congress (APC), as Governor Abdullahi Umar Ganduje and faction loyal to former governor of Kano and serving Senator Ibrahim Shekarau held parallel state congress.
KANO FOCUS reports that while Ganduje group held their congress at Sani Abacha stadium, faction loyal to Shekarau had their own at Janguza town, Tofa local government area.
Ganduje's led group endorsed Abdullahi Abbas as state chairman of APC for a second term in a consensus arrangement, while the faction loyal to Shekarau announced Ahmadu Haruna Zago as newly elected chairman of APC in Kano state.
Reports shows that the security have earlier disrupted Shekarau's camp congress at Sani Abacha youth centre and sealed the premises before they moved to Janguza where they held the election.
Below are some pictures of the parallel Congress.