Opinion: Kano's shoddy border closure: A personal experience
By Rauf Musa
I took a very important trip to Kano on Saturday, April 4, 2020 and in the course of this trip I observed some anomalies in the way security and health officials implement the movement restriction directive issued by the Kano state government, to prevent the spread of the coronavirus (COVID-19).
Despite all the media hype Governor Abdullahi Umar Ganduje created last week, when he was captured on video turning back a truckload of travelers coming into Kano, the state remains largely insecure and porous.
It seems that Kariya village, about 75 kilometers to the entry point to Kano state, is the only point where travelers coming from Kaduna axis are stopped for checks, just before Kwanar Dangora.
On that particular spot are personnel of the police, Civil defence, Kano Road Traffic Agency (KAROTA) and some health workers. The place was very chaotic and disorganized.
Even though these agents are doing their best to do their jobs, nothing suggests that travelers could not come into Kano.
Drivers of commercial vehicles simply drop their passengers before reaching the check point, where motorcycle riders are readily waiting to pick them and cross the checkpoint with them.
Thereafter, the travelers would simply rejoin their respective vehicles and proceed with their trip right into the heart of the city, with brazen impunity.
At the checkpoint, I noticed only ONE health worker, who appeared to be overwhelmed and confused as he tried to check the body temperature of a horde of travelers.
As for drivers of trailers and articulated vehicles, they pass freely without undergoing any checks!  These vehicles mostly carry non-essential items such as building materials.
The entire scene depicts total derailment from what was intended to be achieved.
From that village, travelers continue their movement freely into Kano without any other checkpoint. It was business as usual.
Even though, to this moment, there was no recorded outbreak of the COVID-19 in our dear state, but there is absence of vigorous campaign in the media on the looming danger in our horizon.
Our people need rigorous sensitisation and awareness on COVID 19 pandemic, at least on basic precautions.
20 Kano LGs prone to flooding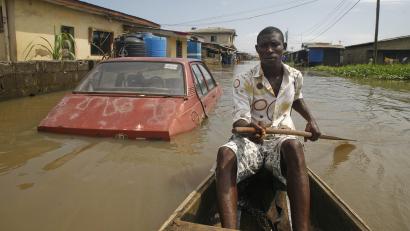 Nasiru Yusuf
Twenty local government areas in Kano state face high risk of flooding in 2020 according to the National Emergency Management Agency (NEMA).
Kano Focus report that the Coordinator NEMA Kano Territorial Office Sanusi Ado revealed this at a stakeholders meeting on flood awareness campaign and implication of 2020 seasonal rainfall prediction held on Wednesday in Kano.
"Those local government areas predicted to be affected by the flood include; Tarauni, Garun Malam, Rimin Gado, Gaya, Gezawa, Gwale, Shanono and Gabasawa.
"Other areas are Gwarzo, Ungoggo, Warawa, Dawakin Kudu, Dambatta, Bebeji, Kano, Wudil, Kura, Nasarawa, Kano Municipal and Kumbotso local government areas." He said.
Rain, hailstones destroy N40 million crops in Bagwai LG
Mr Ado said according to NIMET, such can threaten agriculture, water resources, health, transport and infrastructure sectors in the state.
He recalled that in 2012, unprecedented flooding led to the displacement of thousands of people, deaths and loss of millions of naira.
He however linked the increased flood risks in urban areas to blocked drainages.
"The recently reported incidence of destroyed bridges in Rimin Gado and Tofa Local Government Areas, led to so many displacements of vulnerable persons resulted from absence and blockage of drainages.
"We therefore urged relevant authorities to pay more attention to waste management in Nigeria.
"Putting in place a holistic waste management would be highly helpful in addressing frequent flooding incidents.
"These should also be backed by laws in respective states that deter people from indiscriminate waste disposal." He said.
He also called on citizens to take proactive measures to reduce the risks of flooding.
Rape: Kano court sentences 70 year old rapist to death by stoning
Mukhtar Yahya Usman
An Upper shari'a court sitting at Kofar Kudu in Kano metropolis has sentenced one Mati Audu to death by stoning after he was found guilty of defiling a 12 year old girl.
Kano Focus reports that the presiding judge, Abdullahi Sani Sarki Yola gave the verdict on Wednesday.
Mr Audu who is a resident of Falsa of Tsanyawa local government confessed to his crime before the judge willingly.
The Judge according to the Islamic teaching gave him chance at three different court sittings to reverse his confession in order to save him from the punishment.
But the old rapist insisted that he defiled the minor, and was willing to accept his punishment.
774,000 jobs: Applicants accuse Kano committee chair of favoritism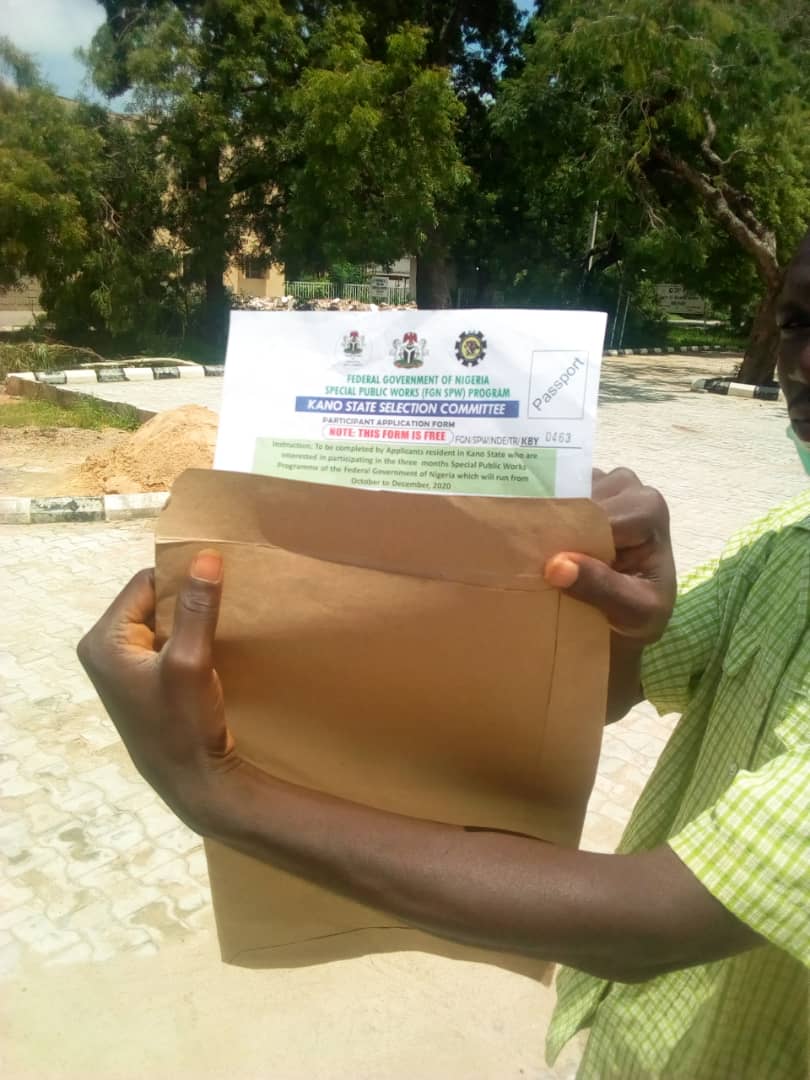 Sabiu Kabuga
Applicants for the Federal Government Extended Special Work Program in Kano state have accused the selection committee chairman, Mukhtar Dauda Mukhtar of illegally sharing the forms to his acquaintances at Bayero University Kano (BUK).
Mr Mukhtar, a professor of Microbiology teaches at the university.
Kano Focus reports that some applicants besieged the Microbiology Department of BUK on Wednesday where they alleged that the committee chairman was giving out the forms to his friends and cronies.
They however met a notice placed on the departmental board dated 11th August, 2020, directing applicants to collect the forms at their respective local government areas.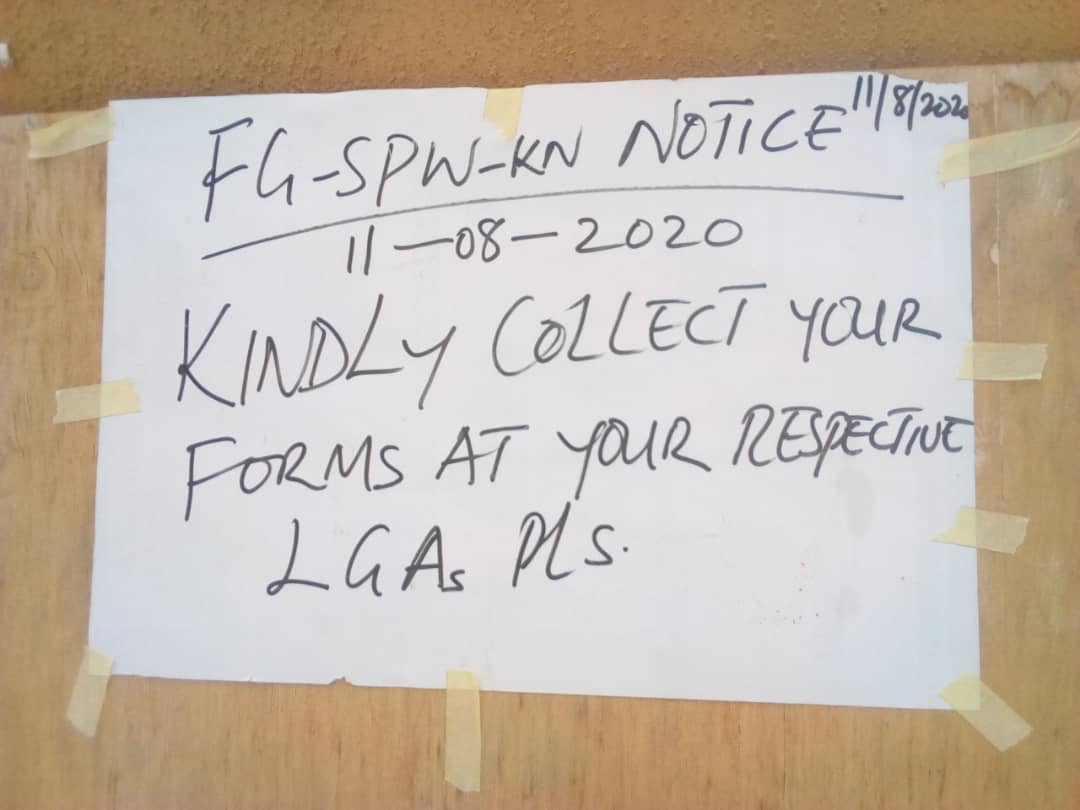 Some of the applicants told Kano Focus that they were at the department to try their luck as they got wind that the forms were being shared by the selection committee chairman.
An intending applicant who pleads anonymity told Kano Focus that he got the form from his elder brother who is a staff of BUK.
"I run a business here at BUK Old Site, it was Prof. MD Mukhtar who gave me the form with his own hands and many people got the forms here in BUK", another applicant said.
"We have some people that are working here in BUK. They are the ones who alerted us that we should come here becauses the forms were being shared", says Abdullahi Aminu who is an intending applicant
"We want politicians and the selection committee chairman to be just because we heard that they are only sharing the forms to their cronies," another job seeker Ahmad Abubakar begged.
Mr Mukhtar did not respond to several phone calls from Kano Focus to address the allegations.