We have not issued any 5G licenses–NCC
Nasiru Yusuf
The Nigerian Communication Commission (NCC) has refuted a story widely circulated in social media that the telecommunications industry will switch on fifth generation (5G) in Lagos this week.
A statement sent to Kano Focus by Director, Public Affairs of the Commission Henry Nkemadu on Monday said there is no deployment of 5G in Nigeria at the moment.
"The attention of the Nigerian Communications Commission (NCC) has been drawn to a mischievous statement making the rounds on social media like Facebook, WhatsApp, Twitter, LinkedIn and other sites that the Nigerian telecoms industry is going to switch on Fifth Generation (5G) in Lagos this Sunday 10th, Monday 11th or Tuesday 12th May 2020.
"The statement from the faceless individuals or groups cannot be further from the truth. The Commission has unequivocally stated that there is no deployment of 5G in Nigeria at the moment," Mr Nkemadu said.
It may be recalled that, the NCC back in November 2019 approved trial test for 5G for a period of three (3) months and the trial has been concluded and installation decommissioned.
The Executive Vice Chairman of the commission Prof. Umar Garba Dambatta, said that ''the trial among others was to study and observe any health or security challenges the 5G network might present. Relevant stakeholders including members of the security agencies were invited to participate during the trial.''
He said the NCC will continue to maintain its policy of technology neutrality and will continue to encourage service providers to deploy the best technology that will meet the needs of the society in a secured and friendly manner.
Mr Dambatta observed that, the NCC had provided clarifications through Frequently Asked Questions on 5G in view of the recent developments in which misleading materials with no proven evidence are being circulated to link CORONAVIRUS or COVID-19 with 5G technology and therefore refutes the claim that there will be switching on of 5G in Lagos in its entirety.
He added that, the Commission also provided clarifications on the laying of fibre optic cables within Lagos and other parts of the country to the effect that the laying of additional fibre optic cables is to strengthen the existing 3G and 4G infrastructure to provide robust and pervasive telecoms infrastructure to improve network performance.
According to Dambatta, 5G is a fifth generation of mobile technology, which is an improvement of today's 4G technology with enhanced capabilities.
5G technology provides the platform for new and emerging technologies such as Internet of Things (IoT), Artificial Intelligence (AI) and Big Data to improve the way we live and work.
"NCC has not issued any licence for 5G in Nigeria and therefore, the mobile network operators (MNOs) cannot switch on such technology. NCC is technology-neutral.
"As such, we don't license technology but assigns spectrum to operators for deployment of any service when allocated by National Frequency Management Council (NFMC).
''As the telecoms regulator, we enjoin Nigerians to get accurate information from us rather than relying on information emanating on social media by some individuals out of ignorance to misinform our people," Dambatta said.
Kano records highest number of sickle cell patients in Nigeria
Nasiru Yusuf
Kano state has the highest sickle cell patients in Nigeria, a consultant haematologist at Aminu Kano Teaching Hospital said.
KANO FOCUS reports that Dalha Halliru Gwarzo disclosed this in an interview with Hospital's newsletter as part of the 2021 World Sickle Cell day.
He added that Lagos is the second state with highest number of sickle cell cases in the country.
Mr Gwarzo said India, Democratic Republic of Congo and Nigeria constituted 90% of the sickle cell patients worldwide.
On the causes of sickle cell disease, Mr Gwarzo said it is a genetic inherited disease from parents who are either SS, or AS genotype as a result of genetic condition or mutation of abnormal form of red blood cell.
He advocated for compulsory screening of infants after birth and school children, pre-marital counseling/tests, subsidising cost of medication/treatment and mass sensitisation campaign on dangers of the disease.
Mr Gwarzo noted that, although there is no known cure for sickle cell disease, but developed countries are using a high technology for manipulation of the genetic cells by bone marrow and stem cells transplant, which cost about fifteen million Naira in countries like United States, Germany, United Kingdom and Canada.
Kano missing children: Court convicts Paul Owne 104 Years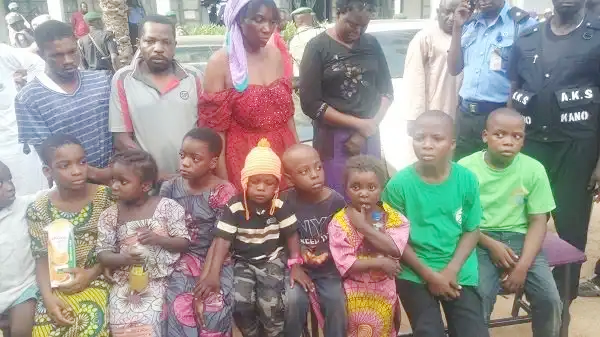 Kano State High Court has sentenced Paul Owne to 104 years without option of fine for abducting under five children and sold them in Onitsha, Anambra state.
KANO FOCUS reports that Mr Owne was reported to have conspired with six others in committing the crime.
Delivering the judgement on Friday Justice Zuwaira Yusuf sentenced the convict after pleaded guilty to all his 38 count charge against him by Kano State Government.
The court upheld that the convict was found guilty in count 2, 8, 9, 2, 27 and 34 therefore convicted him to 7 years each without option of fine in addition with the sum of N100,000 fine.
Similarly, the court found Owne guilty in count 3, 5, 10, 11, 22, 28 and 38 head count he was sentenced to 7 years.
Mrs Yusuf said the action of Owne was in contravention of count 4, 12, 13, 29 and 38, she convicted him to 4 years on each count without option of fine.
She ordered that all the count shall run Consecutively.
The 5 other defendants who pleaded not guilty to all the charges read over to them namely: Ogbono, Emanuel Igwe, Loise Duru, Monica Oracha and Chinelo Ifedigwe.
Kano Focus reports that the Kano Police Command had rescued nine missing children and paraded six Igbo persons who have confessed to abducting the kids, renaming and forcefully converting them to Christianity before selling them in Onitsha, Anambra state.
Kano is the biggest sesame market in Nigeria – Ganduje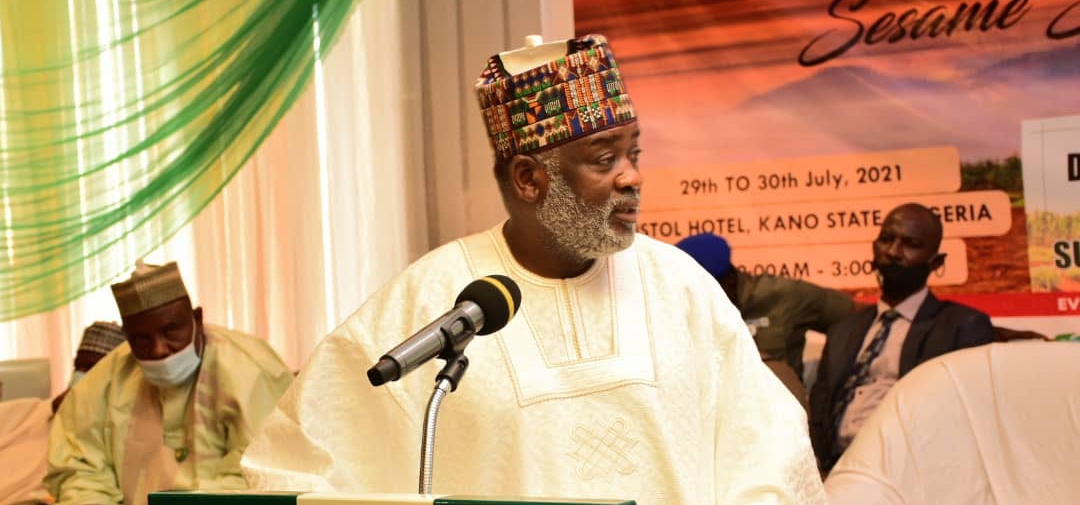 Nasiru Yusuf
Governor Dr.Abdullahi Umar Ganduje has said that Kano with its commercial potentials being the biggest agricultural commodity hub in Africa is also the biggest Sesame market in Nigeria.
KANO FOCUS reports that the Governor represented by his Deputy Nasiru Yusuf Gawuna stated this on thursday in Kano while declaring open a Sesame seed conference with the theme "Developing the Sesame seed value chain for sustainable growth" organised by the National Sesame Seed Association in collaboration with Kano State Government.
According to him the conference will create an avenue for stakeholders in the industry to identify the most effective ways to promote value chain development in the Sesame seed sector and to also discuss mutually beneficial trade opportunity so as to improve economic development and livelihood of smallholder farmers.
The Governor described sesame seed as the most sought cash crop in terms of export value in Nigeria, being one of the fastest growing sectors due to its foreign exchange earning and as a main source of income for about 5 million smallholder farmers.
He however assured that his administration is committed to towards enhancing the production of sesame both in terms of quantity and quality through financing,improved techniques and productivity.
The Minister of Agriculture and Rural Development, Muhammad Sabo Nanono in his remarks highlighted the interventions given to the National Sesame Seed Association in the development of the sub-sector include the distribution of high yielding black,white and brown variety sesame seeds to boost productivity.
Similarly, he said 20 sesame cleaning machines were also distributed, in addition 2 model sesame processing centres were established in Nassarawa and Kano States respectively.
On her part, the Minister of state for Industries,Trade and Investment Maryam Katagum represented by a Deputy Director Irimiya Kaura explained that the ministry is committed towards providing enabling environment that will enhance the competitiveness of Nigerian agricultural commodities in the global trade.
She also revealed that in continuation of developing sesame seed,the ministry is implementing a robust agribusiness and industry development initiative to draw investment to the non oil sector in the country.
Speaking earlier the President of the National Sesame Seed Association of Nigeria, Sherif Balogun stated that for the past 5years they have been working assiduously to promote the sesame seed value chain as well as increasing the production from 300,000 metric tons to over 500,000 tons.
He therefore called on the public to engage in massive sesame production and processing in order to benefit from government policies like the Anchor Borrowers Programme.
While appreciating the Kano State Government for partnering with them in organising the conference,he also commended Governor Ganduje for his support and effort towards making Kano a destination for agribusiness investment.
The event was attended by the Jigawa State Commissioner of Agriculture Muhammad Alhassan who represented Governor Badaru Abubakar, Chaiman House of Representatives Committee on Agricultural Institutions Mannir Babba Dan' agundi and other stakeholders.