Kano elites betrayed my husband – Maryam Abacha
Maude Rabiu Gwadabe
Kano elites have betrayed late Nigerian military Head of State, General Sani Abacha, according to his widow Mrs Maryam Abacha.
She disclosed this in an exclusive interview with Kano Focus marking the 22nd memorial of late Abacha's death.
Mrs Abacha said even though majority of Kano people still love the late Head of State, Kano elites have abandoned his family after his death on June 08, 1998.
"I hope Kano people will realize that Sani was their son.
"And this man was born in Kano in Sabon Gari and later he came to Fagge and grew up but his name is Abacha – a Kanuri name from Borno.
"He has marks, Kanuri marks on his face but he chose to be a Kano man.
"And he worked for Kano and he planted Kano people but there are people that he helped a lot but they are not even greeting me now for no reason.
"They just hate us! But why? This is a very bad attitude.
"It is Haram and Allah is watching us." She said.
On "Abacha loot"
Mrs Abacha also defended her late husband against continuing allegations of looting Nigeria's treasury.
"So how come this man was not a thief until he died?"
"What is this amount of money after 22 years you say oh we have found this amount of money and we're bringing it back?"
"It's a shame! It's a shame to tell lies on a dead man! It's a shame to tell lies on your leader!" she lamented.
The former first lady said General Abacha was a four-star General who had reached the pinnacle of his military career before becoming Head of state.
She said the five years Abacha spent ruling Nigeria shouldn't overshadow all the contributions he gave right from the Civil War up to his stint as Minister of Defence.
Mrs Abacha added that the truth will eventually triumph regarding her husband's true legacy.
"If he has done wrong God knows, if other people are putting the wrong on him it's a matter of time.
"They will kneel down like America is kneeling down now. And everybody – a liar or a bastard – anybody that is evil will kneel down just like this Corona has come to shut this world." She said.
Advice to Nigerians
Mrs Abacha advised Nigerians to value, respect, and love their leaders like other countries do.
Going down memory lane, Mrs Abacha said when her husband died some countries offered to erect his statues in Kano and the FCT but she rejected the offer on religious grounds.
"But unfortunately in our country no matter how hard you work and no matter how well you take care of people, it's just a matter of 'you are not a good person'.
"I want the youth not to only know who Abacha was or Maryam is, but I want them to know whoever it is God has risen to the pinnacle of the nation must have something good, must be hardworking, there must be something that is of value about that person whoever he is." Mrs Abacha said.
She therefore called on Nigerians to learn to love, respect, tolerate, and value each other.
She explained that Nigerians should teach their children to accept and understand the different cultures and religions of the country.
"But the way we live in Nigeria, is what is causing all our problems – Oh you are a Fulani, this is Igbo, this is Yoruba – This will not take us anywhere.
"We should all come together as human beings not as Fulani or Hausa, or Igbo or Yoruba or Arab."
Kano schools reopen after 5 months closure
Nasiru Yusuf
Schools in Kano have reopened on Monday after five months closure due to COVID-19 Pandemic.
Kano Focus recalls that the state government has on March 19 directed the closure of public and private schools as part of measures against the spread of COVID-19.
However, on Monday August 3 the government approved the reopening of schools for senior secondary schools students.
The Commissioner of Education Muhammad Sanusi Kiru announced that the opening is to allow SS III students to write their final examinations.
WAEC: Kano merges 33 boarding schools into 12 centers
Kano Focus observed how many students on Monday defied early morning downpour to attend classes, which could be perceived as a clear indication of their commitment to go back to school.
Speaking while on inspection tour to Government Girls Secondary School Shekara and First Lady's College Mariri, Kano state commissioner of education Muhammad Sanusi Kiru said he was happy that the school authorities followed the approved guidelines in preparation for the forthcoming WAEC examinations.
Mr Kiru urged the students to use the PPEs provided for them and maintain social distancing.
He also advised them to be serious in their examinations so as to have good results worthy of pride by their parents and the state.
Blasphemy: Kano court sentences singer to death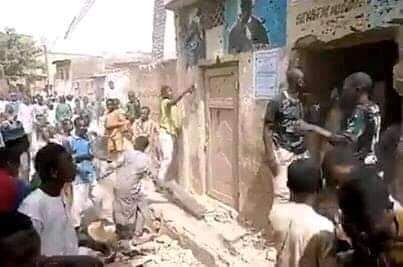 Mukhtar Yahya Usman
The Kano Upper Shari'a Court sitting at Hausawa Filin Hockey has sentenced a 22-year old man to death by hanging for blaspheming against Prophet Muhammad (pbuh).
Kano Focus reports that Khadi Aliyu Muhammad Kani gave the verdict on Monday after finding Yahaya Aminu Sharif guilty as charged.
Sharif, a resident of Sharifai in Kano metropolis was accused of committing blasphemy against the prophet in a song he circulated via WhatsApp in March 2020.
Following the incidence, protestors burnt down the singer's family home and led a procession to the Kano Hisbah Command's headquarters.
Kano blasphemy: Father of suspect disowns son
The court has also sentenced one Umar Farouq of Sharada area of Kano metropolis to 10 years imprisonment for making derogatory statements concerning the Almighty Allah in a public argument.
Rain, hailstones destroy N40 million crops in Bagwai LG
Nasiru Yusuf
Heavy rain and hailstones have destroyed crops worth over N40million in Bagwai local government, according to the council vice chairman Aminu Ibrahim Gogori.
Kano Focus reports that the heavy downpour on Monday night destroyed maize, onion, sesame, millet, and cotton crops.
Mr Gogori said the affected areas are Gadanya, Gadanya Gabas, Jobe, Tsauwa, Tsattawa and Galawa.
He pointed out that over 445 farmers were affected by the disaster.
Pensioners in 14 Kano LGs yet to receive July payment
He said the council is assessing the exact cost of the damage in order to forward it to appropriate authorities for necessary action.
In their separate remarks the village head of Gadanya Shuaibu Abubakar and his counterpart of Jobe village Abdullahi Lawal called on federal and state governments to come to their rescue.
When contacted, the Executive Secretary Kano State Emergency Management Agency (SEMA) Sale Aliyu Jili described the incident as devastating.
Mr Jili appealed to National Emergency Management Agency (NEMA) and corporate organizations to assist the victims.
He pledged that SEMA will do its best to assist disaster victims  in Kano state.