Court jails man 14 years for raping 6 year old girl
Nasiru Yusuf
The Kano High Court sitting at Miller Road Bompai has on Wednesday sentenced one Abdullahi Magaji of Batakaye Village in Kumbotso local government to 14 years imprisonment for raping a 6 years old girl.
Kano Focus reports that the trial judge Sulaiman Namalam also ordered the convict to pay a fine of N200,000 and another N200,000 as  damages to the victim.
Magaji raped the 6 years old girl on February 25, 2016 in an uncompleted building.
Lockdown increases rape cases in Nigeria – Lawyer
The offense according to the judge contravened section 3 of the  Kano state penal code (amendment No. 12) Law of 2014 and section 282 of the penal code , cap 105 Law of Kano state 1991 as Amended- Punishable under section 282 of the same law as amended by Kano state penal code (amendment No. 12) 2014.
His sentence comes as Nigeria is witnessing a surge in rape cases.
Kano schools reopen after 5 months closure
Nasiru Yusuf
Schools in Kano have reopened on Monday after five months closure due to COVID-19 Pandemic.
Kano Focus recalls that the state government has on March 19 directed the closure of public and private schools as part of measures against the spread of COVID-19.
However, on Monday August 3 the government approved the reopening of schools for senior secondary schools students.
The Commissioner of Education Muhammad Sanusi Kiru announced that the opening is to allow SS III students to write their final examinations.
WAEC: Kano merges 33 boarding schools into 12 centers
Kano Focus observed how many students on Monday defied early morning downpour to attend classes, which could be perceived as a clear indication of their commitment to go back to school.
Speaking while on inspection tour to Government Girls Secondary School Shekara and First Lady's College Mariri, Kano state commissioner of education Muhammad Sanusi Kiru said he was happy that the school authorities followed the approved guidelines in preparation for the forthcoming WAEC examinations.
Mr Kiru urged the students to use the PPEs provided for them and maintain social distancing.
He also advised them to be serious in their examinations so as to have good results worthy of pride by their parents and the state.
Blasphemy: Kano court sentences singer to death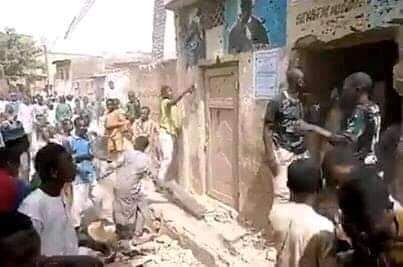 Mukhtar Yahya Usman
The Kano Upper Shari'a Court sitting at Hausawa Filin Hockey has sentenced a 22-year old man to death by hanging for blaspheming against Prophet Muhammad (pbuh).
Kano Focus reports that Khadi Aliyu Muhammad Kani gave the verdict on Monday after finding Yahaya Aminu Sharif guilty as charged.
Sharif, a resident of Sharifai in Kano metropolis was accused of committing blasphemy against the prophet in a song he circulated via WhatsApp in March 2020.
Following the incidence, protestors burnt down the singer's family home and led a procession to the Kano Hisbah Command's headquarters.
Kano blasphemy: Father of suspect disowns son
The court has also sentenced one Umar Farouq of Sharada area of Kano metropolis to 10 years imprisonment for making derogatory statements concerning the Almighty Allah in a public argument.
Rain, hailstones destroy N40 million crops in Bagwai LG
Nasiru Yusuf
Heavy rain and hailstones have destroyed crops worth over N40million in Bagwai local government, according to the council vice chairman Aminu Ibrahim Gogori.
Kano Focus reports that the heavy downpour on Monday night destroyed maize, onion, sesame, millet, and cotton crops.
Mr Gogori said the affected areas are Gadanya, Gadanya Gabas, Jobe, Tsauwa, Tsattawa and Galawa.
He pointed out that over 445 farmers were affected by the disaster.
Pensioners in 14 Kano LGs yet to receive July payment
He said the council is assessing the exact cost of the damage in order to forward it to appropriate authorities for necessary action.
In their separate remarks the village head of Gadanya Shuaibu Abubakar and his counterpart of Jobe village Abdullahi Lawal called on federal and state governments to come to their rescue.
When contacted, the Executive Secretary Kano State Emergency Management Agency (SEMA) Sale Aliyu Jili described the incident as devastating.
Mr Jili appealed to National Emergency Management Agency (NEMA) and corporate organizations to assist the victims.
He pledged that SEMA will do its best to assist disaster victims  in Kano state.