Buhari seeks Senate confirmation of Danbatta as EVC NCC
Nasiru Yusuf
President Muhammadu Buhari has asked the Senate to confirm the re-appointment of Umar Danbatta as executive vice-chairman of the Nigerian Communications Commission (NCC) for a second term of five years.
Kano Focus reports that Senate President, Ahmad Lawan read the letter at the start of plenary on Tuesday.
"In accordance with the provisions of section 8 subsection 1 of the Nigeria Communications Commission (NCC) act, 2003, i am pleased to present for confirmation by the senate the nomination of professor Umar Danbatta as executive vice-chairman of the governing board of the Nigeria Communications Commission (NCC) for a second term of five years," part of the letter read.
Who is Professor Danbatta?
Born in Danbatta Local Government Council of Kano State, Prof. Danbatta obtained his BEng, MSc degrees from the Technical University of Wroclaw in Poland and his PhD from the University of Manchester Institute of Science and Technology (UMIST) UK respectively.
Buhari reappoints Dambatta as EVC NCC
He has served as a lecturer in the Department of Electrical Engineering, Faculty of Technology of Bayero University Kano for 28 years, where he taught courses in telecommunications engineering and electronics and held academic positions of Dean of the Faculty and Head of Department at different times.
His main administrative responsibilities, in the university, included Deputy and Acting Dean of Students' Affairs, Administrator of the Works Department and later, Director of the Centre for Information Technology (CIT).
He was also a member of over 60 University committees and task forces, including numerous stints as Chairman.
In administrative and other responsibilities outside the university, he has served on over 20 committees, prominent among which was his Chairmanship of the Implementation Committee of Kano State University of Science & Technology, after which he became its pioneer Deputy and Acting Vice-Chancellor when it took off in 2001.
Prof. Danbatta has supervised more than 60 PhD, MEng and BEng projects in diverse areas of telecommunications and has also served as external examiner  to  seven universities  and polytechnics  and  is  an  assessor, technical  reviewer and editorial member to eight research journals.
Pantami tasks Danbatta, NCC on digital economy
He has to his credit more than 50 articles in journals, conference proceedings and technical reports.
He is also the author of a six chapter, 167-page book titled Elements of Static Engineering Electromagnetics.
He is a recipient of 18 distinguished awards and certificates of honour. Prof. Danbatta has served two terms of five years as a Member of Council for the Regulation of Engineering in Nigeria (COREN), and is also a COREN registered engineer and member of the Nigerian Society of Engineers (NSE).
He  was  the  Vice  President  of  the  Digital  Bridge  Institute  (DBI), International Centre for Advanced Communications Studies, which was established in the year 2004 by the Nigerian Communications Commission (NCC) to build capacity for the Nigerian/African telecom industry in the diverse areas of Information and Communication Technology (ICT).
Until his first appointment as the EVC, Prof. Danbatta served as a member of the Implementation Committee of the Northwest University Kano, as well as Acting Vice-Chancellor of the Kano University of Science & Technology, Wudil.
Ganduje donates N3.6m to families of Doguwa flood victims
Nasiru Yusuf
Governor Abdullahi Ganduje of Kano state has paid condolence visit to the families of 18 Doguwa flood victims and donated the sum of two hundred thousand Naira to each of the victims family.
KANO FOCUS reports that Ganduje prayed for the repose of the departed souls of those who died as a result of the heavy downpour.
"When the information of this sad tragedy reached us we were seriously shocked. May Allah Forgive the victims, who died as martyrs, being washed away by flood. May He give them the ultimate reward of Jannatul Fiddaus, ameen," the governor prayed.
Families of the victims expressed appreciation to the governor and his entourage and prayed to God to guide him in steering the affairs of the state.
It will be recalled that on July 23, about 18 persons including six members of a family have perished in a ghastly car accident in Doguwa Local Government Area.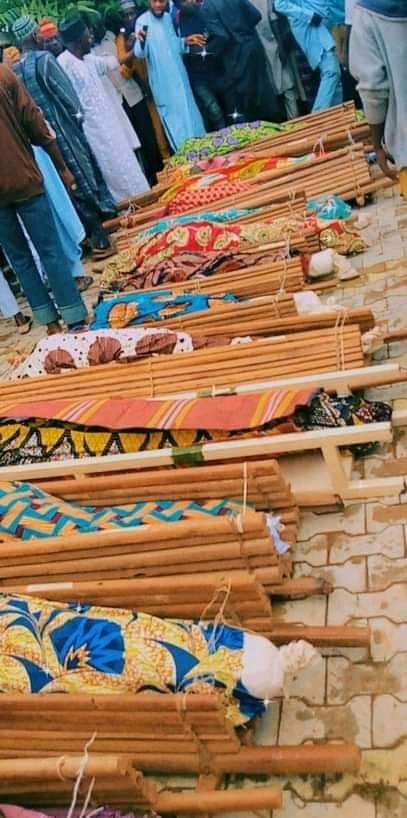 The Sector Commander of the Federal Road Safety Corps (FRSC) in Kano State, Zubairu Mato, said the accident occurred when a bridge linking Riruwai and Doguwa broke down as a result of the heavy downpour, and the driver wasn't aware that the bridge had broken down.
He explained that the vehicle plunged into the water, killing all the 18 passengers on board including six members of same family.
The family members have been identified as Bashir Doguwa, Malami Gidan-Tanimu, Safiya Mukhtar, Shahida Bashir, Fatima Rabi'u, Uzairu Bashir, all of Doguwa Local Government Area of Kano State.
Doguwa and his family were on their way from Doguwa to First Lady Secondary School in Dambatta Local Government Area of the state to visit his daughter, Firdausi Bashir, who is among the students writing the ongoing NECO SSCE examinations.
Kano records highest number of sickle cell patients in Nigeria
Nasiru Yusuf
Kano state has the highest sickle cell patients in Nigeria, a consultant haematologist at Aminu Kano Teaching Hospital said.
KANO FOCUS reports that Dalha Halliru Gwarzo disclosed this in an interview with Hospital's newsletter as part of the 2021 World Sickle Cell day.
He added that Lagos is the second state with highest number of sickle cell cases in the country.
Mr Gwarzo said India, Democratic Republic of Congo and Nigeria constituted 90% of the sickle cell patients worldwide.
On the causes of sickle cell disease, Mr Gwarzo said it is a genetic inherited disease from parents who are either SS, or AS genotype as a result of genetic condition or mutation of abnormal form of red blood cell.
He advocated for compulsory screening of infants after birth and school children, pre-marital counseling/tests, subsidising cost of medication/treatment and mass sensitisation campaign on dangers of the disease.
Mr Gwarzo noted that, although there is no known cure for sickle cell disease, but developed countries are using a high technology for manipulation of the genetic cells by bone marrow and stem cells transplant, which cost about fifteen million Naira in countries like United States, Germany, United Kingdom and Canada.
Kano missing children: Court convicts Paul Owne 104 Years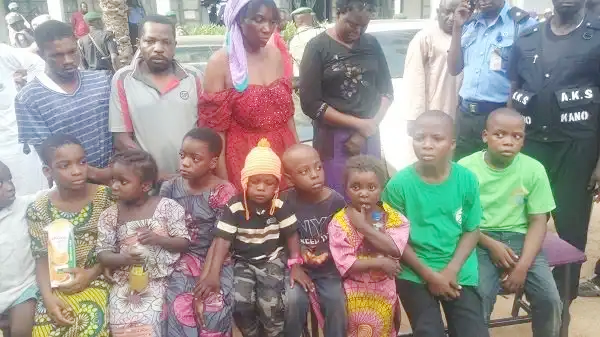 Kano State High Court has sentenced Paul Owne to 104 years without option of fine for abducting under five children and sold them in Onitsha, Anambra state.
KANO FOCUS reports that Mr Owne was reported to have conspired with six others in committing the crime.
Delivering the judgement on Friday Justice Zuwaira Yusuf sentenced the convict after pleaded guilty to all his 38 count charge against him by Kano State Government.
The court upheld that the convict was found guilty in count 2, 8, 9, 2, 27 and 34 therefore convicted him to 7 years each without option of fine in addition with the sum of N100,000 fine.
Similarly, the court found Owne guilty in count 3, 5, 10, 11, 22, 28 and 38 head count he was sentenced to 7 years.
Mrs Yusuf said the action of Owne was in contravention of count 4, 12, 13, 29 and 38, she convicted him to 4 years on each count without option of fine.
She ordered that all the count shall run Consecutively.
The 5 other defendants who pleaded not guilty to all the charges read over to them namely: Ogbono, Emanuel Igwe, Loise Duru, Monica Oracha and Chinelo Ifedigwe.
Kano Focus reports that the Kano Police Command had rescued nine missing children and paraded six Igbo persons who have confessed to abducting the kids, renaming and forcefully converting them to Christianity before selling them in Onitsha, Anambra state.