Emir Bayero reverses father, returns Dan Agundi to Emirate Council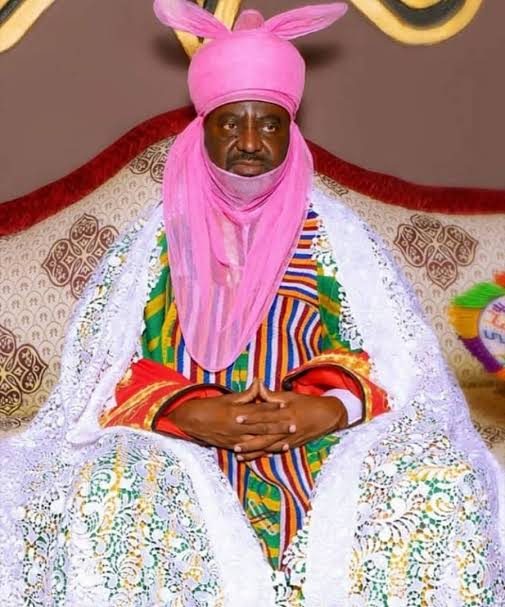 Maude Rabiu Gwadabe
The Emir of Kano Aminu Ado Bayero has approved the appointment of deposed Sarkin Dawaki Mai Tuta Aminu Babba Dan Agundi as Sarkin Dawaki Babba and member of Kano Emirate council.
Kano Focus reports that this is a reversal of the decision taken by the monarch's late father, Emir Ado Bayero who deposed Mr Dan Agundi for insubordination.
Mr Dan Agundi's new appointment is contained in a letter obtained by Kano Focus on Monday written to secretary to the state government Alhaji Usman Alhaji by deputy secretary of Kano Emirate council Sarki Waziri (Dan Rimin Kano).
The late Emir Bayero had in 2003 dethroned Dan Agundi as District Head of Gabasawa and Sarkin Dawaki Maituta over alleged insubordination.
Emir of Kano tasks TCN on electricity supply
Kano Emirate to constitute anti-rape committee
Supreme Court upholds late Bayero's deposition of Aminu Babba
Mr Dan Agundi was accused of disobeying an order from the late emir, who invited him to appear before him.
Shortly after his dethronement, Mr Dan Agundi dragged the late emir and Kano emirate council to a state high court for redress.
The high court judge, Sadi Mato ruled that Dan Agundi be reinstated and be paid all his entitlements.
However, the Kano Emirate Council appealed the judgment but the Court of Appeal also affirmed the verdict of the lower court.
The Emirate Council under deposed Emir Sanusi II, filed an appeal at the Supreme Court challenging the judgments of the two lower courts.
On June 5, 2020 – six years after the death of late Ado Bayero – the Supreme Court affirmed Emir Ado Bayero's decision of sacking Aminu Babba Dan'agundi as Sarkin Dawaki Mai Tuta and District head of Gabasawa.
Neither Emir Aminu Ado Bayero nor the Kano state Emirate Council has explained their reasons for returning Mr Dan Agundi as Council Member with the new title of Sarkin Dawaki Babba.
Meanwhile Emir Bayero has also appointed his elder brother deposed Chiroman Kano Sanusi Ado Bayero as Wamban Kano and member of Kano Emirate council.
Mr Sanusi Bayero was appointed Chiroman Kano by his father, former Emir Ado Bayero, and was believed to be his favored successor.
However, when he failed to secure the throne after his father's death, Mr Sanusi Bayero exiled himself to Abuja and refused to pay homage to Emir Sanusi II in line with Kano Emirate tradition.
His action prompted Mr Sanusi to sack him and replace him with his younger brother the present Emir of Bichi, Nasiru Ado Bayero.
The new Wamban Kano has since paid homage to Emir Bayero which signaled his resumption to the Kano Emirate fold.
Kano state government is yet to approve the new appointments.
Twitter agog as Emir Sanusi's daughter alleges selective application of Shari'a
Adamu Audu
A daughter of former Emir of Kano, Khadija Sanusi has raised hundreds of  comments on Twitter after a post she made  on  Wednesday regarding Shari'a application in Northern Nigeria.
Ms Lamido alleged that Northern Nigerians are selective when it comes to the Shariah law and its application.
On her Twitter handle (@kadijasnusi_) she claimed that Northern Nigerians use Sharia law  when it favors them and turn a blind eye regarding polygamy, women rights, forced marriages, domestic and sexual abuse.
The post generated over 250 comments, 493 retweets, and 680 likes.
Her supporters  praised her  for being her father's daughter while others oppose her for ridiculing Northern culture.
Some of the comments include;
When a user expressed his pleasure of getting to read Ms Sanusi's position on Sharia, she humorously said that she wouldn't be her father's daughter if she didn't speak her mind despite the consequences.
Death penalty: Kano convicted persons may not be executed
Sabiu Kabuga
The two persons sentenced to death this week in Kano are not likely to be executed, Kano Focus investigation reveals.
Since 2007 not a single convicted person has been executed in Kano state as successive governors fail to sign their execution warrants.
Spokesperson of the Nigerian Correctional Service in Kano Musbahu Lawal Kofar Mata said the last time some convicted persons were executed in the state was during the first tenure of the Ibrahim Shekarau administration 2003-2007.
"There are over 100 convicted persons that are on death row in Kano correctional centres awaiting execution.
"Since 2007, not more than two people have been executed in Kano," he said.
Blasphemy: Kano council of Imams, Hisbah endorse Shari'ah court verdict
Similarly, spokesperson of the Kano state judiciary, Baba Jibo Ibrahim said it takes a long before the convicts exhaust their appeal process.
"They  can appeal their sentence within 30 days after the judgment has been passed.
" And they still have the right to appeal the judgment up to the Supreme Court." Mr Ibrahim said.
It could be recalled that Yahaya Aminu Sharif, 22, and Mati Audu,70 have been sentenced to death by hanging and stoning respectively.
Sharif was sentenced to death on August 10, 2020 for blasphemy against Prophet Muhammad (pbuh).
Two days later, Mr. Audu was sentenced to death for raping a 12 years old girl.
These verdicts generated controversy with some supporting and others opposing the judgment.
Kurmi Market: complains amidst demolition
Zulaiha U.S Danjuma
Residents and small scale business owners have expressed their displeasure over the demolition of an abattoir within Kurmi Market in Kano city.
The Secretary, Bakin Kasuwa Development Association Auwal Jibril alleged that the government is more concerned about selling plots than providing amenities to the community.
Mr Jibril said government has failed to provide drainages in the area and is denying petty traders who use the abattoir compound their source of livelihood.
One of the traders, Yusuf Abdulhamid said Kano municipal local government council directed them to vacate the premises without prior notice or provision of an alternative space.
Kano traders protest stalls demolition
Kofar Waika residents perform 'Alqunut' against demolitions
"We were told to move out yesterday and there is no alternative provision made for us", says Mr Abdulhamid.
Kano Focus met both the Vice Chairman and Director Personnel Management of the Kano Municipal local government but they said only the Chairman could comment on the matter.
However the Chairman, Sabo Dantata is yet to respond to several calls to his GSM line.