Take care of rape victims as you punish rapists – Activist
Aisha Ado Abdullahi, is a lawyer and the chairperson of a Coalition against Rape and Violence (CARAV).
The Coalition comprises of the Nigerian Bar Association (NBA), the International Federation of Women Lawyers (FIDA), the Muslim Lawyers Association of Nigeria (MULAN), as well as the Rights Based Association (RBA).
In this exclusive interview with Kano Focus' Mukhtar Yahya Usman she speaks about measures to punish rapists and how to take care of the victims.
 Recently, some rapists have been sentenced to jail but critics wonder why they are being given the minimum sentence. How do you react to that?
Well, you see, I don't blame the general public for accusing judges because they are not really aware of what the position of the law is, and what the challenges are.
You see as much as we fight to see that prosecution is smoothing out and made very clear and easy and then we get maximum punishment, we will not close our eyes to the fact that there are situations – we have had situations where innocent people or innocent men are accused of rape.
So you see there is this general saying if I may put it that way 'it's better for you to set free a hundred offenders than to imprison or punish one innocent person'.
So as much as judges want to do the right thing but they are still, they must go by the provisions and the evidence that are brought before them.
Court jails man 14 years for raping 8 year old girl
Court jails police sergeant 7 years for sodomizing teenager
"Mai Siket" pleads guilty to raping over 40 women in Kwanar Dangora
If you bring a case of rape and you don't have a strong case there – is no strong evidence that points to that accused person – so what do you expect the judge to do?
If the judge feels that okay may be for what he has seen as circumstantial evidence, may be the witnesses have given testimony that may be strong, then the judge would look at it and punish the offender with lesser punishment than the maximum punishment. You have not had any confessional statement; you don't have any strong evidence -medical report that points at him.
May be he even defended himself by giving evidence that he wasn't even at the place where he was accused of being in the first place.
So there are certain things that the judge will weigh but the general public or the onlooker thinks that aaah this person is accused of rape, he has been arrested why won't the judge punish him?
The judge is under a duty to look closely and use the judges' discretion because a case might look to you and I like a very strong case, right, but when the judge looks closely at the evidence and the provision of the law, the judge might feel compelled not to give the maximum punishment, even if like I said these strong evidence have been brought before him, there might be some loopholes.
It is up to the judge, but then for a coalition like us, one of the things that we do is to follow the case closely to look at all the evidence that has been brought before us, because we are all, we can have copies or we can all sit through the matter – we read through them and understand them.
When the judge pronounces his judgment we can understand on what basis – usually judges try to explain the basis of their judgment.
But there are a lot of cases where you have loopholes, it may be on the look of it on the surface it may look like a strong case or a weak case, but with those loopholes when you go into details of the case and evidence you may be able to understand that okay this is a clear case of where you cannot really pronounce the maximum punishment or where everything is very straightforward and clear.
But some of the sentenced rapists had confessed to the crime and still did not get the maximum sentence.
Oh well, this is the case that you hardly see the judge give minimal sentence – they have confessed.
When you follow the story there might be loopholes.
For example, there are people who would confess to an offense but when you follow the circumstances that led to the confession they might have been tortured, we have had that situation where because of torture may confess and even if the story tends to be true but because of the way the confession was pulled out of them it would affect the weight of the confession.
We have had of a lot of cases – even police are aware that there are a lot of circumstances – where an innocent person will confess to having done an offense because of the rate of torture.
The person might have been tortured to the point where they might say ahhh I did it just to be left alone … for them to stop torturing him.
So because of these kinds of situations judges are very careful even when they have a confession they will look at the circumstances of the confession behind that confession, they would look at demeanor – that why it is good to bring the accused person before the judge – the judge will study them and see whether this person, from what I am observing might have been tortured into confessing.
So if there is any sign of that, so even with the confession statement, the judge will pronounce a sentence or judgment but it will not be the maximum.
It is like having the middle ground. I'm not setting you free because you have confessed to an offense and there are some evidences that show that you did but then because you have been tortured into this confession so I will reduce, yes.
And that is one of the reasons why those people who promoted this review in the law, you know before 14 years was maximum, right? So it's because of this situation where the punishment needs to be made to look very serious because of the seriousness of the offense, so that's why it was upgraded to give 14 years as minimum.
So whatever it is, a 40 year old who has committed this offense and is punished would not be punished for less than 14 years. Minimum punishment is 14 years maximum is life – and life means 20 years – that's what life imprisonment means.
So you see those of us that are now agitating and were happy with the fact that the House of Assembly in Kano is now working towards making life or 20 years to be the minimum, let the maximum sentence be death punishment because like you noted yourself the incidents of these cases are increasing so the government need to pass the strong message that we mean business – Anybody caught and convicted can be killed.
As are lawyer and Human Rights activist how do you see the House of Assembly's move to castrate rapists?
It's a good development, but then let me also pose this question; if death sentence is a solution would we be having cases of armed robbery?
So this is one way to look at it.
Even if today we have a law in Kano that say that rapists be killed when they are convicted do we really believe that would stop the cases of rape?
So as lawyers we welcome this development, yes we need to have that kind of law but we also have to have in mind that that is not the beginning of an end of it.
It is like you have, let me put it in this way; in this pandemic situation like you have the symptoms.
We have symptoms right? You are coughing or you have headache and you say okay let me take paracetamol, tomorrow you take paracetamol, next tomorrow you ask your pharmacist give me something very strong and they give you  ibuprofen for example and you don't feel it for the next two days and the third day it will come.
So we have this situation of rape incidents – we have the punishment for it and now we are saying we want stronger punishment but then have we looked at our society or our community to see what is the cause?
With that headache if you don't go and test yourself to really know what the case is no matter what the paracetamol or ibuprofen you keep taking, in fact it will make matters worse for you.
Because the more you ingest the chemical in your system the worse it becomes.
But when you go and get yourself tested and you see that it is malaria or it is COVID-19 then you take the right medication for the malaria or COVID-19 then you get rid of that headache for a long time, right?
What I'm saying now is that, even if today we have  a law that says that judges must convict and sentence all offenders – rapists – to death and we have it and it begins to be implemented, how are we sure that that would stop rape in our communities?
So this is a question for us to ponder over.
My take is that yes the castration is also part of the punishment if you castrate – I even read somewhere – what if the offender is a woman?
So a woman can rape?
(Laughter). Well, it is still contentious.
We are still arguing whether women can rape or not.
It all depends on what we can prove.
But the point here is that yes we can have castration as punishment, we can have death sentence as punishment, it may serve but it will not be the total solution.
It will help in a certain way, it will scare off intending or people who are even thinking of doing it, yes, but then so long as we do not take care of the cause of these issues from the beginning – as long as we do not go to the root of it and look at what is causing it and deal with it – whatever remedy that we are pronouncing or that we are providing will not entirely save us.
I want to give you an example, there is a country right now as we speak, because of the rate of rampant rape especially against young children what they did was okay yes we have death sentences but it is not helping us we are still having these cases, so they devised a way, I haven't seen the details of it, I think I heard it over the news, so I want to see the details of the provision.
What they have done is that as part of punishment, a person can be allowed to go home but the person must wear a badge "I'm a rapist" and that badge has a chip on it like a security some kind of device you must wear.
If you do not wear it, if you step outside your house and you are not wearing it, it will send a signal that you have removed it, that it has been kept somewhere.
It will show them that you are going outside but you are leaving the badge at home.
And you must wear it wherever you go that means everybody will see you and they will see you are sex offender.
So it's a way of naming and shaming the offender, so that drastically reduced the incidents of rape, because everybody is afraid of, okay they now I don't even need to go to prison, I don't need to get killed but everybody in the community would know that I'm a rapist because I have to wear this badge so I won't even go and do it.
It is a creative innovation of a form of punishment that can help because they notice that this thing, even this kind of punishment is not helping us so what do we do?
They sat down.
So one thing we need to do,  this initiative by the House of Assembly is welcome but then we don't we have the alternative like what we are trying to do in CARAV now because we have all the stakeholders we want to sit down look at our society and our communities, look at what is causing it, then we will brainstorm and come up with innovative solutions to support these laws, because the laws need our support even if we have the maximum punishment and we have the means of implementing them but we still need to have some different ways of looking at it.
We can't keep doing something the same way and expect a different result.
So this is what we are facing now we have to sit down and see what the problem is.
This thing is increasing – as much as we are increasing punishment the offenses are also increasing – we have to come back take back look at the situation.
As long as people like us are active and functional in the society and communities definitely we will devise we will come up with the solution.
So that is what CARAV is working on.
But if the House of Assembly passes a law to castrate rapists wouldn't it contravene the UN Convention against Torture?
Well! This matter has been contentious over time, you know even death sentence right, there are a lot of, there are some organizations, human right organizations that are also fighting against death sentence, so no matter what, there are certain, there are implications to in any kind of punishment.
That is one of the reasons that some countries are devising alternatives, so if it has anything to do with life or touching anybody part in a negative way a lot of Human Rights organizations will look at it and fight.
Yes castrating is being looked at as a form of torture just like the execution of a human life – it would be subject to controversy and debate over time even if it is included in our laws.
A person, for example, a young girl of 11 has been brutally attacked by a strong young man of 40.
So, if for example that man is being sentenced to life and he serves for 20 years, and then he gets a parole or pardon, he will be 60, right?
So when he comes out will he be still able to commit rape or not?
Because we have had instances, people will still come out and commit rape.
A 60 year old can still rape – we have had 70 years old that has raped.
So this is why the people who are agitating for castration are agitating for it.
A lot of people repent and change their ways but then a lot will still go back and still do it because they have the tools – according to Governor El-Rufai – he still has the tool to commit rape.
So that is why those who are agitating for castration are agitating for castration.
But will castration be constitutional?
It will be definitely subject to debate.
Definitely! So we will cross that bridge when we get there.
But then you see, look, when you come to think of it, when you talk of rape all attention 90% is on the perpetrator.
What about the victim?
We don't look at the victim – even if you get maximum punishment what will happen to that 11 year girl who has been damaged for life?
One of the things that we want to advocate is for the victim to also be given attention because if we have a strong institution that gives them the right attention it will also help them, because look, the rate at which we are going some years now if we are not careful we will have a great number of our society that have been raped.
Now, I'm sure you know of this also, the rising cases of mental health challenges.
A lot of people have issues.
You'll see someone and you'll think they are normal – may be they have a job or they are walking along the street – but they have been damaged through some kind of experience like this since they were young.
And you'll not know.
They will do something and you'll be shocked but they are not in their right mind even though they are trying to be like normal people, to associate with normal people.
So yes, let us look at how they punish offenders but let us give even more attention to the victims and support them.
Support in terms of rehabilitation means they should be put through serious counseling, their medical and mental health should be given extra attention too and whatever circumstance that led them to be victims should be also looked at.
You know a lot of times we say poverty is an issue that gets them to be vulnerable, so we look at their circumstance.
If they are so poor   that they can't even – may be a young girl who couldn't  even go to school because she is sent to hawk that's why she got to be raped, then we can help to get her into school, get her to know that she can make herself useful to herself and the society.
If it is the circumstance where it's because – you know we have this issue especially in our community – where a man will marry a woman she will give birth to one or two children he will divorce her marry another woman and keep all the children with him you will see a man that is keeping a seven year old, eight year old  10 year old that their mother is not in the house so they are being subjected to all sorts of maltreatment – they will be the ones that may be a step mother or a grandmother will send them out to buy sugar at 9pm  and then if she is attacked she doesn't care.
So if we have cases like that then we try to see how we can put them under the care of the person – may be the mother or a person – who will really take care of them.
There are so many ways to address the issue but then if we don't really put it on our priority.
We will not consider that, a lot of times you punish the offender but still leave that girl under the care of that stepmother who even allows her to be raped in the first place or you don't try to get them in school you feel you have punished the offender that is all, but then they are still vulnerable.
So we have to look at that too.
Photo News: Emir Sanusi visits Sultan of Sokoto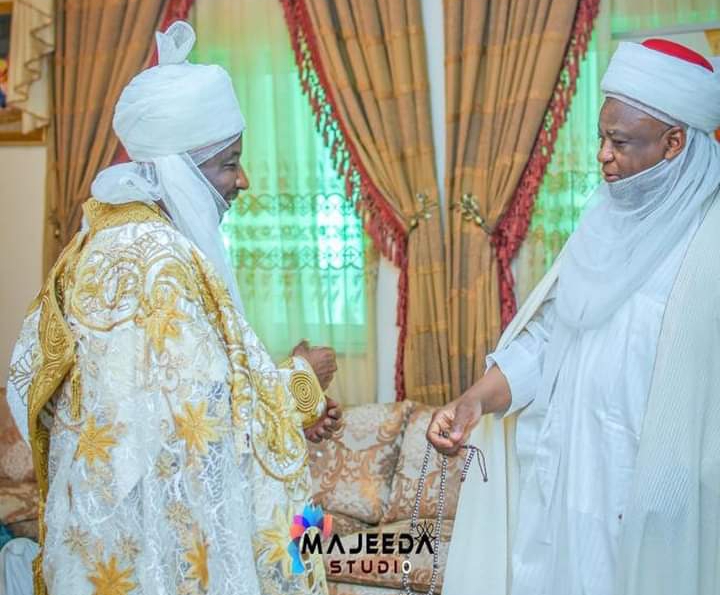 The former Emir of Kano has on Monday paid a courtesy visit to Sultan of Sokoto Muhammad Sa'ad Abubakar lll.
Kano Focus reports that the pictures of the visit were published on a Facebook page linked to former Emir named 'Sanusi ll Dynasty'.
Though the reason of the visit was not stated, but the former Emir has paid similar visit to Lamido of Adamawa in his capacity as leader of Tijjaniyya sect in Nigeria.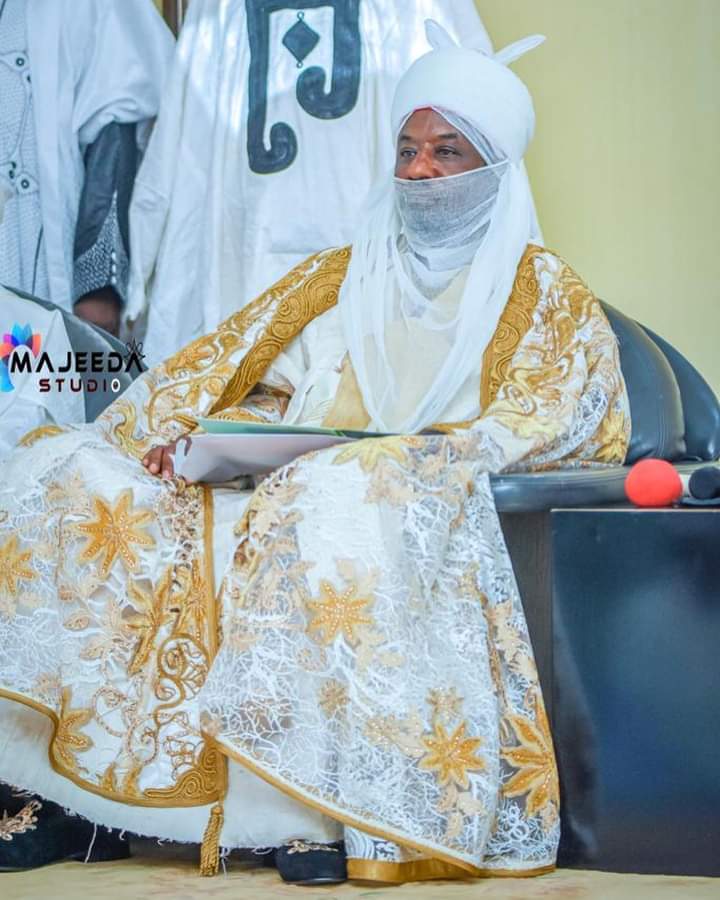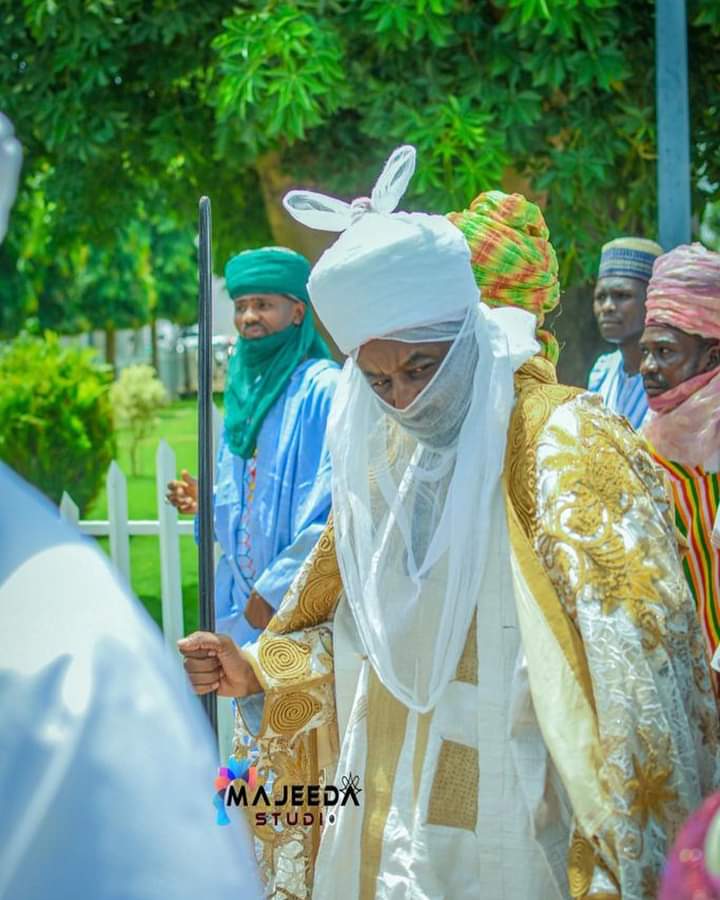 Kano to revive bilateral relationship with Pakistan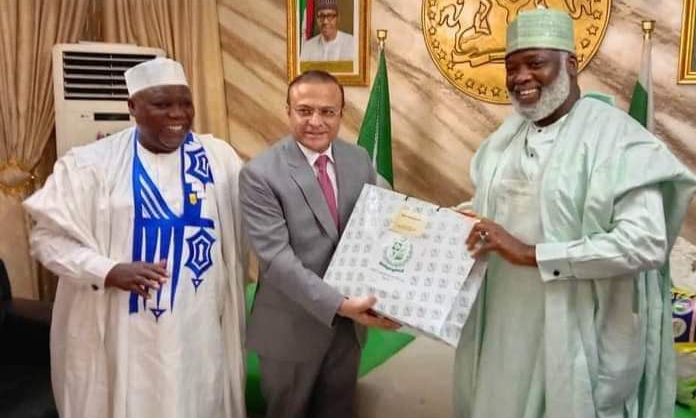 Aminu Abdullahi
Kano State Government has expressed commitment to revive the long existing relationship with Pakistan.
KANO FOCUS reports that Governor Abdullahi Umar Ganduje gave the assurance on monday while receiving the Pakistani High Commissioner to Nigeria Muhammad Tayyab Azam at the Government House.
Ganduje represented by his deputy Nasiru Yusuf Gawuna said Kano endowed with lots of potentials is open for people to come and invest, particularly those from Pakistan.
"We are happy for showing commitment towards reviving the long relationship between us. I can remember the partnership we have in the engagement of Pakistani teachers in our schools which has yielded a lot today."
"Even in the area of agricultural mechanization we have partnered with Pakistan especially in the supply of tractors to our farmers,therefore I feel if we continue to explore agriculture it will be beneficial to both Kano and Pakistan".
The Governor also commended Pakistan for showing interest in reviving the bilateral relationship with Kano State.
In his remarks the Pakistani High Commissioner Muhammad Tayyab Azam described the visit to Kano as historic and important being the first state he visited since assuming office.
"I know the importance of Kano as hub of business in Nigeria, after Lagos Kano is next where there is business opportunity".
"There was a time in Kano when most schools   have many Pakistani teachers..my aim is to bring back that relationship".
He however pointed out that Kano and Pakistan have similarities in both values and culture therefore it is important to deepen the relationship so as to sustain the partnership in  the areas of health and agriculture as that will create opportunities for our people towards boosting the economy.
The High Commissioner was accompanied during the visit by Pakistani Consul General in Kano Ahmed Ibrahim Yakasai.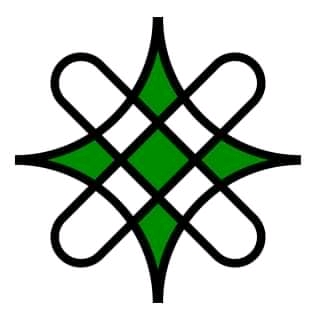 The Arewa Consultative Forum ( ACF) has resuscitated it Kano State chapter and nominated a 14- member Interim Executive Committee to run its affairs for the next six months.
Kano Focus reports that the Forum has mandated the new leadership to organise a general congress that may elect a new council.
A statement issued on Monday by the publicity secretary of the Forum Bello Sani Galadanchi reported that at the inaugural ceremony presided by a member of ACF Board of Trustees, Halliru Akilu, the non- partisan voluntary organization also nominated delegates to its National Executive Committee ( NEC) engagements.
Akilu, a retired Brigadier- General, tasked the new leadership to work in unity, and restore all ACF organs and activities for the betterment of our society.
He stressed that the ACF which is apolitical, believes in the unity of the country, but aspires to see the glory of the north restored, and the economic fortunes of the region tapped for the greater benefit of our people and the nation as a whole.
In his acceptance speech, the new Chairman of the ACF Interim Committee, NaShehu Hassan Abubakar thanked the congregation for finding him worthy of the enormous responsibility.
Abubakar, a retired Air Vice Marshall (AVM) assured the ACF National body and people of Kano State of his determination to steer the ship creditably, selflessly and in strict compliance with ACF desire to improve the lot of our people, as well as agitate for their rights.
Other committee members nominated at the ceremony include Aishatu Yakubu Maijama'a (Deputy Chairperson); Shehu Aliyu (Vice- Chairman); Muhammad Mustapha Yahaya (Secretary); Sani Bala Tela (Assistant Secretary); Rabia Hussein Adamu (Treasurer); and Mairo Bello (Assistant Treasurer).
Others   are Mahadi Sadiq Abubakar, (Financial Secretary);  Hafsat Namadi Bebeji (Assistant Financial Secretary); Bello Sani Galadanchi (Publicity Secretary); Tanimu Ibrahim Getso (Assistant  Publicity Secretary); Kabir Mukhtar (Legal Adviser); Muhammad Kabir Haruna (Assistant Legal Adviser); and Azimi Namadi Bebeji (Auditor).
The inaugural ceremony attracted Youth and Women wings of the ACF whose members were nominated into both the executive committee and the NEC.
Arewa Consultative Forum (ACF) is apolitical and socio-cultural association of leaders in Northern Nigeria formed in 2000 to protect Northern interest in the political scene.