A salute to NEPU at 70 – Mahmud Othman
Today, 8th AUGUST, 2020 marks the 70th Anniversary since the formation of the defunct Northern Elements Progressive Union (NEPU) political party.
It was on Tuesday, 8th August, 1950, that a group of eight dynamic, patriotic and restless young Nigerians met at No. 9 Ibadan Road, Sabon Gari, Kano around 4pm where they deliberated and resolved to form the first and only revolutionary political party in Nigeria
Though about 100 people were invited to the meeting, only eight very committed ones among the invitees showed up.
Some of those who could not honour the invitation claimed that it was the usual heavy rain of August that poured on that day that made it impossible for them to attend.
The indomitable and indefatigable eight who attended the inaugural meeting were: Abba Maikwaru, Baballiya Manaja, Musa Kaula, Abdulkadir Danjaji, Abubakar Garba Bida, Mudi Sipikin, Magaji Danbatta and Bello Ijumu.
The political party they formed, NEPU was used as a very strong platform for anti-imperialist, anti-fascists, pan-Africanist and anti-feudal struggle.
Its ideology was tailored towards the total liberation of Nigeria and the African continent from all vestiges of colonialism, imperialism and maladministration by the local bourgeoisie and their apologists.
Nigerians who identified with the party suffered from all forms of indignities from the defunct Native Authority (NA) warlords with the tacit approval of the British colonial agents.
They were imprisoned for no just causes, beaten up in public, sacked from their jobs, taxed arbitrarily, their properties destroyed and all sorts of unimaginable harassment.
What NEPU supporters suffered in Northern Nigeria was something more like what Palestinians and Rohingyas are experiencing from their modern day oppressors.
Despite all attempts of the powers that be to wipe out NEPU member and their just and noble struggles, the party still managed to win seats in both Federal and Northern Nigerian legislative councils.
As mentioned above, NEPU was formed on 8th August, 1950 and it operated for 15years and 161 days.
Or looking at it from another angle, we say that the party lived for 5640 days.
NEPU was among the 81 political parties and cultural associations Major-General Aguiyi Ironsi dissolved when he made his military coup speech on Monday, 17th January, 1966 through the Network Service of Radio Nigeria at 7am.
Some of the other political parties that were dissolved together with NEPU include: Action Group, National Council for Nigerian Citizens, United Middle Belt Congress, Niger Delta Congress, Borno Youths Movement, Republican Party, Dynamic Party, Midwest Democratic Front, Ilorin Talaka Parapo, National Emancipation League, Kano Peoples' Party, Calabar-Ogoja-Rivers Movement, Communist Party of Nigeria, etc.
Some NEPU national leaders when it was alive include: Alh. Aminu Kano, Dr. Yerima Albatan Balla, Alh. Abubakar Zukogi, Alhaji Sadiq Abubakar Tanko Yakasai, Alhaji Yahaya Sabo, Alhaji Yahaya Abdullahi, Alhaji Lamin Sanusi, etc.
By the will of Allah (SWT) Alh. S. Abubakar Tanko Yakasai, former NEPU National Publicity Secretary, now in his 90s is the last man standing.
May Allah bless the soul of the departed and may Alh. Tanko live long and healthy.
Though NEPU was disbanded by military fiat more than 54 years ago, its spirit is still alive in all those who know what it was all about – love for equality, equity, justice, patriotism, pan Africanism, freedom, progress and development.
Mahmud Othman was Kano state commissioner for rural development during the 2nd Republic administration of late Muhammad Abubakar Rimi.

AIG orders investigation of Policeman seen voting in Kano APC Congress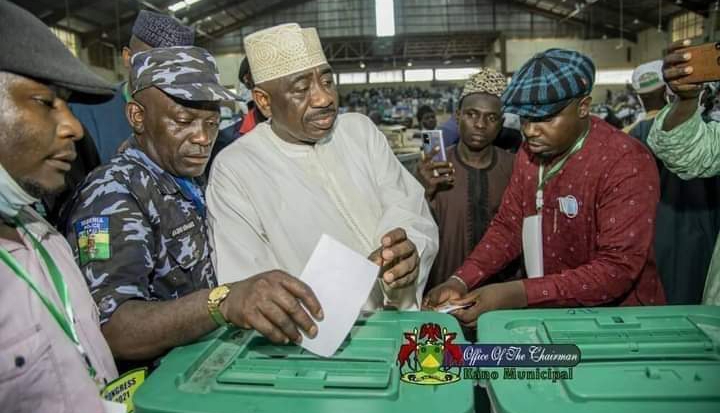 Aminu Abdullahi
The Assistant Inspector General of Police in charge of Zone Abubakar Sadiq Bello has ordered the investigation of unprofessional conduct of a policeman caught on camera voting during state congress of All progressive Congress (APC) in Kano.
KANO FOCUS reportsthat in view of the unprofessional conduct of the policeman, the AIG has referred the matter to the Zonal X-Squad for investigation.
A statement issued on Monday by Zonal Police Public Relations Officer Abubakar Zayyanu identified the police officer as Bashir Mohammed attached to the government house, Kano, from where he was deployed to work with the state Chairman of APC Abdullahi Abbas as a security aide.
Mr Zayyanu noted that if the inspector is found to have committed an offence by this action, the appropriate disciplinary measure will be taken against him.
He further assured the general public that further development on the matter will be communicated.
The statement reads in part.
"The attention of the Inspector-General of Police Zone one Headquarters, Kano has been drawn to a trending picture on social media, of an inspector of police casting vote at the recently conducted Kano State congress of the APC along with his principal, the state party chairman, Abdullahi Abbas.
"The inspector of police has been identified as Bashir Mohammed of the Special Protection Unit, Base One, Kano. The inspector is attached to the government house, Kano from where he was deployed to work with the said Abdullahi Abbas as a security aide.
"In view of this seemingly unprofessional conduct of the inspector, the AIG has referred the matter to the Zonal X-Squad for investigation.
"If the inspector is found to have committed a disciplinary offence by this action, the appropriate disciplinary measure will be taken against him.
"Finally,  we want assure members of the public that further development on the matter will be communicated please."
EFCC Grills Rabiu Kwankwaso
The Economic and Financial Crimes Commission (EFCC) on Saturday grilled former governor of Kano State, Rabiu Musa Kwankwaso over allegations of abuse of office, diversion of public funds and fraudulent allocation of government properties to cronies.
KANO FOCUS reports that Kwankwaso, a chieftain of the Peoples Democratic Party, was first invited by the EFCC in September but failed to honour the invitation as reported by Channels TV.
An associate of the politician informed Channels Television that Kwankwanso may have been invited in relation to a petition by some retired employees of the Kano State Government.
The retired employees had told the EFCC that the former governor mismanaged pension remittances to the tune of N10 billion between 2011 and 2015, to fund a housing project for his cronies.
EFCC spokesperson, Wilson Uwujaren did not comment on the interrogation of the former governor when contacted on Saturday.
Crisis rocks Kano APC as Ganduje, Shekarau hold parallel Congress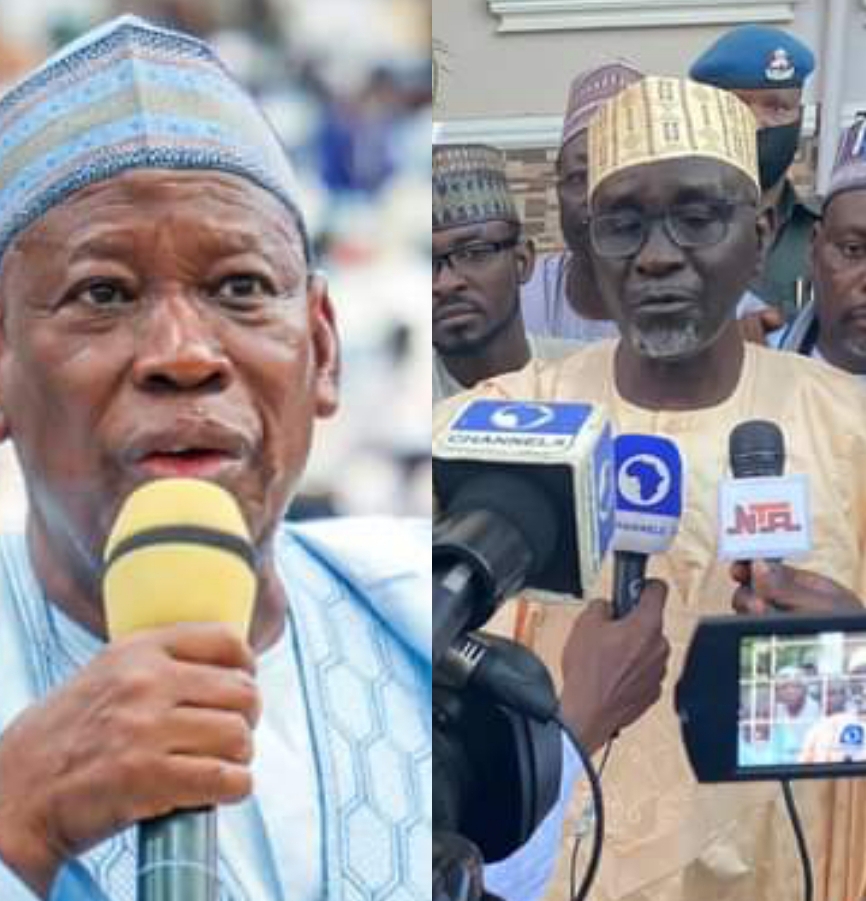 Aminu Abdullahi
Crisis rocked Kano chapter of All Progressive Congress (APC), as Governor Abdullahi Umar Ganduje and faction loyal to former governor of Kano and serving Senator Ibrahim Shekarau held parallel state congress.
KANO FOCUS reports that while Ganduje group held their congress at Sani Abacha stadium, faction loyal to Shekarau had their own at Janguza town, Tofa local government area.
Ganduje's led group endorsed Abdullahi Abbas as state chairman of APC for a second term in a consensus arrangement, while the faction loyal to Shekarau announced Ahmadu Haruna Zago as newly elected chairman of APC in Kano state.
Reports shows that the security have earlier disrupted Shekarau's camp congress at Sani Abacha youth centre and sealed the premises before they moved to Janguza where they held the election.
Below are some pictures of the parallel Congress.