A salute to NEPU at 70 – Mahmud Othman
Today, 8th AUGUST, 2020 marks the 70th Anniversary since the formation of the defunct Northern Elements Progressive Union (NEPU) political party.
It was on Tuesday, 8th August, 1950, that a group of eight dynamic, patriotic and restless young Nigerians met at No. 9 Ibadan Road, Sabon Gari, Kano around 4pm where they deliberated and resolved to form the first and only revolutionary political party in Nigeria
Though about 100 people were invited to the meeting, only eight very committed ones among the invitees showed up.
Some of those who could not honour the invitation claimed that it was the usual heavy rain of August that poured on that day that made it impossible for them to attend.
The indomitable and indefatigable eight who attended the inaugural meeting were: Abba Maikwaru, Baballiya Manaja, Musa Kaula, Abdulkadir Danjaji, Abubakar Garba Bida, Mudi Sipikin, Magaji Danbatta and Bello Ijumu.
The political party they formed, NEPU was used as a very strong platform for anti-imperialist, anti-fascists, pan-Africanist and anti-feudal struggle.
Its ideology was tailored towards the total liberation of Nigeria and the African continent from all vestiges of colonialism, imperialism and maladministration by the local bourgeoisie and their apologists.
Nigerians who identified with the party suffered from all forms of indignities from the defunct Native Authority (NA) warlords with the tacit approval of the British colonial agents.
They were imprisoned for no just causes, beaten up in public, sacked from their jobs, taxed arbitrarily, their properties destroyed and all sorts of unimaginable harassment.
What NEPU supporters suffered in Northern Nigeria was something more like what Palestinians and Rohingyas are experiencing from their modern day oppressors.
Despite all attempts of the powers that be to wipe out NEPU member and their just and noble struggles, the party still managed to win seats in both Federal and Northern Nigerian legislative councils.
As mentioned above, NEPU was formed on 8th August, 1950 and it operated for 15years and 161 days.
Or looking at it from another angle, we say that the party lived for 5640 days.
NEPU was among the 81 political parties and cultural associations Major-General Aguiyi Ironsi dissolved when he made his military coup speech on Monday, 17th January, 1966 through the Network Service of Radio Nigeria at 7am.
Some of the other political parties that were dissolved together with NEPU include: Action Group, National Council for Nigerian Citizens, United Middle Belt Congress, Niger Delta Congress, Borno Youths Movement, Republican Party, Dynamic Party, Midwest Democratic Front, Ilorin Talaka Parapo, National Emancipation League, Kano Peoples' Party, Calabar-Ogoja-Rivers Movement, Communist Party of Nigeria, etc.
Some NEPU national leaders when it was alive include: Alh. Aminu Kano, Dr. Yerima Albatan Balla, Alh. Abubakar Zukogi, Alhaji Sadiq Abubakar Tanko Yakasai, Alhaji Yahaya Sabo, Alhaji Yahaya Abdullahi, Alhaji Lamin Sanusi, etc.
By the will of Allah (SWT) Alh. S. Abubakar Tanko Yakasai, former NEPU National Publicity Secretary, now in his 90s is the last man standing.
May Allah bless the soul of the departed and may Alh. Tanko live long and healthy.
Though NEPU was disbanded by military fiat more than 54 years ago, its spirit is still alive in all those who know what it was all about – love for equality, equity, justice, patriotism, pan Africanism, freedom, progress and development.
Mahmud Othman was Kano state commissioner for rural development during the 2nd Republic administration of late Muhammad Abubakar Rimi.

Security: Kano trains 5,504 Police constabulary to aid community Policing 
Kano state governor Abdullahi Ganduje said his administration has trained 5,504 constabulary to support community policing.
KANO FOCUS reports that Ganduje revealed this on Sunday while inaugurating Rano Emirate community policing committees in Doguwa local government area.
The governor explained how community policing strategy goes deeply into the fabric of Kano society, as a political entity.
While enumerating reasons behind the recorded achievements in the security of the state, governor said, "Our administration found it necessary to support community participation in the security of our state."
"We have gone further by recruiting Police constabulary, who are assisting the security agencies. And also we are assisting the various community policing committees.
"We trained in Kaduna 704 graduates of Police Constabulary. Also for each of the rural local governments, the 36 local governments, we are training 100 Police constabulary. Making a total of 3,600 Police constabulary."
"For the 8 metropolitan, local governments we are training 150 in each of the 8 local governments. Giving rise to 1,200 Police Constabulary. Having a total of 4,800 Police Constabulary in addition to 704 that have already been trained. Which all stands at 5,504 Police Constabulary now at hand."
"Community participation, apart from community policing is necessary for us to achieve a desirable situation from all ramifications. As such, we are also inviting corporate social responsibility in the management of security situation in Kano state."
Part of the factors that played an important role in the security situation in the state, he acknowledged and appreciated that, "Our security agencies have succeeded in building full synergy among themselves. And we have extended coordination in order to get security information and action in Kano state.
"We have to thank the Police, the Department for State Security (DSS), the Air Force, the Army, the Civil Defence (NSCDC), Immigration, Customs and Excise, Correctional Homes, traditional institutions, National Agency for the for the Prohibition of Trafficking in Person (NAPTIP), the Vigilante Groups, representatives of various communities, we have to thank them all. They are all contributing to the security situation in Kano state."
Mr Ganduje he stressed that, "There is no doubt security is an issue of topical nature in Nigeria. Is an issue that bothers almost everybody, all governments in Nigeria. And is an issue that we must come altogether in order to solve it.
"We can see the effort of our security agencies that are working round the clock in order to keep Nigeria safe. In Kano state we are also conscious of the security of our state. Therefore we developed various strategies in order to secure Kano state."
"First of all we examined the issue of metropolitan, Kano being a metropolitan city and a mega city, we have taken necessary steps in order to ensure the security of our own mega city."
"We built what we call Security Dormitories on the major entrance of metropolitan Kano. That each of the dormitories houses 600 policemen. And also we have developed CCTV programme.
"Which is working very well. While the control room is with our security agencies. We have other technology employed in order to check security issues."
In his remarks, the Emir of Rano, Kabiru Inuwa Muhammad, commended the effort being put by governor Ganduje in securing all parts of the state, with the Divine help from Almighty Allah.
He said, "Today is a historic day that we cannot forget. All our people are happy with this special event taking place in our Emirate, Rano Emirate. We are always ready to cooperate with your policies and programmes Your Excellency Sir. Especially this issue of community policing."
Ganduje donates N3.6m to families of Doguwa flood victims
Nasiru Yusuf
Governor Abdullahi Ganduje of Kano state has paid condolence visit to the families of 18 Doguwa flood victims and donated the sum of two hundred thousand Naira to each of the victims family.
KANO FOCUS reports that Ganduje prayed for the repose of the departed souls of those who died as a result of the heavy downpour.
"When the information of this sad tragedy reached us we were seriously shocked. May Allah Forgive the victims, who died as martyrs, being washed away by flood. May He give them the ultimate reward of Jannatul Fiddaus, ameen," the governor prayed.
Families of the victims expressed appreciation to the governor and his entourage and prayed to God to guide him in steering the affairs of the state.
It will be recalled that on July 23, about 18 persons including six members of a family have perished in a ghastly car accident in Doguwa Local Government Area.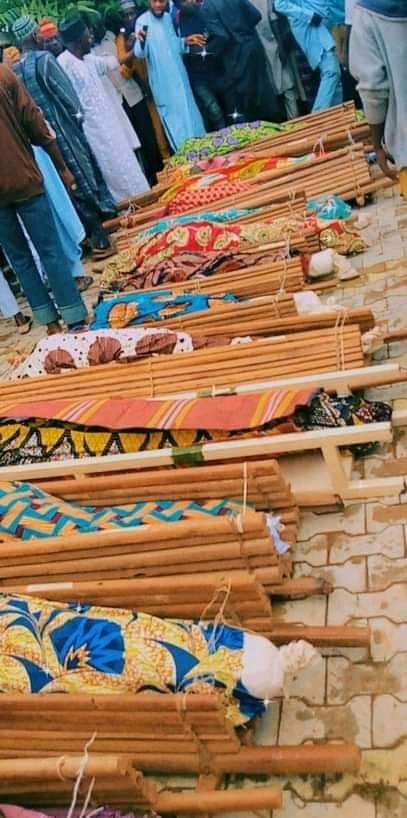 The Sector Commander of the Federal Road Safety Corps (FRSC) in Kano State, Zubairu Mato, said the accident occurred when a bridge linking Riruwai and Doguwa broke down as a result of the heavy downpour, and the driver wasn't aware that the bridge had broken down.
He explained that the vehicle plunged into the water, killing all the 18 passengers on board including six members of same family.
The family members have been identified as Bashir Doguwa, Malami Gidan-Tanimu, Safiya Mukhtar, Shahida Bashir, Fatima Rabi'u, Uzairu Bashir, all of Doguwa Local Government Area of Kano State.
Doguwa and his family were on their way from Doguwa to First Lady Secondary School in Dambatta Local Government Area of the state to visit his daughter, Firdausi Bashir, who is among the students writing the ongoing NECO SSCE examinations.
Kano records highest number of sickle cell patients in Nigeria
Nasiru Yusuf
Kano state has the highest sickle cell patients in Nigeria, a consultant haematologist at Aminu Kano Teaching Hospital said.
KANO FOCUS reports that Dalha Halliru Gwarzo disclosed this in an interview with Hospital's newsletter as part of the 2021 World Sickle Cell day.
He added that Lagos is the second state with highest number of sickle cell cases in the country.
Mr Gwarzo said India, Democratic Republic of Congo and Nigeria constituted 90% of the sickle cell patients worldwide.
On the causes of sickle cell disease, Mr Gwarzo said it is a genetic inherited disease from parents who are either SS, or AS genotype as a result of genetic condition or mutation of abnormal form of red blood cell.
He advocated for compulsory screening of infants after birth and school children, pre-marital counseling/tests, subsidising cost of medication/treatment and mass sensitisation campaign on dangers of the disease.
Mr Gwarzo noted that, although there is no known cure for sickle cell disease, but developed countries are using a high technology for manipulation of the genetic cells by bone marrow and stem cells transplant, which cost about fifteen million Naira in countries like United States, Germany, United Kingdom and Canada.