Kano gov't constitutes task force to enforce slash of 25% school fees
Nasiru Yusuf
Kano state government has constituted a task force to enforce compliance with its directive for the reduction of school fees by 25% to cushioning the effects of the economic hardship brought about by the covid-19 pandemic.
The Commissioner of education Muhammad Sunusi Sa'id Kiru announced this on Monday at a Press Conference to mark his one year in office.
Kano Focus reports a conflicting revelation from two groups of proprietors of private schools on the fees reduction. While the state branch of Association of Private School Owners of Nigeria (APSON) agreed to comply with government directive, the Joint Committee of Private and voluntary Schools Association later issued a statement rejecting the proposed discount.
Mr Kiru revealed that a significant number of private schools in Kano state have complied with the government's directive to reduce the fees by 25 %.
He noted that, despite government's mandate to enforce mandatory slash of school fees, but for its own magnanimity decided to consult proprietors.
He observed that Federal Capital Territory has cancelled the third term, while the Kogi state government enforced slash of 30% of school fees to all private schools operating in the state.
"I have prerogative as commissioner of education to cancel third term as done by other states, and I hope that will not be our last option.
"But if it warrants doing that, I will have no problem, we are going to cancel it. And we are going to wait for new session to take off in January, like many other states.
"It doesn't even make sense to say you must collect school fees for that third term, and just few months to come in January, we are resuming another new session, and you also collect another fee," Mr Kiru.
The Commissioner warned that, henceforth, the government will not fold it arms watching proprietors of private schools exploiting parents of students.
Mr Kiru who attributed the disagreement by some proprietors to politics, said negotiations will still continue to reach amicable solutions.
He revealed that, he will soon commence introducing radical changes in education sector mainly to check excesses of proprietors of private schools, part of which including mandating parents to buy uniform and text books from them.
According to him henceforth zonal education directors will start supervising private schools to ensure full compliance with government as contained in their certificates.
EFCC Grills Rabiu Kwankwaso
The Economic and Financial Crimes Commission (EFCC) on Saturday grilled former governor of Kano State, Rabiu Musa Kwankwaso over allegations of abuse of office, diversion of public funds and fraudulent allocation of government properties to cronies.
KANO FOCUS reports that Kwankwaso, a chieftain of the Peoples Democratic Party, was first invited by the EFCC in September but failed to honour the invitation as reported by Channels TV.
An associate of the politician informed Channels Television that Kwankwanso may have been invited in relation to a petition by some retired employees of the Kano State Government.
The retired employees had told the EFCC that the former governor mismanaged pension remittances to the tune of N10 billion between 2011 and 2015, to fund a housing project for his cronies.
EFCC spokesperson, Wilson Uwujaren did not comment on the interrogation of the former governor when contacted on Saturday.
Crisis rocks Kano APC as Ganduje, Shekarau hold parallel Congress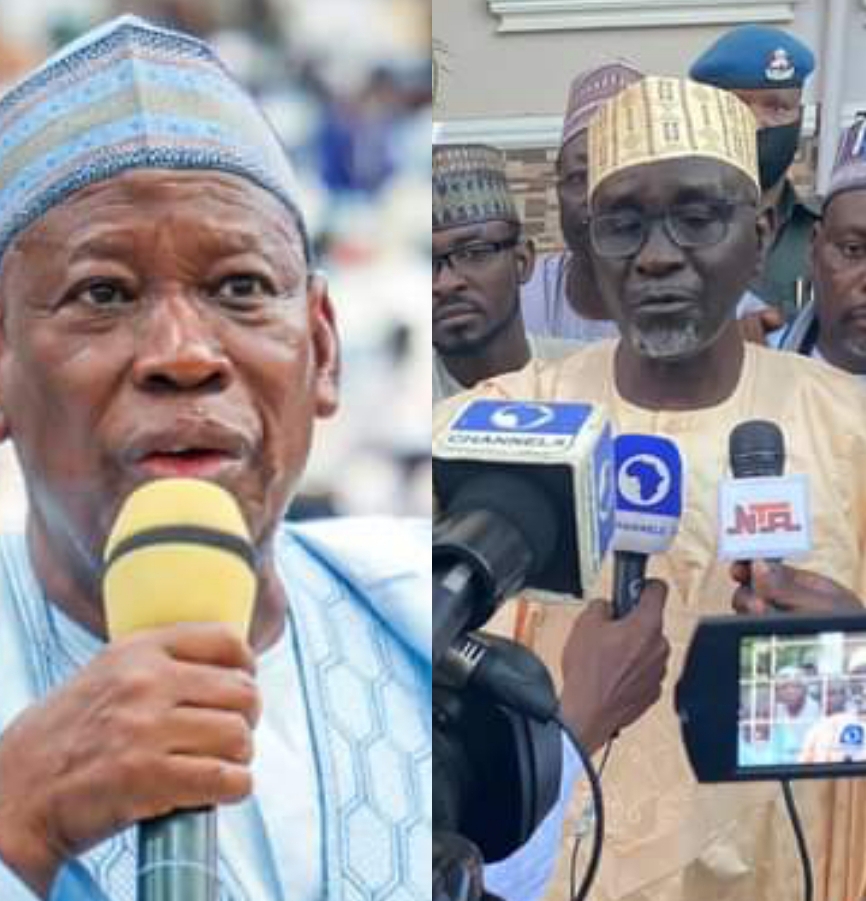 Aminu Abdullahi
Crisis rocked Kano chapter of All Progressive Congress (APC), as Governor Abdullahi Umar Ganduje and faction loyal to former governor of Kano and serving Senator Ibrahim Shekarau held parallel state congress.
KANO FOCUS reports that while Ganduje group held their congress at Sani Abacha stadium, faction loyal to Shekarau had their own at Janguza town, Tofa local government area.
Ganduje's led group endorsed Abdullahi Abbas as state chairman of APC for a second term in a consensus arrangement, while the faction loyal to Shekarau announced Ahmadu Haruna Zago as newly elected chairman of APC in Kano state.
Reports shows that the security have earlier disrupted Shekarau's camp congress at Sani Abacha youth centre and sealed the premises before they moved to Janguza where they held the election.
Below are some pictures of the parallel Congress.
NCC moves to address poor network service at densely populated Kano markets – Prof Danbatta.
Nasiru Yusuf
The Executive Vice Chairman of the Nigerian Communication Commission (NCC) Umar Garba Danbatta says the commission will address the poor network at Kantin Kwari, Sabongari Singer and Kurmi markets.
KANO FOCUS reports that Danbatta announced revealed this while responding to complaint raised by a participant at a two day stakeholders consultative meeting tagged 'talk to the regulator' organised by Nigerian Communications Commission in Kano.
The complainer noted that that there is poor telecommunications service in Kantin Kwari, Sabongari, Singer and Kurmi markets in Kano metropolitan area.
Danbatta responded that the commission will deploy investigative team to determine the nature of the problem and proffer solution.
"We have the capacity to monitor the performance of MNOs, that is the most important thing. Because of this valid observation by our stakeholder, we are going to direct our searchlight in those areas where we think the quality of service needs to improve.
"And if it is necessary, we will send the investigative team what is the nature of the quality of service in such places with a view to improve the quality of the service," Danbatta said.
The Executive Vice Chairman explained that the commission considers stakeholder feedback "as a critical component of our forward – looking regulatory model."
"Hence, the overarching objective of this forum is to get direct feedback from our licensees on how we, as a regulator, are meeting your expectations, and on areas where we can improve our regulatory service, particularly those that have to do with licensing.
"We also intend to use this forum to seek your support for the several initiatives that the commission has carefully developed in our quest to enhance market opportunities for all our licensees."
Danbatta added that the commission will focus it's energies for the next five years on five strategic pillars.
The pillars according to him include "organisational renewal for operational efficiency and regulatory excellence.
"Facilitate the provision of infrastructure for a digital economy which fosters national development.
"Improve quality service (QoS) for enhanced consumer quality of experience (QoE).
"Promote fair competition, inclusive growth, increased investment and innovative services as well facilitate strategic collaboration and partnership."
He disclosed that the federal government has articulated a number of critical policy objectives for the sector such as those articulated in the National Digital Economy Policy and Strategy (NDEPS), the Nigerian National Broadband Plan (2020-2025), the Revised National Digital Identity Policy for SIM Registration among others.
He added that the instruments require the full and unalloyed commitment of all stakeholders to ensure their successful implementation, and the meeting in Kano would provide a veritable channel for licensees' buy-in.
In his address the Director of Licensing and Authorisation Department, Mohammed Babajika, said the commission is further liberalising the telecoms industry by finalising the framework for Mobile Virtual Network Operators (MVNOs) and is currently reviewing existing regulations.
"The Commission is also finalising the Information Memorandum (IM) for 5G deployment, emerging trends like Internet of Things (loT), Artificial Intelligence (AI), Over The Top (OTT) Services and Big Data Analytics, all aimed at initiating strategies to improve service delivery that is accessible and affordable.