Kano man weds American lover
A Kano man Isa Sulaiman has finally married his American heartthrob Janine Sanchez Reimann on Sunday.
Kano Focus Mr Sulaiman  26, married Ms Riemann 46, on Sunday at Police College Juma'a Mosque, Gasau along Panshekara road in Kano metropolis.
A former senator representing Kaduna central Shehu Sani stand as a guardian of the bride who gave her hand in marriage to the representative of bridegroom in line with Islamic teaching.
The Imam of the Mosque, Adam Abubakar contracted the marriage after the bridegroom paid N50,000 dowry to representative of the bride Mr Sani.
Ms Reimann told journalists shortly after the wedding that she will go back to America and Mr Sulaiman will follow her in the next 10 to 12 months after meeting United State's emigration requirements.
A happy bridegroom Mr Isa expressed gratitude to God for making his dream a reality.
He said they will start married life in Kano before she go back to America.
Mr Sani, a former senator representing Kaduna central told journalists that the marriage is an indication that race, religion or skin colour is not a barrier to intending couple.
He hoped that the couple will set a good precedence to other Nigerian youths.
The wedding was contracted around 11 am in the presence of many admirers and well wishers from far and near.
This online newspaper has earlier reported that Ms Riemann, fell in love with Sulaiman, after they met about 21 months ago on the social networking platform, Instagram.
How the journey started
Ms Riemann told journalists in Kano that the relationship started when Mr Sulaiman observed and warned a scammer who attempted to defraud her.
"I didn't respond because I have had experiences with Nigerian scammers.
"But there was a guy messaging me and Sulaiman knew he was a scammer so he said "get a job and quit scamming innocent people." "So I thought he sounded like a nice guy.
"On his part Mr Sulaiman said he had always fantasized about marrying a white woman and fathering mixed race kids.
"It was a dream come true for me when she responded to my message.
"We continued exchanging messages and our relationship became closer."
"I therefore invited her to visit me in Kano." Said Mr Sulaiman who is originally from Minna, Niger state.
Ms Sanchez, a chef based in Lindon, California said she would be taking Mr Isah back to the US.
"I have two kids – a boy and a girl – from my previous marriage. As we have joint custody with my ex-husband, I cannot take the kids away from their father."
Mr Sulaiman, a barber, and a student, popularly known as 'Babayaro' said that is not a problem.
"I will be visiting my parents and other relations regularly. And she has agreed that even our future kids will be coming to Nigeria to visit my family." He said.
Another point of contention is the 20-year age gap between the couple.
However, both have assured journalists that it is not important to them.
"I wasn't looking to date anybody younger than 30 but he is very mature for his age.
"When I talk to him I feel like I'm talking to somebody my age." Ms Sanchez said.
"The age difference doesn't matter as Prophet Muhammad (p.b.u.h) married an older woman too. So I'm following in his Sunnah." Mr. Sulaiman said.
Family happy but wary
Meanwhile, Mr Sulaiman's family are happy about the marriage but worried about the religious implication.

His father, Sulaiman Isa said he has agreed to the wedding based on four conditions.
Mr Isa, a retired superintendent of Police told journalists that the first condition is security clearance.
"As a security – retired security – officer I know what I'm talking about.
According to him the second condition is that his son would be allowed to further his education in the US.
He said the third condition is that his son would maintain his adherence to the Islamic religion.
"I want him to further his education and maintain his religion.
"She said 'no problem'. May be she may become a Muslim too."
The retired police officer added that his final condition is that the bride Janine Sanchez, must produce a written document of consent from her parents or relations as Muslims are not allowed to marry a woman on her own.
According to him the bride has so far met all the conditions prior to the wedding.
His mother, Fatima Sulaiman said she has agreed to the marriage and Sulaiman's relocation to the USA.
"I'm very happy. My whole family have become celebrities in the Panshekara area.
"We are now singled out as the in-laws of a white woman.
"I pray for Allah's protection as Sulaiman leaves for America." She said.
However, his elder brother, Yakubu Sulaiman sounded a note of caution.
"This is the will of God. We have only good wishes for the couple.
"But my prayer is that he retains his Islamic religion wherever he finds himself." He said.
Pantami trains Kano cabinet on e – governance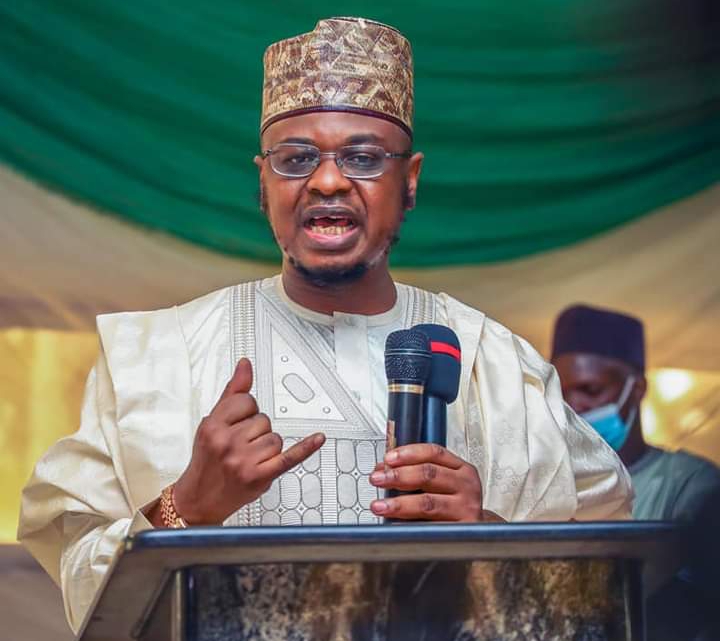 The Minister of Communications and Digital Economy, Isa Ali Ibrahim Pantami has on Monday flagged off the training on e-governance and digital transformation for the members of the Kano State Executive Council.
Kano Focus reports that the training which is the first of it's kind, was aimed at equipping the leadership of the state with the requisite skills for effective governance in line with global best practices.
Speaking at the event, the Minister noted that "e-governance is key to the success of any economy at all levels as it enhances transparency, cost effectiveness and accountability while ensuring the effective delivery of government digital services to the people. Kano is strategic in terms of population and commerce and the timing is apt.
"The programme aims at tutoring the top state government officials on the application of modern technology to improve performances at all levels and also deliver services and programs more efficiently, transparently, and cost-effectively."
Pantami disclosed that the training was at the behest of the state governor Abdullahi Umar Ganduje who had initiated talks on possible collaborations and partnerships with the Federal Ministry of Communications and Digital Economy during a courtesy visit earlier this year.
While commending the state governor for the plan to deploy fibre optics across the state within the next two years, the minister called on other state governors to emulate Ganduje and embrace the digital transformation training.
"We are open to partnering with any state that is willing to take advantage of this laudable initiative."
""E-governance is a necessity for the success of every government", Pantami said, adding that, "according to the World Bank diagnostic report of 2019, it was projected that by 2025, e-commerce activities in Nigeria will reach up to USD 75 Billion within a year".
"COVID 19 has exposed the need for digitization, which is now a necessity", Pantami stated.
The Minister urged the council members to take full advantage of the training, stressing that e-governance is key to the success of any economy at all levels.
Pantami also called on the Kano state government to adopt other initiatives and strategies of the Federal Government such as the Nigeria Interoperability Framework, and the Nigeria e-government Enterprise Framework and make them the mirror for the implementation of e-governance in the state.
He further advised the state government to study other National policies of the Federal Government and key into them so that the IT investment plan of the state will be in alignment with that of the federal government.
Pantami announced the donation of over 100 digital devices to the state by the Federal Government and called on the beneficiaries to make good use of them.
On his part, governor Abdullahi Umar Ganduje appreciated Pantami for matching words with action following his visit to the Communications and Digital Economy Complex in Abuja where he initiated talks on the possible collaborations and partnerships with the ministrynistry to foster ICT development in Kano state.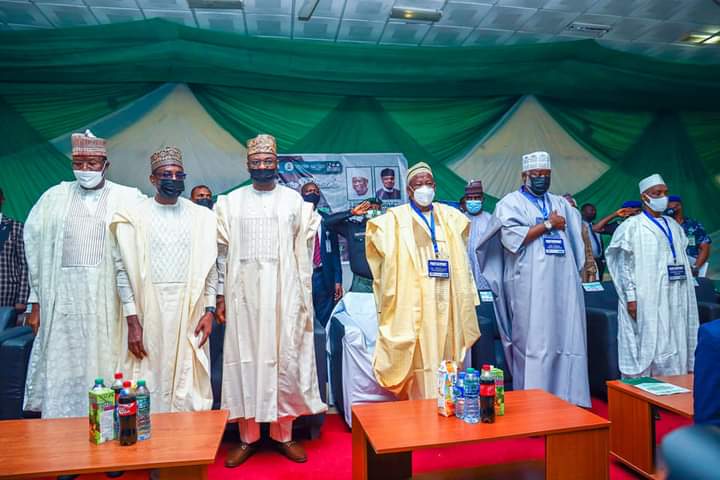 The Governor thanked the Ministry for the provision of digital intervention projects in the state such as a digital training centre which is ongoing and also the consideration to use Kano as the pilot state for the Government Digital Transformation training.
Ganduje expressed gratitude for the training of over 1000 youths from the state on digital skills and also the support rendered to the state to come up with a State ICT policy which he described as the blueprint guiding the state over the years.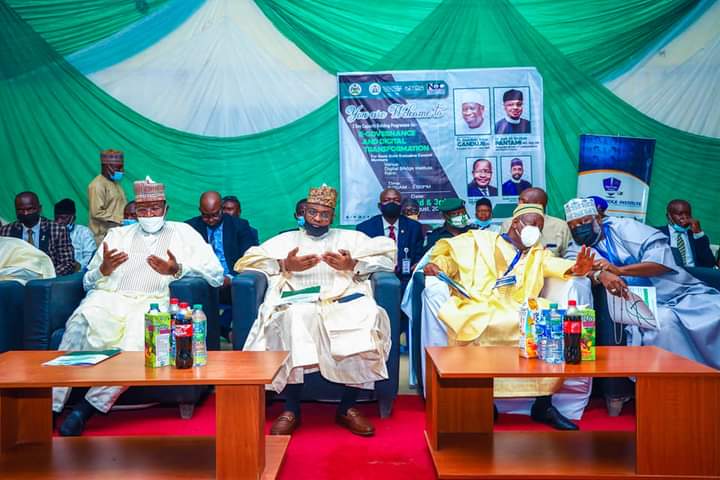 He further solicited support from the ministry to update the policy to reflect current realities.
Security: Kano trains 5,504 Police constabulary to aid community Policing 
Kano state governor Abdullahi Ganduje said his administration has trained 5,504 constabulary to support community policing.
KANO FOCUS reports that Ganduje revealed this on Sunday while inaugurating Rano Emirate community policing committees in Doguwa local government area.
The governor explained how community policing strategy goes deeply into the fabric of Kano society, as a political entity.
While enumerating reasons behind the recorded achievements in the security of the state, governor said, "Our administration found it necessary to support community participation in the security of our state."
"We have gone further by recruiting Police constabulary, who are assisting the security agencies. And also we are assisting the various community policing committees.
"We trained in Kaduna 704 graduates of Police Constabulary. Also for each of the rural local governments, the 36 local governments, we are training 100 Police constabulary. Making a total of 3,600 Police constabulary."
"For the 8 metropolitan, local governments we are training 150 in each of the 8 local governments. Giving rise to 1,200 Police Constabulary. Having a total of 4,800 Police Constabulary in addition to 704 that have already been trained. Which all stands at 5,504 Police Constabulary now at hand."
"Community participation, apart from community policing is necessary for us to achieve a desirable situation from all ramifications. As such, we are also inviting corporate social responsibility in the management of security situation in Kano state."
Part of the factors that played an important role in the security situation in the state, he acknowledged and appreciated that, "Our security agencies have succeeded in building full synergy among themselves. And we have extended coordination in order to get security information and action in Kano state.
"We have to thank the Police, the Department for State Security (DSS), the Air Force, the Army, the Civil Defence (NSCDC), Immigration, Customs and Excise, Correctional Homes, traditional institutions, National Agency for the for the Prohibition of Trafficking in Person (NAPTIP), the Vigilante Groups, representatives of various communities, we have to thank them all. They are all contributing to the security situation in Kano state."
Mr Ganduje he stressed that, "There is no doubt security is an issue of topical nature in Nigeria. Is an issue that bothers almost everybody, all governments in Nigeria. And is an issue that we must come altogether in order to solve it.
"We can see the effort of our security agencies that are working round the clock in order to keep Nigeria safe. In Kano state we are also conscious of the security of our state. Therefore we developed various strategies in order to secure Kano state."
"First of all we examined the issue of metropolitan, Kano being a metropolitan city and a mega city, we have taken necessary steps in order to ensure the security of our own mega city."
"We built what we call Security Dormitories on the major entrance of metropolitan Kano. That each of the dormitories houses 600 policemen. And also we have developed CCTV programme.
"Which is working very well. While the control room is with our security agencies. We have other technology employed in order to check security issues."
In his remarks, the Emir of Rano, Kabiru Inuwa Muhammad, commended the effort being put by governor Ganduje in securing all parts of the state, with the Divine help from Almighty Allah.
He said, "Today is a historic day that we cannot forget. All our people are happy with this special event taking place in our Emirate, Rano Emirate. We are always ready to cooperate with your policies and programmes Your Excellency Sir. Especially this issue of community policing."
Ganduje donates N3.6m to families of Doguwa flood victims
Nasiru Yusuf
Governor Abdullahi Ganduje of Kano state has paid condolence visit to the families of 18 Doguwa flood victims and donated the sum of two hundred thousand Naira to each of the victims family.
KANO FOCUS reports that Ganduje prayed for the repose of the departed souls of those who died as a result of the heavy downpour.
"When the information of this sad tragedy reached us we were seriously shocked. May Allah Forgive the victims, who died as martyrs, being washed away by flood. May He give them the ultimate reward of Jannatul Fiddaus, ameen," the governor prayed.
Families of the victims expressed appreciation to the governor and his entourage and prayed to God to guide him in steering the affairs of the state.
It will be recalled that on July 23, about 18 persons including six members of a family have perished in a ghastly car accident in Doguwa Local Government Area.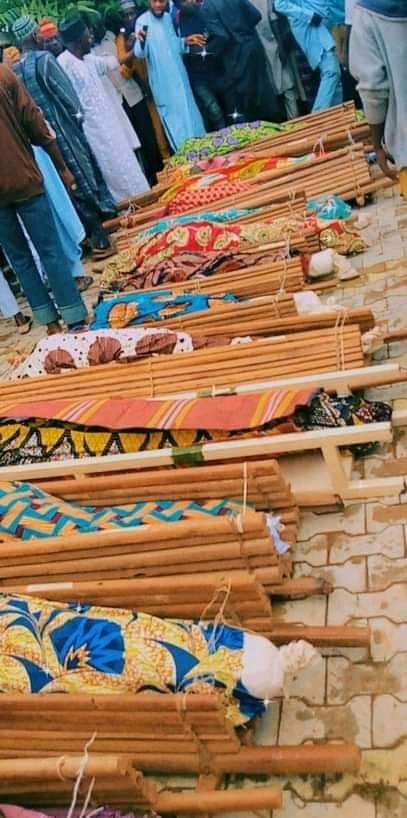 The Sector Commander of the Federal Road Safety Corps (FRSC) in Kano State, Zubairu Mato, said the accident occurred when a bridge linking Riruwai and Doguwa broke down as a result of the heavy downpour, and the driver wasn't aware that the bridge had broken down.
He explained that the vehicle plunged into the water, killing all the 18 passengers on board including six members of same family.
The family members have been identified as Bashir Doguwa, Malami Gidan-Tanimu, Safiya Mukhtar, Shahida Bashir, Fatima Rabi'u, Uzairu Bashir, all of Doguwa Local Government Area of Kano State.
Doguwa and his family were on their way from Doguwa to First Lady Secondary School in Dambatta Local Government Area of the state to visit his daughter, Firdausi Bashir, who is among the students writing the ongoing NECO SSCE examinations.