Kano man weds American lover
A Kano man Isa Sulaiman has finally married his American heartthrob Janine Sanchez Reimann on Sunday.
Kano Focus Mr Sulaiman  26, married Ms Riemann 46, on Sunday at Police College Juma'a Mosque, Gasau along Panshekara road in Kano metropolis.
A former senator representing Kaduna central Shehu Sani stand as a guardian of the bride who gave her hand in marriage to the representative of bridegroom in line with Islamic teaching.
The Imam of the Mosque, Adam Abubakar contracted the marriage after the bridegroom paid N50,000 dowry to representative of the bride Mr Sani.
Ms Reimann told journalists shortly after the wedding that she will go back to America and Mr Sulaiman will follow her in the next 10 to 12 months after meeting United State's emigration requirements.
A happy bridegroom Mr Isa expressed gratitude to God for making his dream a reality.
He said they will start married life in Kano before she go back to America.
Mr Sani, a former senator representing Kaduna central told journalists that the marriage is an indication that race, religion or skin colour is not a barrier to intending couple.
He hoped that the couple will set a good precedence to other Nigerian youths.
The wedding was contracted around 11 am in the presence of many admirers and well wishers from far and near.
This online newspaper has earlier reported that Ms Riemann, fell in love with Sulaiman, after they met about 21 months ago on the social networking platform, Instagram.
How the journey started
Ms Riemann told journalists in Kano that the relationship started when Mr Sulaiman observed and warned a scammer who attempted to defraud her.
"I didn't respond because I have had experiences with Nigerian scammers.
"But there was a guy messaging me and Sulaiman knew he was a scammer so he said "get a job and quit scamming innocent people." "So I thought he sounded like a nice guy.
"On his part Mr Sulaiman said he had always fantasized about marrying a white woman and fathering mixed race kids.
"It was a dream come true for me when she responded to my message.
"We continued exchanging messages and our relationship became closer."
"I therefore invited her to visit me in Kano." Said Mr Sulaiman who is originally from Minna, Niger state.
Ms Sanchez, a chef based in Lindon, California said she would be taking Mr Isah back to the US.
"I have two kids – a boy and a girl – from my previous marriage. As we have joint custody with my ex-husband, I cannot take the kids away from their father."
Mr Sulaiman, a barber, and a student, popularly known as 'Babayaro' said that is not a problem.
"I will be visiting my parents and other relations regularly. And she has agreed that even our future kids will be coming to Nigeria to visit my family." He said.
Another point of contention is the 20-year age gap between the couple.
However, both have assured journalists that it is not important to them.
"I wasn't looking to date anybody younger than 30 but he is very mature for his age.
"When I talk to him I feel like I'm talking to somebody my age." Ms Sanchez said.
"The age difference doesn't matter as Prophet Muhammad (p.b.u.h) married an older woman too. So I'm following in his Sunnah." Mr. Sulaiman said.
Family happy but wary
Meanwhile, Mr Sulaiman's family are happy about the marriage but worried about the religious implication.

His father, Sulaiman Isa said he has agreed to the wedding based on four conditions.
Mr Isa, a retired superintendent of Police told journalists that the first condition is security clearance.
"As a security – retired security – officer I know what I'm talking about.
According to him the second condition is that his son would be allowed to further his education in the US.
He said the third condition is that his son would maintain his adherence to the Islamic religion.
"I want him to further his education and maintain his religion.
"She said 'no problem'. May be she may become a Muslim too."
The retired police officer added that his final condition is that the bride Janine Sanchez, must produce a written document of consent from her parents or relations as Muslims are not allowed to marry a woman on her own.
According to him the bride has so far met all the conditions prior to the wedding.
His mother, Fatima Sulaiman said she has agreed to the marriage and Sulaiman's relocation to the USA.
"I'm very happy. My whole family have become celebrities in the Panshekara area.
"We are now singled out as the in-laws of a white woman.
"I pray for Allah's protection as Sulaiman leaves for America." She said.
However, his elder brother, Yakubu Sulaiman sounded a note of caution.
"This is the will of God. We have only good wishes for the couple.
"But my prayer is that he retains his Islamic religion wherever he finds himself." He said.
EFCC Grills Rabiu Kwankwaso
The Economic and Financial Crimes Commission (EFCC) on Saturday grilled former governor of Kano State, Rabiu Musa Kwankwaso over allegations of abuse of office, diversion of public funds and fraudulent allocation of government properties to cronies.
KANO FOCUS reports that Kwankwaso, a chieftain of the Peoples Democratic Party, was first invited by the EFCC in September but failed to honour the invitation as reported by Channels TV.
An associate of the politician informed Channels Television that Kwankwanso may have been invited in relation to a petition by some retired employees of the Kano State Government.
The retired employees had told the EFCC that the former governor mismanaged pension remittances to the tune of N10 billion between 2011 and 2015, to fund a housing project for his cronies.
EFCC spokesperson, Wilson Uwujaren did not comment on the interrogation of the former governor when contacted on Saturday.
Crisis rocks Kano APC as Ganduje, Shekarau hold parallel Congress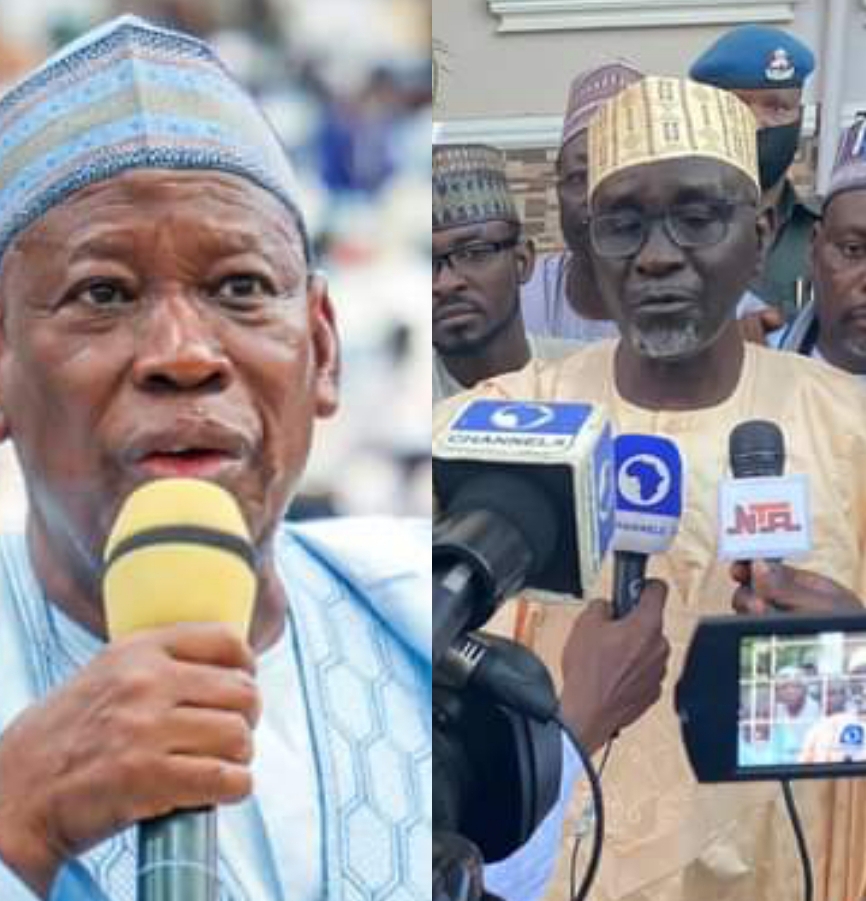 Aminu Abdullahi
Crisis rocked Kano chapter of All Progressive Congress (APC), as Governor Abdullahi Umar Ganduje and faction loyal to former governor of Kano and serving Senator Ibrahim Shekarau held parallel state congress.
KANO FOCUS reports that while Ganduje group held their congress at Sani Abacha stadium, faction loyal to Shekarau had their own at Janguza town, Tofa local government area.
Ganduje's led group endorsed Abdullahi Abbas as state chairman of APC for a second term in a consensus arrangement, while the faction loyal to Shekarau announced Ahmadu Haruna Zago as newly elected chairman of APC in Kano state.
Reports shows that the security have earlier disrupted Shekarau's camp congress at Sani Abacha youth centre and sealed the premises before they moved to Janguza where they held the election.
Below are some pictures of the parallel Congress.
NCC moves to address poor network service at densely populated Kano markets – Prof Danbatta.
Nasiru Yusuf
The Executive Vice Chairman of the Nigerian Communication Commission (NCC) Umar Garba Danbatta says the commission will address the poor network at Kantin Kwari, Sabongari Singer and Kurmi markets.
KANO FOCUS reports that Danbatta announced revealed this while responding to complaint raised by a participant at a two day stakeholders consultative meeting tagged 'talk to the regulator' organised by Nigerian Communications Commission in Kano.
The complainer noted that that there is poor telecommunications service in Kantin Kwari, Sabongari, Singer and Kurmi markets in Kano metropolitan area.
Danbatta responded that the commission will deploy investigative team to determine the nature of the problem and proffer solution.
"We have the capacity to monitor the performance of MNOs, that is the most important thing. Because of this valid observation by our stakeholder, we are going to direct our searchlight in those areas where we think the quality of service needs to improve.
"And if it is necessary, we will send the investigative team what is the nature of the quality of service in such places with a view to improve the quality of the service," Danbatta said.
The Executive Vice Chairman explained that the commission considers stakeholder feedback "as a critical component of our forward – looking regulatory model."
"Hence, the overarching objective of this forum is to get direct feedback from our licensees on how we, as a regulator, are meeting your expectations, and on areas where we can improve our regulatory service, particularly those that have to do with licensing.
"We also intend to use this forum to seek your support for the several initiatives that the commission has carefully developed in our quest to enhance market opportunities for all our licensees."
Danbatta added that the commission will focus it's energies for the next five years on five strategic pillars.
The pillars according to him include "organisational renewal for operational efficiency and regulatory excellence.
"Facilitate the provision of infrastructure for a digital economy which fosters national development.
"Improve quality service (QoS) for enhanced consumer quality of experience (QoE).
"Promote fair competition, inclusive growth, increased investment and innovative services as well facilitate strategic collaboration and partnership."
He disclosed that the federal government has articulated a number of critical policy objectives for the sector such as those articulated in the National Digital Economy Policy and Strategy (NDEPS), the Nigerian National Broadband Plan (2020-2025), the Revised National Digital Identity Policy for SIM Registration among others.
He added that the instruments require the full and unalloyed commitment of all stakeholders to ensure their successful implementation, and the meeting in Kano would provide a veritable channel for licensees' buy-in.
In his address the Director of Licensing and Authorisation Department, Mohammed Babajika, said the commission is further liberalising the telecoms industry by finalising the framework for Mobile Virtual Network Operators (MVNOs) and is currently reviewing existing regulations.
"The Commission is also finalising the Information Memorandum (IM) for 5G deployment, emerging trends like Internet of Things (loT), Artificial Intelligence (AI), Over The Top (OTT) Services and Big Data Analytics, all aimed at initiating strategies to improve service delivery that is accessible and affordable.