Kano man weds American lover
A Kano man Isa Sulaiman has finally married his American heartthrob Janine Sanchez Reimann on Sunday.
Kano Focus Mr Sulaiman  26, married Ms Riemann 46, on Sunday at Police College Juma'a Mosque, Gasau along Panshekara road in Kano metropolis.
A former senator representing Kaduna central Shehu Sani stand as a guardian of the bride who gave her hand in marriage to the representative of bridegroom in line with Islamic teaching.
The Imam of the Mosque, Adam Abubakar contracted the marriage after the bridegroom paid N50,000 dowry to representative of the bride Mr Sani.
Ms Reimann told journalists shortly after the wedding that she will go back to America and Mr Sulaiman will follow her in the next 10 to 12 months after meeting United State's emigration requirements.
A happy bridegroom Mr Isa expressed gratitude to God for making his dream a reality.
He said they will start married life in Kano before she go back to America.
Mr Sani, a former senator representing Kaduna central told journalists that the marriage is an indication that race, religion or skin colour is not a barrier to intending couple.
He hoped that the couple will set a good precedence to other Nigerian youths.
The wedding was contracted around 11 am in the presence of many admirers and well wishers from far and near.
This online newspaper has earlier reported that Ms Riemann, fell in love with Sulaiman, after they met about 21 months ago on the social networking platform, Instagram.
How the journey started
Ms Riemann told journalists in Kano that the relationship started when Mr Sulaiman observed and warned a scammer who attempted to defraud her.
"I didn't respond because I have had experiences with Nigerian scammers.
"But there was a guy messaging me and Sulaiman knew he was a scammer so he said "get a job and quit scamming innocent people." "So I thought he sounded like a nice guy.
"On his part Mr Sulaiman said he had always fantasized about marrying a white woman and fathering mixed race kids.
"It was a dream come true for me when she responded to my message.
"We continued exchanging messages and our relationship became closer."
"I therefore invited her to visit me in Kano." Said Mr Sulaiman who is originally from Minna, Niger state.
Ms Sanchez, a chef based in Lindon, California said she would be taking Mr Isah back to the US.
"I have two kids – a boy and a girl – from my previous marriage. As we have joint custody with my ex-husband, I cannot take the kids away from their father."
Mr Sulaiman, a barber, and a student, popularly known as 'Babayaro' said that is not a problem.
"I will be visiting my parents and other relations regularly. And she has agreed that even our future kids will be coming to Nigeria to visit my family." He said.
Another point of contention is the 20-year age gap between the couple.
However, both have assured journalists that it is not important to them.
"I wasn't looking to date anybody younger than 30 but he is very mature for his age.
"When I talk to him I feel like I'm talking to somebody my age." Ms Sanchez said.
"The age difference doesn't matter as Prophet Muhammad (p.b.u.h) married an older woman too. So I'm following in his Sunnah." Mr. Sulaiman said.
Family happy but wary
Meanwhile, Mr Sulaiman's family are happy about the marriage but worried about the religious implication.

His father, Sulaiman Isa said he has agreed to the wedding based on four conditions.
Mr Isa, a retired superintendent of Police told journalists that the first condition is security clearance.
"As a security – retired security – officer I know what I'm talking about.
According to him the second condition is that his son would be allowed to further his education in the US.
He said the third condition is that his son would maintain his adherence to the Islamic religion.
"I want him to further his education and maintain his religion.
"She said 'no problem'. May be she may become a Muslim too."
The retired police officer added that his final condition is that the bride Janine Sanchez, must produce a written document of consent from her parents or relations as Muslims are not allowed to marry a woman on her own.
According to him the bride has so far met all the conditions prior to the wedding.
His mother, Fatima Sulaiman said she has agreed to the marriage and Sulaiman's relocation to the USA.
"I'm very happy. My whole family have become celebrities in the Panshekara area.
"We are now singled out as the in-laws of a white woman.
"I pray for Allah's protection as Sulaiman leaves for America." She said.
However, his elder brother, Yakubu Sulaiman sounded a note of caution.
"This is the will of God. We have only good wishes for the couple.
"But my prayer is that he retains his Islamic religion wherever he finds himself." He said.
Ganduje, Dantata reconcile Aliko Dangote, Abdussamad Rabiu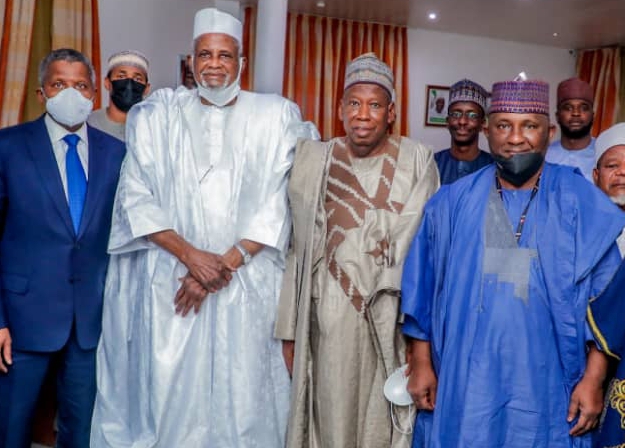 Governor Abdullahi Umar Ganduje and renowned business mogul, Aminu Alhassan Dantata, Kano Emirate and the Kano State Council of Imams have reconciled  the two illustrious sons of Kano, Aliko Dangote and Abdussamad Isyaka Rabi'u. 
Kano Focus reports that both parties, chairman of Dangote Group of companies and chairman BUA Group of companies, agreed to work together and supply enough sugar to satisfy the demand of the country.
A statement issued by Ganduje's spokesperson Abba Anwar said the reconciliation meeting took place at Kano Governor's Lodge, Asokoro, Abuja, Wednesday, which put a stop to all rumours making round that the duo were in dispute over sugar control in the country.
"They all dismissed allegation that Dangote was planning to see to the increase of sugar price, through pressuring BUA to succumb to the increment. They described that allegation as baseless and lacking any iota of truth.
"The meeting was seen as the zenith of other similar efforts to reconcile the two giants by the governor. Alhaji Aminu Alhassan Dantata played the role of a father during the meeting," the statement added.
Present at the meeting were the Minister for Commerce, Trade and Investment, Mr Niyi Adebayo, representative of the Kano Emirate, Alhaji Aminu Babba Dan Agundi, Chairman of the Council of Kano Imams, Sheikh Muhammad Nasir Adam, the Chief Imam of Sheikh Ahmadu Tijjani Friday Mosque, Kofar Mata, Kano and the Chairman of NEPZA,  Adamu Panda.
All the two business moguls agreed to work together as brothers for the growth and development of the nation at large. Assuring that, henceforth, there would be no differences, that could cause any disharmony between them.
COEASU FCE (T) Bichi commences one week warning strike over poor leadership in the college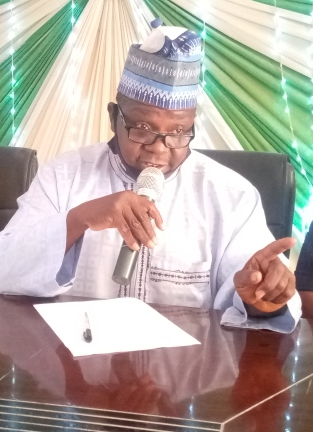 Nasiru Yusuf
The Colleges of Education Academic Staff Union (COEASU) Federal College of Education (Tech) Bichi has commenced a one week warning strike.
Kano Focus reports that the chairman of the union Muhammad Salisu Yunusa announced this on Tuesday while briefing journalists at Press Centre.
The COEASU chairman has accused the management of the college under Muhammad Bashir Fagge with non remittance of twenty five million Naira deduction made on behalf of the staff multi purpose cooperative society.
According to him as at August 2017, the college management had incurred a debt stock amounting to about eighty million Naira, being the cumulative sum of deductions from staff salaries that were not remitted to the college's staff cooperative society.
Mr Yunusa alleged that teaching and learning is being conducted under unbearable condition due to dilapidated infrastructure.
He also alleged that the management of the college has failed to pay legitimate staff allowances including 10 months peculiar academic allowance, Students Industrial Work Experience Scheme (SIWES) supervision allowance; teaching practice allowance and series of outstanding payment of the centre for continuing education.
" Academic infrastructures are dilapidating due to lack of maintenance; laboratories, workshops and studios are not functioning optimally due to lack of equipments and consumables.
"Insecurity and lawlessness is alarming due to complacency of the current management of the college; while staff morale is at low level, due to non payment of staff allowances and other statutory entitlements among other pressing issues," Mr Yunusa alleged.
According to him the college is yet to issue college graduands their Teachers' Registration Council (TRCN) certificate and National Certificate in Education (NCE) certificates for 2014/2015 and 2015/2016 sessions.
"The failure to issue TRCN certificates to our former students may be viewed by the general public as a corporate fraud, considering the fact that they had paid for the processing of the certificates in advance as part of their NCE III school fees while in college.
"The non-payment of security personnel for about seven months has further threatened the security of lives and properties of the institutions. This situation has culminated in serious theft in the students hostels," the chairman alleged.
Mr Yunusa called on the appropriate authorities to to prevail on the management of the college to immediately remit this money back to college's cooperative as soon as possible as failure to to do this will further worsen the welfare condition of some staff, some of whom have invested a larger chunk of their life saving in cooperative society.
"We will never soccumb to the intimidation of 'No work, no pay' by the college management until our demands are met," he said.
We've never added a penny on the price of our products during Ramadan – Dangote 
The chairman of Dangote Group Alhaji Aliko Dangote, has categorically urged people not to panic over price hike in his products during this Ramadan.
Kano Focus recalled that every Ramadan, sugar is one of the most used substance to prepare varieties of drinks and other edibles, even though it often goes higher than usual that a common man cannot afford to buy.
This problem according to many Muslim faith, is associated with the business people in commodity markets – who purchase such most used substances during the fasting period.
However, Mr Dangote said that he has massively filled markets with sugar across the country to avoid shortage during this Ramadan, which according to him to will not heighten the price of the sugar.
Dangote who spoke through his Manager, Garba Ibrahim El- Suleiman in Kano, says the Company presently has bathed all the markets across the country with products, "because our President, Alhaji Aliko Dangote respects and values month of Ramadan to the level that he has never added a penny on the price of his products during the time." He added.
"Our dealers also are very good people and we're rest assured that none of them would be able to take up the price of any product." Garba said.
Speaking with Salisu Sambajo, one of the Dangote Company's major Dealers in Nigeria, says there has never been a time when the Dangote increases prices of his products in any parts of the country during Ramadan.
"The price of every bag of sugar we sell is N18,500 only, therefore whenever you find out that a kobo is added to that, it is from the retailers. These people buy goods from us, they pay for transport, tax and many – so when they some amount on it, it is not Dangote that added it…we cannot force them not to." Sambajo said.
Also, Sabo Dankoli, another dealer of Dangote products explained that they have never experienced a hike in price from Dangote unless in 2020, when there was lockdown due to COVID-19 pandemic, "and that also was not from Dangote, it's because the commodities have gone out of store and people started to add money." He said.
Commending the Dangote Group efforts to ensure that there is no price increase during the fasting period, Chairman of the Kano State Public Complaints and Anti- Corruption Commission (PCACC), Muhuyi Magaji Rimingado has thanked Aliko Dangote for taking measures to ensure that his products have not gone out of store or too expensive to consumers during Ramadan.
''I was informed that the company has flooded the market with commodities that can last till after the Ramadan period and not only in Kano but across the northern states, ''Muhuyi Rimingado said.
''That was why we appreciated the company with a letter of Commendation last week. I hope the company will sustain the initiative even after the holy month of Ramadan.''