Police arrests father, son, grandson for killing suspected kidnapper and his daughter
Police in Kano said they have arrested a fifty year old Adamu Musa, his son Sule Mallam and grandson Isyaku Sule, for killing a suspected kidnapper and his five year daughter at Gomo Village, Sumaila local government area.
Police spokesperson in Kano Abdullahi Kiyawa said in a statement issued on Tuesday night that Mr Musa has confessed to have directed his three sons and his grandson to kill the victim on allegation that the deceased is a suspected kidnapper.
Mr Kiyawa recalled that on August 26 the suspects invaded Madunkuri settlement in Gomo Village, Sumaila local government area of Kano State,  attacked and killed one thirty year old Kabiru Ya'u and his five year daughter Harira Kabiru.
He said the suspects confessed they used machetes and bamboo sticks to hack the victims to death.
According to him the suspects were arrested by Operation Puff Adder on December 19 about 119 days after the incident.
Mr Kiyawa said "investigation is in progress for the arrest of the remaining culprits. The suspects will be charged to court after completion of investigation."
Kano Focus has on Tuesday reported how some suspected kidnappers killed a vigilante after abducting a nursing mother and her baby at Falgore town, Rogo local government area.
Police arrests impostor of super Eagle coach Ahmed Musa
Mr Kiyawa also said the police has December 20 arrested a former staff of Ahmad Musa Sport Centre Kano, Gambo Yakubu, of Brigade Quarters Kano, who parades himself as captain of Super Eagle Ahmad Musa.
Police said the suspect has forged documents bearing the name of Mr Musa and defrauds innocent citizens.
The suspect according to police has confessed to have defrauded more than fifteen persons of N700,000 and spent the money to his girlfriends at hotels in Sabon Gari area of Kano.
Mr Yakubu also told police he sells forms at N5,000 each to youths who want to play football abroad.
Lady rescued after ten years in solitary confinement in parents' home
Nasiru Yusuf
Police in Kano said they have rescued a fifteen year old Aisha Jibrin of Darerawa Quarters, Fagge local government area who was kept in solitary confinement by her parents for ten years without proper feeding and health care.
Kano Focus reports that the police spokesperson Abdullahi Kiyawa in a statement issued on Tuesday said the police have also arrested the mother of the victim Rabi Muhammad, and efforts is in progress to arrest the father who is currently at large.
Mr Kiyawa said the victim was rushed to Murtala Mohammed Specialist Hospital Kano where she is currently receiving treatment.
"The Kano State Police Command wishes to inform members of the general public that on the 19/04/2021 at about 1100hrs, information received revealed that one Aisha Jibrin, 'f', 15 years old of Darerawa Quarters, Fagge LGA Kano State was solitarily confined for ten (10) years in a room by her biological parents, one Mohd Jibrin, 'm', and Rabi Mohd, 'f', of the same address inside their house without proper feeding and health care.
"On receipt of the report, the Commissioner of Police, Kano State Command, *CP Sama'ila Shu'aibu Dikko, fsi* raised and instructed a Medical Team and a team of Detectives to proceed to the scene, rescue the victim and arrest the culprits.
"The teams immediately swung in to action. The victim was rescued and rushed to Murtala Mohammed Specialist Hospital Kano and admitted," Mr Kiyawa said.
He said the police commissioner Sama'ila Shu'aibu Dikko has ordered the transfer of the case to the Command's Criminal Investigation Department for discrete investigation.
In another development a widow of Former Divisional Police Officer, Gani Division Kano Rabiu Adamu Jenta has handed over a laptop computer and printer to Kano police command.
She said at the point of death, her late husband has left a will that "the Laptop Computer and the printer be handed to Gani Division, because he bought them to be used in the division."
While receiving the gadgets, the commissioner prayed for the deceased policeman and called on others to emulate the good conduct of the widow.
Ganduje, Dantata reconcile Aliko Dangote, Abdussamad Rabiu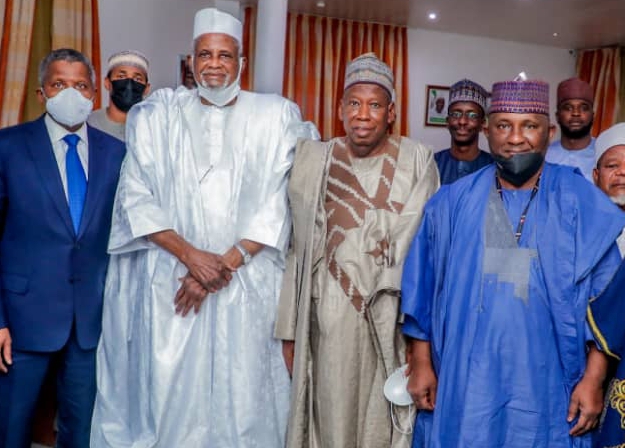 Governor Abdullahi Umar Ganduje and renowned business mogul, Aminu Alhassan Dantata, Kano Emirate and the Kano State Council of Imams have reconciled  the two illustrious sons of Kano, Aliko Dangote and Abdussamad Isyaka Rabi'u. 
Kano Focus reports that both parties, chairman of Dangote Group of companies and chairman BUA Group of companies, agreed to work together and supply enough sugar to satisfy the demand of the country.
A statement issued by Ganduje's spokesperson Abba Anwar said the reconciliation meeting took place at Kano Governor's Lodge, Asokoro, Abuja, Wednesday, which put a stop to all rumours making round that the duo were in dispute over sugar control in the country.
"They all dismissed allegation that Dangote was planning to see to the increase of sugar price, through pressuring BUA to succumb to the increment. They described that allegation as baseless and lacking any iota of truth.
"The meeting was seen as the zenith of other similar efforts to reconcile the two giants by the governor. Alhaji Aminu Alhassan Dantata played the role of a father during the meeting," the statement added.
Present at the meeting were the Minister for Commerce, Trade and Investment, Mr Niyi Adebayo, representative of the Kano Emirate, Alhaji Aminu Babba Dan Agundi, Chairman of the Council of Kano Imams, Sheikh Muhammad Nasir Adam, the Chief Imam of Sheikh Ahmadu Tijjani Friday Mosque, Kofar Mata, Kano and the Chairman of NEPZA,  Adamu Panda.
All the two business moguls agreed to work together as brothers for the growth and development of the nation at large. Assuring that, henceforth, there would be no differences, that could cause any disharmony between them.
COEASU FCE (T) Bichi commences one week warning strike over poor leadership in the college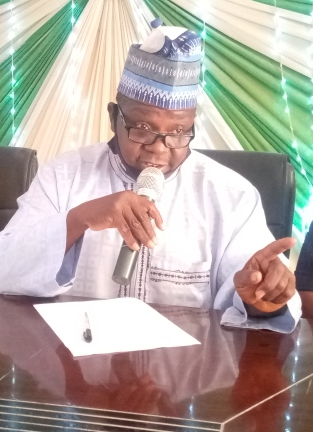 Nasiru Yusuf
The Colleges of Education Academic Staff Union (COEASU) Federal College of Education (Tech) Bichi has commenced a one week warning strike.
Kano Focus reports that the chairman of the union Muhammad Salisu Yunusa announced this on Tuesday while briefing journalists at Press Centre.
The COEASU chairman has accused the management of the college under Muhammad Bashir Fagge with non remittance of twenty five million Naira deduction made on behalf of the staff multi purpose cooperative society.
According to him as at August 2017, the college management had incurred a debt stock amounting to about eighty million Naira, being the cumulative sum of deductions from staff salaries that were not remitted to the college's staff cooperative society.
Mr Yunusa alleged that teaching and learning is being conducted under unbearable condition due to dilapidated infrastructure.
He also alleged that the management of the college has failed to pay legitimate staff allowances including 10 months peculiar academic allowance, Students Industrial Work Experience Scheme (SIWES) supervision allowance; teaching practice allowance and series of outstanding payment of the centre for continuing education.
" Academic infrastructures are dilapidating due to lack of maintenance; laboratories, workshops and studios are not functioning optimally due to lack of equipments and consumables.
"Insecurity and lawlessness is alarming due to complacency of the current management of the college; while staff morale is at low level, due to non payment of staff allowances and other statutory entitlements among other pressing issues," Mr Yunusa alleged.
According to him the college is yet to issue college graduands their Teachers' Registration Council (TRCN) certificate and National Certificate in Education (NCE) certificates for 2014/2015 and 2015/2016 sessions.
"The failure to issue TRCN certificates to our former students may be viewed by the general public as a corporate fraud, considering the fact that they had paid for the processing of the certificates in advance as part of their NCE III school fees while in college.
"The non-payment of security personnel for about seven months has further threatened the security of lives and properties of the institutions. This situation has culminated in serious theft in the students hostels," the chairman alleged.
Mr Yunusa called on the appropriate authorities to to prevail on the management of the college to immediately remit this money back to college's cooperative as soon as possible as failure to to do this will further worsen the welfare condition of some staff, some of whom have invested a larger chunk of their life saving in cooperative society.
"We will never soccumb to the intimidation of 'No work, no pay' by the college management until our demands are met," he said.