Why Ganduje removes Emir Sanusi ll – Kwankwaso
Former Kano Governor of Kano state Rabiu Kwankwaso has explained why Governor, Abdullahi Ganduje dethroned Muhammad Sanusi II as Emir of Kano, saying, "you Dethroned him for your imferiority Complex against him, nothing more."
Mr Kwankwaso noted this in a statement signed by his Principal Private Secretary Muhammad Ali on Tuesday, that the fears of high esteem and caliber, plus influence the Emir possessed made Ganduje jittery and insisted in dethroning him.
Mr Ganduje was earlier reported to have said at the presentation of a book on the former president Goodluck Jonathan, that Mr Sunusi was removed from office to save the system and the traditional institution.
Ganduje said he had no choice but repeat dose given to Sanusi by former President Goodluck Jonathan, easing him out from the Central Bank of Nigeria (CBN) as the governor.
Mr Kwankwaso, however said; "We know that Ganduje always feels diminished and inferior in the presence of the Emir, and we know that Gov Ganduje harbours a pathological hatred for the Kano Traditional Institution, that was why he had to dethroned him".
"We also know that  Ganduje was madly obsessed with reversing everything that Sen. Kwankwaso did in the state. And we are aware, for these reasons, Gov. Ganduje was set, ab initio, to destroy the Kano Emirate. And Emir Sanusi II was marked to be the first victim."
"Let me also put on record that Emir Sanusi II was abducted and illegally dethroned by Gov. Ganduje and his cohorts because of the Emir's progressive ideas on various issues that affect the people of the state." he added.
Former governor Kwankwaso narrated that Sanusi's removal has nothing to do with former President Goodluck Jonathan as earlier mentioned by the Governor in an event.
He said, it was as a result of the former Emir's criticism of a $1.8 billion loan to be obtained by the Governor for the fraudulent projects of light rail lines.
"Everyone knows that Ganduje's desperation to obtain the $1.8 billion loan and the former Emir's criticism of the loan is what fuelled the illegal removal of Emir Sanusi II; it had nothing to do with former President Jonathan."
"It is common knowledge that the Emir was too progressive for Gov. Ganduje's liking and that was exactly why after his illegal removal and the dismemberment of the Kano Emirate Council, he appointed Emirs that will not question his ill-advised decisions even if they are against the interest of the state and its people," he said.
Ganduje, Dantata reconcile Aliko Dangote, Abdussamad Rabiu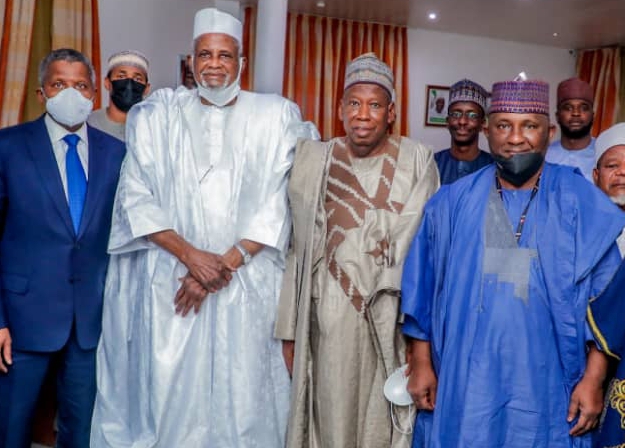 Governor Abdullahi Umar Ganduje and renowned business mogul, Aminu Alhassan Dantata, Kano Emirate and the Kano State Council of Imams have reconciled  the two illustrious sons of Kano, Aliko Dangote and Abdussamad Isyaka Rabi'u. 
Kano Focus reports that both parties, chairman of Dangote Group of companies and chairman BUA Group of companies, agreed to work together and supply enough sugar to satisfy the demand of the country.
A statement issued by Ganduje's spokesperson Abba Anwar said the reconciliation meeting took place at Kano Governor's Lodge, Asokoro, Abuja, Wednesday, which put a stop to all rumours making round that the duo were in dispute over sugar control in the country.
"They all dismissed allegation that Dangote was planning to see to the increase of sugar price, through pressuring BUA to succumb to the increment. They described that allegation as baseless and lacking any iota of truth.
"The meeting was seen as the zenith of other similar efforts to reconcile the two giants by the governor. Alhaji Aminu Alhassan Dantata played the role of a father during the meeting," the statement added.
Present at the meeting were the Minister for Commerce, Trade and Investment, Mr Niyi Adebayo, representative of the Kano Emirate, Alhaji Aminu Babba Dan Agundi, Chairman of the Council of Kano Imams, Sheikh Muhammad Nasir Adam, the Chief Imam of Sheikh Ahmadu Tijjani Friday Mosque, Kofar Mata, Kano and the Chairman of NEPZA,  Adamu Panda.
All the two business moguls agreed to work together as brothers for the growth and development of the nation at large. Assuring that, henceforth, there would be no differences, that could cause any disharmony between them.
COEASU FCE (T) Bichi commences one week warning strike over poor leadership in the college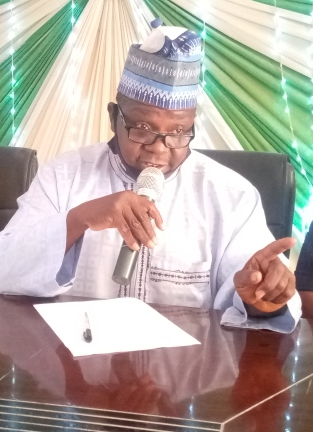 Nasiru Yusuf
The Colleges of Education Academic Staff Union (COEASU) Federal College of Education (Tech) Bichi has commenced a one week warning strike.
Kano Focus reports that the chairman of the union Muhammad Salisu Yunusa announced this on Tuesday while briefing journalists at Press Centre.
The COEASU chairman has accused the management of the college under Muhammad Bashir Fagge with non remittance of twenty five million Naira deduction made on behalf of the staff multi purpose cooperative society.
According to him as at August 2017, the college management had incurred a debt stock amounting to about eighty million Naira, being the cumulative sum of deductions from staff salaries that were not remitted to the college's staff cooperative society.
Mr Yunusa alleged that teaching and learning is being conducted under unbearable condition due to dilapidated infrastructure.
He also alleged that the management of the college has failed to pay legitimate staff allowances including 10 months peculiar academic allowance, Students Industrial Work Experience Scheme (SIWES) supervision allowance; teaching practice allowance and series of outstanding payment of the centre for continuing education.
" Academic infrastructures are dilapidating due to lack of maintenance; laboratories, workshops and studios are not functioning optimally due to lack of equipments and consumables.
"Insecurity and lawlessness is alarming due to complacency of the current management of the college; while staff morale is at low level, due to non payment of staff allowances and other statutory entitlements among other pressing issues," Mr Yunusa alleged.
According to him the college is yet to issue college graduands their Teachers' Registration Council (TRCN) certificate and National Certificate in Education (NCE) certificates for 2014/2015 and 2015/2016 sessions.
"The failure to issue TRCN certificates to our former students may be viewed by the general public as a corporate fraud, considering the fact that they had paid for the processing of the certificates in advance as part of their NCE III school fees while in college.
"The non-payment of security personnel for about seven months has further threatened the security of lives and properties of the institutions. This situation has culminated in serious theft in the students hostels," the chairman alleged.
Mr Yunusa called on the appropriate authorities to to prevail on the management of the college to immediately remit this money back to college's cooperative as soon as possible as failure to to do this will further worsen the welfare condition of some staff, some of whom have invested a larger chunk of their life saving in cooperative society.
"We will never soccumb to the intimidation of 'No work, no pay' by the college management until our demands are met," he said.
We've never added a penny on the price of our products during Ramadan – Dangote 
The chairman of Dangote Group Alhaji Aliko Dangote, has categorically urged people not to panic over price hike in his products during this Ramadan.
Kano Focus recalled that every Ramadan, sugar is one of the most used substance to prepare varieties of drinks and other edibles, even though it often goes higher than usual that a common man cannot afford to buy.
This problem according to many Muslim faith, is associated with the business people in commodity markets – who purchase such most used substances during the fasting period.
However, Mr Dangote said that he has massively filled markets with sugar across the country to avoid shortage during this Ramadan, which according to him to will not heighten the price of the sugar.
Dangote who spoke through his Manager, Garba Ibrahim El- Suleiman in Kano, says the Company presently has bathed all the markets across the country with products, "because our President, Alhaji Aliko Dangote respects and values month of Ramadan to the level that he has never added a penny on the price of his products during the time." He added.
"Our dealers also are very good people and we're rest assured that none of them would be able to take up the price of any product." Garba said.
Speaking with Salisu Sambajo, one of the Dangote Company's major Dealers in Nigeria, says there has never been a time when the Dangote increases prices of his products in any parts of the country during Ramadan.
"The price of every bag of sugar we sell is N18,500 only, therefore whenever you find out that a kobo is added to that, it is from the retailers. These people buy goods from us, they pay for transport, tax and many – so when they some amount on it, it is not Dangote that added it…we cannot force them not to." Sambajo said.
Also, Sabo Dankoli, another dealer of Dangote products explained that they have never experienced a hike in price from Dangote unless in 2020, when there was lockdown due to COVID-19 pandemic, "and that also was not from Dangote, it's because the commodities have gone out of store and people started to add money." He said.
Commending the Dangote Group efforts to ensure that there is no price increase during the fasting period, Chairman of the Kano State Public Complaints and Anti- Corruption Commission (PCACC), Muhuyi Magaji Rimingado has thanked Aliko Dangote for taking measures to ensure that his products have not gone out of store or too expensive to consumers during Ramadan.
''I was informed that the company has flooded the market with commodities that can last till after the Ramadan period and not only in Kano but across the northern states, ''Muhuyi Rimingado said.
''That was why we appreciated the company with a letter of Commendation last week. I hope the company will sustain the initiative even after the holy month of Ramadan.''