Bello Isa Bayero dies at 85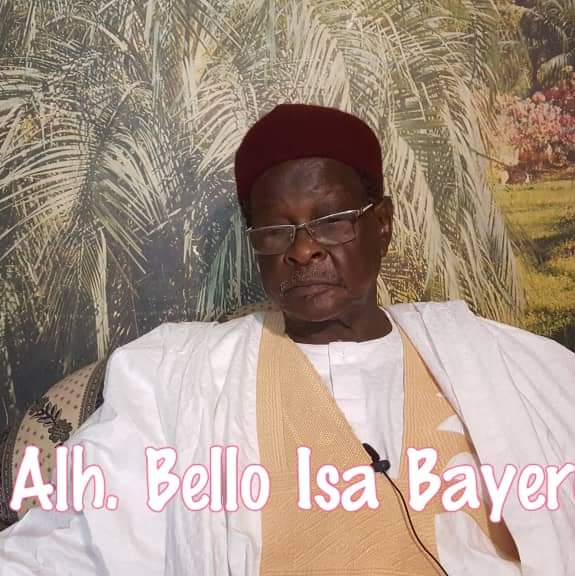 Bello Isa Bayero, a political associate of President Muhammad Bayero has died at the late hours of Thursday.
A member of his family told Freedom Radio that Mr Bayero died at Aminu Kano Teaching Hospital after a brief illness at the age of 85.
A cousin to Emir Aminu Ado Bayero, Bello Isa Bayero is survived by two wives and eight children.
His funeral prayer is scheduled to take place at Emir's palace, Kano after Juma'at prayer, according to family source.
Mr Bayero has contested for Kano central senatorial seat in 1998 under People Democratic Party PDP before he withdrew for late Kura Muhammad at the tail end of the party's primary election.
He had also contested Kano central senatorial seat under CPC in 2011 but lost in party's primary election.
The deceased was among the closest political associate of President Muhammad Buhari right from his days in CPC up to the time he became president.
Governor Abdullahi Ganduje has commisirated with the family and Kano Emirate over the death of an elder statesman, Mr Bayero.
A statement issued by his spokesperson Abbas Anwar described the deceased as an elder and astute politician.
"We received, with deepest shock, the death of Alhaji Bello Isah Bayero, who died when the state and the nation needed him the most. He was a gentleman par excellence, whose political leadership helped in the restoration of our democracy.
"As a gentleman who trained many in many human endeavors, we
missed him the most. His death is a great lost to Nigerian democracy, our traditional institution and political leadership."
According to the governor, Mr Isa-Bayero was an embodiment of humility, excellence, productivity, openness, transparency, accountability and that he was a father to the state and Nigerian democracy.
"What remains for us now is to pray and continue praying for him. May Allah SubhanaHu Wa Ta'ala forgive all his wrongdoings and reward all his good deeds with Jannatul-Fiddaus," he prays.
"On behalf of the government and people of Kano state, I am sending this condolence visit to his immediate families, our royal institution, friends and all other well wishers of the late elder statesman Alhaji Bello Isa Bayero," governor Ganduje stated.
COVID-19: Ganduje directs local governments to constitute committees against Coronavirus
Nasiru Yusuf
Governor Abdullahi Ganduje has directed chairmen of local government councils in Kano state to raise committees at local government and ward levels to tame COVID-19 pandemic.
Mr Ganduje gave the directive on Wednesday during a meeting with the chairmen of the forty four local government councils in the state.
He charged them to face fight against COVID-19 with vigour and absolute commitment as done to polio.
"You know how you treated Polio tirelessly with all seriousness and genuine feeling of responsibility, I want you to give COVID-19 similar treatment. Or even more than that.
"You know we fought the battle against Polio together, since when I was the Deputy Governor. It should still be fresh in your memories, how we worked round the clock and with Allah's Blessing we gave our possible best for our dear country to become Polio-Free nation," Mr Ganduje said.
The governor called on them to engage security agents in their respective council areas in the fight against COVID-19.
He said, "We have produced and secured millions of face masks. You will all be given for distribution to your people. All hands must be on deck."
Mr Ganduje disclosed that, he would soon invite the newly elected chairmen for similar discussions and partnership.
"I know as out-going Chairmen, your tenure will soon come to an end. But those of you who are among the newly elected chairmen, I will soon re-invite you with other newly elected chairmen for the same stakeholders meeting."
"It is our responsibility as leaders to always see to the safety of our people at all levels. We still need to do more in all areas of the fight against COVID-19 pandemic," he said.
Police arrest 4 suspected kidnappers including a woman terrorising Zamfara, Kano
Nasiru Yusuf
Police in Kano have on Wednesday paraded four suspected kidnappers including a 23 year widow Maryam Muhammad, of Butsa Village, Gusau, local government area of Zamfara State.
Parading the suspects, police spokesperson in Kano Abdullahi Haruna said the accused were arrested on Friday at a rented apartment located at Jaba Quarters, Ungogo local government area where they held hostage Mohammed Sanusi and demanded ten million Naira ransom from his parents.
He explained that the police have successfully rescued the victim unhurt after a fierce gun duel with the kidnappers.
Mr Kiyawa recalled that on January 12 one Sunusi Ado of Galadanchi Quarters, Gwale local government area of Kano state reported that his 29 year old son, Mohammed Sanusi,  was kidnapped and a ransom of ten million Naira was demanded.
"Upon receipt of the complaint, the Commissioner of Police, Kano State Command, CP Habu A. Sani, psc, raised and instructed a team of Operation Puff Adder, led by DSP Shehu Dahiru, to arrest the culprits.
"The Team swiftly swung into action, and following credible intelligence, on 15 January, 2021, that is 3 days after the report, raided a rented apartment located at Jaba Quarters, Ungogo LGA of Kano State where the victim was held hostage.
"The gallant team cordoned the area, engaged the occupants of the house in a fierce gun duel, successfully rescues the victim unhurt and arrested the suspects," Mr Haruna said.
Other aspects arrested beside Ms Muhammad are Sani Ibrahim and Shamsuddeen Suleiman all of Butsa Village, Gusau local government area Zamfara State and Ishaq Khalil, of Rijiyar Lemo Quarters, Fagge local government Kano State.
All the suspects according to police spokesperson confessed involving in series of kidnappings in Kano and Zamfara states.
Mr Haruna added that the police have recovered one AK-47 rifle, one Magazine loaded with 30 rounds of Live Ammunition and an unregistered motorcycle.
According to police spokesperson  investigation revealed that Maryam's husband, Sani Ismail of of Niger state, was a Notorious cattle rustler, killed in Zamfara state while carting away rustled cows.
Mr Kiyawa told journalists that after the death of Ms Muhammad's husband, her brother, Hamza Dogo, also a notorious kidnapper relocated her to Kano where she rented apartments in Unguwa Uku, Panshekara and Maidile Quarters.
According to police findings Ms Muhammad later moved to Jaba Quarters and rented another apartment for six hundred thousand Naira per annum, which she turned into a kidnappers den.
How they trapped the victim
Ms Muhammad revealed that on January 12, around 8 pm, she contacted the victim via his mobile phone and told him to bring her a new Samsung handset for her to buy at sixty five thousand Naira.
She disclosed the victim drove his Toyota Vibe Motor Vehicle to the apartment. They opened the gate of the house, and as soon as he entered, the four of them attacked him, tied him up, took his Motor Vehicle to Zamfara State and contacted his family for ten million Naira Ransom.
Ms Muhammad disclosed that though, they demanded ransom, their plan was to kill him after collecting the ransom, because the victim knows the apartment and recognizes them.
She recalled that, on October 2, last year, they have kidnapped one Shafiu Umar, of Naibawa Quarters, Kumbotso local government area of Kano state, and held him hostage in Zamfara State.
She also confessed that they collected a ransom of ten million Naira, a brand new motorcycle and Toyota Corolla LE worth two million, five hundred thousand Naira.
The police said they have recovered the Toyota Vibe Motor Vehicle from one Ishaq Yusuf of Gidan Dawa Quarters, Gusau, Zamfara state on Monday January 19.
Mr Kiyawa told journalists that the Kano state Commissioner of Police Habu Sani has ordered for discrete investigation for the Police to arrest accomplices of the syndicate and recover their operational weapons.
He advised Kano residents to be extra careful in renting apartments to strangers.
COVID-19: Ganduje mobilises Emirs to fight the pandemic
Governor Abdullahi Ganduje of Kano state has on Wednesday met with all the five Emirs from Kano, Bichi, Rano, Karaye and Gaya Emirates as part of government response to tame possible effect of the 2nd wave of COVID-19.
Mr Ganduje assured the monarchs of government's commitment towards the fight against the second wave of COVID-19.
He said, "Indeed COVID-19 is back and we have to also be back to fight it relentlessly. It is said that, if the going is tough only tough ones keep standing. We shall be tougher at all times, till when we put a halt to it."
"We are starting this stakeholders meeting with you, because you are closer to the people at the grassroot."
He urged them to go back to their respective Emirates and mobilise their subjects against the pandemic.
"You go and work closely with your District Heads, Village Heads, Ward Heads, Ulamas and other community leaders, to see that we deal decisively with this second wave. All hands must be on deck."
"We do appreciate the role being played by the leaders of other ethnic nationalities. Since in the first wave of this pandemic, we knew you did very well amongst your people. This is highly commendable," he noted.
"Kano is experiencing the gradual increase of COVID-19 cases. From 14th November 2020 to 17th January, 2021 additional 827 new COVID-19 cases were diagnosed, thus bringing the total cases in Kano to 2,636."
The technical coordinator of the response team, Kano state Task Force on COVID-19 Sabitu Shanono, said "Over the last one week the sample positivity rate increased to 12.7% compared to the overall positivity of 4.2%. Number of cases on admission both home base care and hospital admission stands at 289."
 "A total of Seventeen (17) deaths were recorded between December and January, an incidence that we did not have since 15th July, 2020."
"Parts of the challenges during the second wave experience, include, but not limited to, poor public compliance to protocols, low risk perception and poor cooperation by confirmed cases to self isolate themselves or even taken to isolation facility," Mr Shanono said.
In his remarks the chairman of the Kano State Council of Emirs, Emir of Kano, Aminu Ado-Bayero, assured the governor, the total and unreserved commitment and unflinching support of all the Emirs and their subjects, in the fight against COVID-19 pandemic, as the second wave comes knocking on doors.
Some of Imams of Juma'at mosques who spoke at the occasion advised government to allow corps members serve in their respective states to control the effect of second wave of COVID-19.
On Tuesday Kano state ministry of health announced in it's Twitter handle that the state recorded one COVID-19 death, 19 new cases from 421 results received from the laboratories.
It added that the state has 289 active cases receiving care at different government isolation centres and home.
So far the state has tested 61,802 persons, recorded 2,636 confirmed cases, discharge 2,276 recovered COVID-19 patients and 71 deaths.