We've never added a penny on the price of our products during Ramadan – Dangote 
The chairman of Dangote Group Alhaji Aliko Dangote, has categorically urged people not to panic over price hike in his products during this Ramadan.
Kano Focus recalled that every Ramadan, sugar is one of the most used substance to prepare varieties of drinks and other edibles, even though it often goes higher than usual that a common man cannot afford to buy.
This problem according to many Muslim faith, is associated with the business people in commodity markets – who purchase such most used substances during the fasting period.
However, Mr Dangote said that he has massively filled markets with sugar across the country to avoid shortage during this Ramadan, which according to him to will not heighten the price of the sugar.
Dangote who spoke through his Manager, Garba Ibrahim El- Suleiman in Kano, says the Company presently has bathed all the markets across the country with products, "because our President, Alhaji Aliko Dangote respects and values month of Ramadan to the level that he has never added a penny on the price of his products during the time." He added.
"Our dealers also are very good people and we're rest assured that none of them would be able to take up the price of any product." Garba said.
Speaking with Salisu Sambajo, one of the Dangote Company's major Dealers in Nigeria, says there has never been a time when the Dangote increases prices of his products in any parts of the country during Ramadan.
"The price of every bag of sugar we sell is N18,500 only, therefore whenever you find out that a kobo is added to that, it is from the retailers. These people buy goods from us, they pay for transport, tax and many – so when they some amount on it, it is not Dangote that added it…we cannot force them not to." Sambajo said.
Also, Sabo Dankoli, another dealer of Dangote products explained that they have never experienced a hike in price from Dangote unless in 2020, when there was lockdown due to COVID-19 pandemic, "and that also was not from Dangote, it's because the commodities have gone out of store and people started to add money." He said.
Commending the Dangote Group efforts to ensure that there is no price increase during the fasting period, Chairman of the Kano State Public Complaints and Anti- Corruption Commission (PCACC), Muhuyi Magaji Rimingado has thanked Aliko Dangote for taking measures to ensure that his products have not gone out of store or too expensive to consumers during Ramadan.
''I was informed that the company has flooded the market with commodities that can last till after the Ramadan period and not only in Kano but across the northern states, ''Muhuyi Rimingado said.
''That was why we appreciated the company with a letter of Commendation last week. I hope the company will sustain the initiative even after the holy month of Ramadan.''
EFCC Grills Rabiu Kwankwaso
The Economic and Financial Crimes Commission (EFCC) on Saturday grilled former governor of Kano State, Rabiu Musa Kwankwaso over allegations of abuse of office, diversion of public funds and fraudulent allocation of government properties to cronies.
KANO FOCUS reports that Kwankwaso, a chieftain of the Peoples Democratic Party, was first invited by the EFCC in September but failed to honour the invitation as reported by Channels TV.
An associate of the politician informed Channels Television that Kwankwanso may have been invited in relation to a petition by some retired employees of the Kano State Government.
The retired employees had told the EFCC that the former governor mismanaged pension remittances to the tune of N10 billion between 2011 and 2015, to fund a housing project for his cronies.
EFCC spokesperson, Wilson Uwujaren did not comment on the interrogation of the former governor when contacted on Saturday.
Crisis rocks Kano APC as Ganduje, Shekarau hold parallel Congress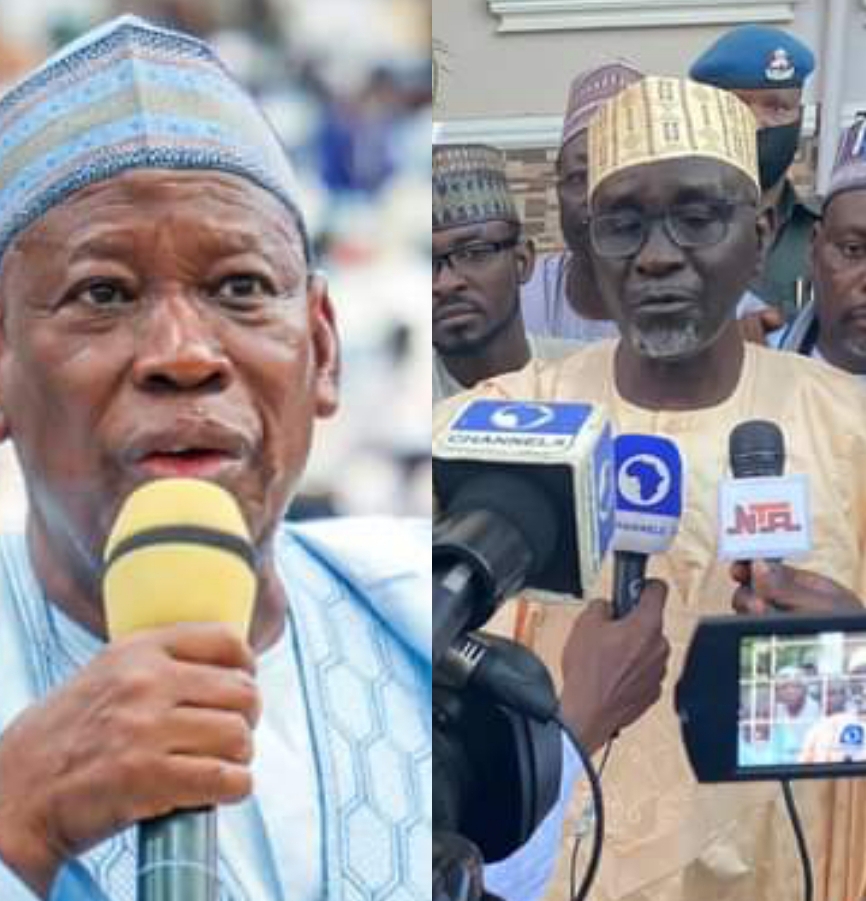 Aminu Abdullahi
Crisis rocked Kano chapter of All Progressive Congress (APC), as Governor Abdullahi Umar Ganduje and faction loyal to former governor of Kano and serving Senator Ibrahim Shekarau held parallel state congress.
KANO FOCUS reports that while Ganduje group held their congress at Sani Abacha stadium, faction loyal to Shekarau had their own at Janguza town, Tofa local government area.
Ganduje's led group endorsed Abdullahi Abbas as state chairman of APC for a second term in a consensus arrangement, while the faction loyal to Shekarau announced Ahmadu Haruna Zago as newly elected chairman of APC in Kano state.
Reports shows that the security have earlier disrupted Shekarau's camp congress at Sani Abacha youth centre and sealed the premises before they moved to Janguza where they held the election.
Below are some pictures of the parallel Congress.
NCC moves to address poor network service at densely populated Kano markets – Prof Danbatta.
Nasiru Yusuf
The Executive Vice Chairman of the Nigerian Communication Commission (NCC) Umar Garba Danbatta says the commission will address the poor network at Kantin Kwari, Sabongari Singer and Kurmi markets.
KANO FOCUS reports that Danbatta announced revealed this while responding to complaint raised by a participant at a two day stakeholders consultative meeting tagged 'talk to the regulator' organised by Nigerian Communications Commission in Kano.
The complainer noted that that there is poor telecommunications service in Kantin Kwari, Sabongari, Singer and Kurmi markets in Kano metropolitan area.
Danbatta responded that the commission will deploy investigative team to determine the nature of the problem and proffer solution.
"We have the capacity to monitor the performance of MNOs, that is the most important thing. Because of this valid observation by our stakeholder, we are going to direct our searchlight in those areas where we think the quality of service needs to improve.
"And if it is necessary, we will send the investigative team what is the nature of the quality of service in such places with a view to improve the quality of the service," Danbatta said.
The Executive Vice Chairman explained that the commission considers stakeholder feedback "as a critical component of our forward – looking regulatory model."
"Hence, the overarching objective of this forum is to get direct feedback from our licensees on how we, as a regulator, are meeting your expectations, and on areas where we can improve our regulatory service, particularly those that have to do with licensing.
"We also intend to use this forum to seek your support for the several initiatives that the commission has carefully developed in our quest to enhance market opportunities for all our licensees."
Danbatta added that the commission will focus it's energies for the next five years on five strategic pillars.
The pillars according to him include "organisational renewal for operational efficiency and regulatory excellence.
"Facilitate the provision of infrastructure for a digital economy which fosters national development.
"Improve quality service (QoS) for enhanced consumer quality of experience (QoE).
"Promote fair competition, inclusive growth, increased investment and innovative services as well facilitate strategic collaboration and partnership."
He disclosed that the federal government has articulated a number of critical policy objectives for the sector such as those articulated in the National Digital Economy Policy and Strategy (NDEPS), the Nigerian National Broadband Plan (2020-2025), the Revised National Digital Identity Policy for SIM Registration among others.
He added that the instruments require the full and unalloyed commitment of all stakeholders to ensure their successful implementation, and the meeting in Kano would provide a veritable channel for licensees' buy-in.
In his address the Director of Licensing and Authorisation Department, Mohammed Babajika, said the commission is further liberalising the telecoms industry by finalising the framework for Mobile Virtual Network Operators (MVNOs) and is currently reviewing existing regulations.
"The Commission is also finalising the Information Memorandum (IM) for 5G deployment, emerging trends like Internet of Things (loT), Artificial Intelligence (AI), Over The Top (OTT) Services and Big Data Analytics, all aimed at initiating strategies to improve service delivery that is accessible and affordable.