Dangote partners German govt on youth training to address skills deficit
Mukhtar Yahya Usman
The Aliko Dangote Foundation in partnership with Germany's VDMA a German Association of Engineering Industry and its Foundation for Young Talent in Mechanical Engineering (NWS) have officially launched a technical training program in Nigeria, in a bid to significantly address the skill deficit in all the key sectors of the nation's economy.
KANO FOCUS reports that the president of Dangote Group, Aliko Dangote said this at the official launching of the programme on Wednesday.
He said that the landmark program is a Seven-million Euro investment, a large percentage of which is for the specialized, leading-edge equipment that has been shipped from Germany and installed in five workshops purpose-built for this program at Dangote Academy in Obajana.
He also said the beneficiaries will be trained, using these machines, so they can learn practical skills that will be transferable as they enter the work force.
This program, according to him, is the first of its kind in Nigeria, and will be replicated in all the six geo-political zones of the country.
Noting that vocational and technical skills are vital to the well-being of any economy, as key levers for growth, specifically in the manufacturing sector, Dangote said significant skills gaps exist in Nigeria, which is what this program is seeking to address.
"The trainees that successfully pass through the full vocational training will be prepared as well-rounded professionals.
"In addition to the technical training, they will also get personal effectiveness trainings of same quality as our staff" He said.
In a remark Germany's minister for economic cooperation and development, Dr. Gerd muller, lauded the Aliko Dangote Foundation and VDMA for the enviable program that can transform and develop the economy of Nigeria.
He said his ministry has supported the initiative with €3.6 million and will not hesitate to do more for the purpose of the initiatives to be achieved.
On his part the VDMA past president, Dr Reinhold Fostge stated that "I am very happy that this has become reality eventually in Nigeria. We started six years ago. Four years ago, we signed a memorandum of understanding to establish a Nigerian German training project. "This program is to raise the skill level of workers and make the youth employable.
"Our vision in VDMA is that, in future, we should be able to exchange highly skilled professionals between Nigeria and Germany and as a matter of fact, I have no objection to inviting Nigerian specialists to help me in Germany and vice versa"
Meanwhile the Governor of Lagos State, Babajide Sanwo-Olu, enjoined both the Aliko Dangote Foundation and VDMA to consider citing the second training workshop in Lagos, with a promise to make funds available for the take-off of the programme.
"I am truly excited to be part of this epoch and nation changing event.
"For us in Lagos, I am happy to announce that we have six well maintained vocational training schools, but we are going to not just talk here today, we are going to be making a public commitment that given what I have listened to now, we are not going to leave this to Dangote Foundation alone, we have to upscale our commitment.
"We won't wait for him to replicate this in the six-geographical zones of the country.
"Lagos State will work with him and ask the VDMA what level of commitment is required from the state government to ensure that in no distance future, we can replicate and bring a full arm of the Dangote academy to Lagos State.
We do not want government bureaucracy to stall this, if it is to raise finance that is required, I can assure you that Lagos state is ready to that and why are we making this commitment?
"It is because of where we see Lagos, the amount of the teeming youth that we have in our country and our state.
" Lagos has continued to be the biggest economy in our country and even in Africa, and what this present to us is an opportunity to bridge that will help to significantly reduce the unemployment level in the state".He said.
Congratulating the trainees, Dangote said: "I understand that we chose only 120 of you out of over 4,000 applicants.
"This means you are smart, you are the best and the brightest, we believe in you, and expect great things from you.
"I urge you to make use of this wonderful opportunity and become productive for the well-being of our country." He said.
He also promised that more youth will be admitted and very soon, all the six geo-political zones of the country will witness massive development through the scheme.
June 12: Tinubu's posters flood Kano streets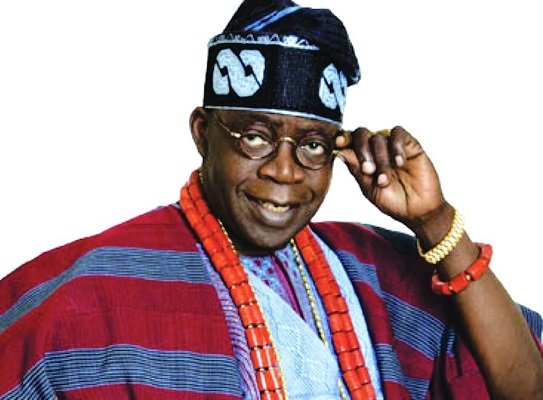 The posters of National leader of All Progressive Congress APC, Bola Tinubu have flooded major streets of Kano metropolis amidst June 12 celebration.
KANO FOCUS reports that Mr Tinubu was billed to arrive Kano on Saturday to witness formal defection of former gubernatorial candidates of the Green Party of Nigeria (GPN) and People Redemption Party PRP, Abdulsalam Abdulkarim, popularly known as AA Zaura and Salihu Sagir Takai as well as son of former head of state Risqua Murtala Muhammad.
However, Mr Tinubu has not been sighted at the grand ceremony which attracted mammoth crowd at Kano Pillars stadium.
Although there was no known reason why Mr Tinubu has not attend the celebration, his posters has been pasted in major streets of Kano metropolis.
The areas flooded by the Jagaban posters include Sani Abacha stadium, Kofar Nassarawa bridge, Emirs Palace road and BUK road.
The posters carried an inscription of Democracy day congratulatory message 'Happy Democracy Day' from Tinubu Advocacy Group.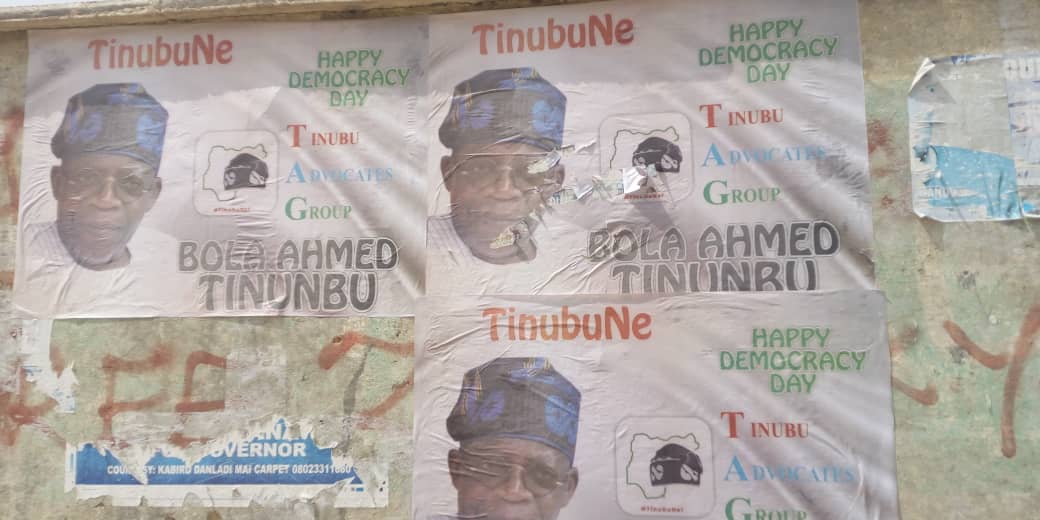 The management of Bayero University, Kano has announced the death of young Kamaluddeen Moshood, a level 200 student in the Department of Accounting.

A statement sent to KANO FOCUS by the university's spokesperson Lamara Garba said Mr Moshood died on Saturday, at the National Orthopedic Hospital Dala, Kano following injuries he sustained as a result of a road traffic accident.
KANO FOCUS had earlier reported a level 400 student in the department of Political Science Mercy Sunday had also died of fever and vomiting in the Ramat Hall female students' hostel on Tuesday morning.
The statement recalled that young Moshood was hit by a fast-moving vehicle outside the University on Tuesday, 8th June at about 10:00 pm.
"Upon receiving the report of the accident, the Vice Chancellor, instantly directed the Dean of the Students Affairs to visit the scene and take all necessary action.
"The driver of the vehicle was apprehended while the victim was rushed to the hospital  under the supervision of the University Director Health Services for prompt medical attention as he sustained multiple fracture.
"While at the Hospital, preliminary investigations revealed that Kamaluddeen had a severe crush leg injury and needed to have his leg amputated to save him.
"However, the doctors who observed  his condition advised that in view of his unstable condition, it may not be possible to conduct such a major operation.  It was in the process of stabilizing his health that he gave up the ghost," the statement said.
While commiserating with the family of the deceased entire members of the University community, the Management however, warned against any plan by students or group of persons to engage in any act that could jeopardise the peace being enjoyed on campus in whatever form.
The statement warned that the university will not condone any act of uncivilized behavior whatsoever which will disrupt the peace in it's our campuses, adding that any student caught doing so will be decisively dealt with.
BUK asks ministry of works to erect pedestrian bridge
The university management said they have sent a request to federal ministry of works for the construction of pedestrian bridge near the main gate of the new campus.
"In the meantime, it should also be noted that in its determined effort to ensure the safety of students and other stakeholders of the University, the Management had, early this year (2021) made a submission to the Federal Ministry of Works on the urgent need to construct a pedestrian bridge near the main gate of the New Campus for  use by students in crossing over the trunk 'A' highway that passes by the side of the university.
"Already, the Ministry had obliged to the request of constructing the bridge and arrangement has gone far in that regards," the statement said.
Danbatta: Kidnappers release Igbo businessman
Mukhtar Yahya Usman
Kidnappers have released the Igbo business man abducted last Friday in Danbatta local government, Kano state.
Kano Focus exclusively reports that Mr Emanuel Eze regained freedom after paying an undisclosed ransom.
Mr Eze's neighbor Salisu Abubakar Kore told Kano Focus that he was contacted by the kidnappers to drive the businessman home on Thursday night.
Police arrest woman 53, over alleged kidnap, murder of 6-year-old child in Kano
JUST IN: Kidnappers release Kano legislator's teenage daughter
Kidnappers abduct Danbatta legislator's daughter
"I was called around 1:30am and directed to pick him up in Ringim, Jigawa state.
"When I reached Kanya Babba I was rerouted to Gidan Lage, Garki local government, Jigawa state where I picked him around 2:30am.
"We arrived Kore in Danbatta local government, Kano state by 5:30am but he instructed me to proceed to Kazaure, jigawa state where he reunited with his brothers." Mr Kore said.
The Kano Police Command Public Relations Officer, Abdullahi Haruna Kiyawa has confirmed Mr Eze's release.
Mr Kiyawa, a deputy superintendent of police said the command has received tips about the kidnaps whereabouts and is in the process of hunting them down.