Dangote partners German govt on youth training to address skills deficit
Mukhtar Yahya Usman
The Aliko Dangote Foundation in partnership with Germany's VDMA a German Association of Engineering Industry and its Foundation for Young Talent in Mechanical Engineering (NWS) have officially launched a technical training program in Nigeria, in a bid to significantly address the skill deficit in all the key sectors of the nation's economy.
KANO FOCUS reports that the president of Dangote Group, Aliko Dangote said this at the official launching of the programme on Wednesday.
He said that the landmark program is a Seven-million Euro investment, a large percentage of which is for the specialized, leading-edge equipment that has been shipped from Germany and installed in five workshops purpose-built for this program at Dangote Academy in Obajana.
He also said the beneficiaries will be trained, using these machines, so they can learn practical skills that will be transferable as they enter the work force.
This program, according to him, is the first of its kind in Nigeria, and will be replicated in all the six geo-political zones of the country.
Noting that vocational and technical skills are vital to the well-being of any economy, as key levers for growth, specifically in the manufacturing sector, Dangote said significant skills gaps exist in Nigeria, which is what this program is seeking to address.
"The trainees that successfully pass through the full vocational training will be prepared as well-rounded professionals.
"In addition to the technical training, they will also get personal effectiveness trainings of same quality as our staff" He said.
In a remark Germany's minister for economic cooperation and development, Dr. Gerd muller, lauded the Aliko Dangote Foundation and VDMA for the enviable program that can transform and develop the economy of Nigeria.
He said his ministry has supported the initiative with €3.6 million and will not hesitate to do more for the purpose of the initiatives to be achieved.
On his part the VDMA past president, Dr Reinhold Fostge stated that "I am very happy that this has become reality eventually in Nigeria. We started six years ago. Four years ago, we signed a memorandum of understanding to establish a Nigerian German training project. "This program is to raise the skill level of workers and make the youth employable.
"Our vision in VDMA is that, in future, we should be able to exchange highly skilled professionals between Nigeria and Germany and as a matter of fact, I have no objection to inviting Nigerian specialists to help me in Germany and vice versa"
Meanwhile the Governor of Lagos State, Babajide Sanwo-Olu, enjoined both the Aliko Dangote Foundation and VDMA to consider citing the second training workshop in Lagos, with a promise to make funds available for the take-off of the programme.
"I am truly excited to be part of this epoch and nation changing event.
"For us in Lagos, I am happy to announce that we have six well maintained vocational training schools, but we are going to not just talk here today, we are going to be making a public commitment that given what I have listened to now, we are not going to leave this to Dangote Foundation alone, we have to upscale our commitment.
"We won't wait for him to replicate this in the six-geographical zones of the country.
"Lagos State will work with him and ask the VDMA what level of commitment is required from the state government to ensure that in no distance future, we can replicate and bring a full arm of the Dangote academy to Lagos State.
We do not want government bureaucracy to stall this, if it is to raise finance that is required, I can assure you that Lagos state is ready to that and why are we making this commitment?
"It is because of where we see Lagos, the amount of the teeming youth that we have in our country and our state.
" Lagos has continued to be the biggest economy in our country and even in Africa, and what this present to us is an opportunity to bridge that will help to significantly reduce the unemployment level in the state".He said.
Congratulating the trainees, Dangote said: "I understand that we chose only 120 of you out of over 4,000 applicants.
"This means you are smart, you are the best and the brightest, we believe in you, and expect great things from you.
"I urge you to make use of this wonderful opportunity and become productive for the well-being of our country." He said.
He also promised that more youth will be admitted and very soon, all the six geo-political zones of the country will witness massive development through the scheme.
Ganduje appoints new Emir of Gaya
Nasiru Yusuf
Governor of Kano State Abdullahi Ganduje has in the early hours of Sunday announced the appointment Aliyu Ibrahim as the new emir of Gaya.
KANO FOCUS reports that Mr Ibrahim succeeded his late father, Ibrahim Abdulkadir who died on Wednesday at the age of 91 after protracted illness.
The Secretary to the State Government, Alhaji Alhaji announced the appointment on behalf of the Governor.
According to Alhaji, "Kano State Governor, Abdullahi Umar Ganduje, by the power conferred on him by the Kano Emirate law 2020 as amended has approved the appointment of Alhaji Aliyu Ibrahim-Gaya as the new emir of Gaya.
"The appointment followed the recommendation by the Gaya Emirate kingmakers after presentation of three candidates from the Governor appointed Aliyu Ibrahim Gaya as the new Emir," he said.
The kingmakers include, Alhaji Alhaji (Wazirin Gaya), Wada Aliyu (Madakin Gaya), Bashir Albasu (Makaman Gaya), and Jafar Usman (Turakin Gaya).
Until his appointment the new Emir was the Chiroman Gaya.
The late Emir of Gaya, Ibrahim Abdulkadir died at the early hours of Wednesday after a protracted illness.
He is believed to be the oldest  (in age) among the five First Class Emirs in Kano state.
Before his ascension to the throne as the first historic Emir of Gaya, he was the District Head of Kunchi and Minjibir, at different times.
Gaya Emirate is one of the four new Emirates created by the Governor Ganduje administration in 2019.
Photo News: Emir Sanusi visits Sultan of Sokoto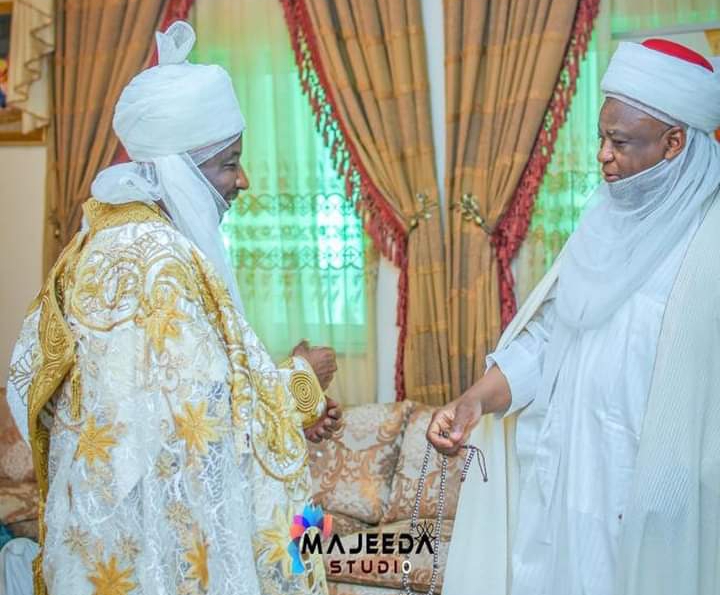 The former Emir of Kano has on Monday paid a courtesy visit to Sultan of Sokoto Muhammad Sa'ad Abubakar lll.
Kano Focus reports that the pictures of the visit were published on a Facebook page linked to former Emir named 'Sanusi ll Dynasty'.
Though the reason of the visit was not stated, but the former Emir has paid similar visit to Lamido of Adamawa in his capacity as leader of Tijjaniyya sect in Nigeria.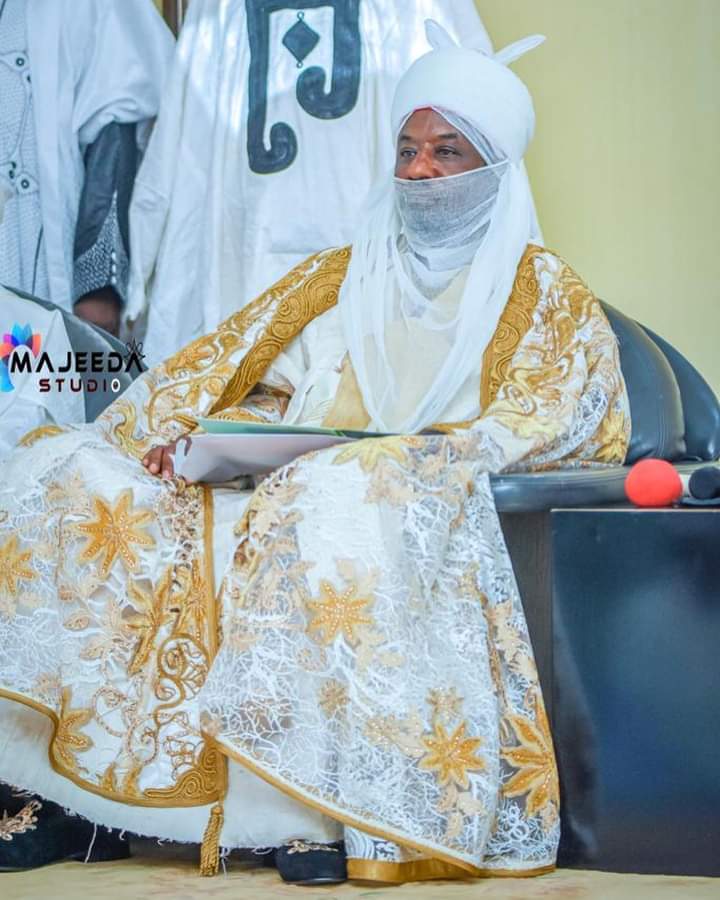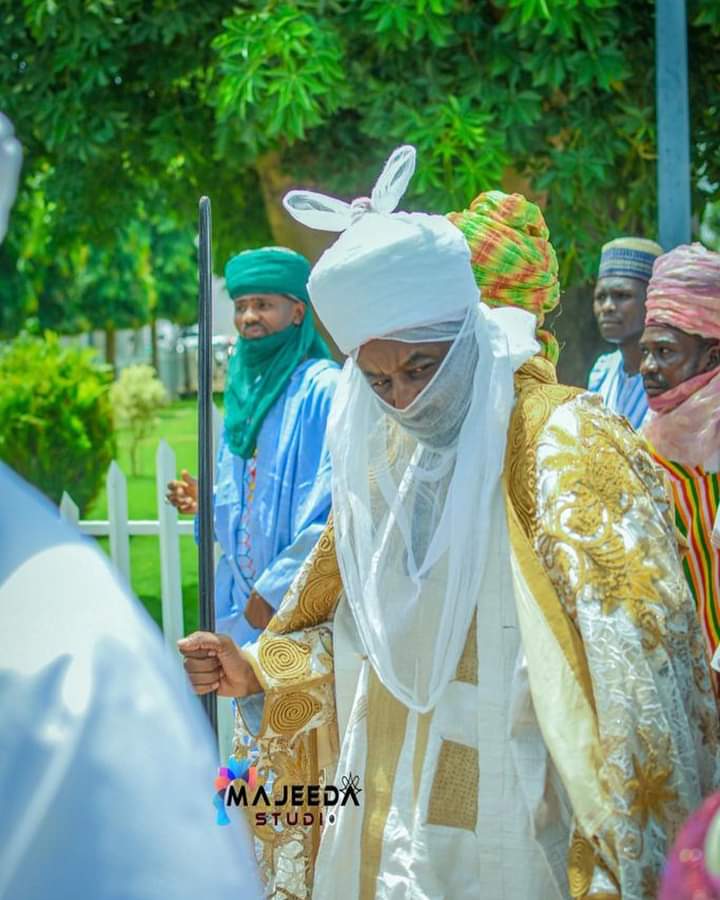 Kano to revive bilateral relationship with Pakistan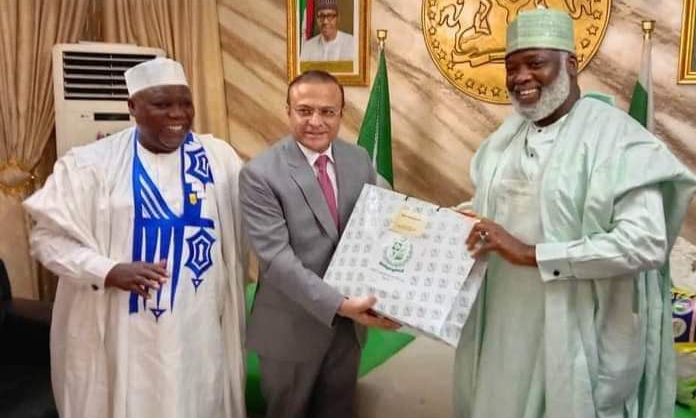 Aminu Abdullahi
Kano State Government has expressed commitment to revive the long existing relationship with Pakistan.
KANO FOCUS reports that Governor Abdullahi Umar Ganduje gave the assurance on monday while receiving the Pakistani High Commissioner to Nigeria Muhammad Tayyab Azam at the Government House.
Ganduje represented by his deputy Nasiru Yusuf Gawuna said Kano endowed with lots of potentials is open for people to come and invest, particularly those from Pakistan.
"We are happy for showing commitment towards reviving the long relationship between us. I can remember the partnership we have in the engagement of Pakistani teachers in our schools which has yielded a lot today."
"Even in the area of agricultural mechanization we have partnered with Pakistan especially in the supply of tractors to our farmers,therefore I feel if we continue to explore agriculture it will be beneficial to both Kano and Pakistan".
The Governor also commended Pakistan for showing interest in reviving the bilateral relationship with Kano State.
In his remarks the Pakistani High Commissioner Muhammad Tayyab Azam described the visit to Kano as historic and important being the first state he visited since assuming office.
"I know the importance of Kano as hub of business in Nigeria, after Lagos Kano is next where there is business opportunity".
"There was a time in Kano when most schools   have many Pakistani teachers..my aim is to bring back that relationship".
He however pointed out that Kano and Pakistan have similarities in both values and culture therefore it is important to deepen the relationship so as to sustain the partnership in  the areas of health and agriculture as that will create opportunities for our people towards boosting the economy.
The High Commissioner was accompanied during the visit by Pakistani Consul General in Kano Ahmed Ibrahim Yakasai.