Youth group accuses Obasanjo of destabilizing Buhari's govt
Nasiru Yusuf
A group of Nigeria's youth under the umbrella of National Youth Congress for Better Nigeria has accused former president Olusegun Obasanjo of using civil society organization to destabilize President Muhammad Buhari's administration.
KANO FOCUS reports that the National President of the association Ali Wali made the accusation on Wednesday while briefing journalists.
"The intention and plan by former President Obasanjo to organize some civil society and other critics of Buhari administration to form a coalition that will mount additional pressure of already fragile state of politics and insecurity in Nigeria is not new, as he has done same with many previous administrations.
"Their wickedness and evil intentions to this country is known to many. Obasanjo known to most Nigerians is thoroughly a self-centered leader that only sees fault in previous and subsequent leaders except for those serving his personal interest.
"His performance and immoral precedents have devoid him of any sanctity to speak from a moral prism on present happenings,"  Mr Wali said.
He recalled that Mr Obasanjo had in 2007 sought to amend the constitution in an attempt to prolong his stay in power.
Mr Wali alleged that Obasanjo had spent N40b taxpayers money in his own farm and privately owned Bells university while in office.
He therefore called on all Nigerians to wake up and not to fall into traps set up by people like Obasanjo.
Ganduje appoints new Emir of Gaya
Nasiru Yusuf
Governor of Kano State Abdullahi Ganduje has in the early hours of Sunday announced the appointment Aliyu Ibrahim as the new emir of Gaya.
KANO FOCUS reports that Mr Ibrahim succeeded his late father, Ibrahim Abdulkadir who died on Wednesday at the age of 91 after protracted illness.
The Secretary to the State Government, Alhaji Alhaji announced the appointment on behalf of the Governor.
According to Alhaji, "Kano State Governor, Abdullahi Umar Ganduje, by the power conferred on him by the Kano Emirate law 2020 as amended has approved the appointment of Alhaji Aliyu Ibrahim-Gaya as the new emir of Gaya.
"The appointment followed the recommendation by the Gaya Emirate kingmakers after presentation of three candidates from the Governor appointed Aliyu Ibrahim Gaya as the new Emir," he said.
The kingmakers include, Alhaji Alhaji (Wazirin Gaya), Wada Aliyu (Madakin Gaya), Bashir Albasu (Makaman Gaya), and Jafar Usman (Turakin Gaya).
Until his appointment the new Emir was the Chiroman Gaya.
The late Emir of Gaya, Ibrahim Abdulkadir died at the early hours of Wednesday after a protracted illness.
He is believed to be the oldest  (in age) among the five First Class Emirs in Kano state.
Before his ascension to the throne as the first historic Emir of Gaya, he was the District Head of Kunchi and Minjibir, at different times.
Gaya Emirate is one of the four new Emirates created by the Governor Ganduje administration in 2019.
Photo News: Emir Sanusi visits Sultan of Sokoto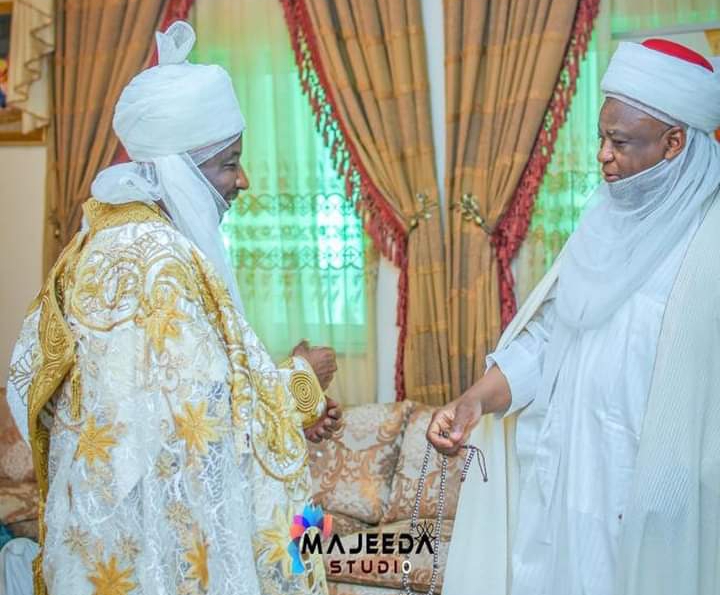 The former Emir of Kano has on Monday paid a courtesy visit to Sultan of Sokoto Muhammad Sa'ad Abubakar lll.
Kano Focus reports that the pictures of the visit were published on a Facebook page linked to former Emir named 'Sanusi ll Dynasty'.
Though the reason of the visit was not stated, but the former Emir has paid similar visit to Lamido of Adamawa in his capacity as leader of Tijjaniyya sect in Nigeria.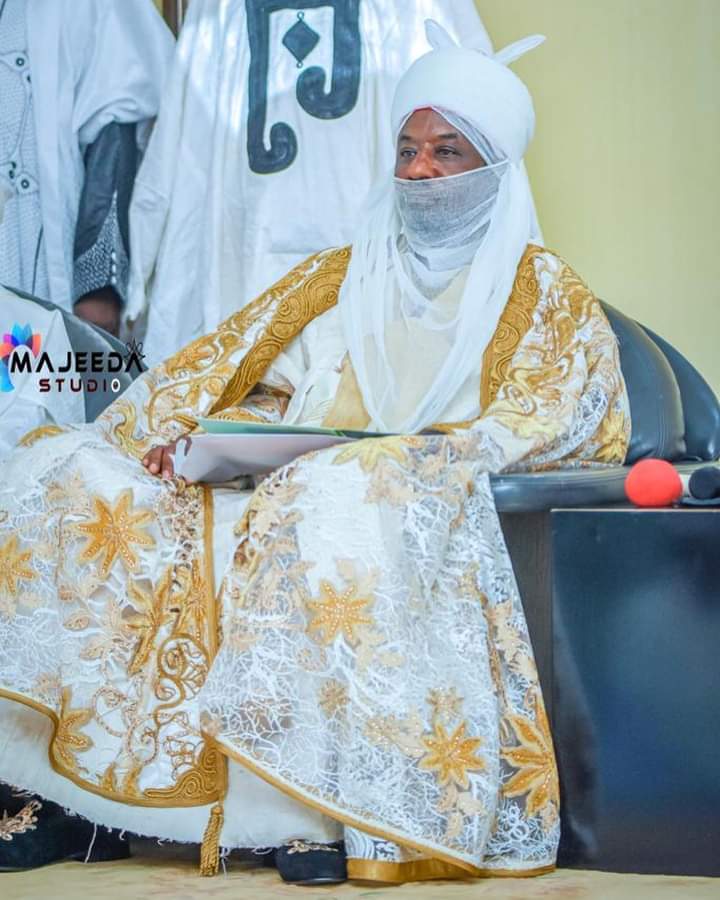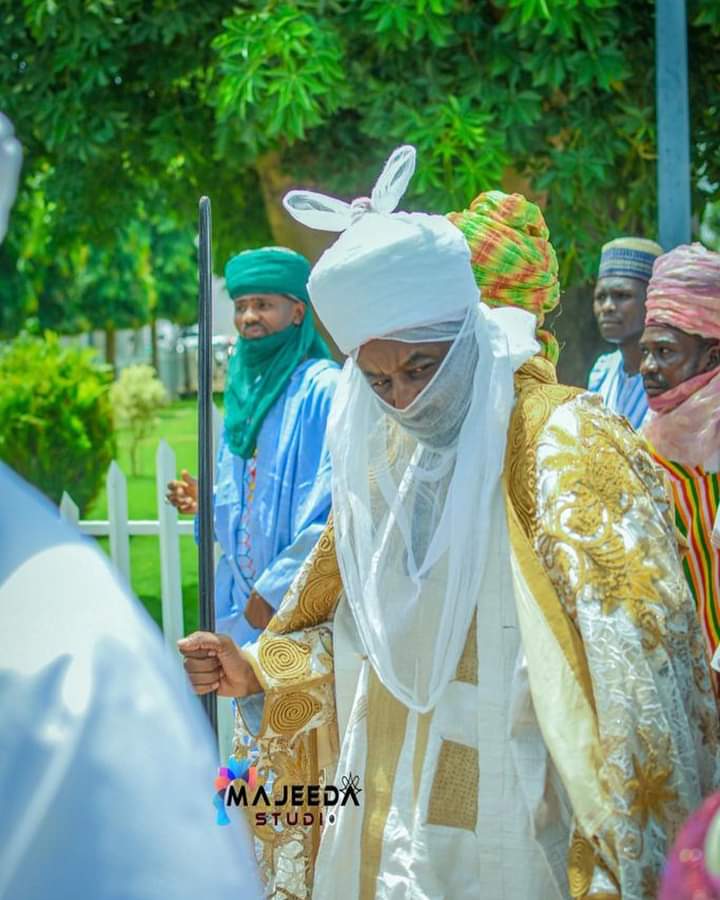 Kano to revive bilateral relationship with Pakistan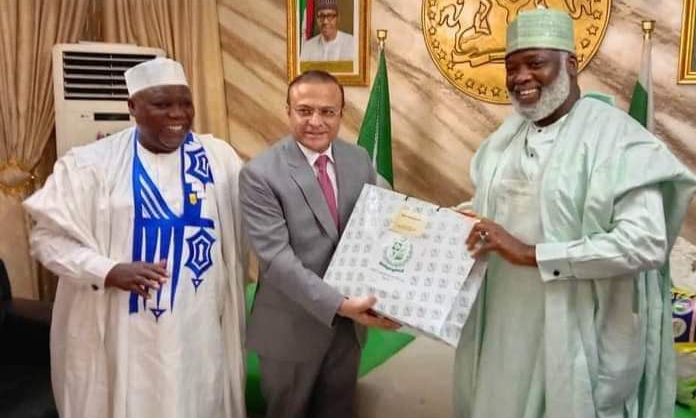 Aminu Abdullahi
Kano State Government has expressed commitment to revive the long existing relationship with Pakistan.
KANO FOCUS reports that Governor Abdullahi Umar Ganduje gave the assurance on monday while receiving the Pakistani High Commissioner to Nigeria Muhammad Tayyab Azam at the Government House.
Ganduje represented by his deputy Nasiru Yusuf Gawuna said Kano endowed with lots of potentials is open for people to come and invest, particularly those from Pakistan.
"We are happy for showing commitment towards reviving the long relationship between us. I can remember the partnership we have in the engagement of Pakistani teachers in our schools which has yielded a lot today."
"Even in the area of agricultural mechanization we have partnered with Pakistan especially in the supply of tractors to our farmers,therefore I feel if we continue to explore agriculture it will be beneficial to both Kano and Pakistan".
The Governor also commended Pakistan for showing interest in reviving the bilateral relationship with Kano State.
In his remarks the Pakistani High Commissioner Muhammad Tayyab Azam described the visit to Kano as historic and important being the first state he visited since assuming office.
"I know the importance of Kano as hub of business in Nigeria, after Lagos Kano is next where there is business opportunity".
"There was a time in Kano when most schools   have many Pakistani teachers..my aim is to bring back that relationship".
He however pointed out that Kano and Pakistan have similarities in both values and culture therefore it is important to deepen the relationship so as to sustain the partnership in  the areas of health and agriculture as that will create opportunities for our people towards boosting the economy.
The High Commissioner was accompanied during the visit by Pakistani Consul General in Kano Ahmed Ibrahim Yakasai.