Dollar video: Court orders Ganduje to pay Jaafar, Daily Nigerian N800,000
Nasiru Yusuf
A Kano State High Court has on Tuesday ordered Kano state governor, Abdullahi Umar Ganduje, to pay the sum of N800,000 to the Publisher of Daily Nigerian, Ja'afar Ja'afar as cost for expenses incurred in the court case of the controversial dollar bribery video.
KANO FOCUS recalled that Mr Ganduje had sued  Mr Ja'afar and Daily Nigerian newspaper for releasing a video clips allegedly showing the Governor stuffing his pockets with bails of dollars suspected to be kickback of awarded projects from contractors.
The governor through his counsel demanded Mr Ja'afar to pay him the sum of N3bn as damages of defamation of character.
He however, filed an application through his counsel, Offiong Offiong on June 28, 2021 seeking to discontinue the court case.
When the matter was called on Tuesday, counsel to Mr Ja'afar, U. U. Eteng and M. B. Azumi Counsel to Penlight Media Limited, publishers of Daily Nigerian did not object to the application to discontinue the case, but demanded the sum of N400 million as part of terms to discontinue the suit.
While Azumi asked for N300 million damages for wasting their precious time and puting the reputation of his client's image in jeopardy, in the same vain, counsel to Ja'afar, Mr Eteng, demanded N100 million Naira.
They also demanded an apology to be published in national dailies and a pre-action letter.
The Presiding Judge, Justice Suleiman Na-mallam in his ruling granted the sum of N400,000 each to Ja'afar and his company, Penlight Media Limited, publishers of Daily Nigerian newspaper.
He however, remains silent on the prayer by defendants to make a public apology in national dailies.
Kano is the biggest sesame market in Nigeria – Ganduje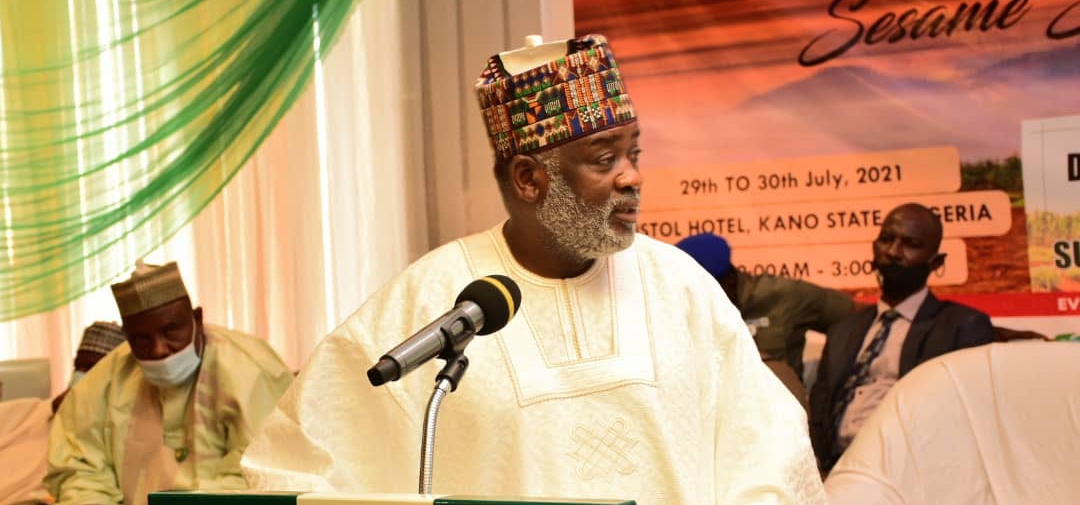 Nasiru Yusuf
Governor Dr.Abdullahi Umar Ganduje has said that Kano with its commercial potentials being the biggest agricultural commodity hub in Africa is also the biggest Sesame market in Nigeria.
KANO FOCUS reports that the Governor represented by his Deputy Nasiru Yusuf Gawuna stated this on thursday in Kano while declaring open a Sesame seed conference with the theme "Developing the Sesame seed value chain for sustainable growth" organised by the National Sesame Seed Association in collaboration with Kano State Government.
According to him the conference will create an avenue for stakeholders in the industry to identify the most effective ways to promote value chain development in the Sesame seed sector and to also discuss mutually beneficial trade opportunity so as to improve economic development and livelihood of smallholder farmers.
The Governor described sesame seed as the most sought cash crop in terms of export value in Nigeria, being one of the fastest growing sectors due to its foreign exchange earning and as a main source of income for about 5 million smallholder farmers.
He however assured that his administration is committed to towards enhancing the production of sesame both in terms of quantity and quality through financing,improved techniques and productivity.
The Minister of Agriculture and Rural Development, Muhammad Sabo Nanono in his remarks highlighted the interventions given to the National Sesame Seed Association in the development of the sub-sector include the distribution of high yielding black,white and brown variety sesame seeds to boost productivity.
Similarly, he said 20 sesame cleaning machines were also distributed, in addition 2 model sesame processing centres were established in Nassarawa and Kano States respectively.
On her part, the Minister of state for Industries,Trade and Investment Maryam Katagum represented by a Deputy Director Irimiya Kaura explained that the ministry is committed towards providing enabling environment that will enhance the competitiveness of Nigerian agricultural commodities in the global trade.
She also revealed that in continuation of developing sesame seed,the ministry is implementing a robust agribusiness and industry development initiative to draw investment to the non oil sector in the country.
Speaking earlier the President of the National Sesame Seed Association of Nigeria, Sherif Balogun stated that for the past 5years they have been working assiduously to promote the sesame seed value chain as well as increasing the production from 300,000 metric tons to over 500,000 tons.
He therefore called on the public to engage in massive sesame production and processing in order to benefit from government policies like the Anchor Borrowers Programme.
While appreciating the Kano State Government for partnering with them in organising the conference,he also commended Governor Ganduje for his support and effort towards making Kano a destination for agribusiness investment.
The event was attended by the Jigawa State Commissioner of Agriculture Muhammad Alhassan who represented Governor Badaru Abubakar, Chaiman House of Representatives Committee on Agricultural Institutions Mannir Babba Dan' agundi and other stakeholders.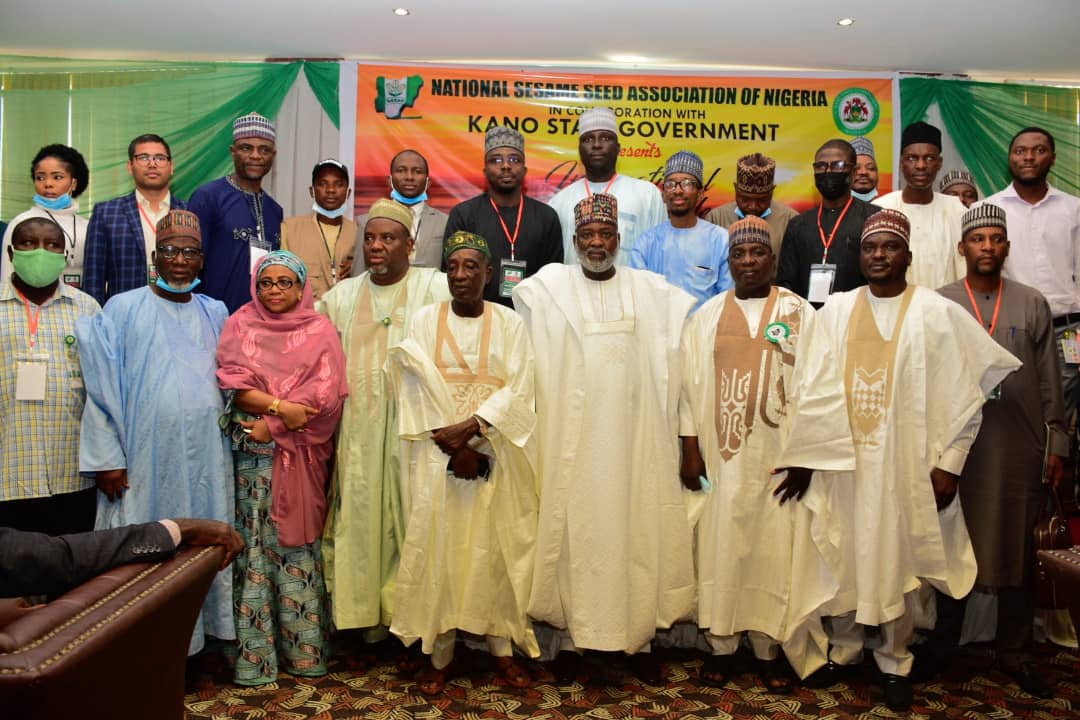 Kano refutes trending story on women driving ban
Nasiru Yusuf
Kano state government has described as fallacious a trending story on social media platforms on a purported plan to officially disallow women regardless of any faith from getting behind the wheel.
KANO FOCUS reports that the state commissioner for Information, Muhammad Garba who made the clarification in a statement issued on Thursday, said government had at no time contemplate on the matter.
He said the story, which could not be traced to any credible source, was nothing but the imaginary thinking of the authors.
"The trending story lacks any credibility and that is why it is wholly attributed to a source that cannot be substantiated,'' it added.
Mr Garba pointed out that if at all there was such plan, the state government does not have to be involved in any secretive meeting to decide on a critical issue that has to do its teeming populace.
The commissioner stated further that even Saudi Arabia which for decades had laws that sanctioned women from driving has, after all, lifted the ban in 2018.
He said it was interesting that some of the scholars quoted to have supported the alleged ban have already dissociated themselves from the story.
Clerics denied the story
Earlie on Wednesday, some clerics alleged to have floated the ban Salisu Shehu, Abdallah Gadonkaya and Sani Rijiyar Lemo have all refuted the story.
In a text message sent to KANO FOCUS Shehu described the story as 'completely false and mischief.'
"It is completely false. It is a mischief. I think some wicked people are desperate about causing unnecessary confusion, controversies and disaffection among Kano Scholars," he said.
Rijiyar Lemo alleged that the story was concocted by Shiites who were not happy with the outcome of clerics debate with controversial Kano preacher Abduljabbar Kabara.
"Our attention has been drawn to a fake news in circulation, claiming that some ulama in Kano, including my humble self, have tabled a plan to stop women from driving in the state.
"This story, in all certainty, was hatched and being peddled by some Shi'ite elements, who are not happy with the outcome of AbdulJabbar's saga.
"You are urged to discard this false story. May the Almighty protect us from the evils of our enemies," Rijiyar Lemo said.
Gadonkaya, on a Facebook post described the story as 'fake news'.
"I, Abdullah Usman Umar Gadon Kaya strongly say that this is a fake news. I don't have any hands in it. It's the act of enemies who want to  crack peace in our dear state (Kano) and Nigeria at large," Gadonkaya said.
Abduljabbar Kabara: Lawyers demand audiovisual evidence as government amends charges
Aminu Abdullahi
Lawyers defending Kano cleric Abduljabbar Kabara over blasphemy and incitement charges have urged the court to compel the prosecution to present audiovisual and documentary evidence.
KANO FOCUS recalls that Mr Kabara has been arraigned before an Upper Sharia Court at Kofar Kudu, Kano City presided by Ibrahim Sarki Yola.
Mr. Kabara's lead counsel Sale Muhammad Bakaro entered the plea at the resumed sitting of the court on Wednesday morning.
He petitioned the court to compel the prosecution to present its evidence in the next sitting.
Abduljabbar accuses Ganduje of linking him with Boko Haram, Maitatsine
Meanwhile prosecuting counsel Aisha Muhammad pleaded for an adjournment to enable the Kano state government to amend the charges presented in the First Information Report.
The presiding judge Mr Yola adjourned the trial to August 18, 2021.