Effective date: September, 15, 2019
KanoFocus ("us", "we", or "our") operates the https://kanofocus.com website (the "Service").
This page informs you of our policies regarding the collection, use, and disclosure of personal data when you use our Service and the choices you have associated with that data. Our Privacy Policy for KanoFocus is managed through Free Privacy Policy.
We use your data to provide and improve the Service. By using the Service, you agree to the collection and use of information in accordance with this policy. Unless otherwise defined in this Privacy Policy, terms used in this Privacy Policy have the same meanings as in our Terms and Conditions, accessible from https://kanofocus.com
Information Collection and Use
We collect several different types of information for various purposes to provide and improve our Service to you.
Types of Data Collected
Personal Data
While using our Service, we may ask you to provide us with certain personally identifiable information that can be used to contact or identify you ("Personal Data"). Personally identifiable information may include, but is not limited to:
Email address
Cookies and Usage Data
Usage Data
We may also collect information how the Service is accessed and used ("Usage Data"). This Usage Data may include information such as your computer's Internet Protocol address (e.g. IP address), browser type, browser version, the pages of our Service that you visit, the time and date of your visit, the time spent on those pages, unique device identifiers and other diagnostic data.
Tracking & Cookies Data
We use cookies and similar tracking technologies to track the activity on our Service and hold certain information.
Cookies are files with small amount of data which may include an anonymous unique identifier. Cookies are sent to your browser from a website and stored on your device. Tracking technologies also used are beacons, tags, and scripts to collect and track information and to improve and analyze our Service.
You can instruct your browser to refuse all cookies or to indicate when a cookie is being sent. However, if you do not accept cookies, you may not be able to use some portions of our Service.
Examples of Cookies we use:
Session Cookies. We use Session Cookies to operate our Service.
Preference Cookies. We use Preference Cookies to remember your preferences and various settings.
Security Cookies. We use Security Cookies for security purposes.
Use of Data
Kano Focus uses the collected data for various purposes:
To provide and maintain the Service
To notify you about changes to our Service
To allow you to participate in interactive features of our Service when you choose to do so
To provide customer care and support
To provide analysis or valuable information so that we can improve the Service
To monitor the usage of the Service
To detect, prevent and address technical issues
Transfer of Data
Your information, including Personal Data, may be transferred to — and maintained on — computers located outside of your state, province, country or other governmental jurisdiction where the data protection laws may differ than those from your jurisdiction.
If you are located outside Nigeria and choose to provide information to us, please note that we transfer the data, including Personal Data, to Nigeria and process it there.
Your consent to this Privacy Policy followed by your submission of such information represents your agreement to that transfer.
Kano Focus will take all steps reasonably necessary to ensure that your data is treated securely and in accordance with this Privacy Policy and no transfer of your Personal Data will take place to an organization or a country unless there are adequate controls in place including the security of your data and other personal information.
Disclosure of Data
Legal Requirements
Kano Focus may disclose your Personal Data in the good faith belief that such action is necessary to:
To comply with a legal obligation
To protect and defend the rights or property of KanoFocus
To prevent or investigate possible wrongdoing in connection with the Service
To protect the personal safety of users of the Service or the public
To protect against legal liability
Security of Data
The security of your data is important to us, but remember that no method of transmission over the Internet, or method of electronic storage is 100% secure. While we strive to use commercially acceptable means to protect your Personal Data, we cannot guarantee its absolute security.
Service Providers
We may employ third party companies and individuals to facilitate our Service ("Service Providers"), to provide the Service on our behalf, to perform Service-related services or to assist us in analyzing how our Service is used.
These third parties have access to your Personal Data only to perform these tasks on our behalf and are obligated not to disclose or use it for any other purpose.
Analytics
We may use third-party Service Providers to monitor and analyze the use of our Service.
Google Analytics Google Analytics is a web analytics service offered by Google that tracks and reports website traffic. Google uses the data collected to track and monitor the use of our Service. This data is shared with other Google services. Google may use the collected data to contextualize and personalize the ads of its own advertising network.
You can opt-out of having made your activity on the Service available to Google Analytics by installing the Google Analytics opt-out browser add-on. The add-on prevents the Google Analytics JavaScript (ga.js, analytics.js, and dc.js) from sharing information with Google Analytics about visits activity.
For more information on the privacy practices of Google, please visit the Google Privacy & Terms web page: https://policies.google.com/privacy?hl=en
Links to Other Sites
Our Service may contain links to other sites that are not operated by us. If you click on a third party link, you will be directed to that third party's site. We strongly advise you to review the Privacy Policy of every site you visit.
We have no control over and assume no responsibility for the content, privacy policies or practices of any third party sites or services.
Children's Privacy
Our Service does not address anyone under the age of 18 ("Children").
We do not knowingly collect personally identifiable information from anyone under the age of 18. If you are a parent or guardian and you are aware that your Children has provided us with Personal Data, please contact us. If we become aware that we have collected Personal Data from children without verification of parental consent, we take steps to remove that information from our servers.
Changes to This Privacy Policy
We may update our Privacy Policy from time to time. We will notify you of any changes by posting the new Privacy Policy on this page.
We will let you know via email and/or a prominent notice on our Service, prior to the change becoming effective and update the "effective date" at the top of this Privacy Policy.
You are advised to review this Privacy Policy periodically for any changes. Changes to this Privacy Policy are effective when they are posted on this page.
Contact Us
If you have any questions about this Privacy Policy, please contact us:
By email: info@kanofocus.com, editor@kanofocus.com
By phone number: 0818 606 9343 and 0808 115 6783
NCC yet to renew MTN's Universal Access Service License 
The attention of the Nigerian Communications Commission, NCC, said it is yet to renew the MTN Nigeria Universal Access and Service  License (UASL).
KANO FOCUS reports that the Commission's spokesperson Ikechukwu Adinde revealed this in a statement issued on Monday.
NCC was reacting to a story published by online media that the government has renewed the MTN license for another ten years.
The statement reads in part "The attention of Nigerian Communication Commission has been drawn to a publication in an  online media entitled "Govt renews MTN Nigeria licence amid 20 years of GSM Phones" to the effect that the mobile operating license of MTN has been renewed by the Commission for another period of ten years.
"The online publication which cited regulatory filings by the Nigerian Communications Commission (NCC) as its source, stated that "MTN Nigeria, the nation's largest mobile network operator (MNO), has secured regulatory approval of the renewal of its operating licence for another 10 years with effect from September 1, 2021."
"The Commission wishes to state that while MTN Nigeria has applied for the renewal of the Universal Access and Service  License (UASL) granted to it by the Commission, the application is yet to be approved as it is still undergoing required regulatory processes.
"This statement is issued for the guidance of our general stakeholders."
Pantami trains Kano cabinet on e – governance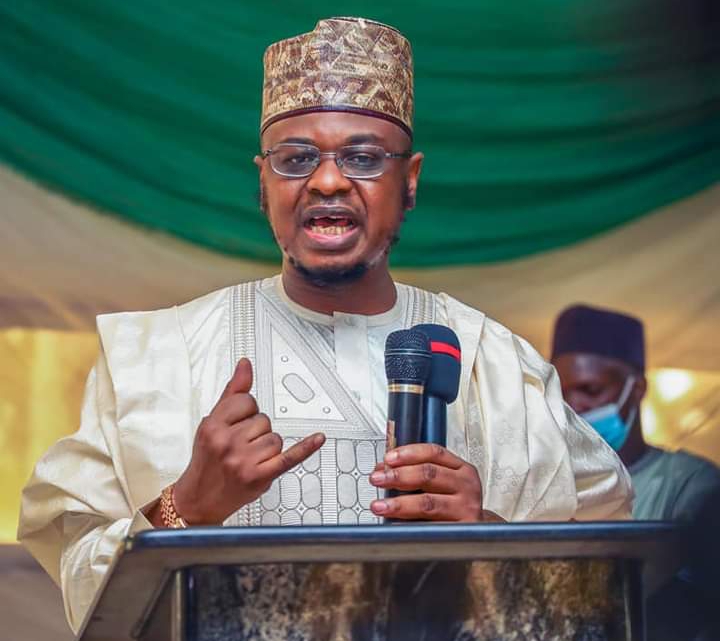 The Minister of Communications and Digital Economy, Isa Ali Ibrahim Pantami has on Monday flagged off the training on e-governance and digital transformation for the members of the Kano State Executive Council.
Kano Focus reports that the training which is the first of it's kind, was aimed at equipping the leadership of the state with the requisite skills for effective governance in line with global best practices.
Speaking at the event, the Minister noted that "e-governance is key to the success of any economy at all levels as it enhances transparency, cost effectiveness and accountability while ensuring the effective delivery of government digital services to the people. Kano is strategic in terms of population and commerce and the timing is apt.
"The programme aims at tutoring the top state government officials on the application of modern technology to improve performances at all levels and also deliver services and programs more efficiently, transparently, and cost-effectively."
Pantami disclosed that the training was at the behest of the state governor Abdullahi Umar Ganduje who had initiated talks on possible collaborations and partnerships with the Federal Ministry of Communications and Digital Economy during a courtesy visit earlier this year.
While commending the state governor for the plan to deploy fibre optics across the state within the next two years, the minister called on other state governors to emulate Ganduje and embrace the digital transformation training.
"We are open to partnering with any state that is willing to take advantage of this laudable initiative."
""E-governance is a necessity for the success of every government", Pantami said, adding that, "according to the World Bank diagnostic report of 2019, it was projected that by 2025, e-commerce activities in Nigeria will reach up to USD 75 Billion within a year".
"COVID 19 has exposed the need for digitization, which is now a necessity", Pantami stated.
The Minister urged the council members to take full advantage of the training, stressing that e-governance is key to the success of any economy at all levels.
Pantami also called on the Kano state government to adopt other initiatives and strategies of the Federal Government such as the Nigeria Interoperability Framework, and the Nigeria e-government Enterprise Framework and make them the mirror for the implementation of e-governance in the state.
He further advised the state government to study other National policies of the Federal Government and key into them so that the IT investment plan of the state will be in alignment with that of the federal government.
Pantami announced the donation of over 100 digital devices to the state by the Federal Government and called on the beneficiaries to make good use of them.
On his part, governor Abdullahi Umar Ganduje appreciated Pantami for matching words with action following his visit to the Communications and Digital Economy Complex in Abuja where he initiated talks on the possible collaborations and partnerships with the ministrynistry to foster ICT development in Kano state.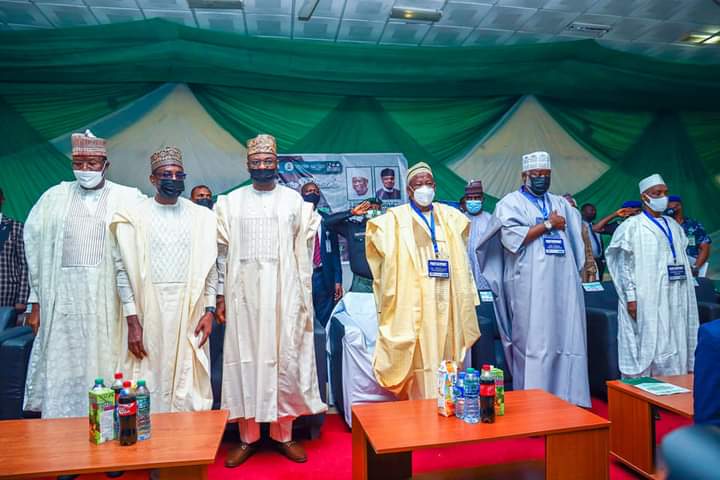 The Governor thanked the Ministry for the provision of digital intervention projects in the state such as a digital training centre which is ongoing and also the consideration to use Kano as the pilot state for the Government Digital Transformation training.
Ganduje expressed gratitude for the training of over 1000 youths from the state on digital skills and also the support rendered to the state to come up with a State ICT policy which he described as the blueprint guiding the state over the years.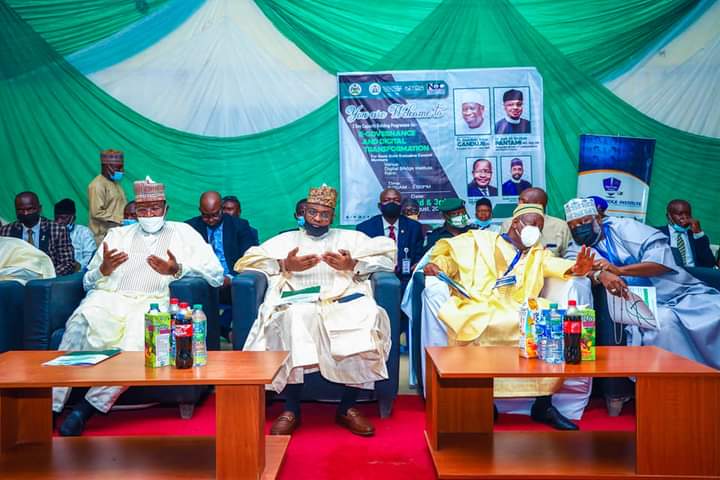 He further solicited support from the ministry to update the policy to reflect current realities.
Security: Kano trains 5,504 Police constabulary to aid community Policing 
Kano state governor Abdullahi Ganduje said his administration has trained 5,504 constabulary to support community policing.
KANO FOCUS reports that Ganduje revealed this on Sunday while inaugurating Rano Emirate community policing committees in Doguwa local government area.
The governor explained how community policing strategy goes deeply into the fabric of Kano society, as a political entity.
While enumerating reasons behind the recorded achievements in the security of the state, governor said, "Our administration found it necessary to support community participation in the security of our state."
"We have gone further by recruiting Police constabulary, who are assisting the security agencies. And also we are assisting the various community policing committees.
"We trained in Kaduna 704 graduates of Police Constabulary. Also for each of the rural local governments, the 36 local governments, we are training 100 Police constabulary. Making a total of 3,600 Police constabulary."
"For the 8 metropolitan, local governments we are training 150 in each of the 8 local governments. Giving rise to 1,200 Police Constabulary. Having a total of 4,800 Police Constabulary in addition to 704 that have already been trained. Which all stands at 5,504 Police Constabulary now at hand."
"Community participation, apart from community policing is necessary for us to achieve a desirable situation from all ramifications. As such, we are also inviting corporate social responsibility in the management of security situation in Kano state."
Part of the factors that played an important role in the security situation in the state, he acknowledged and appreciated that, "Our security agencies have succeeded in building full synergy among themselves. And we have extended coordination in order to get security information and action in Kano state.
"We have to thank the Police, the Department for State Security (DSS), the Air Force, the Army, the Civil Defence (NSCDC), Immigration, Customs and Excise, Correctional Homes, traditional institutions, National Agency for the for the Prohibition of Trafficking in Person (NAPTIP), the Vigilante Groups, representatives of various communities, we have to thank them all. They are all contributing to the security situation in Kano state."
Mr Ganduje he stressed that, "There is no doubt security is an issue of topical nature in Nigeria. Is an issue that bothers almost everybody, all governments in Nigeria. And is an issue that we must come altogether in order to solve it.
"We can see the effort of our security agencies that are working round the clock in order to keep Nigeria safe. In Kano state we are also conscious of the security of our state. Therefore we developed various strategies in order to secure Kano state."
"First of all we examined the issue of metropolitan, Kano being a metropolitan city and a mega city, we have taken necessary steps in order to ensure the security of our own mega city."
"We built what we call Security Dormitories on the major entrance of metropolitan Kano. That each of the dormitories houses 600 policemen. And also we have developed CCTV programme.
"Which is working very well. While the control room is with our security agencies. We have other technology employed in order to check security issues."
In his remarks, the Emir of Rano, Kabiru Inuwa Muhammad, commended the effort being put by governor Ganduje in securing all parts of the state, with the Divine help from Almighty Allah.
He said, "Today is a historic day that we cannot forget. All our people are happy with this special event taking place in our Emirate, Rano Emirate. We are always ready to cooperate with your policies and programmes Your Excellency Sir. Especially this issue of community policing."