How ANA Kano celebrated 2018 literary week
By Ahmad Saleem
The creative cycle is gradually diminishing from the light as youths have found solace in mostly western contemporary culture rather than their local realities – throwing away their inherited ways and imitating so much that has to do with mere entertainment, which is not related to the development of their communities, themselves or their intellectual wellbeing.
In its effort to promote literary activities, the Association of Nigerian Authors (ANA), Kano State branch, under the leadership of  Zaharaddeen Ibrahim Kallah has successfully celebrated its unique, exciting and most awaited program, Kano Literary Week.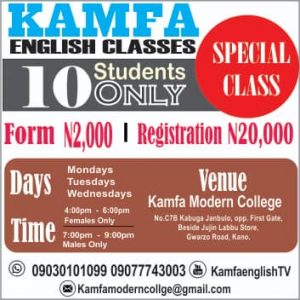 The theme of this year's edition was: Creative Writing as a Tool for Enhancing Democracy.
The program, which commenced with an impressive grand opening at the Murtala Muhammad Library Complex, Kano State, was graced with the presence of the Emir of Kano, Muhammadu Sanusi II and ten of his high ranked district heads.
Many prominent and influential people also graced the occasion with their presence: among others there were Bashir Othman Tofa, the National Republican Convention (NRC) candidate in the annulled Nigeria's June 12, 1993 presidential election; the Vice Chancellor of Yusuf Maitama Sule University, Mustapha Ahmad Isa who served as the chairman of the occasion; the Deputy Vice Chancellor, Academics, Bayero University Kano, Adamu Idris Tanko; Habu Muhammad who was the keynote speaker; the former DG of A Daidaita Sahu, Bala Muhammad who served as the master of the ceremony (English), and Nasiru Wada Khalil who served as the master of the ceremony (Hausa).
In his remark, His Highness Muhammadu Sanusi II stressed the importance of education as the only measure that Nigerians can embrace to pull out from the present socio-economic and political bind.
The Emir also stressed the need for the government to adopt the use of indigenous languages as means of instruction in conventional institutions of learning especially in science, technical and medical related courses.
He stressed that writers have a gargantuan role to play in the process of reforming the social life and affairs of society. He therefore beseeched the writers to expand their horizons so as to create a positive influence in day-to-day life. He said that many problems that bedevil society like drugs abuse, incessant domestic violence, poor parental care, high rate of divorce, women/child trafficking and molestation can be addressed through writings.
Similarly, the keynote speaker Habu Mohammed, a professor of Political Science stressed that ANA has a significant role to play in the creation of awareness among the youths to curtail many of the problems affecting society, particularly in the education sector.
Another important activity of the program was the "Reading Through Model". It was aimed at fostering greater interest in reading among children and youths and to promote reading culture. Leaders, celebrities and other influential people stood before the students and pupils to read some books to them. Photographs of the reading sessions were taken to produce posters for distribution in various schools and libraries. The influential people that read to these young people include Bashir Othman Tofa, Mannir Sulaiman, Maryam Gatawa, Safiyya Ibrahim Abdulhamid and Lawan Adamu Giginyu.
Earlier, in his welcome address, the Chairman of the Association of Nigerian Authors (ANA), Kano State Branch, Zaharaddeen Ibrahim Kallah, said writers are very concerned about the state of their societies, especially poverty, corruption, inequality and bad governance.
According to him, as a group of writers, they were determined to look at these problems and raise a massive campaign towards addressing them.
Writers' Talk (English Version)
Writers' talk is a new form of presentation by some preeminent writers and scholars to spread various ideas and writing skills in form of short, powerful talks. Different topics related to writings were given to the presenters and each presenter was given 15 minutes to make his presentation. The writers' talk (English version) took place at American Space, Murtala Muhammad Library Complex, Kano State. The resource persons include the former DG of A Daidaita Sahu, Bala Muhammad, the Executive Director, Centre for Information Technology and Development (CITAD), Y.Z. Ya'u, Maryam Ali Ali, and Kabiru Musa Jammaje who was represented by Osama Jilani Dayyab.
Writers' Talk (Hausa Version)
Hausa version of Writers' talk also took place at Murtala Muhammad Library Complex. Some preeminent Hausa writers were also selected to deliver such powerful talk on different topics. The classical writers and scholars that made the presentations are: Yahaya Ahmadu Dan-Arewa, Balaraba Ramat Yakubu, Fauziyya Danladi Sulaiman, Nasiru Wada Khalil, Faruk Lawan Da'u and Aminuddeen Ladan Abubakar (ALA) who was represented by Auwalu Dan-Borno.
Literary Quiz for Secondary Schools
The reason behind literary quiz for secondary schools is to create ravenous and lifelong readers with expanded horizon, imagination and curiosity. Similarly, it strengthens the position of literature and literary activities and also fosters connectivity around books and reading.
The winning schools in the literary quiz for the English and Hausa literature are:
For English Literature, Creative Minds Academy (Winner), Shekara GGSS (First runner) and Khalil Arabic Secondary Schools (Second runner), while from the Hausa Literature were FGC Kiyawa, Jigawa State (Winner), Gora Academy (First runner) and Shekara GGSS (Second runner).
English Writers' Parley
Writers parley, a conference for discourse between some selected classical writers and other writers, readers and audience, took place at Murtala Muhammad Library Complex. It gives an opportunity for the young writers and students to learn about how veteran writers get their ideas and turn those ideas into books. It also helps to make those connections visible for readers, emerging writers, and students.
The moderator of the great parley was Isma'il Bala, who teaches English at Bayero University, Kano,  Nigeria, where he specializes in modern and contemporary poetry and literary theory.
The writers that participated in the great parley were: Aliyu Kamal,  a professor of English language and author of 14 novels which were all translated into Hausa language by him. He is an avid reader, critic, highly resourceful and winner of the ANA-Chevron Award. Some of his books include: Fire in my Backyard, Hausaland, Silence and a Smile, A Possible World, Hausa Girl, Computer Shutdown, Women without borders, among others.
Auwalu Yusuf Hamza: is a bilingual novelist who writes in Hausa and English. He was former ANA Kano Chairman. Some of his books include, Gidan Haya, 'Yarkwatano, Love Path, A Question of Marriage, Open Courts, Citizens Parade etc.
Safiyya Ibrahim Abdulhamid: is the author of two poetry anthologies, Jewel from the New World and Destined by the Rhythm. Safiyya has been known for her spiritual gift of excellent poetry rendition and lyrical voice.
Zahra Tabi'u: is a young bilingual novelist of high literary genius. She published her first novel, Desire and Destiny when she was a secondary school student. Zahra's short story Tsalle Daya was among the honorable mentions in the 2018 BBC Hausa short story prize.
Award Presentation/ Grand Closing
The award presentation/grand closing ceremony also took place at the same venue. The chairman of the occasion was Abdulkadir Dangambo, a professor of  Hausa language while the master of the ceremony was Kabiru Yusuf Fagge (Anka). Some prominent personalities were presented with awards of honour do to their gargantuan efforts in the promotion of literary activities. Some dead writers who also contributed immensely while alive were also awarded posthumously.
Malam Ladi–Kano village grumbles over lack of water, clinic
By Mukhtar Yahya Usman
Sabon Garin Malam Ladi, is a small farming community in Minjibir local government area of Kano state that has been living without portable water for decades.
Kano Focus, which visited the community recently, discovered that residents and animals drink from a single dirty pond that is located at the centre of the village.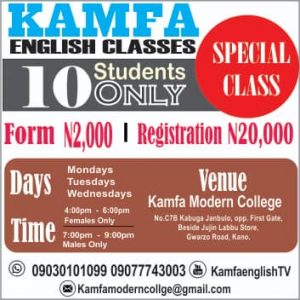 It was observed that the residents also use the same pond water to clean themselves after toilet, bath and do laundry.
As a result of this, the villagers often find themselves struggling with various infections and sicknesses, which are made worse by lack of a health facility, where they can seek treatment.
The residents told our correspondent that, most of the time, they had to transport patients to a hospital in Minjibir town several kilometers from the village, adding that many had died before they could reach the hospital.
Other problems besetting Malam Ladi are lack of electricity and insufficient classroom blocks, a situation that compels pupils to take lessons in open air under the trees.
A resident Murtala Lawal, told Kano Focus said nobody in the village is happy to receive relatives or other guests from the city because they don't even have good drinking water to give them.
"If we received a guest in our village, the main problem we are facing is that, we don't know what kind of water we would give them to quench their thirst.
"As you can see, the water from this pond is the one we use to cook our food, give our animals, and our guests. You can see that people are fetching the water while children are swimming in it," he said.
Another resident, Kande Ali, said despite efforts of the community in raising alarm, the challenges they face still persist.
"Last year we complaint to the government about the water problem but they did take any action, our children get sick almost all the time and they can't even get treated here until we transport them to Minjibir town, despite the bad road and distance," she said.
"The only benefit we get from the government is the polio vaccine, we get that regularly" Kande added.
On his part, Alhassan Isa, the ward head of Malam Ladi village told Kano Focus that despite several complaints to authorities, the situation in the community remains unchanged.
When contacted, Nasiru Gabra Kunya, chairman of Minjibir local government council told Kano Focus that he had sent technicians to fix the broken-down boreholes in the village so people can access portable water.
He said the local government is planning to build a health care facility in a neighbouring village so that residents of Malam Ladi can access healthcare easily.
Mr Kunya also promised to improve the quality of schools in the village and provide instructional materials.
How renewed KAROTA fury hurts Kano road users
By Mukhtar Yahya Usman
On 8 September, 2019, just like any ordinary day, Yusuf Baba had left his pregnant wife and five children at home.
As he rode on his motorcycle on his way to the Kano Sports Commission along Club Road in Nasarawa local government area of Kano state, where he served as a weightlifting coach, it never crossed his mind that it was his last day on earth.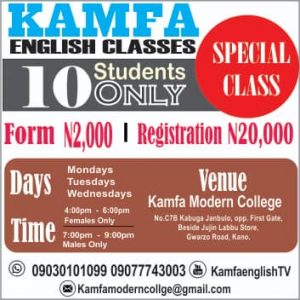 Mr Baba was just a few meters to his destination when, without warning, a dark blue Volkswagen saloon car, swerved to his side of the road on top speed and crushed him to death.
An eyewitness told Kano Focus that the commercial vehicle, with registration number KTG 174 AA, had the accident due to a nasty struggle for control of its steering wheel between its driver and a personnel of the Kano Road Traffic Agency (KAROTA), who was determined to stop the driver from fleeing.
This was how Mr Baba's wife, Zainab was widowed and his five children orphaned in one of the several reckless confrontations between overzealous KAROTA officers and road users that often disregard traffic rules.
It was one death too many for the family as Mr Baba left behind a mentally disabled son, Umar, who relied totally on his father for his monthly follow up at a psychiatric hospital in Kano, where he receives expensive medications.
In addition, Zainab's unborn child has also been deprived of its father.
Both the KAROTA officer and the driver of the Golf car were subsequently arrested and detained by the Kano Police Command.
About a week earlier, some KAROTA officials had also flagged down a trailer truck at Ibrahim Taiwo Road by Bello Road roundabout and attempted to arrest the driver on a charge of unlawfully using additional headlamps.
It was learnt that the KAROTA personnel ordered the driver, Kabiru Muhammad to park but before he could comply, one of them reportedly requested to drive the truck, a demand the driver refused.
Without warning, the angry traffic official insulted Mr Muhammad just as another hit him on the head with a stick, causing him a serious injury from which blood gushed out and covered his face and clothing.
In protest at the maltreatment of their colleague, other truck drivers turned off their engines in the middle of the road, causing a massive traffic gridlock that was only cleared after the arrival of police operatives who arrested the errant KAROTA officials.
On August 15, 2019, a magistrate court sentenced a KAROTA official to jail after he was found guilty of hitting one Hassan Zamzam with a stick in the leg and inflicting a fracture on him.
The victim was attacked by the angry KAROTA officer for allegedly beating traffic.
Kano Focus reports that the air waves in Kano are replete with complaints on excesses of KAROTA officers on the roads, especially their act of carrying sticks which they routinely use to smash heads and windshields of motorists, tricycle riders and other vehicle owners who dared to cross paths with them.
The renewed vigour of KAROTA officials in assaulting motorists manifested since the appointment of the agency's new Managing Director, Bappa Babba DanAgundi, a former lawmaker at the Kano state House of Assembly, who failed in his re-election bid during the 2019 general elections.
It was under Mr DanAgundi's leadership that KAROTA operatives started using sticks that are painted in the yellow and black colours of the agency to assault motorists and other road users who violate traffic rules.
Commercial drivers often complain of being extorted and forced to pay exorbitant fines, which are higher than those charged by any of the federal agencies that supervise road safety.
As a result, many commercial motorists have stopped transporting traders to Kano, causing a sharp decline in commerce and trade, a situation that threatens the economic prosperity of the state.
Since it was established in 2014 by former Governor Rabiu Musa Kwankwaso, KAROTA has been a fiery traffic outfit that attracts anger and hatred due to its persistent clashes with motorists in the course of enforcing traffic rules.
Even though it has succeeded in restoring sanity and instilling discipline in Kano's erstwhile lawless motorists, recently, the agency has been accused of contradicting its own motto: "Sanity and Safety" by chasing moving vehicles to the point of causing accidents and in some cases leading to serious injuries or outright loss of lives.
Observers have also pointed out that while KAROTA is harsh on poor and weak road users especially commercial vehicle owners who are struggling to make ends meet, they often fail to punish powerful politicians and security agencies who move in convoys and break traffic rules with impunity.
"This leaves us with no option that to believe that the rules are meant to punish only the weak and the poor and also serve as a means of extorting and further impoverishing them, while allowing the rich and powerful to do as they please," a driver Garba Adamu told our correspondent.
"The government should overhaul KAROTA in order to make them more humane in their operations," he added.
However, in his reaction, the KAROTA Managing director Bappa Babban Danagundi has explained why personnel of the agency carry sticks on the roads while controlling traffic in Kano city.
Dan-Agundi said KAROTA officers are using sticks to protect themselves from attacks by angry motorists and other road users who are not happy with how the traffic officials conduct their duty.
He said many KAROTA personnel have been attacked by errant motorists, adding that some of them are still in hospital with fractures and other serious injuries.
Although Dr. Dan-Agundi admitted that using weapons is against the laws of KAROTA, he however, pointed that the Nigerian Constitution has given citizens the right to defend themselves from harm including government officials.
He also said that apart from restoring sanity on Kano roads, KAROTA officials have been commended by security agencies for arresting a fake soldier and handing him over to the appropriate authority for prosecution.
Shara: Kano community where nobody has primary school certificate
By Nazifi Dawud
Three years ago, officials of the Kano state government as well as representatives of a non-governmental organization gathered on a small parcel of land beneath a giant tree in Shara–a remote farming village tucked deeply into Sumaila local government area of Kano state.
The aim of the meeting was to build a classroom block for the over 500 school-age children who were forced to stay at home or engage in hawking due to absence of a school in the village.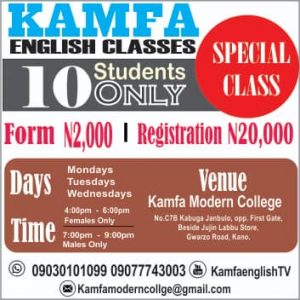 It was in a bid to address this concern that then Deputy Governor of Kano State, Professor Hafiz Abubakar, who doubled as the state Commissioner for Education, sent representatives to the village to assure residents that a school would be provided for their children.
Kano Focus reports that the nearest school to Shara community was located more than seven kilometers in neighbouring Matigwai village, which is separated by a ditch that often becomes over-flooded during rainy season. Currently, classes no longer hold at the community school because of the rain season.
Residents told our correspondent that when dry season sets in, children as young as five had to trek the seven kilometer distance to access the school. They added that the footpath that leads to Matigwai village is also full of thorny bushes that put the children at risk of snake bites and other harms.
It was gathered that for decades, none of the residents in Shara village was able to acquire a primary school leaving certificate due to lack of a school in the community.
At the gathering in Shara, which took place precisely in March 2016, government officials at both state and local levels made promises to erect a fully equipped classroom block on a larger piece of land donated by the community members for a school.
Idris Aliyu Rimi, the Education Secretary of the Local Education Authority (LEA) in Sumaila local government council, had told Daily Trust then that the government had not forgotten about the Shara school project.
"You should tell the community members that we are aware of their plight. But as you know, education is a costly venture. There are no projects going on anywhere because there are no funds. So, let them allow their children to continue attending the community school since a teacher has been dispatched," he had said.
Also, Umar S. Muhammad Kibiya, the Permanent Member 1 of SUBEB, then had also told the newspaper that Shara village would get a classroom block by 2017 as the project was already included in the 2017 budget.
"The village lacks a school because of a river or valley that prevents children from attending schools (elsewhere) especially during the rainy season.
"I reported the issue to the executive chairman and he directed the Director of Physical Planning and the Director, Planning and Statistics to include Shara village in our action plan for 2017 to build a classroom to accommodate the children. By 2017, Shara would enjoy a classroom by God's grace," he had said.
However, despite all these promises, Kano Focus reports that three years later, Shara community is still operating a makeshift school under a tree without instructional materials.
"All the promises that were made to us by the government officials have vanished into thin air. Our children are losing interest in education because they have been deceived over and over again by our leaders. We want our children to be educated but the government has abandoned us," Dayyabu Musa, a resident told journalists.
Another resident, Rabilu Musa, said even the teacher that was dispatched to the makeshift school became bored and stopped coming.
"Our children are now staying at home. They can't go to the school in Matigwai because they cannot cross the ditch which is flooded by rain water. It is too dangerous to cross even for an adult," he said.
Even though they were literally abandoned by government, members of Shara community have gotten assistance from the Centre for Information Technology and Development (CITAD), in order to maintain the makeshift community school.
On September 9, 2019, CITAD donated instructional materials including books, sets of uniforms and a board to the Shara school to encourage the children to continue with classes.
In his remarks, Sagir Ado, a representative of CITAD, lamented how the care-free attitude of government officials towards education is causing backwardness in Kano state.
"For three years, nobody brought a single building block in the name of constructing a classroom after series of promises. We have sent letters to lawmakers at both the state and national assembly on the need to build a school in Shara. But all our efforts have ended in vain," he said.
"If we continue like this, the residents in this village would lose interest in education. This is why we are supporting them to sustain this makeshift school in spite of the challenges.
However, Mukhtar Uba Sumaila, a representative of the Local Education Secretary, Idris Aliyu Rimi, begged the community to be patient, promising that a teacher would be dispatched to the community school while efforts would be made to provide a classroom structure in the village.
"There is a 17-member committee called the SBMC being formed at every school. I'll guide you on how to set up this committee so that the school can access benefits. I was informed that you have donated a plot of land for a proper school.
"Through the SBCM committee, you can have audience with the chairman of Sumaila local government area Ismaila Hamisu Rimi to discuss how a classroom block can be erected. In addition to this, your children can also benefit from the ongoing free feeding program" he said.