What Emir Muhammadu Sanusi II did for Kano – Kurawa
Mukhtar Yahya Usman
Muhammadu Sanusi II, the 14th Fulani Emir of Kano who was dethroned after a six-year reign assumed office on June 08, 2014.
In this exclusive interview with Kano Focus, Ibrahim Ado Kurawa, historian and close associate of the deposed Emir highlights some of the legacies of Muhammadu Sanusi II.
Emir's Role
Before talking about the legacies of Emir Muhammadu Sanusi II we need to understand the duties of an emir first.
An emir does not legislate, execute or adjudicate as was the case in the past.
In 1967, the military government removed their judicial powers and in 1976 local government administration was taken away from Emirs.
Therefore an emir's duties became limited to what he is assigned to do by the government and the provision of leadership for his people.
That was how Emir Alhaji Ado Bayero lived from 1976 until his death.
By the time Muhammadu Sanusi II assumed the throne of Kano Emirate his only function was to provide leadership for his subjects.
Leadership Style
He was asked to provide leadership and everyone has his style.
Some people would keep mute when they see wrongdoing while others will speak up.
Why don't people like to be corrected? Let them do the right thing and see if he would still criticize them.
Let his detractors come out and refute his criticisms.
Some people fail to understand that there are individual differences in leadership style.
So every Emir has a choice on whether to speak or keep silent.
Uniting the Royal Family
The first thing he did was to unite his subjects especially the royal family.
Emir Sanusi II gave royal titles to all branches of the ruling Dabo family.
These included the descendants of Emir Muhammadu Inuwa and Emir Alu Babba.
The last descendant of Emir Alu to hold a  traditional title, Ahmadu Gwadabe  – who was appointed Danmaje by Emir Abdullahi Bayero –  died in 1967 and they were not given another title since then until the reign of Muhammadu Sanusi II.
As for Emir Muhammadu Inuwa, his descendants did not hold any title even the headship of a ward for 51 years after his death until Muhammadu Sanusi II turbaned one of them as a District Head.
He also appointed Aminu Sadik from the Dan Lawan Ayuba branch of the Abdullahi Maje Karofi royal house as the Zanna of Kano.
From the scions of Emir Sanusi I, he appointed Dan Galadima, Bunu, and Dan Buran.
No previous Emir has done this much to unite the family of Ibrahim Dabo.
Renovating Gidan Rumfa
The Kano royal palace is known as Gidan Rumfa after Emir Muhammadu Rumfa who built it about 500 years ago.
It has never been renovated as it was done during the reign of Muhammadu Sanusi II.
He modernized every nook and cranny of the palace, which is a no mean achievement.
Family Law Bill
Emir Muhammadu Sanusi has done what no Emir has done in the history of Kano by drafting a bill on Islamic Family law.
He gathered a large number of Islamic scholars who spent three years poring over books on Islamic Shari'a to draft the act for a law to regulate the Islamic family in Kano state.
It covers aspects such as marriage, family support, childcare, and divorce.
Most Educated Emir
Emir Muhammadu Sanusi was the most educated emir in the history of Kano in both Islamic and formal education.
That was why he tackled controversial issues to help in resolving them using his vast knowledge.
He also had a wealth of experience in public service culminating in his appointment as Governor, Central Bank of Nigeria.
He used his knowledge and experience to gain access to international organizations and associations.
Economic Development
Emir Muhammadu Sanusi II used his connections to spur the economic development of Kano state.
The African Development Bank engaged in an Industrial Diagnostics of Kano and developed an economic development blueprint for the state.
This is usually reserved for countries.
He brought Chinese investors to set up a $300million textile industry in Kano.
He brought another company "Baban Kowa", which provides farmers with seeds and inputs as well as buy the produce after harvest.
He also brought Black Rhinos who will set-up a solar power plant worth $100million in Kano.
He had already arranged an agreement with the Federal Government and the contract has been signed.
Defender of the people
These show that his main interest in being a monarch went beyond the paraphernalia of office such algaita, kakaki, and tambari.
He had a plan for the development of his people.
That is why he was always vocal in any matter concerning Kano in particular and Nigeria in general.
He was instrumental in protecting the interests of his fellow Fulani when they were being stereotyped as aggressors in the frequent clashes between farmers and animal herders.
That is why Fulani associations love him very much.
Man of Peace
Emir Muhammadu Sanusi II deserves commendation concerning the peaceful manner he handled his dethronement.
He averted riots in Kano by instructing his followers to leave everything to Allah and accept his successor.
Many thought he would resist or seek legal redress but he forgave and ask the people to obey whoever his successor might be.
EFCC Grills Rabiu Kwankwaso
The Economic and Financial Crimes Commission (EFCC) on Saturday grilled former governor of Kano State, Rabiu Musa Kwankwaso over allegations of abuse of office, diversion of public funds and fraudulent allocation of government properties to cronies.
KANO FOCUS reports that Kwankwaso, a chieftain of the Peoples Democratic Party, was first invited by the EFCC in September but failed to honour the invitation as reported by Channels TV.
An associate of the politician informed Channels Television that Kwankwanso may have been invited in relation to a petition by some retired employees of the Kano State Government.
The retired employees had told the EFCC that the former governor mismanaged pension remittances to the tune of N10 billion between 2011 and 2015, to fund a housing project for his cronies.
EFCC spokesperson, Wilson Uwujaren did not comment on the interrogation of the former governor when contacted on Saturday.
Crisis rocks Kano APC as Ganduje, Shekarau hold parallel Congress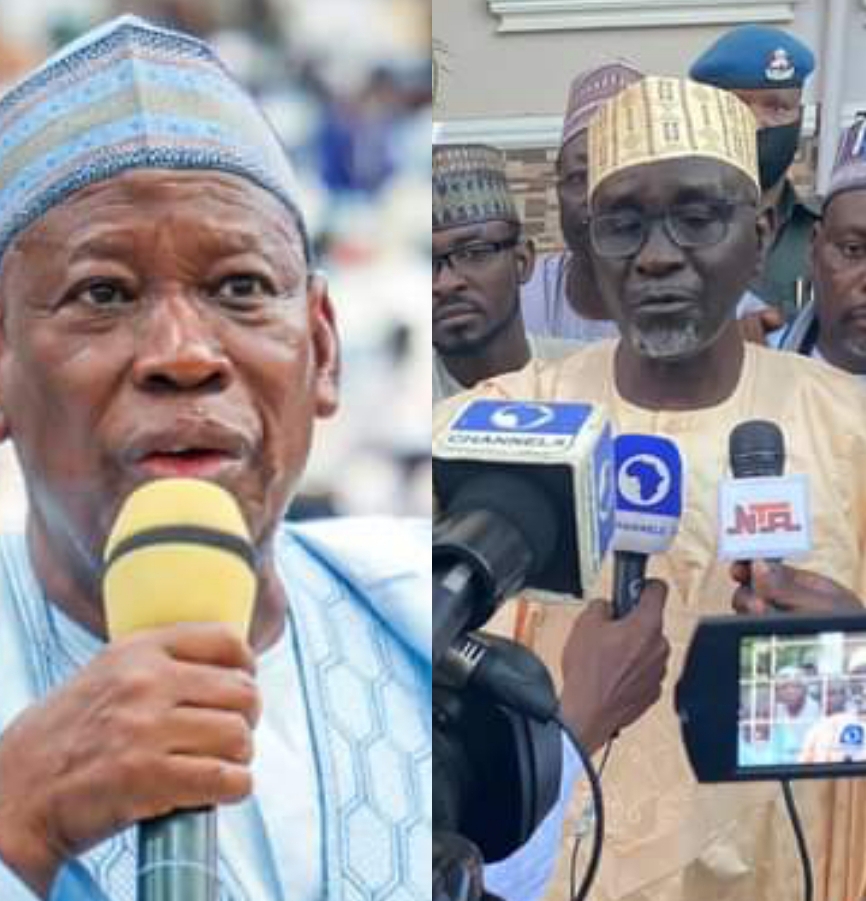 Aminu Abdullahi
Crisis rocked Kano chapter of All Progressive Congress (APC), as Governor Abdullahi Umar Ganduje and faction loyal to former governor of Kano and serving Senator Ibrahim Shekarau held parallel state congress.
KANO FOCUS reports that while Ganduje group held their congress at Sani Abacha stadium, faction loyal to Shekarau had their own at Janguza town, Tofa local government area.
Ganduje's led group endorsed Abdullahi Abbas as state chairman of APC for a second term in a consensus arrangement, while the faction loyal to Shekarau announced Ahmadu Haruna Zago as newly elected chairman of APC in Kano state.
Reports shows that the security have earlier disrupted Shekarau's camp congress at Sani Abacha youth centre and sealed the premises before they moved to Janguza where they held the election.
Below are some pictures of the parallel Congress.
NCC moves to address poor network service at densely populated Kano markets – Prof Danbatta.
Nasiru Yusuf
The Executive Vice Chairman of the Nigerian Communication Commission (NCC) Umar Garba Danbatta says the commission will address the poor network at Kantin Kwari, Sabongari Singer and Kurmi markets.
KANO FOCUS reports that Danbatta announced revealed this while responding to complaint raised by a participant at a two day stakeholders consultative meeting tagged 'talk to the regulator' organised by Nigerian Communications Commission in Kano.
The complainer noted that that there is poor telecommunications service in Kantin Kwari, Sabongari, Singer and Kurmi markets in Kano metropolitan area.
Danbatta responded that the commission will deploy investigative team to determine the nature of the problem and proffer solution.
"We have the capacity to monitor the performance of MNOs, that is the most important thing. Because of this valid observation by our stakeholder, we are going to direct our searchlight in those areas where we think the quality of service needs to improve.
"And if it is necessary, we will send the investigative team what is the nature of the quality of service in such places with a view to improve the quality of the service," Danbatta said.
The Executive Vice Chairman explained that the commission considers stakeholder feedback "as a critical component of our forward – looking regulatory model."
"Hence, the overarching objective of this forum is to get direct feedback from our licensees on how we, as a regulator, are meeting your expectations, and on areas where we can improve our regulatory service, particularly those that have to do with licensing.
"We also intend to use this forum to seek your support for the several initiatives that the commission has carefully developed in our quest to enhance market opportunities for all our licensees."
Danbatta added that the commission will focus it's energies for the next five years on five strategic pillars.
The pillars according to him include "organisational renewal for operational efficiency and regulatory excellence.
"Facilitate the provision of infrastructure for a digital economy which fosters national development.
"Improve quality service (QoS) for enhanced consumer quality of experience (QoE).
"Promote fair competition, inclusive growth, increased investment and innovative services as well facilitate strategic collaboration and partnership."
He disclosed that the federal government has articulated a number of critical policy objectives for the sector such as those articulated in the National Digital Economy Policy and Strategy (NDEPS), the Nigerian National Broadband Plan (2020-2025), the Revised National Digital Identity Policy for SIM Registration among others.
He added that the instruments require the full and unalloyed commitment of all stakeholders to ensure their successful implementation, and the meeting in Kano would provide a veritable channel for licensees' buy-in.
In his address the Director of Licensing and Authorisation Department, Mohammed Babajika, said the commission is further liberalising the telecoms industry by finalising the framework for Mobile Virtual Network Operators (MVNOs) and is currently reviewing existing regulations.
"The Commission is also finalising the Information Memorandum (IM) for 5G deployment, emerging trends like Internet of Things (loT), Artificial Intelligence (AI), Over The Top (OTT) Services and Big Data Analytics, all aimed at initiating strategies to improve service delivery that is accessible and affordable.