My relationship with President Muhammadu Buhari – Salihu Tanko Yakasai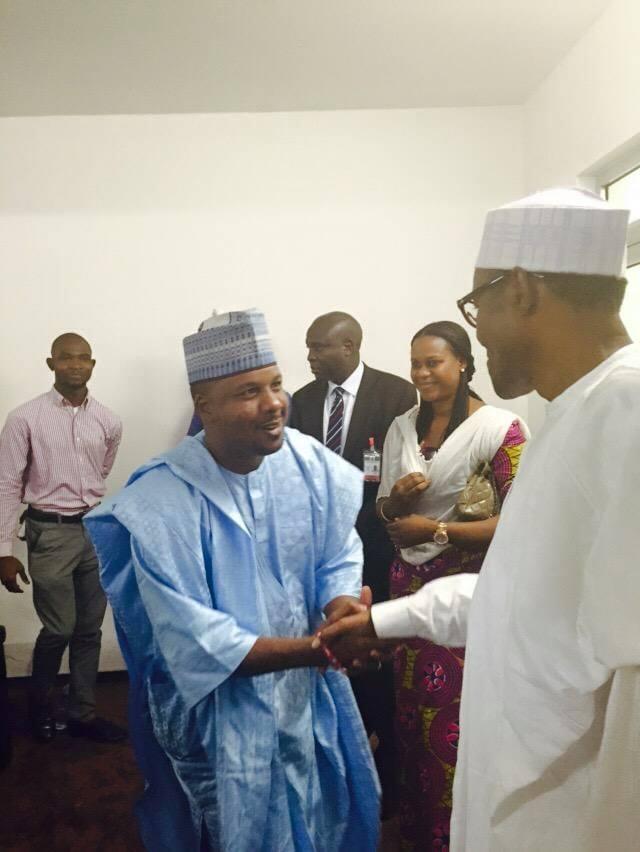 In light of recent events that transpired over my recent comments about the government of President Buhari, I think it is absolutely necessary to shed more light on my decades of relationship with the President, and how I am not doing anybody's bidding with my remarks but simply reacting to issues that are happening in my country.
What is more, my comments were not aimed at casting aspersion against the person or government of Mr. President.
Far from that!
I joined partisan politics in December 2000 at the age of 24, when I officially became a member of the defunct APP at my ward, Kawaji in Nasarawa Local Government Area of Kano State.
Attack on Buhari: Ganduje suspends media aide
Kano-Ibadan railroad: Ganduje's aide challenges Buhari
At that time, Kano State was PDP-controlled under the then governor, Rabi'u Musa Kwankwaso.
So, I entered politics as an opposition member in my state. As at that time, I was contesting for the position of a councilor at my ward, which ended with my losing the primary election in 2004.
Pioneer Buharist
In 2002, I was in All Progressives Party (APP) when President Buhari picked the membership card of the party and officially joined politics to run for the presidency in the 2003 elections. At that time, I and millions of people particularly from the north welcomed this decision by the President with enthusiasm and zeal and we supported him 100%.
We were basically the 1st set of the so-called 'cult-like followership ' of the President, simply because we believed in him to deliver and lead this country to prosperity.
He came into politics as someone people trusted and whom they see as an upright person that they can vouch for, earning him the nickname 'Mai Gaskiya'.
We campaigned for him through thick and thin, street to street, the young and the old, and when it was election time, I was assigned by my party leaders at my ward to be the returning officer of our party, APP, for the presidential election which Buhari was contesting for.
We fought PDP hard at my ward to ensure that we delivered the ward to him in the election.
I did not sleep for almost 48 hours then, because I had to accompany the results to the local government collation centre to ensure that the results were not altered.
President Buhari did not win the 2003 general elections, but our party, the defunct APP won the governorship election in Kano State, which ushered in Mallam Ibrahim Shekarau as the new governor of the state.
But soon after that, there was friction between his camp and that of President Buhari, which later on after the 2007 elections led to the creation of a new political party formed by Buhari, that is Congress for Progressive Change, (CPC).
First meeting with Buhari
I, and my political leader at that time, Hon. Balarabe Wakili, a former member representing Nasarawa Local Government in the House of Reps (2003 to 2007) decided to pitch our camp with the President and not with Mallam Shekarau, and it was through Hon. Wakili that I first visited the President on a solidarity visit back in the early stages.
It is still in CPC that I contested for the State Assembly, which we suffered a lot because of the factionalization of the party that led to a lot of bickerings.
Ultimately, I neither got the ticket nor did our party win the election.
May I use this medium to thank the current Minister of Humanitarian Affairs, Hajia Sadiya for the role she played in my election back then when she was the National Treasurer of CPC.
My surrogate father-in-law
The President, also served as my wife's guardian during our wedding in 2006 on behalf of her late uncle, AVM Mukhtar Mohammed who was a very close associate of the President.
May I use this opportunity to tell my wife's guardian that 14 years after he gave her hand in marriage to me, we are still living peacefully and blessed with 3 children.
We thank him for his fatherly role during the nuptial rites.
Back to politics, at the presidential level, I served as a member of the Welfare Committee of the Presidential Election of Muhammadu Buhari, with the current Minister of Water Resources, Hon. Sulaiman Adamu Kazaure as the chairman of the committee, during the 2011 presidential election.
After the formation of APC, I also served as a member of the Youth Committee during the 2015 elections, crisscrossing this country to campaign for the President which we eventually won and Buhari was ushered into government with popular national support.
Now having given the background of the long-term relationship between me and the President spanning 18 years to be precise, I have never known a political leader throughout my political career other than Buhari, even though I can count the number of times I've met him.
NEPU blood
I did not only wish for his success but I equally worked hard with everything that I've got for almost two decades to see his dream become a reality, and I will continue to stand by him.
When I see things that are going not the way they are supposed to, I naturally have that urge to try and express my concern about them, because I want things to work right.
I can understand, if by virtue of my position as an aide to a governor in the same party as the President's that I have limitations and somehow the spotlight is always on me.
But occasionally, despite suppressing my opinions,
I find the NEPU blood in me triggering me to react.
This is in no way, meant to undermine the President or my dear party, APC.
Apologies to Ganduje
To my boss, His Excellency, Dr. Abdullahi Umar Ganduje, OFR, I want to use this opportunity to apologise for putting Your Excellency in an uncomfortable position due to my personal opinions.
It is indeed something that I never intended to happen, and I am not happy about it a bit. I do not have a boss-and-aide relationship with Your Excellency; I rather have a father-and-son relationship with Your Excellency.
Indeed, I appreciate the support Your Excellency has been according me in the last five years, and I will continue to remain loyal to you and serve my state and my country through your government and in whatever other capacity.
At the end of the day, our prayer is for Nigeria to be great.
In the words of Barack Obama "Do we participate  in a politics of cynicism, or in a politics of hope?"
I am an optimist, and it's our ardent HOPE that we will have the Nigeria of our dreams in which development and prosperity will be the norm rather than the exception; a country we can build a secured future for our children and generations yet unborn.
May we continue to do our best in ensuring this is the Nigeria that our forefathers sacrificed their lives for to lay a solid foundation.
Long live the Federal Republic of Nigeria.
Salihu Tanko Yakasai, Governor Ganduje's suspended media aide writes from Kano.
Kano domesticate social protection policy
Kano state governor Abdullahi Umar Ganduje has approved the domestication of National social protection policy in the state.
Kano Focus reports that the Social Protection Policy is designed to show the commitment of the Government to the effective mobilisation and efficient utilisation of state resources to improve the quality of life of its citizens.
The state Commissioner of planning and budget Nura Muhammad Dankadai revealed this on Friday at a one day interactive session with with journalists and civil society organizations.
Mr Dankadai said governor Ganduje approved the domestication of the policy on Thursday.
According to him when domesticated the policy will provide legal framework for school feeding programme, ante natal and post natal care, addressing gender based violence and protecting people living with disabilities.
On the meeting with journalists, Mr Dankadai said it was aimed at intimating them with on the state government's projects and received some inputs for possible submission to the government.
The commissioner uses the opportunity to appeal to civil society organizations and journalists to sensitise people on the current economic challenges which made it difficult for the state to pay workers salary for the month of March.
In their separate contributions Akibu Hamisu, I. G Maryam and Wali Ado Rano advised Kano state government on the need to address multiple taxation, grant local government financial autonomy and holding periodic interactive session with CSOs and journalists.
AKTH honours NCC Boss UG Danbatta
Nasiru Yusuf
The management of Aminu Kano Teaching Hospital has visited the Executive Vice Chairman of Nigerian Communication Commission Umar Garba Danbatta.
Kano Focus reports that during the visit the AKTH team also presented an award to Danbatta as an expression of the hospital's appreciation for the enormous contributions of the EVC and the Commission to the development of health institutions over the years in the country.
Speaking during the visit, the Chief Medical Director (CMD) of AKTH, Abdulrahman Sheshe, who led the delegation on the courtesy call, said, "the objective of our being here today is to appreciate your contribution in person and as EVC of NCC to the growth and development of the teaching hospital."
According to Sheshe, through the support and donations from Kano people like the EVC and institutions like NCC, the hospital has increased its bed capacity from 250 to 700, as well as performing 57 successful transplant surgeries.
"You have also made enormous contributions in this regard and that has helped us to get new dialysis machines through your assistance and these machines are being put to use, aside from other state-of-the-art equipment already in place," he said while appreciating the EVC.
The CMD, however, sought NCC's support in the area of a Health Information Management System (HIMS) and digital capacity for staff.
Responding, however, Danbatta thanked the hospital management for the visit and the award, noting that the Commission supports federal institutions with necessary ICT equipment across the country and is ready to assist AKTH in this regard.
"As a Commission, we are working to bridge the infrastructure divide, which is an element of the entire digital ecosystem. We do this via a lot of ongoing regulatory initiatives. And, through our training arm, Digital Bridge Institute (DBI), we provide digital literacy to critical sectors of the economy, including the health sector, we also intervene through our Advanced Digital Appreciation Programme," he said.
According to Danbatta, digital divide can be bridged by making computers available and ICT services accessible to people and key sectors of the economy.
"Infrastructure that can host this massive flow of information and knowledge is broadband infrastructure and this is top-most in the agenda of the Commission. Indeed, ICT is transforming every sector of the economy and the earlier we embrace the vast opportunity brought by ICT the better," the EVC pointed out.
Police arrest bandit who abduct his uncle for one million Naira ransom
Police in Kano said they have arrested a 27 year old Abubukar Musa who confessed to have abducted his uncle and received one million Naira ransom.
Kano Focus reports that the police spokesperson in Kano Abdullahi Kiyawa announced this in a video clip sent to journalists on Sunday.
He said the suspect was arrested with two AK 47 ripple suspected to be used for kidnapping and banditry.
Mr Kiyawa said preliminary investigation revealed that the suspect is among the bandits terrorizing some parts of Kano, Birnin Gwari in Kaduna state and some Northern states.
Mr Musa an indigine of Rurum village in Tudun Wada local government Kano state recalled how in the past abducted his uncle and collected one million Naira ransom before he release him.
The suspect also told police that he borrowed the guns found under his possession from Muhammadu Bakanoma in Zamfara state to confront another bandit called Malam at Birnin Gwari whom he accused with abducting his wife and daughter.
"I am a cattle rustler. I once abducted my uncle Alhaji Haruna and my cousin Bappan Jauro six years ago. These are the only two persons I have ever abducted. I abducted him (Alhaji Haruna) because his two children (Medi and Bappan Jauro) have kidnapped my younger sister Hafsat.
" I released him after receiving one million Naira ransom. We are now living with him (Alhaji Haruna( in the same compound," Mr Musa said.
Mr Kiyawa said investigation is ongoing and will issue a statement when completed.