Blasphemy: Court orders retrial of Aminu Sharif sentenced to death
Nasiru Yusuf
The Kano State High Court (Appeal Division) has) on Thursday quashed the conviction of one Yahaya Aminu Shariff, who was earlier in August last year sentenced to death by the Upper Sharia Court Filin Hockey presided over by Aliyu Muhammad Kani.
The court presided over by Justice Nura Sagir Umar, the Chief Judge of Kano State, ordered in its judgment read by Justice Nasiru Saminu, that Mr Shariff be tried afresh by another Upper Sharia Court.
He stated, "On Yahaya Aminu Sharif, the court set aside the trial for some procedural irregularities.
"But the case has been remitted back to the sharia court for a retrial".
Justice Saminu also said the defendant must be provided with legal representation during the retrial.
He said it is mandatory where anyone is standing trial for a capital offence that may result in death penalty, such a defendant is entitled to a legal representation.
Justice Saminu relied on section 269 (3) and (4) of the Kano State Administration of Criminal Justice Law, ACJL, which says any person standing trial in capital offence shall be entitled to legal representation, which must under any circumstances be provided even if it entails the court appointing a lawyer for the defendant, what is known as 'Dock Brief'.
It may be recalled that on August 10, 2020, the Upper Sharia Court Hausawa Filin Hockey convicted and sentenced Mr. Sharif under section 382B of the Kano State Sharia Penal Code (2000) for insulting Prophet Muhammad (pbuh) in a voice note he shared to a WhatsApp group called Gidan Umma Amina.
Similarly, the court also discharged and acquitted another blasphemer, Umar Faruk Bashir who was sentenced to 10 years imprisonment.
The court set aside the sentence passed on Mr Bashir and declared the entire Upper Sharia Court's judgment a nullity as the said Umar Faruk is a minor whose admission of guilt is inadmissible in law.
It could be recalled that the duo of Yahaya Sharrif Aminu and Umar Farouq Bashir were said to have sometimes early last year committed blasphemy against the Holy Prophet Muhammad (PBUH) and making derogatory statement against Almighty Allah respectively.
The defendant through one Kola Alapinni appealed against the death sentence and 10 years imprisonment at the Kano State High Court (Appeal Division).
Reacting to the Thursday's judgment, Mr Alapinni described the judgment as bitter and sweet.
He said, "Today, we have a bitter-sweet judgments as Umar Farouq has been set free completely because he was a minor that was sentenced to 10 years imprisonment.
"On the issue of Yahaya Aminu Sharrif which was a death sentence and that really shocked the whole of the country and international community. It also made us a laughing stock before the international community where someone will say something which was regarded as being disrespectful in a religion and he will be sentenced to death.
"He was sentenced to death without legal representation. It is unacceptable. And the court found in our favour that there were procedural irregularities. We were hoping that the court will set him free but unfortunately that didn't happen and the matter has now been remitted back to the Shari'a court and it will be heard by another judge. And will be with proper guidance and legal direction. We will defend this robustly even up to the Supreme Court."
On the constitutionality of the Shari'a penal code, he said, "we will go back and study the judgment and decide if we want to go to the court of appeal and Supreme Court thereafter. We want to know if the Shari'a penal code is in conflict with the Section 10 of the Nigerian Constitution which says the Federal or state government must not be seen to be promoting any religion. That is what Kano State is doing."
On his part, the State Attorney General and Commissioner of Justice, Musa A. Lawal said on one hand the judgment was a victory for the people of Kano especially that the court reaffirmed that the Shari'a penal code law has come to stay in the state.
"Constitutionally, the courts are created so that people can go there to get justice. The court today, reaffirmed that the Shari'a penal code law in Kano state is here to stay because in the appeal, the appellant clearly claimed that the law is contrary to the constitution of the Federal Republic of Nigeria and the court says no that the Shari'a penal code is a law that is here to stay in the state. So of course, this is a victory for the people of Kano state on one side.
"On the second part, if you look at the second case which was a minor, what the court says is that he is a minor and so cannot be tried as he has not attained the age or incurring liability. That is the reason why he was discharged and acquitted not because the Shari'a penal code law was unconstitutional or for any other reason.
"To buttress that fact, the second case was ordered for retrial under the said law. And the only reason given there was based on the constitutional provision especially when you are charging someone with a capital offence you need to get him a lawyer. There was no legal representation on his part. So if you look at the two cases it is a victory for the people of Kano state and victory for the Shari'a penal code," Mr Lawan stated.
KAROTA succumb to Tricyclists' protest, accepts POS payment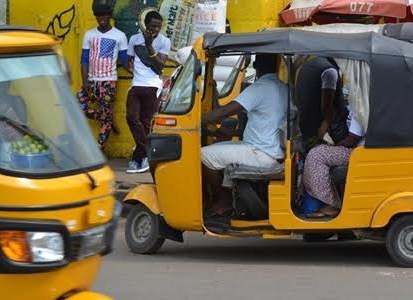 Nasiru Yusuf
The Kano Road Traffic Agency (KAROTA) has succumb to protesting tricyclists and agreed to accept payment of one hundred Naira tax via POS or mobile banking.
Kano Focus reports that the tricyclists have earlier agreed to pay the one hundred Naira tax daily, but protested against making payments via REMITA platform.
The tricyclists requested for cash payment, mobile banking or via POS, a request KAROTA leadership rejected outrightly.
However, at a negotiation facilitated by Kano state leadership of Nigeria Labour Congress (NLC) and Kano Civil Society Forum Ibrahim Waiya, KAROTA agreed to accept payment via POS mobile transfer after initial payment through REMITA.
A copy of the resolutions reached by leadership of tricyclists and Managing Director of KAROTA Bappa Babba Dan'agundi on Tuesday in the presence of NLC chairman Kabiru Ado Minjibir and that of  directed all tricycle operators to call off their protest and resume operation.
The resolutions obtained by Kano Focus reads in part "After extensive and fruitful deliberations which lasted for over two hours. The following resolutions were reached.
"That all tricycle riders in the state are to pay a token of N 100 daily as provided by the Kano state revenue administration law, schedule 2 item 9 congestion charges amendment law 2017.
"That the first payment of N100 should be through REMITA to enable data capture in Kano state Board of Internal Revenue/KAROTA which should be done within two weeks effective from today 23 February, 2021, after which KAROTA will commence enforcement and the server shutdown, so that nobody will access it to enable control.
"That the subsequent payment of N100 daily tax should follow by the tricycle operators which can be done through their Android phones or P. O. S (Point of Sale) with an option of daily, monthly, quarterly or annual payment at the cafe (which is not compulsory).
"That the hire purchase owners will assist the tricycle riders in the provision of additional REMITA points to enable members to make payment with ease.
"That the leadership of organised labour and Kano Civil Society Forum will continue to engage the leadership of tricycle riders/owners association in the state for smooth conduct of their business through public enlightenment, awareness activities and training on professional conduct to ensure peaceful coexistence in the state and hitch business atmosphere.
"That a joint Press briefing should be conducted at KAROTA office and emergency meeting of all units of tricycle association should be summon immediately to enable striking riders go back to their business and suspend the strike.
"That all tricycle riders in the state should write their number boldly at the back of each tricycle for easy identification and security purposes."
Pay hazard allowance to health workers, journalists – NLC chair tells Kano Govt
Mukhtar Yahaya Usman
The chairman of Nigeria Labour Congress Kano council Kabiru Ado Minjibir has called on Kano state government to introduce hazard allowance to health workers and journalists practicing amidst COVID-19.
Kano Focus reports that Minjibir made the appeal during the inauguration of newly elected executives of the Nigeria Union of Journalists Kano state council.
He said this became necessary because they are in forefront in the fight against COVID-19 pandemic in the state.
Government Solicits for cordial relationship with journalists
In his address the commissioner of Information Muhammad Garba appealed for sustained cordial relationship between journalists and Kano state government'.
Mr Garba who was represented by the chief press secretary to Kano state governor Abba Anwar said the good working relationship being enjoyed between journalists and government has led to a peaceful coexistence the state.
He assured to pass the request made by NLC chairman on hazard allowance to Kano state governor Abdullahi Ganduje.
Benefits of Late NUJ Chairman AbdulJalal Haruna
In his remarks the veteran journalist Bello Sani Galadanchi has appealed to National executives of NUJ to facilitate the release of death benefits of late AbdulJalal Haruna who died three and half years ago.
Galadanchi, who is the former state chairman of the union commended the intervention of Commissioner of Information Muhammad Garba and many other veteran journalists in supporting the family of late AbdulJalal and other deceased members of pen profession.
He said demanding the payment does not mean a direct confrontation with state government, but rather seeking a succor to the family of late journalists.
Journalism salary enhancement scheme
Also another former state chairman of the union Abdulkadir Ahmad Kwakwatawa appealed to NUJ to commence advocating for a special salary scheme for practicing journalists.
He said if properly implemented, the salary scheme would address the challenge of yellow journalism and brown envelope syndrome.
Mr Kwakwatawa also appealed to new executives to develop an effective strategy to address the menace of quacks in the profession.
He said if Lagos and Kaduna state can address the intrusion of quack journalists, he sees no reason why Kano should not follow suit.
The new leadership pledge to consolidate on past achievements
In his acceptance speech, the reelected chairmen of Kano state council of Nigeria Union of Journalists Abbas Ibrahim pledged to consolidate on the past achievements recorded in the past tenure.
Other executives inaugurated are Abbas Habib Abbas (Vice Chairman), Abba Murtala (Secretary), Nura Shehu Bakinruwa (Assistant Secretary), Sunusi Abdullahi Kofar Na'isa (Treasurer), Nasiru Yusuf Ibrahim (Financial Secretary) and Mustapha Gambo (Auditor).
Ma'ajin Watari, District Head of Kabo is dead
Nasiru Yusuf
Ma'ajin Watari and District Head of Kabo Abba Muhammad Shu'aibu is dead.
Kano Focus reports that Ma'ajin Watari died on Friday after a protracted illness. The deceased was a District Head of Kabo for eighteen years.
A statement sent to Kano Focus on Saturday by the spokesperson of Karaye emirate Haruna Gunduwawa described the deceased as "Dedicated, committed leader and gentleman per excellence."
According to the statement the death of the District Head has created "a vaccum in a crusade toward the development of Karaye Emirate."
Late Abba Muhammad Shu'aibu was first appointed as Ma'ajin Watari by late Emir of Kano Ado Bayero.
Last year, the Emir of Karaye Ibrahim Abubakar II decided to elevate him to the title of Mai Unguwar Mundubawa of Karaye, but he courteously declined the offer and pleaded to Karaye monarch to allow him maintain his title due considerable reasons presented to the Emir.
It could be recalled the late District Head was among six title holders scheduled to be turbanned on January 28, 2021, but he could not attend as the date coincided with his medical checkup.
The late traditional ruler died while preparing for his formal turbanning ceremony as 'Ma'ajin Watarin Karaye' next month.
A condolence message from Karaye Emirate reads in part "It is with total submission to the will of God Almighty, the Emirate prayed to God to repose his gentle soul, forgive his shortcomings and reward him with Ajannatul Firdaus.
The Emirate also commiserate with the Kano State government, his family and entire people of Karaye Emirate.
"May Almighty God grant them fortitude to bear the loss."