On the Controversy in Kano and the Planned Public Debate
Muhammad Shakir Balogun
Hausa-speaking Muslims are looking forward to a debate coming up in Kano later this month. This 'debate' appears to be the latest iteration of the historical encounter that has pitched those who have raised objections to the validity of Sunni Prophetic traditions and the narrative integrity of the Companions of the Prophet against those who have upheld same.
The former includes orientalists, Shi'ites, Mu'tazilites and reformist/modernist Sunni Muslims while the latter are Orthodox Sunni scholars from both Salafi/Athari/Izala and Ash'ari/Sufi persuasions.
The trustworthiness of the ultimate transmitters of hadiths and the validity of the recorded traditions of the Prophet constitute the bone of contention. In Sunni Islam, since al-Shafi'i, authentic hadiths have been regarded as revealed truth just like the Qur'an, and with similar legislative powers. They are unimpeachable.
"There is absolutely nothing new about what Shaikh AbdulJabaar Nasir Kabara, the outspoken scion of the famous Kabara scholarly and Sufi dynasty of Kano, has been saying. He has articulated them in his books to which rebuttals have been penned by local scholars."
The same arguments have been more eloquently articulated by orientalists like David Samuel Margoliouth, Ignaz Goldziher, Joseph Schacht, and GHA Joynboll; the Egyptians like Muhammad Taufiq Sidqi (of the 'Qur'an only' school), Mahmud Abu Rayyah, Ahmed Subhy Mansour, and Muhammad Abu Zayd; the Indians like Chiragh Ali, Aslam Jairajpuri, Abdullah Chakralawi who were mostly of the 'Qur'an only' school, and numerous scholars from the Shi'ite camp.
Muhammad Tawfiq Sidqi was engaged by Taha al-Bishri and Salih al-Yafi'i in a series of exchanges on the pages of al-Manar which culminated with his recanting. Prominent among those who have passionately written to defend the Sunnah, as enshrined in recorded hadiths, in modern times are the Syrian Mustafa Siba'i (he specifically incorporated a rebuttal to Abu Rayyah in his book) and Muhammad Ali Sabuni, and the Indian Muhammad Mustafa Azmi. These books are there for those who want to independently follow the arguments.
But can arguments, rebuttals and counter-rebuttals extensively articulated in numerous books be satisfactorily covered in public debates? How many hours or days have been earmarked for the debate? What is the possible outcome of an exchange in which the interlocutors differ fundamentally in methodology and hate each other's guts?
Can a debate already poisoned by hot polemics and ad hominem attacks really lead anywhere?
Shaikh AbdulJabbaar has impugned the characters of people considered by Sunnis to be beyond reproach like the Companions of the Prophet such as Umar (the second caliph), Anas (the personal attendant of the Prophet), Abu Hurairah (the most prolific transmitter of Prophetic traditions). He has also attacked hadith luminaries like az-Zuhri, al-Bukhari, and Muslim.
He has pummeled Mu'awiyah, the first Omayyad caliph, whose historical legacy is mixed even by Orthodox Sunni accounts, but who is nonetheless counted among the Companions and given a pass.
These are people held in high regard by Sunni Muslims. He has described them as deceivers, hypocrites, and liars. He has also castigated the illustrious exponents of the Salafi methodology such as ibn Taimiyyah, ibnul Qayyim, adh-Dhahabi, ibn Kathir. This is a frontal attack. Ibn Hajar, the great exegete of al-Bukhari's collection has also not been spared.
AbdulJabbaar has thrown spears at the very heart of Orthodox Islam. He has been boastful and confrontational, and frequently accuses his contemporary adversaries of insincerity, mendacity and ignorance.
"I have personally observed that his translations from Arabic texts are sometimes tendentious, less than faithful to the original. He even interpolates words in translation in order to make his point. This is probably part of what has infuriated the other scholars and made them to impugn his motives."
Meanwhile, the other scholars have also gratuitously labelled AbdulJabbaar with negative terms like zindiqi (unbelieving heretic), mulhidi (atheist), kafiri (unbeliever), jahili (ignorant), mahaukaci (lunatic), wawa (stupid, foolish), dan iska (worthless), la'ananne/tsinanne (accursed). He has been discursively kicked out of the fold of Islam.
He has also been accused of plagiarizing the work of Mahmud Abu Rayyah in writing his own book while deceptively letting on that he has been conducting independent research. I have Abu Rayyah's book, but alas I don't have AbdulJabbaar's text to compare.
He has been charged with insulting the Prophet, which to me seems a stretch, a long stretch, a part of the polemics borne out of mutual suspicion of evil motives. And he has stated several times that his object is to defend the sanctity of the Prophet that has, in his understanding, been subverted by some narrations. There seems to be an impasse here. They have indirectly instigated Muslims to attack him – many preachers and scholars have said that they would not stop the people from taking action against him.
Pious sentiments got whipped up. Some people even say that Kano was on the verge of exploding. They finally got the State Government to ban him from further public preaching and close his centre.
Because of his actual attack on some revered Companions and the perceived attack on the inviolate personality of the Prophet himself, his condemnation has been near universal. Even the former Emir of Kano, Muhammadu Sanusi II has lent his voice to the condemnation. I recall that he also chastised the Shi'ites in the aftermath of the 2015 Zaria Massacre.
Notably, it has been mainly, but by no means solely, Shi'ite preachers and scholars who have been bold enough to speak in his support. Many sympathisers have self-censured and kept mum.
AbdulJabbaar and his supporters feel that he has been unjustly treated and has not been given a fair hearing. I also think that he shouldn't have been gagged. I think this public debate being organized by the government is an attempt to address this perception of unfairness.
So far, this exchange between AbdulJabbaar and his interlocutors, as seen in countless videos on Facebook and YouTube, has been acrimonious, polemical, and full of invectives in which the substantial arguments are often difficult to extricate.
Will this public debate change anything? Will he even cooperate to have a real debate? Who will be the judge? How will the 'winner' be decided? Will it matter to the followers of the two sides?
"AbdulJabbaar's frequently expressed desire for a debate comes across as half-hearted. If his 'debate' with Alkassim Hotoro is anything to go by, I doubt if anything will come out of this one."
In that much publicized debate, he surprisingly kept hedging and putting up caveats. He shirked from defending a book written with his own hand. He was less than brave. However, after the ban, he has reiterated his readiness for his views to be challenged and even disproved.
So, let's wait and see.
This piece was first published on Mr Balogun Facebook timeline
NCC to Balance Competition with Disruptive Technologies for Sustainable Telecoms Growth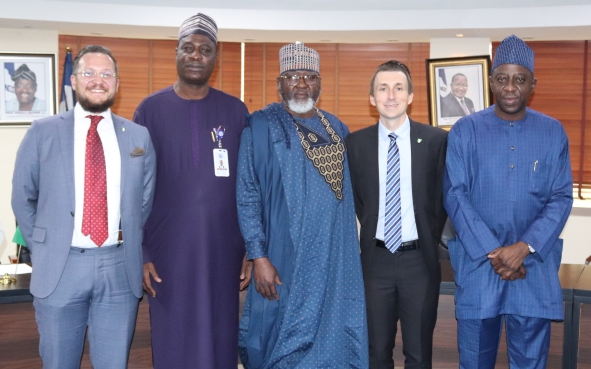 Nasiru Yusuf
The Nigerian Communications Commission (NCC) has emphasised that in light of disruption in the technology world, it is keen on balancing healthy competition with entry of disruptive technologies to ensure sustainable telecoms industry growth and development in Nigeria.
KANO FOCUS reports that  the Executive Vice Chairman (EVC) of NCC, Umar Garba Danbatta, stated this during a presentation to the Commission by a delegation from SpaceX, an American aerospace manufacturer and space transportations services company, in Abuja on Thursday.
A statement sent to KANO FOCUS by commission's spokesperson Ikechukwu Adinde on Friday explained that SpaceX is in the process of launching a low-earth orbiting (LOE) constellation of satellites to provide low latency, high bandwidths Internet to all corners of the globe and has identified Nigeria as a critical market.
It recalled that SpaceX has been in discussion with NCC virtually over the past several months to begin the process of pursuing all necessary licenses to bring Starlink, its satellite-based broadband services to Nigeria.
"Having made substantial progress in the discussion, the Commission granted SpaceX's request for a face-to-face discussion to gain better insights on the prospects of their proposal.
"Led by SpaceX's Starlink Market Access Director for Africa, Ryan Goodnight and supported by the company's consultant, Levin Born, the company provided an overview of its plans, expectations, licensing requests and deployment phases during the meeting," the statement said.
After the presentation by SpaceX team, the Executive Commissioner, Technical Services, NCC, Ubale Maska, who stood in for the EVC, said NCC will work on necessary modalities to ensure that it balances the need for healthy competition vis-a-vis the entry of new technologies, in order to protect all industry stakeholders.
"As the regulator of a highly dynamic sector in Nigeria, the Commission is conscious of the need to ensure that our regulatory actions are anchored on national interest. We have listened to your presentation and we will review it vis-à-vis our regulatory direction of ensuring effective and a sustainable telecoms ecosystem where a licensee's operational model does not dampen healthy competition among other licensees," Maska told the SpaceX delegation.
Maska further stated that the Commission is interested in making necessary regulatory efforts to drive the coverage of rural, unserved and underserved areas of the country through the accomplishments of the lofty targets contained in the Nigerian National Broadband Plan (NNBP), 2020-2025. He noted that the plan's target of 70 per cent broadband penetration target, covering 90 per cent of the population by 2025 is also in line with government expectations in the National Digital Economy Policy and Strategy (NDEPS), 2010-2030.
Other Senior Management staff of the Commission, at the briefing include the Executive Commissioner, Stakeholder Management, Adeleke Adewolu; Director, Licensing and Authorisation, Mohammed Babajika; Director, Technical Standards and Network Integrity, Bako Wakil; Director, New Media and Information Security, Dr. Haru Alhassan and Director, Spectrum Administration, Oluwatoyin Asaju, among others.
The statement added that "Section 70 (2) of the Nigerian Communications Act (NCA), 2003, empowers the Commission to regulate the provision and use of all satellite communications services and networks, in whole or in part within Nigeria or on a ship or aircraft registered in Nigeria.
"This is for the purpose of ensuring a well-developed and organised satellite communications market with appropriate legal framework that meets international best practices, encourages innovation, promotes competition and guarantees public safety in the rendering of commercial satellite services."
L-R: Consultant to SpaceX, Levin Born; Director, Spectrum Administration, Nigerian Communications Commission (NCC), Oluwatoyin Asaju; Executive Commissioner, Technical Services, NCC, Ubale Maska; SpaceX's Starlink Market Access Director for Africa, Ryan Goodnight and Executive Commissioner, Stakeholder Management, Adeleke Adewolu, during the SpaceX's presentation to the Commission in Abuja.
Yamadawa community foils armed robbery attack, kill suspect
Yamadawa community foils armed robbery attack, kill suspect

Yamadawa community in Kano metropolis have foiled armed robbery attack in the late hours Thursday which led to the arrest of two suspects.
KANO FOCUS  eye witness in the area told journalists that on Thursday around 11 pm two armed robbery suspects have attacked a resident in front of his house at Yamadawa Quarters, Gwale local government area, Kano State and attempted to snatch his Toyota Corolla Motor Vehicle.
He said upon alighting from the car, the victim used car door and knocked down one of the armed robbery suspects and took to his heels shouting at the top of his voice, which attracted the attention of members of the community.
According to the eyewitness on realizing their plan had failed, the armed robbers started shooting sprodically and snatched tricycle in an attempt to escape.
He added that the residents overpowered them and beat them handed them over to the police.
The police spokesperson in Kano Abdullahi Kiyawa confirmed the incident in a statement issued on Thursday evening.
Mr Kiyawa revealed around 11 pm on Wednesday, police received a distress call on armed robbery at Yamadawa quarters.
He said on the receipt of the report, teams of policemen mobilized to the area where they arrested the suspects with the help of the community.
The police spokesperson identified the suspects as 24 year old Abdullahi Ismail of Sani Mainagge Quarters and 24 years Abubakar Hussein of Kankara local government area, Katsina state.
"Suspects sustained various injuries on their body and were rushed to Murtala Mohammed Specialist hospital Kano for treatment. Abdullahi Isma'il was confirmed dead by a medical Doctor.
"On preliminary Investigation, the other suspect, Abubakar Hussain confessed that, they attacked the victim with intent to rob him of his Motor Vehicle," he said.
Mr Kiyawa said the Commissioner of Police, Sama'ila Dikko, has ordered transfer of the case to the Criminal Investigation Department of the Command for discreet investigation.
Kano reviews minimum wage for varsities' staff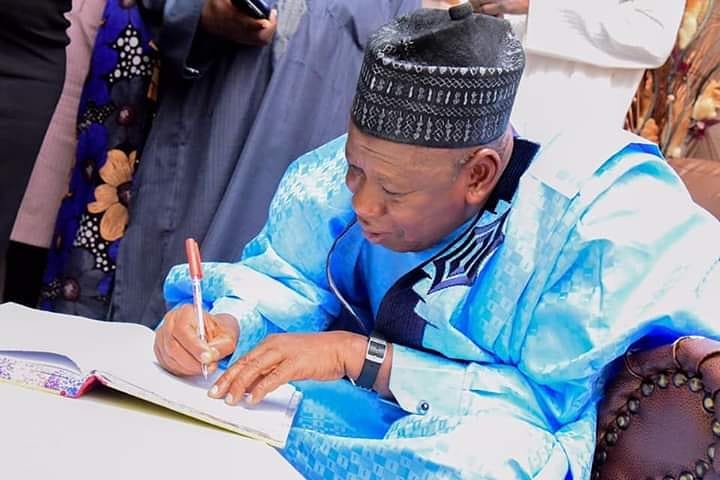 Nasiru Yusuf 
Kano state Executive Council has given approval for the implementation of new minimum wage for academic and non-academic staff of the two state own universities, with a monthly release of N49, 695, 509.26 million.
KANO FOCUS recalled that the state government has earlier reversed minimum wage of civil servants from N18,000 to N30,600 in March.
The state government, however, said that accumulated arrears from the time of the approval of the new salary structure to date would be determined pending improvement of the current financial situation in the state.
The state commissioner for information, Muhammad Garba, announced this on Thursday while briefing newsmen on the outcome of the council meeting, held at Africa House, Government House, Kano.
He said the two institutions, Yusuf Maitama Sule University and Kano University of Science and Technology, Wudil would receive monthly allocation of N24, 560, 479.72 million and N25, 135, 029.54 million respectively for the Consolidated University Academic Staff Salary Structure II (CONUASS II) and Consolidated Tertiary Institutions Salary Structure II (CONTISS II).
Mr Garba said the council has also approved the award of contract for the supply and installation of two 1,500 KVA generating sets at Watari 75mld Water Treatment Plant to address acute water supply shortage to the towns and villages served by the treatment plant.
He said the contract, which is worth N355, 027, 831.20 million was awarded to Messrs Mantrac Nigeria Limited for the treatment plant designed to serve Watari-Kano Pipeline, Watari-Bagwai Pipeline and Watari-Tsanyawa pipeline each with separate pumping outlet.
The commissioner also disclosed that approval has been given by the council for the release of 11 resident doctors to pursue Residency Training Programme in different fields of specialization at various teaching hospitals in the state.
Mr Garba stated that the medical doctors were on permanent and pensionable appointment under the state Hospitals Management Board and were able to secure admissions with either Muhammad Abdullahi Wase Specialist Hospital or Aminu Kano Teaching Hospital for the residency programme.
He said the training programme was to enable the medical officers graduate as consultants in their various fields of specialization under the state government sponsorship of the bonding policy that also stipulates the payment of monthly salary and annual project/book allowance of N372, 000.00 for the duration of the programme.
The council, the commissioner said, has also approved the creation of an additional department at the state Contributory Healthcare Management Board to handle the processing of claims for fee from facilities without using health maintenance organization.
He said the measure saves the agency substantial amount of resources and to equally comply with Basic Healthcare Provision Fund and the National Health Act which prohibits the engagement of third-party administrator to handle the claim processing.