NCC holds valedictory forum for exemplary, retiring staff, Osmund Omulu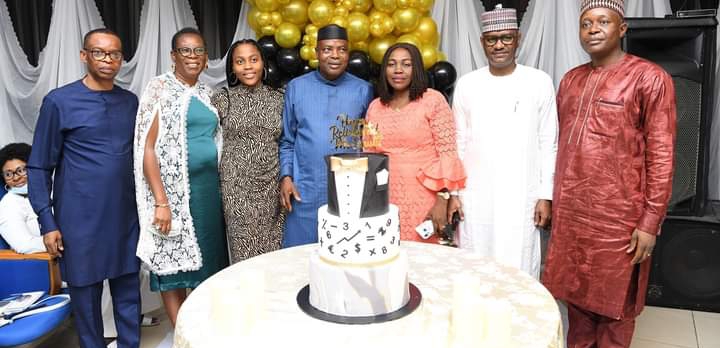 Members of staff of the Nigerian Communications Commission (NCC) converged in the Conference Room of the Commission's Head Office recently, to honour Osmund Omulu, a staff of the Commission, who is retiring upon attaining the Nigerian public service mandatory retirement age of 60 years.
KANO FOCUS reports that Omulu, who joined the Commission in 2002, has been described as an unusually focused, peaceful gentleman who is always willing to assist and educate people on how to make their work better.
Even those who are his seniors, who met him at the Commission and others who worked with him as a colleague prior to his sojourn at NCC recalled how much Omulu guided them through basic processes.
At the valedictory where every speaker spoke like an author of a chapter in a book of memoirs, Omulu was described as a great historian, who put a historical context to every knowledge he had to share with his colleagues.
He was also described as a man, whose physical appearance is in synergy with his soul and spirit because of his predilection not to carry grudges nor hold on to any negative memory about anyone.
"Even when he disagreed with people's opinion and conduct, he ensured that things are settled and everyone moved on, as he never had the record of nursing grudges with anybody", a testimonial stated.
Gentlemanly, focused and unassuming, Omulu was also described "a living repository of Commission's cherished standard practice" by his colleagues, many of who participated virtually in the valedictory programme.
A man of a modest and humble beginning, Omolu started his career at the United Bank for Africa (UBA) as a stenographer and rose to become a confidential secretary but he was so methodical and had acquired so much knowledge that a staff who met him at UBA and now works at the Commission described as "his first teacher in banking" even though the latter had joined UBA as a senior to Omulu.
After Omulu joined NCC, he enrolled for and completed a degree in Accounting and proceeded to complete his professional examination with the Chartered Institute of Bankers (CIB), a programme he had enlisted for while he was a banker. Omulu is now a Fellow of the Chartered Institute of Bankers of Nigeria.
Hence, Omulu, who is married with children, is perceived as a study in focus and determination. The send-off programme was also attended by Omulu's wife and children.
Directors, Deputy Directors, other senior management staff, as well as staff representing different categories of staff in the organisational hierarchy were present at the event. Attendees also include persons representing other communities of interests outside the Commission, particularly those with whom Omulu has had long relationship in Abuja, his community in Enugu and in Kano, where he had part of his education.
One after another, speakers attested to Omulu's sterling character and fondness for building community through uniting people, enhancing peaceful co-existence, ensuring thoroughness in delivery of jobs at work place and his bubbling unusual energy despite his age.
Avuncular, respectful, stickler to rules, tenacious, determined and with an eye for details, Omulu was described as bringing all these attributes to bear on his work in ways that have enhanced the work at the Commission.
The foregoing explained the litany of praises, well-wishes and entreaties that were recurring feature of the tributes and goodwill messages delivered by no fewer than 15 people representing different communities of interest that collaborated to organise, attend and participate in the valedictory forum in his honour.
The presence of four Directors, some Heads of Departments and many Heads of Units at the event was an eloquent testimony to how much Mr Omulu is loved and appreciated by his colleagues in different cadres at the Commission.
His current supevisior, Yetunde Akinloye, who is Director, Policy, Competition and Economic Analysis; Yakubu Gontor, Director, Financial Services; Dr. Ikechukwu Adinde, Director Public Affairs; and Usman Malah, Director, Human Capital and Administration also spoke well of Omulu.
Other Management staff, including Reuben Mouka, Head, Special Duties; Ibrahim Aliyu, Head, Administration; and Usman Mamman, Head Pre-Licensing, who had worked with Omulu at UBA, all spoke so glowingly about Omulu and wished him a blissful life in retirement.
KSACA sensitises Kannywood on combating HIV/AIDS through film
Kano State Agency for the Control of AIDS (SACA), has organised a one-day sensitization seminar on Sunday, to empower Kannywood stakeholders on portraying issues on HIV/AIDS in film production.
KANO FOCUS reports that the Director General of the Agency, Sabitu Shu'aibu Shanono, tasked film makers on research before embarking on health related films.
He explained that Kannywood film makers have a key role to play in advocacy, as they have a large audience in the community.
Shanono charged them to contribute their portion to see the end of the disease, thus the need to make proper presentation of the disease.
According to him, "Gone are the days when People Living with the disease die easily as still presented in our Kannywood movies."
He advised them to seek clarification on vital issues from the agency before embarking on films related to HIV/AIDS.
The DG however, stressed the readiness of the agency on building a cordial relationship with the industry, and providing vital information to film producers.
Also speaking, the Executive Seretary, Kano Censorship Board, smail Na'abba Afakallahu, commended the agency for the sensitisation.
He highlighted the role of film makers in sensitization on key issues especially health.
Afakallah called for collaboration between the industry and the agency, to send the right information to the populace.
In his remarks, the President, Motion Pictures Assocition of Nigeria (MOPPAN), Kabiru Maikaba, seeks for continuous support from such agencies.
He emphasised the need of enlightening Kannywood industry with the right information to feed their audience.
Maikaba pledged the support of his association, in contributing to end the disease, as they did in other areas.
A famous Hausa writer and the first female film producer, Hajiya Balaraba Ramat while speaking, recalled some controversies sorrounding marrying people living with HIV/AIDS.
"But today, we have seen a change in that trend because people with the virus have been successfully married and even have children," she said.
She tasked the agency on continuous sensitization as the industry was always ready for corrections and education, in an entertaining manner.
Ado Ahmad, a renown Kannywood writer, highlighted some of the contributions giving by Hausa writer in creating awareness on early years of HIV/AIDS in Kano.
He said that the Hausa literature industry and Kannywood had contributed a lot to information dissemination.
KANO FOCUS reports that the event featured presentation from Abdallah Uba Adamu and Ashru Tukur Inuwa from faculty of Communication, Bayero University, Kano.
Emir Bayero, Ganduje hail Dangote at Kano Trade Fair 
The Dangote Industries Limited weekend buoyed its catalog of approval rating with the commendation of Kano Emir Aminu Ado Bayero.
KANO FOCUS reports that Emir Bayero, who visited the Dangote pavilion and was visibly elated by the company's participation, had in his entourage Council members of the Kano Chamber of Commerce, Industry, Mines and Agriculture (KACCIMA), as well as other traditional rulers in the state.
The Emir also commended the Kano Government, KACCIMA and other participating companies in the ongoing 42nd Kano International Trade Fair that closes on Saturday, December 11, 2021.
Emir Bayero said his accolade is timely given the challenges businesses face around the world.
According to him: " We have visited the Trade Fair, and we are happy with development so far despite the economic situation around the world. May Allah support our effort."
A statement from the Dangote Group said the company has slated Friday, December 10, 2021, for its Special Day.
The Emir's visit came soon after the Kano State Governor Abdullahi Umar Ganduje visited the company's pavilion and spoke glowingly of Dangote Group's President Aliko Dangote.
The Governor who was represented by the Commissioner of Commerce and Industry Ibrahim Mukhtar said the contribution of Mr. Dangote to Kano and indeed Nigeria, in the areas of industrialization and job creation, cannot be quantified.
Speaking earlier, during a visit to the Dangote pavilion, Ugandan Envoy to Nigeria, Ambassador Nelson Ocheger, described Mr. Dangote as an 'African jewel' and an institution, whose indirect support to African political leaders in the areas of job creation and industrialization are impacting positively on peace and stability on the continent.
President of Kano Chamber of Commerce, Industry, Mines and Agriculture(KACCIMA), Dalhatu Abubakar, described as apt the theme for this year's 42nd Trade Fair, which is: Consolidating the Challenges of Covid-19 pandemic to opportunities growth and development of micro, small and medium enterprises in Nigeria.
Deputy President and Chairman of Trade Fair Committee Uba Tanko Mijinyawa said the Dangote Group has been a partner all through, even as he extolled its charity works through the Aliko Dangote Foundation(ADF).
Speaking to newsmen earlier, the Director-General of the KACCIMA Mustapha M. Aliyu commended the Dangote Group for the partnership and sponsorship of the Trade Fair.
He described the relations between the duo as mutual and supportive.
"We appreciate his efforts and support to the socio-economic growth of Africa,"  the Director-General added.
A statement from the Dangote Group said companies participating under the Dangote Industries Limited are: Dangote Cement, Dangote Sugar, NASCON, and Dangote Fertiliser.
Dangote Group urged participants who seek to do business with any of the company's subsidiaries, to avail themselves of such opportunities through Special Desks at its pavilion.
It described Kano State as one of its biggest markets in the country, adding that it has historically been a major trade route not only in Nigeria but in Africa as a whole.
Alleged economic sabotage: DSS arrest chairman Kano Consumer Protection Council
Aminu Abdullahi
The Department of State Security DSS, has arrested the Chairman of Kano State Consumer Protection Council, Idiris Bello Dambazau over allegations of economic Sabotage.
KANO FOCUS reports that a source close to the operatives, said the State Security accused Dambazau of unilateral closure of seven filling stations without following due process.
The source added that all enteritis to make Dambazau open the filling stations fall on deep ears, despite the fact that he was undertaking an illegal assignment which is beyond the power of Consumer Protection Council.
"The Security view Gen. Dambazau actions as nothing but economics Sabotage and attempt to create fuel scarcity in Kano where there was none," the source said.
The DSS source who doesn't want his name in print, explained that section 48 of the Nigeria constitution clearly stated that, any government ministry, department or agency exercising any power or function or taking any action which may have direct impact on midstreams or downstream petroleum operations shall consult with the authority.
This according to the section is prior to issuing any regulations, guidelines, enforcement order or directives, which the source emphasized Mr Dambazau did not followed.
The DSS explained further that even after consulting with the relevant authority, the authority shall review the recommendations of the government ministry, department or agency and communicate decisions accordingly before taking further action.
Dambazau, a retired army brigadier general was appointed chairman of the council by governor Abdullahi Ganduje few months ago.
He had earlier shut down textile shops at Kantin Kwari market for shortchanging consumers.