'Kidnapping in Nigeria poses greater threat than terrorism'
By Nasiru Yusuf
An Assistant Commissioner of Police (ACP), Baba Muhammad has said the threat posed by rampant kidnapping is higher than that of terrorism in Nigeria.
He said Nigeria, especially the northern part, is witnessing a wave of kidnappings, perpetrated by bandits collecting ransom, amounting to millions of naira from innocent citizens.
Speaking at a graduation dinner, organized by the 2019 Class of Masters in Public Relations (MPR) of Bayero University Kano (BUK), held at Chinese Palace in Kano on Saturday, Mr Muhammad revealed that the criminals have now employed news tricks using social media platforms.
According to him, the issue of kidnapping and banditry has taken a huge toll on the country to the extent that even security personnel are not spared by the dastardly act, disclosing that the bandits have employed new technique of recruiting members via social media.
"These bandits no longer engage in physical recruitment where they used to recruit almajiris as members. They are now sophisticated enough to recruit members through Facebook, Twitter, WhatsApp, Instagram and others. They use these platforms to recruit members.
"So, the only way to counter their tricks is to be knowledgeable enough and be on those social media platforms. If they are on Facebook, be on Facebook, if they are on Twitter, be on Twitter.
"As a PR practitioner, you must widen your horizon and be versatile in order to use your profession in checking the menace of insecurity in this country," he advised
Mr Mohammad also called on PR practitioners to contribute their quotas in checking the menace of kidnapping and terrorism.
On his part, a former spokesman of the Nigerian Army, Sani Usman Kuka-Sheka, shared experience on how he countered Boko Haram propaganda using his PR profession.
He said at the beginning of Boko Haram insurgency, people in the Northeast were afraid to call the name of "Shekau" and "Boko Haram", adding that he used certain techniques to make the people understand that the insurgents are " simply criminals".
"If a video of an attack appeared, I used to spend about 10 hours to analyse it. The missing link between Boko Haram propaganda and the government is communication.
"Boko Haram engaged international Hausa news media like the BBC, VOA, RFI etc to speak in Hausa. When I realized that, I also engaged same media platforms to counter that propaganda in Hausa.
"That was how people got to know the real Boko Haram. I used my PR knowledge to change the narrative because people in the Northeast were insinuating that Boko Haram members are invincible. They have more than one life," he said
Mr Kuka-Sheka added that, "On the part of the soldiers, I used techniques to keep them brave and in high morale. There was a time when a battalion was attacked 17 times, but I used communication techniques to keep the soldiers strong to the extent that there was a time they killed over ninety insurgents in a day.
"These are the techniques I used to change the soldiers to fighting machines. In this light, I want the graduating students to know that PR is not done in media only. It can be successful in every human endeavor," he advised.
The retired brigadier-general also recalled how Borno elders once threatened to sue him in the course of his official duty.
He said a suicide bomber intercepted in Maiduguri once told the military that it was her father who took her to Boko-Haram to be used for attack.
In his address, Professor Umaru Pate, the Dean, School of Post-Graduate Studies, BUK charged public relations practitioners to embrace different social platforms in reaching their publics.
He said many opportunities await PR practitioners as universities would soon start looking for them to teach at the proposed department of Public Relations as approved by the National Universities Commission (NUC).
Also speaking the National president of Nigerian Institute of Public Relations (NIPR) Sirajo Zubairu urged the MPR graduates to join the institute to enable them become professional PR practitioners.
He said the institute would give "special consideration" to those who want register with the NIPR.
Ganduje, Dantata reconcile Aliko Dangote, Abdussamad Rabiu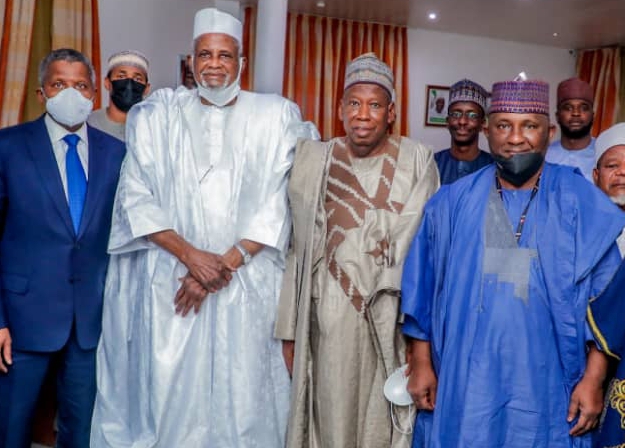 Governor Abdullahi Umar Ganduje and renowned business mogul, Aminu Alhassan Dantata, Kano Emirate and the Kano State Council of Imams have reconciled  the two illustrious sons of Kano, Aliko Dangote and Abdussamad Isyaka Rabi'u. 
Kano Focus reports that both parties, chairman of Dangote Group of companies and chairman BUA Group of companies, agreed to work together and supply enough sugar to satisfy the demand of the country.
A statement issued by Ganduje's spokesperson Abba Anwar said the reconciliation meeting took place at Kano Governor's Lodge, Asokoro, Abuja, Wednesday, which put a stop to all rumours making round that the duo were in dispute over sugar control in the country.
"They all dismissed allegation that Dangote was planning to see to the increase of sugar price, through pressuring BUA to succumb to the increment. They described that allegation as baseless and lacking any iota of truth.
"The meeting was seen as the zenith of other similar efforts to reconcile the two giants by the governor. Alhaji Aminu Alhassan Dantata played the role of a father during the meeting," the statement added.
Present at the meeting were the Minister for Commerce, Trade and Investment, Mr Niyi Adebayo, representative of the Kano Emirate, Alhaji Aminu Babba Dan Agundi, Chairman of the Council of Kano Imams, Sheikh Muhammad Nasir Adam, the Chief Imam of Sheikh Ahmadu Tijjani Friday Mosque, Kofar Mata, Kano and the Chairman of NEPZA,  Adamu Panda.
All the two business moguls agreed to work together as brothers for the growth and development of the nation at large. Assuring that, henceforth, there would be no differences, that could cause any disharmony between them.
COEASU FCE (T) Bichi commences one week warning strike over poor leadership in the college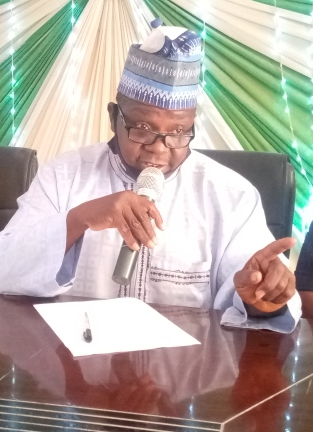 Nasiru Yusuf
The Colleges of Education Academic Staff Union (COEASU) Federal College of Education (Tech) Bichi has commenced a one week warning strike.
Kano Focus reports that the chairman of the union Muhammad Salisu Yunusa announced this on Tuesday while briefing journalists at Press Centre.
The COEASU chairman has accused the management of the college under Muhammad Bashir Fagge with non remittance of twenty five million Naira deduction made on behalf of the staff multi purpose cooperative society.
According to him as at August 2017, the college management had incurred a debt stock amounting to about eighty million Naira, being the cumulative sum of deductions from staff salaries that were not remitted to the college's staff cooperative society.
Mr Yunusa alleged that teaching and learning is being conducted under unbearable condition due to dilapidated infrastructure.
He also alleged that the management of the college has failed to pay legitimate staff allowances including 10 months peculiar academic allowance, Students Industrial Work Experience Scheme (SIWES) supervision allowance; teaching practice allowance and series of outstanding payment of the centre for continuing education.
" Academic infrastructures are dilapidating due to lack of maintenance; laboratories, workshops and studios are not functioning optimally due to lack of equipments and consumables.
"Insecurity and lawlessness is alarming due to complacency of the current management of the college; while staff morale is at low level, due to non payment of staff allowances and other statutory entitlements among other pressing issues," Mr Yunusa alleged.
According to him the college is yet to issue college graduands their Teachers' Registration Council (TRCN) certificate and National Certificate in Education (NCE) certificates for 2014/2015 and 2015/2016 sessions.
"The failure to issue TRCN certificates to our former students may be viewed by the general public as a corporate fraud, considering the fact that they had paid for the processing of the certificates in advance as part of their NCE III school fees while in college.
"The non-payment of security personnel for about seven months has further threatened the security of lives and properties of the institutions. This situation has culminated in serious theft in the students hostels," the chairman alleged.
Mr Yunusa called on the appropriate authorities to to prevail on the management of the college to immediately remit this money back to college's cooperative as soon as possible as failure to to do this will further worsen the welfare condition of some staff, some of whom have invested a larger chunk of their life saving in cooperative society.
"We will never soccumb to the intimidation of 'No work, no pay' by the college management until our demands are met," he said.
We've never added a penny on the price of our products during Ramadan – Dangote 
The chairman of Dangote Group Alhaji Aliko Dangote, has categorically urged people not to panic over price hike in his products during this Ramadan.
Kano Focus recalled that every Ramadan, sugar is one of the most used substance to prepare varieties of drinks and other edibles, even though it often goes higher than usual that a common man cannot afford to buy.
This problem according to many Muslim faith, is associated with the business people in commodity markets – who purchase such most used substances during the fasting period.
However, Mr Dangote said that he has massively filled markets with sugar across the country to avoid shortage during this Ramadan, which according to him to will not heighten the price of the sugar.
Dangote who spoke through his Manager, Garba Ibrahim El- Suleiman in Kano, says the Company presently has bathed all the markets across the country with products, "because our President, Alhaji Aliko Dangote respects and values month of Ramadan to the level that he has never added a penny on the price of his products during the time." He added.
"Our dealers also are very good people and we're rest assured that none of them would be able to take up the price of any product." Garba said.
Speaking with Salisu Sambajo, one of the Dangote Company's major Dealers in Nigeria, says there has never been a time when the Dangote increases prices of his products in any parts of the country during Ramadan.
"The price of every bag of sugar we sell is N18,500 only, therefore whenever you find out that a kobo is added to that, it is from the retailers. These people buy goods from us, they pay for transport, tax and many – so when they some amount on it, it is not Dangote that added it…we cannot force them not to." Sambajo said.
Also, Sabo Dankoli, another dealer of Dangote products explained that they have never experienced a hike in price from Dangote unless in 2020, when there was lockdown due to COVID-19 pandemic, "and that also was not from Dangote, it's because the commodities have gone out of store and people started to add money." He said.
Commending the Dangote Group efforts to ensure that there is no price increase during the fasting period, Chairman of the Kano State Public Complaints and Anti- Corruption Commission (PCACC), Muhuyi Magaji Rimingado has thanked Aliko Dangote for taking measures to ensure that his products have not gone out of store or too expensive to consumers during Ramadan.
''I was informed that the company has flooded the market with commodities that can last till after the Ramadan period and not only in Kano but across the northern states, ''Muhuyi Rimingado said.
''That was why we appreciated the company with a letter of Commendation last week. I hope the company will sustain the initiative even after the holy month of Ramadan.''