Kano Polytechnic land encroachment: Murdering the giant asleep
Kabir Dalha Kabir and Salihu Sule Khalid
It is no longer news that the Kano State government is hell bent on confiscating the Kano State Polytechnic land that is meant for extension of the numerous programs that the Institution is accredited for as well as new ones.
The land in question is a fenced bounded land within the polytechnic boundary and is now the only available land for extension for the institution that lacks various infrastructure like staff offices, students classrooms, lecture theatres, laboratories, workshops, sport complex, etc.
The land is bounded by the School of General Studies from the West, by KSP staff houses and Central Administration from the North, by AKSCIL and School of Management Studies from the East and by the fence erected by KSP from the South, showing that the land is fully bounded by institutional facilities, so I wonder how can residential buildings survive?
It is really sad to also understand that some people within us are involved in this dastardly act.
Residential Plots
It is also rumored that the land is believed to be already allocated to some few important personalities within and outside the state for personal use or political patronage.
The plan of the land according to some reports is containing 108 of plots of GRA sizes.
It is also rumored that the plots are already on sale, ranging from N8,000,000.00-N13,000,000.00 per plot.
Even though there are some strong evidences of the existence of this unfortunate encroachment we will still call it a rumor for now.
I am of the opinion that those people behind this evil plan are not lovers of the people and the government of Kano State.
I am saying this because anybody that will promote the encroachment of such a land in a time when the Kano state government is giving free education at the Primary and Secondary school levels is not a patriotic citizen of our state.
Public versus Personal Interests
Why should the only available KSP land for expansion be grabbed for residential or personal interest?
There is nowhere in the world were personal interest overrides a public interest.
Whenever these two interests collided, the public interest is always considered above the personal one.
This is so anywhere.
The encroached KSP land is of utmost public interest that is reserved for extension and expansion of the institution.
If for any reason it is to be utilized, then it should never be for personal conversion as it is being speculated now.
Since the policy of free education of this government stopped at the secondary school level, then what the tertiary institutions need is  infrastructural development through building more classrooms, lecture theatres, staff offices, recreational facilities and so on for their reserved lands, but not conversion to personal use by the  few.
Construction not Compensation
I think Kano State Polytechnic being one of the oldest in the country needs more land for expansion not compensation.
The information I received on Friday is that the Kano State government has proposed a compensation for the possible confiscated land.
That 65.73 hectares of virgin land in Bagadawa (a place after Dawanau,  along Bichi road)  is being dangled to the Kano State Polytechnic community as a compensation.
But the problem is what Kano State Polytechnic need now is not compensation for an already reserved fenced land, but rather infrastructural development on that same land.
If for all these years, Kano State government could not be able to build a single classroom for the institution, even though there is available land to do that, and also the Management of KSP could not do that because they don't have the funds to, then how does the government thinks a virgin 65-hectare land can be developed in even 10 year period for a conducive learning atmosphere?
Is the government saying residential houses will now be built in the midst of these institutions that bounded the contentious KSP land? Is that arrangement right?
What Legacy?
Are we now saying the only legacy that the Kano State government will leave to KSP community is the allocation of their reserved land to private individuals?
I believe Kano State Polytechnic has great potential if well harnessed.
The Kano State Polytechnic has five schools under its watch.
It is running more than 60 accredited programs with more than 20 now in their final assessment stage.
If this institution is not helped with infrastructure and more land, then I think the little it has must be left to it.
This is the third or fourth time that KSP land is being forcefully confiscated.
While some states are busy giving more land to their public institutions, ours is here confiscating the little that is left.
This is so sad indeed.
We must tell ourselves the home truth that no matter what anybody thinks, this government's decision is fatally wrong; as such it must be looked at with open hearts.
It is not in the best interest of the people of Kano state and it will fatally injure the educational system of the state.
It will also make nonsense of the free educational policy of the Government.
You are murdering the polytechnic in particular and education in general.
May almighty Allah save us from us, amin ya rabbi.
Kabir Dalha Kabir and Salihu Sule Khalid  are staff members of the Kano State Polytechnic.
EFCC Grills Rabiu Kwankwaso
The Economic and Financial Crimes Commission (EFCC) on Saturday grilled former governor of Kano State, Rabiu Musa Kwankwaso over allegations of abuse of office, diversion of public funds and fraudulent allocation of government properties to cronies.
KANO FOCUS reports that Kwankwaso, a chieftain of the Peoples Democratic Party, was first invited by the EFCC in September but failed to honour the invitation as reported by Channels TV.
An associate of the politician informed Channels Television that Kwankwanso may have been invited in relation to a petition by some retired employees of the Kano State Government.
The retired employees had told the EFCC that the former governor mismanaged pension remittances to the tune of N10 billion between 2011 and 2015, to fund a housing project for his cronies.
EFCC spokesperson, Wilson Uwujaren did not comment on the interrogation of the former governor when contacted on Saturday.
Crisis rocks Kano APC as Ganduje, Shekarau hold parallel Congress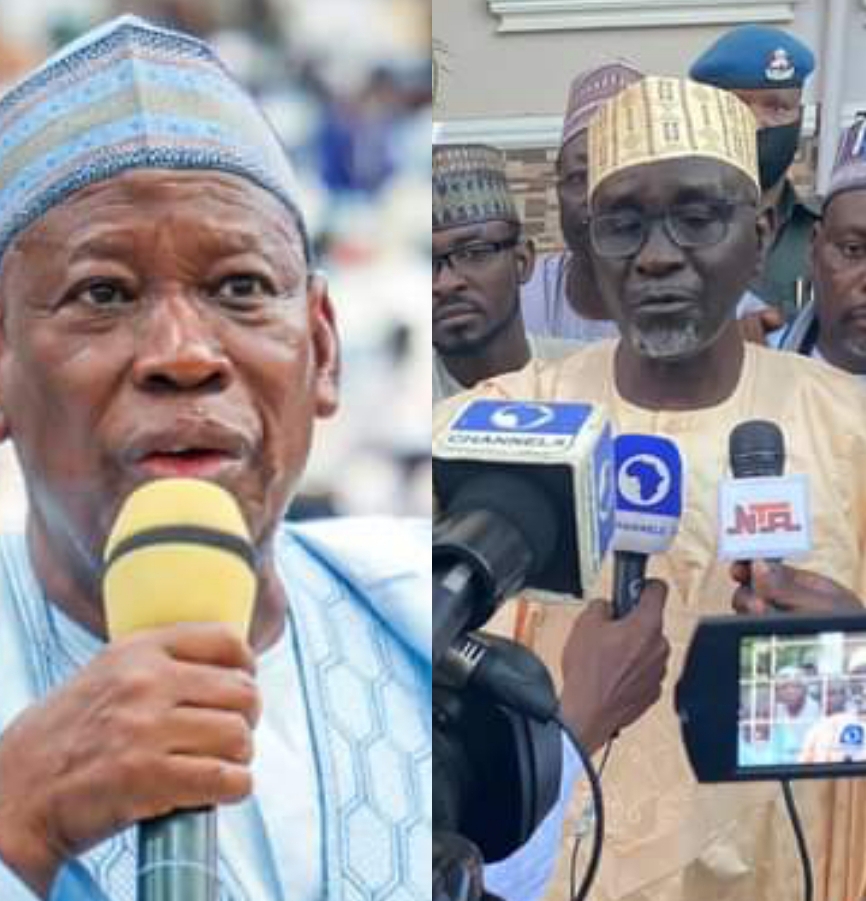 Aminu Abdullahi
Crisis rocked Kano chapter of All Progressive Congress (APC), as Governor Abdullahi Umar Ganduje and faction loyal to former governor of Kano and serving Senator Ibrahim Shekarau held parallel state congress.
KANO FOCUS reports that while Ganduje group held their congress at Sani Abacha stadium, faction loyal to Shekarau had their own at Janguza town, Tofa local government area.
Ganduje's led group endorsed Abdullahi Abbas as state chairman of APC for a second term in a consensus arrangement, while the faction loyal to Shekarau announced Ahmadu Haruna Zago as newly elected chairman of APC in Kano state.
Reports shows that the security have earlier disrupted Shekarau's camp congress at Sani Abacha youth centre and sealed the premises before they moved to Janguza where they held the election.
Below are some pictures of the parallel Congress.
NCC moves to address poor network service at densely populated Kano markets – Prof Danbatta.
Nasiru Yusuf
The Executive Vice Chairman of the Nigerian Communication Commission (NCC) Umar Garba Danbatta says the commission will address the poor network at Kantin Kwari, Sabongari Singer and Kurmi markets.
KANO FOCUS reports that Danbatta announced revealed this while responding to complaint raised by a participant at a two day stakeholders consultative meeting tagged 'talk to the regulator' organised by Nigerian Communications Commission in Kano.
The complainer noted that that there is poor telecommunications service in Kantin Kwari, Sabongari, Singer and Kurmi markets in Kano metropolitan area.
Danbatta responded that the commission will deploy investigative team to determine the nature of the problem and proffer solution.
"We have the capacity to monitor the performance of MNOs, that is the most important thing. Because of this valid observation by our stakeholder, we are going to direct our searchlight in those areas where we think the quality of service needs to improve.
"And if it is necessary, we will send the investigative team what is the nature of the quality of service in such places with a view to improve the quality of the service," Danbatta said.
The Executive Vice Chairman explained that the commission considers stakeholder feedback "as a critical component of our forward – looking regulatory model."
"Hence, the overarching objective of this forum is to get direct feedback from our licensees on how we, as a regulator, are meeting your expectations, and on areas where we can improve our regulatory service, particularly those that have to do with licensing.
"We also intend to use this forum to seek your support for the several initiatives that the commission has carefully developed in our quest to enhance market opportunities for all our licensees."
Danbatta added that the commission will focus it's energies for the next five years on five strategic pillars.
The pillars according to him include "organisational renewal for operational efficiency and regulatory excellence.
"Facilitate the provision of infrastructure for a digital economy which fosters national development.
"Improve quality service (QoS) for enhanced consumer quality of experience (QoE).
"Promote fair competition, inclusive growth, increased investment and innovative services as well facilitate strategic collaboration and partnership."
He disclosed that the federal government has articulated a number of critical policy objectives for the sector such as those articulated in the National Digital Economy Policy and Strategy (NDEPS), the Nigerian National Broadband Plan (2020-2025), the Revised National Digital Identity Policy for SIM Registration among others.
He added that the instruments require the full and unalloyed commitment of all stakeholders to ensure their successful implementation, and the meeting in Kano would provide a veritable channel for licensees' buy-in.
In his address the Director of Licensing and Authorisation Department, Mohammed Babajika, said the commission is further liberalising the telecoms industry by finalising the framework for Mobile Virtual Network Operators (MVNOs) and is currently reviewing existing regulations.
"The Commission is also finalising the Information Memorandum (IM) for 5G deployment, emerging trends like Internet of Things (loT), Artificial Intelligence (AI), Over The Top (OTT) Services and Big Data Analytics, all aimed at initiating strategies to improve service delivery that is accessible and affordable.