Barren women, male soldiers most eligible marriage partners in Kano – Matchmakers
Sabiu Kabuga
Barren women and male soldiers are the most eligible marriage partners in Kano state according to matchmakers.
Kano Focus reports that women who own houses and rich businessmen are the next most eligible category.
A matchmaker, Amina Ahmad of Sani Mainagge Kano city said barren women are most eligible because men fear the burden of catering for children.
Ms Ahmad who has been a matchmaker for 43 years said her female clients prefer soldiers and other paramilitary personnel.
"Most men now demand for barren women to marry.
"Apart from barren women, the male clients also look for women who own houses.
"The female clients look for men in uniform such as customs and immigration officers but they prefer soldiers." Ms Ahmad said
The matchmaker said due to so much demand, she had to invite soldiers from Bukavu Barracks, Kano.
"They were very excited and came to my house to meet the women.
"However most of them were old and my clients prefer young soldiers." She said.
Another matchmaker, Shu'aibu Rabi'u confirms to Kano Focus that male suitors prefer barren women.
Mr Rabiu, who is the chairman Kano state association of matchmakers, said barren women are most eligible for two reasons.
"Some men have a strong libido but the fear of conception prevents them from frequent intercourse.
"And some don't want to have children because they already have enough from other women." Mr Rabiu said.
He said matchmakers determine a barren woman based on her marital history.
"A divorced woman whose former co-wives had children with her ex-husband is deemed to be barren." Mr Rabiu said.
How the process works
Some matchmakers collect a fixed amount from their clients while others vary the price.
Ms Ahmad says she charges both male and female clients N1,000 only.
"And if they get married I also collect anything the couple gives me as a gift." Ms Ahmad said.
However Mr Rabiu charges male clients N2,000 while female clients pay N3,000 only.
"But those men seeking women that own houses pay N5,000 fees." He said.
Mr Rabiu adds that after the marriage he collects one piece of African Print, soap, cream, and a percentage of the bridal price.
He however said there are matchmakers that collect up to N50,000 from clients before they connect them with their desired spouse.
We are not pimps
Mr Rabiu said the major challenge of the matchmaking business is insincere suitors.
"Sometimes we get clients who want to use us as pimps.
"When we connect them with marriage partners they end up propositioning them.
"So I always advise my female clients to report such men to me.
"I have a way of dealing with them." Mr Rabiu said.
Ganduje appoints new Emir of Gaya
Nasiru Yusuf
Governor of Kano State Abdullahi Ganduje has in the early hours of Sunday announced the appointment Aliyu Ibrahim as the new emir of Gaya.
KANO FOCUS reports that Mr Ibrahim succeeded his late father, Ibrahim Abdulkadir who died on Wednesday at the age of 91 after protracted illness.
The Secretary to the State Government, Alhaji Alhaji announced the appointment on behalf of the Governor.
According to Alhaji, "Kano State Governor, Abdullahi Umar Ganduje, by the power conferred on him by the Kano Emirate law 2020 as amended has approved the appointment of Alhaji Aliyu Ibrahim-Gaya as the new emir of Gaya.
"The appointment followed the recommendation by the Gaya Emirate kingmakers after presentation of three candidates from the Governor appointed Aliyu Ibrahim Gaya as the new Emir," he said.
The kingmakers include, Alhaji Alhaji (Wazirin Gaya), Wada Aliyu (Madakin Gaya), Bashir Albasu (Makaman Gaya), and Jafar Usman (Turakin Gaya).
Until his appointment the new Emir was the Chiroman Gaya.
The late Emir of Gaya, Ibrahim Abdulkadir died at the early hours of Wednesday after a protracted illness.
He is believed to be the oldest  (in age) among the five First Class Emirs in Kano state.
Before his ascension to the throne as the first historic Emir of Gaya, he was the District Head of Kunchi and Minjibir, at different times.
Gaya Emirate is one of the four new Emirates created by the Governor Ganduje administration in 2019.
Photo News: Emir Sanusi visits Sultan of Sokoto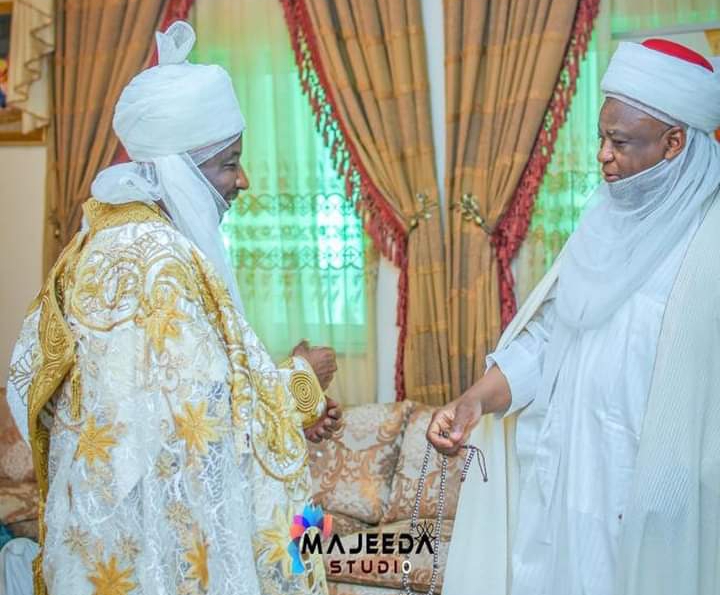 The former Emir of Kano has on Monday paid a courtesy visit to Sultan of Sokoto Muhammad Sa'ad Abubakar lll.
Kano Focus reports that the pictures of the visit were published on a Facebook page linked to former Emir named 'Sanusi ll Dynasty'.
Though the reason of the visit was not stated, but the former Emir has paid similar visit to Lamido of Adamawa in his capacity as leader of Tijjaniyya sect in Nigeria.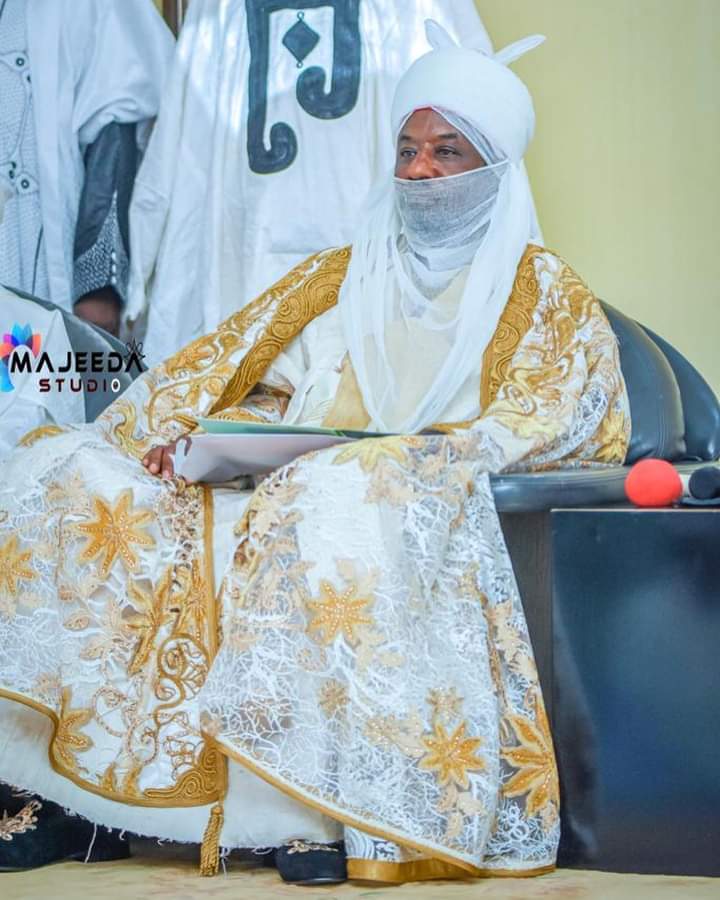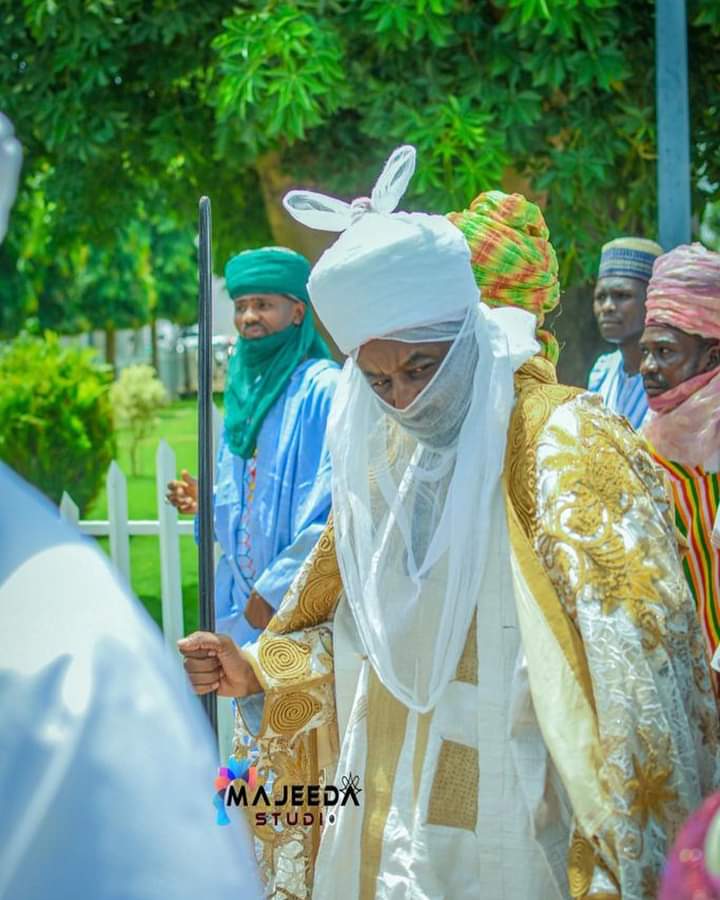 Kano to revive bilateral relationship with Pakistan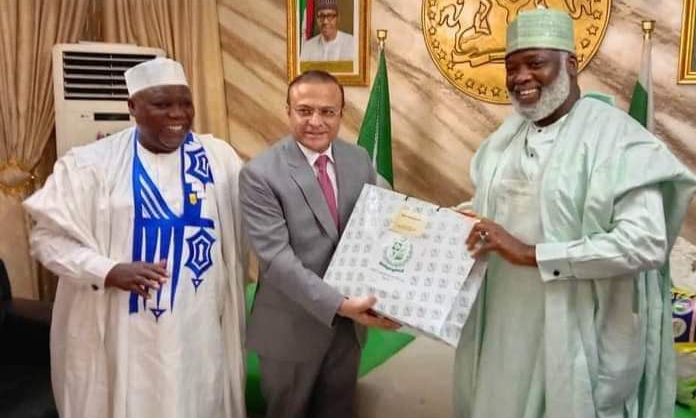 Aminu Abdullahi
Kano State Government has expressed commitment to revive the long existing relationship with Pakistan.
KANO FOCUS reports that Governor Abdullahi Umar Ganduje gave the assurance on monday while receiving the Pakistani High Commissioner to Nigeria Muhammad Tayyab Azam at the Government House.
Ganduje represented by his deputy Nasiru Yusuf Gawuna said Kano endowed with lots of potentials is open for people to come and invest, particularly those from Pakistan.
"We are happy for showing commitment towards reviving the long relationship between us. I can remember the partnership we have in the engagement of Pakistani teachers in our schools which has yielded a lot today."
"Even in the area of agricultural mechanization we have partnered with Pakistan especially in the supply of tractors to our farmers,therefore I feel if we continue to explore agriculture it will be beneficial to both Kano and Pakistan".
The Governor also commended Pakistan for showing interest in reviving the bilateral relationship with Kano State.
In his remarks the Pakistani High Commissioner Muhammad Tayyab Azam described the visit to Kano as historic and important being the first state he visited since assuming office.
"I know the importance of Kano as hub of business in Nigeria, after Lagos Kano is next where there is business opportunity".
"There was a time in Kano when most schools   have many Pakistani teachers..my aim is to bring back that relationship".
He however pointed out that Kano and Pakistan have similarities in both values and culture therefore it is important to deepen the relationship so as to sustain the partnership in  the areas of health and agriculture as that will create opportunities for our people towards boosting the economy.
The High Commissioner was accompanied during the visit by Pakistani Consul General in Kano Ahmed Ibrahim Yakasai.