Barren women, male soldiers most eligible marriage partners in Kano – Matchmakers
Sabiu Kabuga
Barren women and male soldiers are the most eligible marriage partners in Kano state according to matchmakers.
Kano Focus reports that women who own houses and rich businessmen are the next most eligible category.
A matchmaker, Amina Ahmad of Sani Mainagge Kano city said barren women are most eligible because men fear the burden of catering for children.
Ms Ahmad who has been a matchmaker for 43 years said her female clients prefer soldiers and other paramilitary personnel.
"Most men now demand for barren women to marry.
"Apart from barren women, the male clients also look for women who own houses.
"The female clients look for men in uniform such as customs and immigration officers but they prefer soldiers." Ms Ahmad said
The matchmaker said due to so much demand, she had to invite soldiers from Bukavu Barracks, Kano.
"They were very excited and came to my house to meet the women.
"However most of them were old and my clients prefer young soldiers." She said.
Another matchmaker, Shu'aibu Rabi'u confirms to Kano Focus that male suitors prefer barren women.
Mr Rabiu, who is the chairman Kano state association of matchmakers, said barren women are most eligible for two reasons.
"Some men have a strong libido but the fear of conception prevents them from frequent intercourse.
"And some don't want to have children because they already have enough from other women." Mr Rabiu said.
He said matchmakers determine a barren woman based on her marital history.
"A divorced woman whose former co-wives had children with her ex-husband is deemed to be barren." Mr Rabiu said.
How the process works
Some matchmakers collect a fixed amount from their clients while others vary the price.
Ms Ahmad says she charges both male and female clients N1,000 only.
"And if they get married I also collect anything the couple gives me as a gift." Ms Ahmad said.
However Mr Rabiu charges male clients N2,000 while female clients pay N3,000 only.
"But those men seeking women that own houses pay N5,000 fees." He said.
Mr Rabiu adds that after the marriage he collects one piece of African Print, soap, cream, and a percentage of the bridal price.
He however said there are matchmakers that collect up to N50,000 from clients before they connect them with their desired spouse.
We are not pimps
Mr Rabiu said the major challenge of the matchmaking business is insincere suitors.
"Sometimes we get clients who want to use us as pimps.
"When we connect them with marriage partners they end up propositioning them.
"So I always advise my female clients to report such men to me.
"I have a way of dealing with them." Mr Rabiu said.
Why Nigeria needs deployment of 5G Network – NCC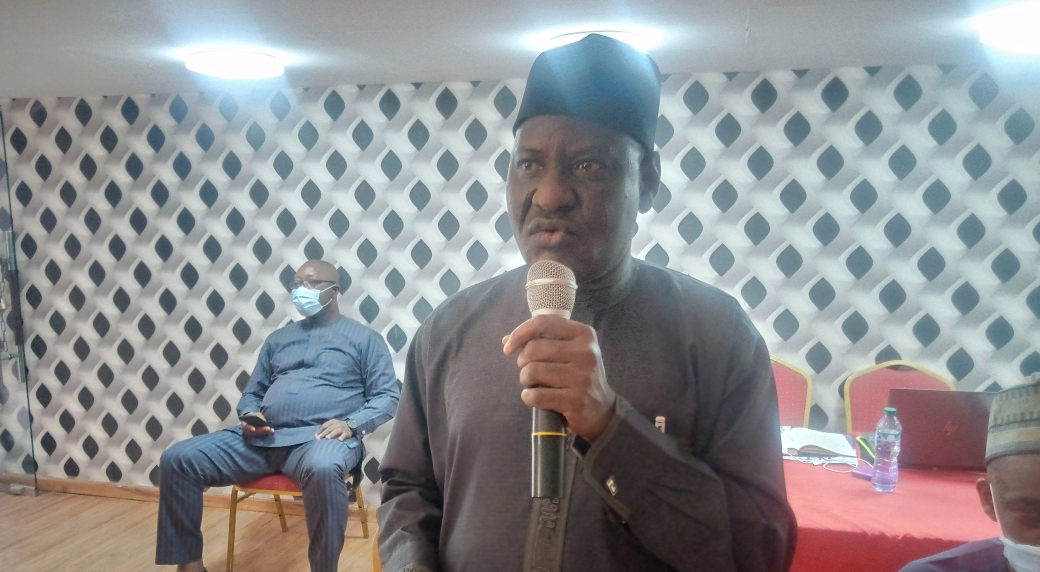 Nasiru Yusuf
The Nigerian Communication Commission (NCC), said Nigeria needs fifth generation (5G) to fully explore the benefits of digital economy.
KANO FOCUS reports that the director technical standards and network integrity in the commission Bako Wakili revealed this at a one day capacity building for media practitioners in Kano.
The workshop themed the role of the media in Nigeria's 5G deployment was to raise awareness amongst media practitioners on 5G deployment.
He said the existing 3G and 4G cannot meet the increasing demand of high speed internet in Nigerian.
According to Wakili, the deployment of 5G technologies will consequently promote the National Digital Economy for a Digital Nigeria that will improve the way Nigerians live and work.
He highlighted some of the benefits of 5G including medical doctors conducting CT scan remotely and factory using data to tweak production.
NCC sets December 10 for mock auction of the 5G
The Executive Vice/CEO of Nigerian Communications Commission, Umar Garba Danbatta said the commission has fixed December 10, for Mock Auction of the 5G in preparation for the Main Auction, which will take place on Monday, December 13, 2021 at the Transcorp Hilton, Abuja.
Danbatta represented by Ikechukwu Adinde, Director Public Affairs of the NCC, Danbatta announced that it is expected that the two slots to be auctioned will be picked up by successful bidders at the end of the auction on Monday, December 13, and following that, the stage will be set for the next phase of 5G roll-out commencing in 2022.
He recalled that on December 1, 2021, the Commission announced that at the close of the bid submission date of November 29, 2021, three companies, namely MTN Nigeria, Mafab Communications Ltd and Airtel Networks Ltd had successfully submitted their bids in line with the requirements of the IM.
The Executive Vice chairman described media as indispensable towards the success of the 5G deployment in Nigeria.
According to him, the theme of the workshop is "5G Deployment and the Next Level of Nigeria's Development.'' is most apt at a time when the Commission is on full throttle to drive the implementation of the deployment of 5G, otherwise called the Fifth Generation Network, in the country following the approval of the Federal Government on September 8, 2021.
"As we progress in our journey of 5G deployment, the media has a critical role in the process by ensuring proper and adequate reportage of the programmes and activities of the Commission as it unfolds the 5G plan.
"From the programme, I can glean that the workshop will feature topics around 5G to equip you with greater insights and knowledge in order to improve your overall understanding of this very important new technology, its usage, opportunities and benefits it offers for the overall development of our socio-economic life," Danbatta said.
He stated that Nigeria's promising 5G Plan has the objectives of ensuring efficient assignment of spectrum for 5G deployment, creating an enabling environment for investment in the telecom industry, ensuring effective deployment of 5G to cover major urban cities by 2025, among others.
He thanked the media for the continuous support to the Commission through effective and unbiased reportage of our regulatory activities, programmes and events.
"We are, therefore, committed to continuing to explore avenues to strengthen and expand the frontiers of our partnership in this regard in order to serve the greater interests of our teeming stakeholders in the telecoms industry, particularly the telecom consumers," he said.
In his presentation, the director public affairs Ikechukwu Adinde said GSM has revolution has greatly impacted on socioeconomic life of Nigerians.
He said so far the telecommunication sector is the most patronise services in Nigeria.
He identified some of GSM contributions including increased availability, accessibility, affordability of telecoms services, major contribution to national economic growth and unprecedented job creation across the industry.
Others are value chain, Increased efficiency in personal, business/official activities, Digital transformation across industry and verticals enabler of other sectors such as banking, media, aviation, medicine, education and agriculture.
Highlights of the event include presentation of certificates and tablets to each participant.
Ganduje jets out to US, transits power to deputy
Kano state governor, Abdullahi Umar Ganduje has travelled to the United States of America (USA) where he is participating in a week-long programme.
KANO FOCUS reports that this was contained in a statement issued by the commissioner for Information, Muhammad Garba on Tuesday.
It indicated that Governor Ganduje was attending an Authentic Leadership Development Programme at Harvard Business School,11 Boston.
He said the governor has transited power and given full mandate to the Deputy Governor, Dr. Nasir Yusuf Gawuna to serve as the Acting governor of the state.
The statement added that all official transactions henceforth should be channeled through the office of the Deputy Governor for necessary action.
Dangote Refinery Awards Scholarship to Students in Lagos
Mukhtar Yahya Usman
Dangote Oil Refining Company has awarded scholarships to 137 tertiary institutions and secondary school students from its host communities in Ibeju Lekki, Lagos State.
Kano Focus reports that the company said the scholarship had become an annual event meant to contribute to the educational development of the people and position them in right place in the scheme of things in Lagos State and Nigeria in general.
The Executive Director, Strategy, Capital Projects and Portfolio Development, Dangote Group Mr Devakumar Edwin, presented the scholarships to the beneficiaries on Monday.
The scholarships were presented to 19 tertiary institution students and 118 secondary school students from 15 communities in Ibeju Lekki.
Edwin said the Dangote Group believes that education was the passport to the future and that an investment in knowledge yields the greatest dividends for mankind.
He said the company had over the years supported the Nigerian educational sector by instituting scholarship award programmers.
According to him, this is part of the company's education intervention initiative for indigenous students of host communities impacted by its businesses.
"In 2019, we executed a pilot of the scholarship programme where 51 secondary school students from our 15 host communities here in Ibeju Lekki were awarded.
"However, as 2019 came to a close, COVID -19 hit the global community, leaving its indelible mark not only on businesses but on every household.
"As a result, we could not institute the second edition of the scholarship programme in the year 2020.
"As the curtain closes on 2021, we cannot but acknowledge the efforts that our scholars have put into their academic studies, to obtain such excellent results which qualifies them as beneficiaries of this award.
"Hence, after a rigorous screening process, 118 secondary school students and 19 tertiary institution students from our host communities have qualified for this scholarship award."
While congratulating the beneficiaries, he enjoined them to continue to work hard at their studies, strive to achieve excellence in all that they do and never stop giving their best.
"With the continuous support of the people and the Lagos State Government, we shall not relent in our efforts to be socially accountable while we positively impact our host communities.
"We look forward to a continuous peaceful and rewarding relationship with our host communities in Ibeju Lekki," Edwin said.
On his part, Oba Olumuyiwa Ogunbekun, the Oni-Lekki of Lekki commended Dangote Oil Refining Company for initiating the scholarship award for indigenes of the area.
Ogunbekun noted that the move showed that the company was determined to carry along the host communities and to contribute significantly to the socio-economic development of the locality.
He urged the beneficiaries to study hard and focus on their education in order to better their lives and become worthy ambassadors of Ibeju Lekki in future. One of the beneficiaries, Master Qudus Sodiq, a Senior Secondary School Student from Community Senior High School, Lekki, thanked the Dangote Group for the scholarship.
"I am very happy with this scholarship. It will help me to accomplish my educational aspiration and pursue my dreams in future," he said.