How Nigeria plans to end HIV/AIDS before 2030 – Official
Nasiru Yusuf
The Director General of National Agency for the Control of Aids NACA Gambo Aliyu said the agency has planned to end HIV/AIDS in Nigeria in the next ten years.
Kano Focus reports that Mr Aliyu revealed this shortly after monitoring Integrated Biological and Behavioral Surveillance Survey (IBBSS), in Kano.
Mr Aliyu noted that if all Nigerians will volunteer to undergo HIV screening to know their status, the agency will end AIDS before the year 2020.
"If we can get before the end of this year, every Nigerian to test himself or herself to know if he or she has HIV and come forward to work with us to provide a lifesaving medication to ensure this HIV does not live them to affect other persons, we will be able to control HIV.
"Two reduce the number of people getting HIV every day.
"Three, reduce the number of people that are dying from HIV.
"Four, reduce the number of people that are becoming sick because of HIV.
"The problem is people don't know they have HIV until they are being brought to hospital sick.
"That is what we want prevent.
"Our call for everyone is to help us do one thing; just go and test yourself.
"If you have HIV, know that this is the beginning of another journey not the end of the road," Mr Aliyu said.
The Director General of the agency said the survey focused on the key affected population who are responsible for spreading HIV to other groups.
"This survey is specifically looking at key affected population.
"Key affected population are the groups that drive the transmission of HIV more than any other group in the society.
"These are men who have sex with men, female sex workers, injection drug users and people who are transgender.
"We believe getting these people and getting to know their size in the community and the kind of services they preferred will help us design based on their preference. Design services that will work better.
"We are now at a stage where we see the light at the end of the tunnel in terms of our ability to control HIV epidemic and end AIDS by the year 2030.
"We believe getting it right with these population is very-very important," he said.
According to him, the finding of the survey will help the agency know the status of HIV epidemic among the population, the distribution of HIV among the population and the effectiveness of programmes being implemented over the years.
"Based on my visit, I think it is encouraging. I had an opportunity to interact with the data collectors.
"I have an opportunity to interact with the participants. I was very impressed with the level of knowledge and awareness in terms of HIV awareness of services and awareness of HIV medication can do and what preventive measures can do among those affected population.
"I was very happy to hear them telling me measures that are really important, how the drugs works on individuals in terms of reducing the sizes of HIV and making HIV transmission difficult," Mr Aliyu said.
Just In: Kano closes 10 boarding schools over students abduction
Nasiru Yusuf
Kano state government has closed 10 boarding schools over the fear of incessant abduction of school students in some Northern states.
The commissioner of education Muhammad Sanusi Kiru announced this in an audio message sent to journalists on Friday.
He said the closure followed a thorough analysis and assessment of persistent abduction of boarding students during night hours in some Northern states.
This according to commissioner led Kano state government to close ten boarding schools spread across the state.
He said the schools closed include Government Secondary School Ajingi, Government Girls Secondary School Sumaila, Government Girls Secondary School Jogana, Government Girls Secondary School Gezawa and Government Secondary School Kafin Maiyaki.
Others according to Mr Kiru are Maitama Sule Science Secondary School Gaya, Government Girls Unity School Kachako, Government Girls Secondary School Kunchi, Government Unity College Karaye and Government Girls Arabic College Albasu.
Mr Kiru called on parents whose children are in affected schools to go and pick them immediately.
The announcement comes less than 24 hours after the abduction of 317 students of Government Girls Secondary School Jangebe, Zamfara state in the early hours of Friday.
Danbatta, others endorse book on telecoms law, regulations
Nasiru Yusuf
The Executive Vice Chairman of the Nigerian Communications Commission (NCC), Umar Danbatta was among eminent personalities that have endorsed a new book on Nigeria' telecommunications industry's legal and regulatory ecosystem.
Kano Focus reports that the book titled, "Nigerian Telecommunications Law and Regulation", which is co-authored by Quasim Odunmbaku, a telecoms regulatory professional at the NCC and Rotimi Akapo, a lawyer, who specialises in Telecommunications, Media and Technology (TMT) practice, is written in 18 chapters and over 600 pages.
Speaking at the virtual public presentation of the book on Thursday, Danbatta, who was the chairman and lead presenter at the event, said that law and regulation are two critical pillars, which influence the speed and impact of innovation in the telecoms sector.
"As important as these two factors are, they typically lag behind technology – it, therefore, behoves on all legal and regulatory practitioners in the sector to keep abreast of developments so that knowledge gaps do not stifle innovation and/or deny consumers of the optimum value," he said.
Represented by the Executive Commissioner Stakeholder Management at NCC, Adeleke Adwolu, the EVC acknowledged that there is a noticeable paucity of well-researched books and reference materials on the legal and regulatory regime governing the telecommunications and indeed the ICT sector in Nigeria.
"I am, therefore, delighted that the authors of "Nigerian Telecommunications Law and Regulation" have taken up the challenge and have produced a comprehensive reference material which touches on practically every aspect of the subject."
The official public presentation of the book was done by the Minister of Youth and Sports, Sunday Dare, who, who incidentally was a former ECSM at NCC, and had worked closely with one of the authors. Dare described the book as "a compendium that will greatly enrich the level knowledge needed to enhance telecoms growth."
Reviewer of the book,  Mohammed Suleh-Yusuf, after an insightful review of the book, said, "The book is highly useful to practitioners and lay readers alike. It serves as a window into what shapes the industry and ensures readers are familiar at surface, to the basic rules and norms that influence the industry."
Other telecoms stakeholders have overwhelmingly endorsed the book, describing it as a good reference material and comprehensive guide, reference material and source-book on the policy, legal and regulatory framework governing the Nigerian telecommunications sector, which, many stakeholders said, will fill a critical contemporary knowledge gap for legal practitioners, investors and the academia.
According to the Head of Sub-Saharan Africa Operations, Global System for Mobile Communications Association (GSMA), Akinwale Goodluck, "As an industry practitioner, I have thoroughly enjoyed reading the book and recommend it very strongly for everyone with an interest in the Industry. It also provides invaluable insight for other countries in Sub-Saharan Africa to learn from the Nigeria experience."
Immediate past President, Association of Telecom Companies of Nigeria (ATCON), Olusola Teniola, and incumbent ATCON President, Ike Nnamani, aligned in their views, saying the authors have challenged the industry by putting together an encyclopaedia behind the growth of the Telecommunications industry from the perspective of legal, regulatory, economic, social and technological impacts.
In his comment, Chairman, Association of Licensed Telecoms Operators of Nigeria (ALTON), Gbenga Adebayo, said "the book carefully dissects the policies, rules, regulations and industry best practices which makes the Nigerian telecommunications industry the success story that it is today, despite numerous challenges."
Other stakeholders, who rated the book very high both in contents and relevance to industry practitioners include Chairman, Section of Business Law, Nigeria Bar Association (NBA), Ayuli Jemide; Director, Legal & Regulatory Affairs/Company Secretary, Airtel Networks Limited, Shola Adeyemi; Principal Partner and Head, ICT Law & Regulation, Sceptre Law, Lagos, Otu Etuk;  Abiola Sanni of the Faculty of Law, University of Lagos, among others.
The stakeholders were in accord that the book, which sets out with great clarity and in the greatest detail the history, current status and how to navigate the policies and regulation of the Nigerian telecommunications sector in the real world, is a must-read for regulators, investors, scholars and industry practitioners.
KAROTA succumb to Tricyclists' protest, accepts POS payment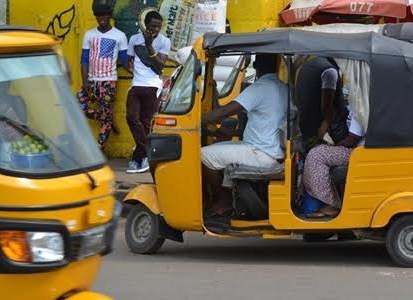 Nasiru Yusuf
The Kano Road Traffic Agency (KAROTA) has succumb to protesting tricyclists and agreed to accept payment of one hundred Naira tax via POS or mobile banking.
Kano Focus reports that the tricyclists have earlier agreed to pay the one hundred Naira tax daily, but protested against making payments via REMITA platform.
The tricyclists requested for cash payment, mobile banking or via POS, a request KAROTA leadership rejected outrightly.
However, at a negotiation facilitated by Kano state leadership of Nigeria Labour Congress (NLC) and Kano Civil Society Forum Ibrahim Waiya, KAROTA agreed to accept payment via POS mobile transfer after initial payment through REMITA.
A copy of the resolutions reached by leadership of tricyclists and Managing Director of KAROTA Bappa Babba Dan'agundi on Tuesday in the presence of NLC chairman Kabiru Ado Minjibir and that of  directed all tricycle operators to call off their protest and resume operation.
The resolutions obtained by Kano Focus reads in part "After extensive and fruitful deliberations which lasted for over two hours. The following resolutions were reached.
"That all tricycle riders in the state are to pay a token of N 100 daily as provided by the Kano state revenue administration law, schedule 2 item 9 congestion charges amendment law 2017.
"That the first payment of N100 should be through REMITA to enable data capture in Kano state Board of Internal Revenue/KAROTA which should be done within two weeks effective from today 23 February, 2021, after which KAROTA will commence enforcement and the server shutdown, so that nobody will access it to enable control.
"That the subsequent payment of N100 daily tax should follow by the tricycle operators which can be done through their Android phones or P. O. S (Point of Sale) with an option of daily, monthly, quarterly or annual payment at the cafe (which is not compulsory).
"That the hire purchase owners will assist the tricycle riders in the provision of additional REMITA points to enable members to make payment with ease.
"That the leadership of organised labour and Kano Civil Society Forum will continue to engage the leadership of tricycle riders/owners association in the state for smooth conduct of their business through public enlightenment, awareness activities and training on professional conduct to ensure peaceful coexistence in the state and hitch business atmosphere.
"That a joint Press briefing should be conducted at KAROTA office and emergency meeting of all units of tricycle association should be summon immediately to enable striking riders go back to their business and suspend the strike.
"That all tricycle riders in the state should write their number boldly at the back of each tricycle for easy identification and security purposes."