How Lack of Equipment Exposes Health Workers To COVID-19 In Kano
Nasiru Yusuf
When the federal government declared Kano as epicenter of COVID-19 there was no exact figure of health workers affected by the global pandemic in the state.
As in many places ravaged by the pandemic, health workers are in the forefront of the fight against COVID-19 in Kano State.
The high rate of COVID-19 cases in very densely populated metropolitan local government areas of Kano has exposed many health service providers to coronavirus infection.
During this reporter's visit to Panshekara Primary Health Centre in Kumbotso Local Government area amidst COVID-19 pandemic, there was violation of NCDC protocol by health workers and patients.
At the immunisation unit of the health centre, health practitioners were sighted working without hand gloves, while visitors did not use face masks.
The situation was also the same at one of general hospitals in Kano metropolis where a medical doctor on duty was sighted diagnosing patients without hand gloves.
One dead, 64 doctors, 30 nurses test positive for COVID-19 in Kano
The Kano State chairman of the Nigerian Medical Association (NMA), Sanusi Bala told this reporter that 64 doctors had tested positive for the novel coronavirus in the state.
Mr Bala explained that many of the victims were the doctors working at the Aminu Kano Teaching Hospital (AKTH) and other private clinics in the state. He said many of them were infected through normal clinical routines while attending to unsuspected COVID-19 cases.
Mr Bala attributed the high number of COVID-19 infection among medical doctors in Kano to lack of adequate personal protective equipment at the initial stage of the pandemic.
"We have 64 doctors infected. And I think about 30 nurses and a number of medical laboratory scientists were also infected. We lost one senior colleague to the fight. We thank Allah subhanahu wa ta'ala. Apart from the one we lost, the remaining 63 doctors recovered without any hitches.
"Initially, we didn't have adequate PPE. That was because the number of cases in Kano within a short time kept skyrocketing. They came in large number. And the number of PPE supplied was less than what was required. And there was shortage of training for individuals.
"But Alhamdulillah later, together with the NCDC and the task force, we sat and re-strategised. As I am talking to you, everywhere you go, there is PPE, from the gown, the N-95, boot and all other kits required for people to work. We have less cases now," he said.
The chairman of Aminu Kano Teaching Hospital's branch of the Association of Resident Doctors, Abubakar Nagoma, confirmed the revelation of NMA chairman. He said 54 doctors got infected while treating patients who came to the hospital with symptoms that later turned to be COVID-19.
Mr Nagoma said the affected health professionals included resident doctors who were undergoing training and consultant doctors. He attributed the vulnerability of the doctors to non-use of face masks by patients and lack of adequate personal protective equipment for doctors.
He highlighted the deliberate hoarding of information by some patients as one of challenges.
"On our part, we lack protective equipment. And you will see many doctors at accident and emergency unit of the hospital wearing only face masks. This is the only protection we have in addition to hand gloves and hand sanitizer," he noted. "This is not the standard protection protocol guidelines according to NCDC. If you have any suspected (COVID-19) patient, you are supposed to have boots, suit, face mask, goggles, cap and face shield. These are what is obtainable in the developed world and this is the recommendation of the National Centre for Disease Control. To be sincere we don't have them on ground. We don't have complete protective suit.
"Another thing, a lot of patients coming from various places within Kano, don't come with face mask. And some of them will present their pre-existing medical condition, and subsequently the symptoms of COVID-19 start manifesting. To some extent, sometimes patients conceal information until after series of diagnosis, then you find symptoms of COVID-19. You are already exposed by then. It is unfortunate we are working in a very constrained environment.
"Then there is the issue of the number of patients. There are lots of patients coming to the hospital. And they don't use any barrier that will serve as protection between you and them.
"We have made so many requisitions to the hospital to ensure constant provision of all the necessary protective equipment. In fact, we even went to the extent of threatening the hospital that we will stop diagnosing patients if this equipment is not available. But you know as healthcare providers we cannot fold our arms watching our patients dying. We are always seeing patients whether with or without the supply of what we requested. We are still pushing for this to be available. Even the hospital management are complaining they have yet to be supplied by the federal government. What we have has already been exhausted."
Fifteen additional health workers tested positive for coronavirus while treating patients at the National Orthopeadic Hospital, Dala. Aliyu Kabara, the chairman of the hospital's branch of Association of Resident Doctors (ARD) confirmed this to this reporter.
Mr Kabara said the 15 infected health personnel included three consultant doctors, nine resident doctors and three nurses that treated asymptomatic COVID-19 patients who came to the hospital for orthopaedic treatment.
"We were the first hospital in Kano to record infected COVID-19 doctors," he noted. "During the first screening, 15 persons out of 25 samples were positive for COVID-19."
According to him, the hospital has scaled down operation, and restricted services to emergency cases and inpatients.
On how the doctors got infected, Mr Kabara said they contracted the disease from a female patient who had undergone a surgery.
"When she came back for follow-up, she exhibited some COVID-19 symptoms. Most of the infected doctors are from that unit where this woman was treated," he said. "We don't always use personal protective equipment because we don't have enough. No one will refuse to attend to a patient with life threatening illness and send him back because of lack of personal protective equipment. Some of these patients have COVID-19 beside their known clinical challenges."
Apart from the doctors, about six members of the Kano State task force on COVID-19 were also infected with the virus. Prominent among them were co-chairman AbdurRazaq Garba Habib, the secretary of the committee Imam Wada Bello, and state commissioner of health, Aminu Tsanyawa.
Cleaner, billing official, 32 other health workers test positive for COVID-19 at AKTH
A total of 34 additional health workers at Aminu Kano Teaching Hospital (AKTH) had contracted the COVID-19 virus at the time of filing this report.
This was revealed by the chairman of the hospital's branch of the Joint Health Sector Union (JOHESU), Murtala Umar.
Mr Umar listed the infected health workers to include 12 nurses, five medical laboratory scientists, three technicians, two medical record officers, one billing officer, one hospital attendant and one cleaner.
He added that eight members of the union had earlier contracted the coronavirus.
Kano government reacts
Despite health workers outcry of inadequate PPE in public hospitals, Kano State commissioner of health, Aminu Tsanyawa, said the government had taken adequate measures in protecting front line healthcare workers working in response team and those at facilities.
"His Excellency is keen about protecting front line healthcare workers and other healthcare workers that are working in our facilities," he noted. "His Excellency has come up with the strategies and intervention to ensure that our healthcare workers are protected as they are doing their work of protecting the people of Kano.
"First and foremost is orientation and training at various level of healthcare workers to ensure that those working directly at response team are protected, and to also ensure that those working at facilities providing services are protected.
"They were trained on infection prevention and control (IPC). Many of our healthcare workers were trained to ensure they keep safe. This is one singular intervention that is important in safeguarding our healthcare workers."
13% of Kano residents tested for COVID-19 were positive
About 13 per cent of Kano residents tested for COVID-19 tested positive for the virus, according to an official report.
The report released by the Kano State Ministry of Health was titled "COVID-19 response update: Kano laboratory overview."
It indicated that as of June 20, the state had collected 9,103 samples, 8,948 results were retrieved, 155 samples pending and 1,191 confirmed positive cases.
The Kano positive rate is less than the overall for Nigeria where about 19 per cent of tests have come out positive.
The Nigeria Centre for Disease Control (NCDC), which coordinates the COVID-19 testing and treatment across the country, does not, however, provide a regular state by state breakdown of the tests done.
However, over 40 per cent of people who have tested positive for COVID-19 in Nigeria are in Lagos, indicating the state also has the highest number of people tested.
The Kano data
The breakdown of the data by the Kano health ministry showed that from March 20 to April 20, the state collected 1,765 samples and recorded 219 positive cases.
Between April 20 and May 20, the state collected 2,930 samples with 735 testing positive.
Also, between May 20 and June 20, the samples collected doubled to 4,408 while the number of positive cases dropped to 237.
According to the data, the samples were treated at five NCDC designated laboratories with a combined total of 530 testing capacity daily.
The laboratories are Aminu Kano Teaching Hospital with 90 testing capacity daily, Bayero University, Kano (180), 54Gene (90), IFRAN (80) and EHA (90).
Controversial deaths
The update provided on Kano State ministry of health's twitter handle showed that the total samples collected as of Saturday, December 26, 2020, was 57,484; the confirmed cases were 2,169 with 284 active cases and 1,825 persons have been recovered and discharged.
The twitter handle revealed that so far 60 persons who tested positive of COVID-19 in Kano had lost their lives.
The 60 recorded deaths were separate from the mysterious deaths recorded in the state, about 500 of which were suspected to be from COVID-19.
The northwestern state had in April experienced a spate of about 979 unexplained deaths, including first-class traditional rulers, health workers and academics.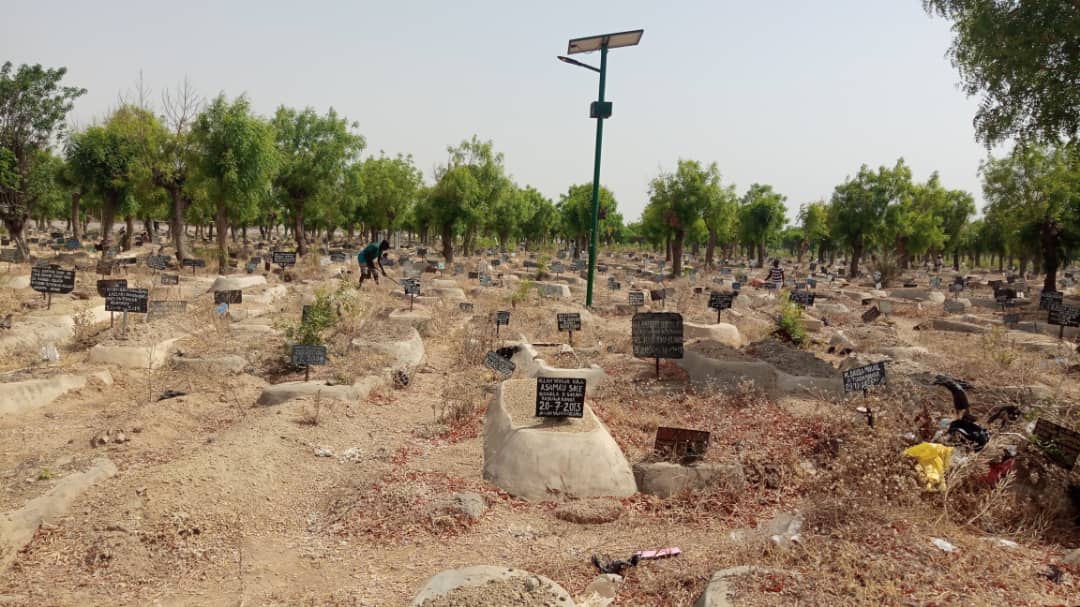 The health minister, Osagie Ehanire, had said about 60 per cent of the "mysterious deaths" recorded in Kano State may have been triggered by COVID-19.
"With regard to unexplained deaths in Kano which occurred in April over a five-week period, the team confirmed that a total of 979 deaths were recorded in eight municipal LGA in the state at a rate of 43 deaths per day," Mr Ehanire said.
"The peak was in the second week of April. By the beginning of May, the death rate had reduced to 11 deaths per day it used to be.
"The verbal autopsy revealed that about 56 per cent of deaths had occurred at home while 38 per cent were in a hospital.
"Investigation suggests that between 50-60 per cent of the deaths may have been triggered by or due to COVID-19, in the face of pre-existing ailments."
A verbal autopsy is carried out to find the cause of death when the corpse is not physically available or has been buried.
The Kano government, however, disputed the federal government's report, saying its findings showed that only about 16 per cent of those strange deaths could have been from COVID-19.
Kano State government findings
Kano State government report was presented to the public at Kano Government House by Mukhtar Gadanya, a Consultant Public Health Physician at Aminu Kano Teaching Hospital AKTH.
Mr Gadanya who read out all parts of the report said: "A retrospective study of mortalities was conducted over two weeks (27th April – 15th May, 2020), across eight metropolitan local government areas (Gwale, Fagge, Tarauni, Kumbotso, Ungogo, Nassarawa, Kano Municipal and Dala)."
According to him, the mortalities in the identified LGAs "were line-listed, which made a provision for the questionnaire to be administered house to house."
He revealed that, as part the committee's scientific approach, "mortalities reviewed were for a period of 1 month (1st April to 2nd May 2020)."
"Relatives of those who passed away were interviewed by respective Ward Focal Persons (WFP), using a structured questionnaire into an electronic platform (ODK), he said.
"Data from the questionnaire were reviewed for categorisation into most probable causes of mortality by medical specialists using "two-symptoms' criteria (at least presence of two of any of fever, cough and shortness of breath)."
According to Mr Gadanya, "an inter-play of various factors contributed to the mysterious deaths, causes this study shed light on. Mortality in community is cyclical and vary by seasons and months."
Mr Gadanya disagreed with the earlier report by the minister of health saying that, "COVID-19 might have contributed 15.9% of the cases of mortality, but within the limitations of the verbal autopsy method, that cannot provide confirmation."
He added that, "Some deaths may be related to disruption of medical care and socio-economic activities due to fear of contracting COVID-19, which usually happens during epidemics.
"If the mysterious deaths were COVID-19 related, the deaths could have come more from local governments that have more COVID-19 cases.
"Tarauni Local Government for example, with 100 confirmed COVID-19 cases is the first in pandemic ranking, but in the mysterious deaths it is rated 7th."
This investigation was commissioned by the African Centre for Media & Information Literacy (AFRICMIL) as part of its whistleblowing initiative under its Corruption Anonymous project supported by the MacArthur Foundation. Published materials do not reflect the views of the MacArthur Foundation.
COVID-19: Ganduje directs local governments to constitute committees against Coronavirus
Nasiru Yusuf
Governor Abdullahi Ganduje has directed chairmen of local government councils in Kano state to raise committees at local government and ward levels to tame COVID-19 pandemic.
Mr Ganduje gave the directive on Wednesday during a meeting with the chairmen of the forty four local government councils in the state.
He charged them to face fight against COVID-19 with vigour and absolute commitment as done to polio.
"You know how you treated Polio tirelessly with all seriousness and genuine feeling of responsibility, I want you to give COVID-19 similar treatment. Or even more than that.
"You know we fought the battle against Polio together, since when I was the Deputy Governor. It should still be fresh in your memories, how we worked round the clock and with Allah's Blessing we gave our possible best for our dear country to become Polio-Free nation," Mr Ganduje said.
The governor called on them to engage security agents in their respective council areas in the fight against COVID-19.
He said, "We have produced and secured millions of face masks. You will all be given for distribution to your people. All hands must be on deck."
Mr Ganduje disclosed that, he would soon invite the newly elected chairmen for similar discussions and partnership.
"I know as out-going Chairmen, your tenure will soon come to an end. But those of you who are among the newly elected chairmen, I will soon re-invite you with other newly elected chairmen for the same stakeholders meeting."
"It is our responsibility as leaders to always see to the safety of our people at all levels. We still need to do more in all areas of the fight against COVID-19 pandemic," he said.
Police arrest 4 suspected kidnappers including a woman terrorising Zamfara, Kano
Nasiru Yusuf
Police in Kano have on Wednesday paraded four suspected kidnappers including a 23 year widow Maryam Muhammad, of Butsa Village, Gusau, local government area of Zamfara State.
Parading the suspects, police spokesperson in Kano Abdullahi Haruna said the accused were arrested on Friday at a rented apartment located at Jaba Quarters, Ungogo local government area where they held hostage Mohammed Sanusi and demanded ten million Naira ransom from his parents.
He explained that the police have successfully rescued the victim unhurt after a fierce gun duel with the kidnappers.
Mr Kiyawa recalled that on January 12 one Sunusi Ado of Galadanchi Quarters, Gwale local government area of Kano state reported that his 29 year old son, Mohammed Sanusi,  was kidnapped and a ransom of ten million Naira was demanded.
"Upon receipt of the complaint, the Commissioner of Police, Kano State Command, CP Habu A. Sani, psc, raised and instructed a team of Operation Puff Adder, led by DSP Shehu Dahiru, to arrest the culprits.
"The Team swiftly swung into action, and following credible intelligence, on 15 January, 2021, that is 3 days after the report, raided a rented apartment located at Jaba Quarters, Ungogo LGA of Kano State where the victim was held hostage.
"The gallant team cordoned the area, engaged the occupants of the house in a fierce gun duel, successfully rescues the victim unhurt and arrested the suspects," Mr Haruna said.
Other aspects arrested beside Ms Muhammad are Sani Ibrahim and Shamsuddeen Suleiman all of Butsa Village, Gusau local government area Zamfara State and Ishaq Khalil, of Rijiyar Lemo Quarters, Fagge local government Kano State.
All the suspects according to police spokesperson confessed involving in series of kidnappings in Kano and Zamfara states.
Mr Haruna added that the police have recovered one AK-47 rifle, one Magazine loaded with 30 rounds of Live Ammunition and an unregistered motorcycle.
According to police spokesperson  investigation revealed that Maryam's husband, Sani Ismail of of Niger state, was a Notorious cattle rustler, killed in Zamfara state while carting away rustled cows.
Mr Kiyawa told journalists that after the death of Ms Muhammad's husband, her brother, Hamza Dogo, also a notorious kidnapper relocated her to Kano where she rented apartments in Unguwa Uku, Panshekara and Maidile Quarters.
According to police findings Ms Muhammad later moved to Jaba Quarters and rented another apartment for six hundred thousand Naira per annum, which she turned into a kidnappers den.
How they trapped the victim
Ms Muhammad revealed that on January 12, around 8 pm, she contacted the victim via his mobile phone and told him to bring her a new Samsung handset for her to buy at sixty five thousand Naira.
She disclosed the victim drove his Toyota Vibe Motor Vehicle to the apartment. They opened the gate of the house, and as soon as he entered, the four of them attacked him, tied him up, took his Motor Vehicle to Zamfara State and contacted his family for ten million Naira Ransom.
Ms Muhammad disclosed that though, they demanded ransom, their plan was to kill him after collecting the ransom, because the victim knows the apartment and recognizes them.
She recalled that, on October 2, last year, they have kidnapped one Shafiu Umar, of Naibawa Quarters, Kumbotso local government area of Kano state, and held him hostage in Zamfara State.
She also confessed that they collected a ransom of ten million Naira, a brand new motorcycle and Toyota Corolla LE worth two million, five hundred thousand Naira.
The police said they have recovered the Toyota Vibe Motor Vehicle from one Ishaq Yusuf of Gidan Dawa Quarters, Gusau, Zamfara state on Monday January 19.
Mr Kiyawa told journalists that the Kano state Commissioner of Police Habu Sani has ordered for discrete investigation for the Police to arrest accomplices of the syndicate and recover their operational weapons.
He advised Kano residents to be extra careful in renting apartments to strangers.
COVID-19: Ganduje mobilises Emirs to fight the pandemic
Governor Abdullahi Ganduje of Kano state has on Wednesday met with all the five Emirs from Kano, Bichi, Rano, Karaye and Gaya Emirates as part of government response to tame possible effect of the 2nd wave of COVID-19.
Mr Ganduje assured the monarchs of government's commitment towards the fight against the second wave of COVID-19.
He said, "Indeed COVID-19 is back and we have to also be back to fight it relentlessly. It is said that, if the going is tough only tough ones keep standing. We shall be tougher at all times, till when we put a halt to it."
"We are starting this stakeholders meeting with you, because you are closer to the people at the grassroot."
He urged them to go back to their respective Emirates and mobilise their subjects against the pandemic.
"You go and work closely with your District Heads, Village Heads, Ward Heads, Ulamas and other community leaders, to see that we deal decisively with this second wave. All hands must be on deck."
"We do appreciate the role being played by the leaders of other ethnic nationalities. Since in the first wave of this pandemic, we knew you did very well amongst your people. This is highly commendable," he noted.
"Kano is experiencing the gradual increase of COVID-19 cases. From 14th November 2020 to 17th January, 2021 additional 827 new COVID-19 cases were diagnosed, thus bringing the total cases in Kano to 2,636."
The technical coordinator of the response team, Kano state Task Force on COVID-19 Sabitu Shanono, said "Over the last one week the sample positivity rate increased to 12.7% compared to the overall positivity of 4.2%. Number of cases on admission both home base care and hospital admission stands at 289."
 "A total of Seventeen (17) deaths were recorded between December and January, an incidence that we did not have since 15th July, 2020."
"Parts of the challenges during the second wave experience, include, but not limited to, poor public compliance to protocols, low risk perception and poor cooperation by confirmed cases to self isolate themselves or even taken to isolation facility," Mr Shanono said.
In his remarks the chairman of the Kano State Council of Emirs, Emir of Kano, Aminu Ado-Bayero, assured the governor, the total and unreserved commitment and unflinching support of all the Emirs and their subjects, in the fight against COVID-19 pandemic, as the second wave comes knocking on doors.
Some of Imams of Juma'at mosques who spoke at the occasion advised government to allow corps members serve in their respective states to control the effect of second wave of COVID-19.
On Tuesday Kano state ministry of health announced in it's Twitter handle that the state recorded one COVID-19 death, 19 new cases from 421 results received from the laboratories.
It added that the state has 289 active cases receiving care at different government isolation centres and home.
So far the state has tested 61,802 persons, recorded 2,636 confirmed cases, discharge 2,276 recovered COVID-19 patients and 71 deaths.