A city has fallen: Tribute to Professor Dahiru Yahya
By Kabiru Ibrahim Danguguwa
"The Mediocre teacher tells. The good   teacher explains. The superior teacher demonstrates. The great teacher inspires".  William Arthur Ward.
Professor Dahiru Yahya is one of my favorite teachers and remains a good mentor to this day.
In Professor Dahiru Yahya, true scholarship and humility meet. A generous, charismatic and prolific thinker.
I first met him in Bayero University when I was undergraduate student in the Department of History.
Since that time, Prof as he once said, enjoyed every moment he spent with me.
He believed that young people always have novel ideas and to be updated he would always listen to me as if I was his teacher.
He used to call young people his teachers whenever they told him something new.
In one of the moments I spent with him, Prof told me that a head (brain) of a professor is just like a city.
He therefore advised me to value every moment spent with Professors by exploring the city.
During my MSc between 2012-2014, Prof was so keen to read my thesis when I informed him that I was writing on Boko Haram and AQIM.
He helped me with whatever I needed to complete the thesis. A year later, I informed him that I was presenting part of the work in a Faculty seminar.
He was so happy and promised to come all the way from Abuja to listen to my presentation.
After the presentation, he ushered in intellectual discussions on the origin of 'Islamic activism'.
He even responded to the questions I was supposed to answer. What a great honor!
As a humble person, Prof allowed me to explore his city as much as I could.
I wanted to explore more when I informed one of my course mates that I wanted to see Prof to discuss the situation of the country last week.
He deliberately shared some of his life encounters with people I considered great men in Nigeria.
I have a lot to say on this. Perhaps this is not the right place.
In 2014, Prof and I were having dinner in his sitting room. His wife served us with variety of foods.
After few minutes, Prof looked at me and said "Danguguwa! You have masters degree but you have zero experience regarding what women can do" I was single without even a fiancé.
 He taught me what he jokingly called "makircin mata" . He advised me not to underestimate the power of a woman.

He said "your wife's money is hers, while your money is for hers. Make sure you take good care of her"
When one of my course mates wanted him to write a reference letter for him, Prof gave him his letterhead and directed him to meet me.
YUMSUK Convocation: 80 students graduate with first class degrees
NCC endows N40m Professorial chairs in ATBU, UI
NCC Board visits BUK, pledges increased collaboration with universities
I wrote whatever I thought was right and Prof signed the letter without a second thought.
In 2019 during a conference organised by Faculty of Humanities, Yusuf Maitama Sule University Kano, Prof served as a lead paper presenter.
The thought provoking paper was sent to me for review prior to the presentation.
I was confused for I couldn't even comprehend the content of the paper.
How could I review what Prof wrote? He was not happy though.
Prof joined academics almost two decades before I was born. In 2010 Bayero University Kano organised a Festschrift conference in his honor.
By that time, he spent four decades teaching in the University. Out of more than seven and a half decades he spent on earth, over half a century was dedicated to teaching, research and mentorship.
Hundreds of students and colleagues attended his funeral today. Hundreds of tributes will be written in honor of the diplomatic and intellectual historian.
This six hundred and forty one words tribute says nothing about Prof Dahiru Yahya.
Allah Ya sa Aljanna ce makoma.
Kabiru Ibrahim Danguguwa is a historian and a lecturer with Yusuf Maitama Sule University Kano (YUMSUK) writes form Kano.
AIG orders investigation of Policeman seen voting in Kano APC Congress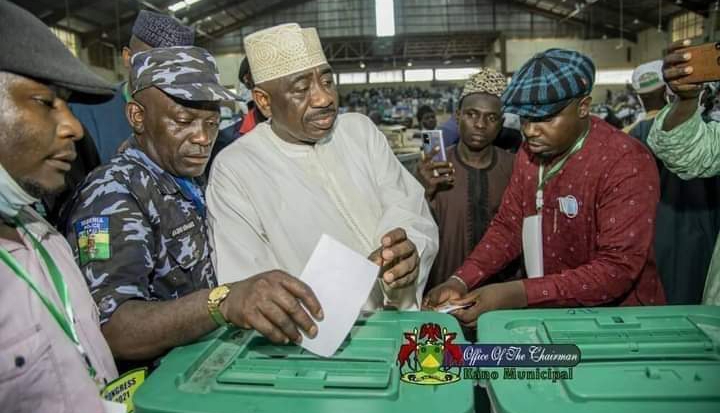 Aminu Abdullahi
The Assistant Inspector General of Police in charge of Zone Abubakar Sadiq Bello has ordered the investigation of unprofessional conduct of a policeman caught on camera voting during state congress of All progressive Congress (APC) in Kano.
KANO FOCUS reportsthat in view of the unprofessional conduct of the policeman, the AIG has referred the matter to the Zonal X-Squad for investigation.
A statement issued on Monday by Zonal Police Public Relations Officer Abubakar Zayyanu identified the police officer as Bashir Mohammed attached to the government house, Kano, from where he was deployed to work with the state Chairman of APC Abdullahi Abbas as a security aide.
Mr Zayyanu noted that if the inspector is found to have committed an offence by this action, the appropriate disciplinary measure will be taken against him.
He further assured the general public that further development on the matter will be communicated.
The statement reads in part.
"The attention of the Inspector-General of Police Zone one Headquarters, Kano has been drawn to a trending picture on social media, of an inspector of police casting vote at the recently conducted Kano State congress of the APC along with his principal, the state party chairman, Abdullahi Abbas.
"The inspector of police has been identified as Bashir Mohammed of the Special Protection Unit, Base One, Kano. The inspector is attached to the government house, Kano from where he was deployed to work with the said Abdullahi Abbas as a security aide.
"In view of this seemingly unprofessional conduct of the inspector, the AIG has referred the matter to the Zonal X-Squad for investigation.
"If the inspector is found to have committed a disciplinary offence by this action, the appropriate disciplinary measure will be taken against him.
"Finally,  we want assure members of the public that further development on the matter will be communicated please."
EFCC Grills Rabiu Kwankwaso
The Economic and Financial Crimes Commission (EFCC) on Saturday grilled former governor of Kano State, Rabiu Musa Kwankwaso over allegations of abuse of office, diversion of public funds and fraudulent allocation of government properties to cronies.
KANO FOCUS reports that Kwankwaso, a chieftain of the Peoples Democratic Party, was first invited by the EFCC in September but failed to honour the invitation as reported by Channels TV.
An associate of the politician informed Channels Television that Kwankwanso may have been invited in relation to a petition by some retired employees of the Kano State Government.
The retired employees had told the EFCC that the former governor mismanaged pension remittances to the tune of N10 billion between 2011 and 2015, to fund a housing project for his cronies.
EFCC spokesperson, Wilson Uwujaren did not comment on the interrogation of the former governor when contacted on Saturday.
Crisis rocks Kano APC as Ganduje, Shekarau hold parallel Congress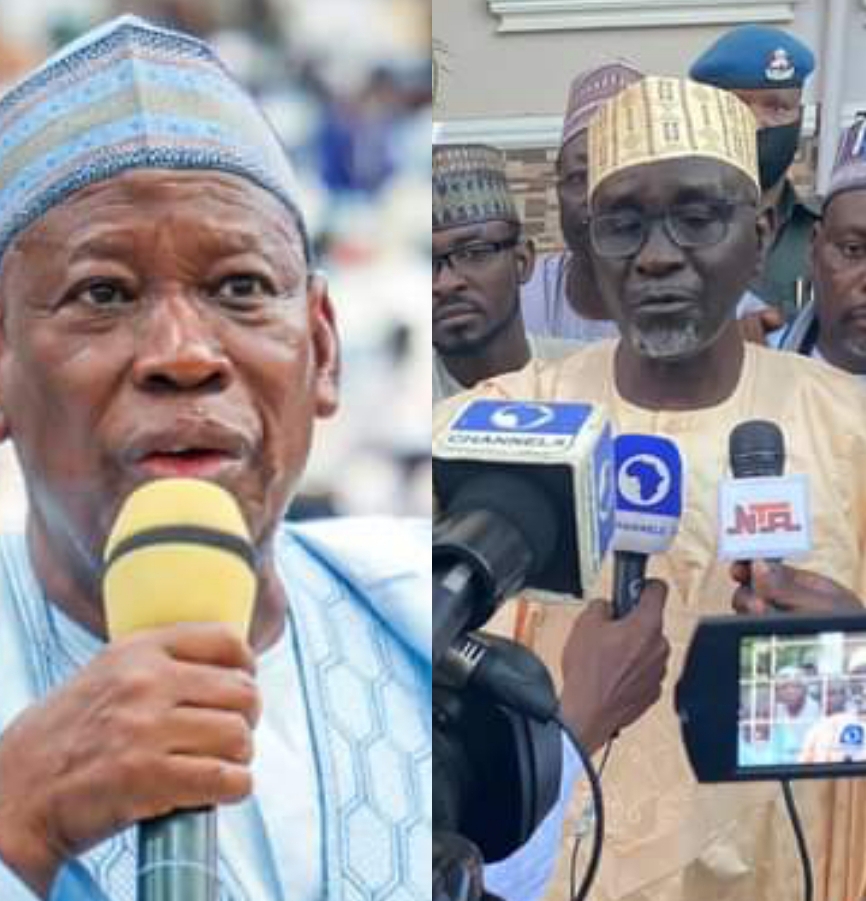 Aminu Abdullahi
Crisis rocked Kano chapter of All Progressive Congress (APC), as Governor Abdullahi Umar Ganduje and faction loyal to former governor of Kano and serving Senator Ibrahim Shekarau held parallel state congress.
KANO FOCUS reports that while Ganduje group held their congress at Sani Abacha stadium, faction loyal to Shekarau had their own at Janguza town, Tofa local government area.
Ganduje's led group endorsed Abdullahi Abbas as state chairman of APC for a second term in a consensus arrangement, while the faction loyal to Shekarau announced Ahmadu Haruna Zago as newly elected chairman of APC in Kano state.
Reports shows that the security have earlier disrupted Shekarau's camp congress at Sani Abacha youth centre and sealed the premises before they moved to Janguza where they held the election.
Below are some pictures of the parallel Congress.