A city has fallen: Tribute to Professor Dahiru Yahya
By Kabiru Ibrahim Danguguwa
"The Mediocre teacher tells. The good   teacher explains. The superior teacher demonstrates. The great teacher inspires".  William Arthur Ward.
Professor Dahiru Yahya is one of my favorite teachers and remains a good mentor to this day.
In Professor Dahiru Yahya, true scholarship and humility meet. A generous, charismatic and prolific thinker.
I first met him in Bayero University when I was undergraduate student in the Department of History.
Since that time, Prof as he once said, enjoyed every moment he spent with me.
He believed that young people always have novel ideas and to be updated he would always listen to me as if I was his teacher.
He used to call young people his teachers whenever they told him something new.
In one of the moments I spent with him, Prof told me that a head (brain) of a professor is just like a city.
He therefore advised me to value every moment spent with Professors by exploring the city.
During my MSc between 2012-2014, Prof was so keen to read my thesis when I informed him that I was writing on Boko Haram and AQIM.
He helped me with whatever I needed to complete the thesis. A year later, I informed him that I was presenting part of the work in a Faculty seminar.
He was so happy and promised to come all the way from Abuja to listen to my presentation.
After the presentation, he ushered in intellectual discussions on the origin of 'Islamic activism'.
He even responded to the questions I was supposed to answer. What a great honor!
As a humble person, Prof allowed me to explore his city as much as I could.
I wanted to explore more when I informed one of my course mates that I wanted to see Prof to discuss the situation of the country last week.
He deliberately shared some of his life encounters with people I considered great men in Nigeria.
I have a lot to say on this. Perhaps this is not the right place.
In 2014, Prof and I were having dinner in his sitting room. His wife served us with variety of foods.
After few minutes, Prof looked at me and said "Danguguwa! You have masters degree but you have zero experience regarding what women can do" I was single without even a fiancé.
 He taught me what he jokingly called "makircin mata" . He advised me not to underestimate the power of a woman.

He said "your wife's money is hers, while your money is for hers. Make sure you take good care of her"
When one of my course mates wanted him to write a reference letter for him, Prof gave him his letterhead and directed him to meet me.
YUMSUK Convocation: 80 students graduate with first class degrees
NCC endows N40m Professorial chairs in ATBU, UI
NCC Board visits BUK, pledges increased collaboration with universities
I wrote whatever I thought was right and Prof signed the letter without a second thought.
In 2019 during a conference organised by Faculty of Humanities, Yusuf Maitama Sule University Kano, Prof served as a lead paper presenter.
The thought provoking paper was sent to me for review prior to the presentation.
I was confused for I couldn't even comprehend the content of the paper.
How could I review what Prof wrote? He was not happy though.
Prof joined academics almost two decades before I was born. In 2010 Bayero University Kano organised a Festschrift conference in his honor.
By that time, he spent four decades teaching in the University. Out of more than seven and a half decades he spent on earth, over half a century was dedicated to teaching, research and mentorship.
Hundreds of students and colleagues attended his funeral today. Hundreds of tributes will be written in honor of the diplomatic and intellectual historian.
This six hundred and forty one words tribute says nothing about Prof Dahiru Yahya.
Allah Ya sa Aljanna ce makoma.
Kabiru Ibrahim Danguguwa is a historian and a lecturer with Yusuf Maitama Sule University Kano (YUMSUK) writes form Kano.
Yamadawa community foils armed robbery attack, kill suspect
Yamadawa community foils armed robbery attack, kill suspect

Yamadawa community in Kano metropolis have foiled armed robbery attack in the late hours Thursday which led to the arrest of two suspects.
KANO FOCUS  eye witness in the area told journalists that on Thursday around 11 pm two armed robbery suspects have attacked a resident in front of his house at Yamadawa Quarters, Gwale local government area, Kano State and attempted to snatch his Toyota Corolla Motor Vehicle.
He said upon alighting from the car, the victim used car door and knocked down one of the armed robbery suspects and took to his heels shouting at the top of his voice, which attracted the attention of members of the community.
According to the eyewitness on realizing their plan had failed, the armed robbers started shooting sprodically and snatched tricycle in an attempt to escape.
He added that the residents overpowered them and beat them handed them over to the police.
The police spokesperson in Kano Abdullahi Kiyawa confirmed the incident in a statement issued on Thursday evening.
Mr Kiyawa revealed around 11 pm on Wednesday, police received a distress call on armed robbery at Yamadawa quarters.
He said on the receipt of the report, teams of policemen mobilized to the area where they arrested the suspects with the help of the community.
The police spokesperson identified the suspects as 24 year old Abdullahi Ismail of Sani Mainagge Quarters and 24 years Abubakar Hussein of Kankara local government area, Katsina state.
"Suspects sustained various injuries on their body and were rushed to Murtala Mohammed Specialist hospital Kano for treatment. Abdullahi Isma'il was confirmed dead by a medical Doctor.
"On preliminary Investigation, the other suspect, Abubakar Hussain confessed that, they attacked the victim with intent to rob him of his Motor Vehicle," he said.
Mr Kiyawa said the Commissioner of Police, Sama'ila Dikko, has ordered transfer of the case to the Criminal Investigation Department of the Command for discreet investigation.
Kano reviews minimum wage for varsities' staff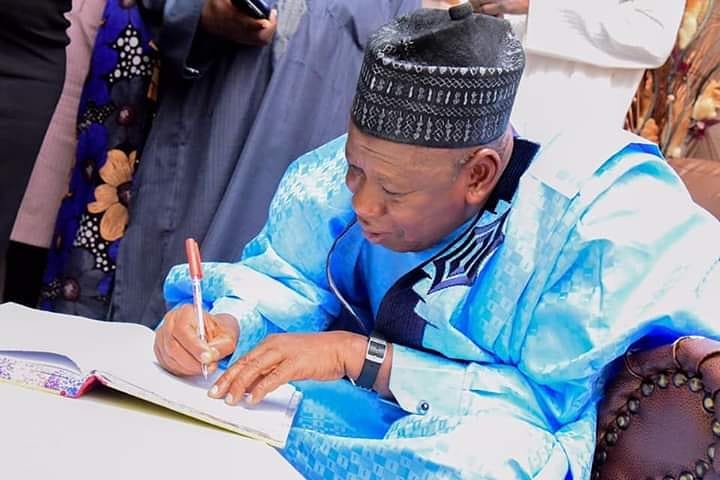 Nasiru Yusuf 
Kano state Executive Council has given approval for the implementation of new minimum wage for academic and non-academic staff of the two state own universities, with a monthly release of N49, 695, 509.26 million.
KANO FOCUS recalled that the state government has earlier reversed minimum wage of civil servants from N18,000 to N30,600 in March.
The state government, however, said that accumulated arrears from the time of the approval of the new salary structure to date would be determined pending improvement of the current financial situation in the state.
The state commissioner for information, Muhammad Garba, announced this on Thursday while briefing newsmen on the outcome of the council meeting, held at Africa House, Government House, Kano.
He said the two institutions, Yusuf Maitama Sule University and Kano University of Science and Technology, Wudil would receive monthly allocation of N24, 560, 479.72 million and N25, 135, 029.54 million respectively for the Consolidated University Academic Staff Salary Structure II (CONUASS II) and Consolidated Tertiary Institutions Salary Structure II (CONTISS II).
Mr Garba said the council has also approved the award of contract for the supply and installation of two 1,500 KVA generating sets at Watari 75mld Water Treatment Plant to address acute water supply shortage to the towns and villages served by the treatment plant.
He said the contract, which is worth N355, 027, 831.20 million was awarded to Messrs Mantrac Nigeria Limited for the treatment plant designed to serve Watari-Kano Pipeline, Watari-Bagwai Pipeline and Watari-Tsanyawa pipeline each with separate pumping outlet.
The commissioner also disclosed that approval has been given by the council for the release of 11 resident doctors to pursue Residency Training Programme in different fields of specialization at various teaching hospitals in the state.
Mr Garba stated that the medical doctors were on permanent and pensionable appointment under the state Hospitals Management Board and were able to secure admissions with either Muhammad Abdullahi Wase Specialist Hospital or Aminu Kano Teaching Hospital for the residency programme.
He said the training programme was to enable the medical officers graduate as consultants in their various fields of specialization under the state government sponsorship of the bonding policy that also stipulates the payment of monthly salary and annual project/book allowance of N372, 000.00 for the duration of the programme.
The council, the commissioner said, has also approved the creation of an additional department at the state Contributory Healthcare Management Board to handle the processing of claims for fee from facilities without using health maintenance organization.
He said the measure saves the agency substantial amount of resources and to equally comply with Basic Healthcare Provision Fund and the National Health Act which prohibits the engagement of third-party administrator to handle the claim processing.
NCC, NigComSat signs MoU on deployment of 5G

Nasiru Yusuf
The Nigerian Communications Commission, NCC and Nigerian Communications Satellite limited NigComSat have signed a memorandum of understanding on the deployment of Fifth Generation (5G) Technology in the telecommunications industry. 
KANO FOCUS reports that the MoU between the two agencies under the Ministry of Communications and Digital Economy would lay the foundations for acquisition of Frequency Spectrum suitable for the deployment of the technology in the country.
Speaking at the occasion the Executive Vice Chairman of the Nigerian Communications Commission, NCC, Umar Garba Danbatta, reiterated the Federal Government's commitment for deployment of Fifth Generation (5G) Technology in the telecommunications industry.
Danbatta allayed fears and concerns on health and security implications over deployment of 5G, asserting Nigeria cannot afford to be left behind.
According to him the resources and revenues to be earned from the deployment are so huge they cannot be ignored.
Danbatta said the NigComSat, it was discovered after investigation across the globe, had the appropriate technology to facilitate the deployment.
Danbatta said: "Amongst the Frequency Spectrum bands allocated to 5G by the International Telecommunications Union (ITU, the C-band (3.4GHz – 3.9GHz) stands out because its balancing point between coverage and capacity provides the perfect environment for 5G connectivity.
"The C-band is most suitable and appropriate for immediate deployment of 5G services taking into consideration availability of device ecosystem with 60-70% of global commercial 5G network deployment currently in the band, thus the importance of this Spectrum for early deployment of 5G services in Nigeria cannot be over emphasized.
"For optimal 5G service performance, an average of contiguous 100 MHz of spectrum in the C-band is required by an Operator. However in Nigeria, only 120 MHz of the band (3.4 – 3.52) GHz is available for mobile services while the remaining 680 MHz (3.52 – 4.2) GHz of the band is used by NigComSat (NG-1R) satellites.
"The Commission initiated negotiation with NIGCOMSAT whom in our estimate could make some adjustment to its satellite operation and release part of its Spectrum holding in the band to facilitate the deployment of 5G in Nigeria.
"The two agencies have been in discussions on how to relocate the operations of NG-1R to the standard C-band 300MHz (3.9GHz – 4.2GHz) potion of the band, which is more suitable in terms of Satellite service offering because end user terminal are cheaper there, while leaving the non-standard C-band 400MHz (3.5GHz – 3.9GHz) portion of the band for 5G use.
"The cost of relocating the NG-1R is expected to be offset from the proceeds of the auction of the 5G Spectrum.
Managing Director of NigComSat, Abimbola Alale, lauded the committees set by the two agencies for doing a thorough job in the larger interest of the country.
She said the MoU would change the narratives of digital and telecommunications industry in the country.
Chairman of the NCC board, Adeolu Akande the time has come for the country to key into adoption and deployment of 5G technology.
"In recent times, precisely from the last quarter of 2019, several administrations have begun to license Spectrum for commercial deployment of 5G.
" As we speak today, 5G services have already been deployed in United States of America, South Korea, United Kingdom, China, South Africa, Kenya and many more", Akande said.
According to him, telecommunication evolution has led to improvement in user experience witnessed from 2G, 3G and later 4G.