A city has fallen: Tribute to Professor Dahiru Yahya
By Kabiru Ibrahim Danguguwa
"The Mediocre teacher tells. The good   teacher explains. The superior teacher demonstrates. The great teacher inspires".  William Arthur Ward.
Professor Dahiru Yahya is one of my favorite teachers and remains a good mentor to this day.
In Professor Dahiru Yahya, true scholarship and humility meet. A generous, charismatic and prolific thinker.
I first met him in Bayero University when I was undergraduate student in the Department of History.
Since that time, Prof as he once said, enjoyed every moment he spent with me.
He believed that young people always have novel ideas and to be updated he would always listen to me as if I was his teacher.
He used to call young people his teachers whenever they told him something new.
In one of the moments I spent with him, Prof told me that a head (brain) of a professor is just like a city.
He therefore advised me to value every moment spent with Professors by exploring the city.
During my MSc between 2012-2014, Prof was so keen to read my thesis when I informed him that I was writing on Boko Haram and AQIM.
He helped me with whatever I needed to complete the thesis. A year later, I informed him that I was presenting part of the work in a Faculty seminar.
He was so happy and promised to come all the way from Abuja to listen to my presentation.
After the presentation, he ushered in intellectual discussions on the origin of 'Islamic activism'.
He even responded to the questions I was supposed to answer. What a great honor!
As a humble person, Prof allowed me to explore his city as much as I could.
I wanted to explore more when I informed one of my course mates that I wanted to see Prof to discuss the situation of the country last week.
He deliberately shared some of his life encounters with people I considered great men in Nigeria.
I have a lot to say on this. Perhaps this is not the right place.
In 2014, Prof and I were having dinner in his sitting room. His wife served us with variety of foods.
After few minutes, Prof looked at me and said "Danguguwa! You have masters degree but you have zero experience regarding what women can do" I was single without even a fiancé.
 He taught me what he jokingly called "makircin mata" . He advised me not to underestimate the power of a woman.

He said "your wife's money is hers, while your money is for hers. Make sure you take good care of her"
When one of my course mates wanted him to write a reference letter for him, Prof gave him his letterhead and directed him to meet me.
YUMSUK Convocation: 80 students graduate with first class degrees
NCC endows N40m Professorial chairs in ATBU, UI
NCC Board visits BUK, pledges increased collaboration with universities
I wrote whatever I thought was right and Prof signed the letter without a second thought.
In 2019 during a conference organised by Faculty of Humanities, Yusuf Maitama Sule University Kano, Prof served as a lead paper presenter.
The thought provoking paper was sent to me for review prior to the presentation.
I was confused for I couldn't even comprehend the content of the paper.
How could I review what Prof wrote? He was not happy though.
Prof joined academics almost two decades before I was born. In 2010 Bayero University Kano organised a Festschrift conference in his honor.
By that time, he spent four decades teaching in the University. Out of more than seven and a half decades he spent on earth, over half a century was dedicated to teaching, research and mentorship.
Hundreds of students and colleagues attended his funeral today. Hundreds of tributes will be written in honor of the diplomatic and intellectual historian.
This six hundred and forty one words tribute says nothing about Prof Dahiru Yahya.
Allah Ya sa Aljanna ce makoma.
Kabiru Ibrahim Danguguwa is a historian and a lecturer with Yusuf Maitama Sule University Kano (YUMSUK) writes form Kano.
Kano records highest number of sickle cell patients in Nigeria
Nasiru Yusuf
Kano state has the highest sickle cell patients in Nigeria, a consultant haematologist at Aminu Kano Teaching Hospital said.
KANO FOCUS reports that Dalha Halliru Gwarzo disclosed this in an interview with Hospital's newsletter as part of the 2021 World Sickle Cell day.
He added that Lagos is the second state with highest number of sickle cell cases in the country.
Mr Gwarzo said India, Democratic Republic of Congo and Nigeria constituted 90% of the sickle cell patients worldwide.
On the causes of sickle cell disease, Mr Gwarzo said it is a genetic inherited disease from parents who are either SS, or AS genotype as a result of genetic condition or mutation of abnormal form of red blood cell.
He advocated for compulsory screening of infants after birth and school children, pre-marital counseling/tests, subsidising cost of medication/treatment and mass sensitisation campaign on dangers of the disease.
Mr Gwarzo noted that, although there is no known cure for sickle cell disease, but developed countries are using a high technology for manipulation of the genetic cells by bone marrow and stem cells transplant, which cost about fifteen million Naira in countries like United States, Germany, United Kingdom and Canada.
Kano missing children: Court convicts Paul Owne 104 Years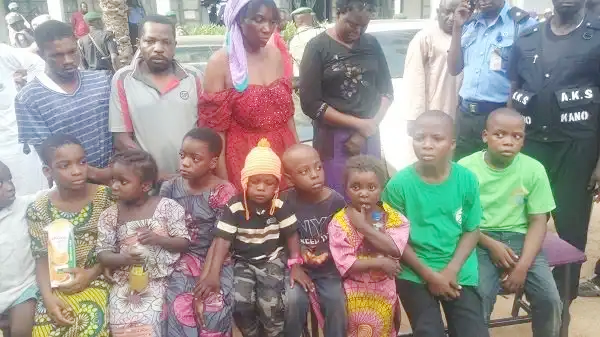 Kano State High Court has sentenced Paul Owne to 104 years without option of fine for abducting under five children and sold them in Onitsha, Anambra state.
KANO FOCUS reports that Mr Owne was reported to have conspired with six others in committing the crime.
Delivering the judgement on Friday Justice Zuwaira Yusuf sentenced the convict after pleaded guilty to all his 38 count charge against him by Kano State Government.
The court upheld that the convict was found guilty in count 2, 8, 9, 2, 27 and 34 therefore convicted him to 7 years each without option of fine in addition with the sum of N100,000 fine.
Similarly, the court found Owne guilty in count 3, 5, 10, 11, 22, 28 and 38 head count he was sentenced to 7 years.
Mrs Yusuf said the action of Owne was in contravention of count 4, 12, 13, 29 and 38, she convicted him to 4 years on each count without option of fine.
She ordered that all the count shall run Consecutively.
The 5 other defendants who pleaded not guilty to all the charges read over to them namely: Ogbono, Emanuel Igwe, Loise Duru, Monica Oracha and Chinelo Ifedigwe.
Kano Focus reports that the Kano Police Command had rescued nine missing children and paraded six Igbo persons who have confessed to abducting the kids, renaming and forcefully converting them to Christianity before selling them in Onitsha, Anambra state.
Kano is the biggest sesame market in Nigeria – Ganduje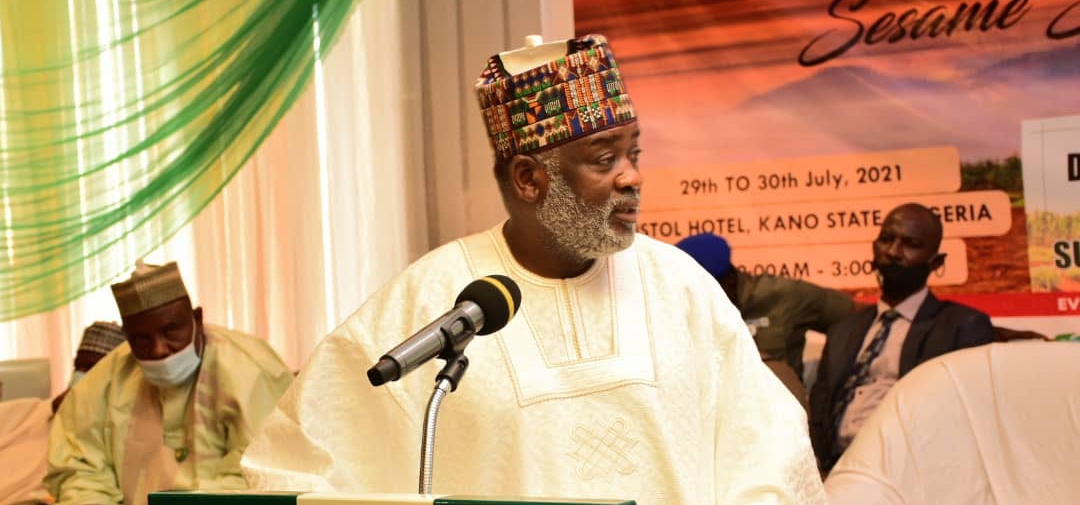 Nasiru Yusuf
Governor Dr.Abdullahi Umar Ganduje has said that Kano with its commercial potentials being the biggest agricultural commodity hub in Africa is also the biggest Sesame market in Nigeria.
KANO FOCUS reports that the Governor represented by his Deputy Nasiru Yusuf Gawuna stated this on thursday in Kano while declaring open a Sesame seed conference with the theme "Developing the Sesame seed value chain for sustainable growth" organised by the National Sesame Seed Association in collaboration with Kano State Government.
According to him the conference will create an avenue for stakeholders in the industry to identify the most effective ways to promote value chain development in the Sesame seed sector and to also discuss mutually beneficial trade opportunity so as to improve economic development and livelihood of smallholder farmers.
The Governor described sesame seed as the most sought cash crop in terms of export value in Nigeria, being one of the fastest growing sectors due to its foreign exchange earning and as a main source of income for about 5 million smallholder farmers.
He however assured that his administration is committed to towards enhancing the production of sesame both in terms of quantity and quality through financing,improved techniques and productivity.
The Minister of Agriculture and Rural Development, Muhammad Sabo Nanono in his remarks highlighted the interventions given to the National Sesame Seed Association in the development of the sub-sector include the distribution of high yielding black,white and brown variety sesame seeds to boost productivity.
Similarly, he said 20 sesame cleaning machines were also distributed, in addition 2 model sesame processing centres were established in Nassarawa and Kano States respectively.
On her part, the Minister of state for Industries,Trade and Investment Maryam Katagum represented by a Deputy Director Irimiya Kaura explained that the ministry is committed towards providing enabling environment that will enhance the competitiveness of Nigerian agricultural commodities in the global trade.
She also revealed that in continuation of developing sesame seed,the ministry is implementing a robust agribusiness and industry development initiative to draw investment to the non oil sector in the country.
Speaking earlier the President of the National Sesame Seed Association of Nigeria, Sherif Balogun stated that for the past 5years they have been working assiduously to promote the sesame seed value chain as well as increasing the production from 300,000 metric tons to over 500,000 tons.
He therefore called on the public to engage in massive sesame production and processing in order to benefit from government policies like the Anchor Borrowers Programme.
While appreciating the Kano State Government for partnering with them in organising the conference,he also commended Governor Ganduje for his support and effort towards making Kano a destination for agribusiness investment.
The event was attended by the Jigawa State Commissioner of Agriculture Muhammad Alhassan who represented Governor Badaru Abubakar, Chaiman House of Representatives Committee on Agricultural Institutions Mannir Babba Dan' agundi and other stakeholders.