Salihu Tanko: Ganduje playing politics with aides' sack – Shaaban Sharada
I read with dismay a statement by the sacked media aide of Kano state governor in the person of Salihu Tanko Yakasai that the All Progressives Congress led- government has failed Nigerians while calling on President Muhammadu Buhari to resign.
It is unfortunate to see such a controversial statement coming from an aide of a governor of our great party, the All Progressives Congress (APC) despite efforts of the APC Extraordinary Convention Committee led by His Excellency Mai Mala Buni.
The statement is uncalled for and smacks of an attempted sabotage to the administration of President Muhammadu Buhari and it further brings to the fore the ignorance of the said aide on how security architecture works.
Since the abduction of the Jangebe Students, I have spoken with relevant security chiefs who have assured me of efforts they are making to rescue the girls safely.
In defense of Salihu Tanko Yakasai
My relationship with President Muhammadu Buhari – Salihu Tanko Yakasai
Instead of Yakasai to exploit his privilege by praying for the successful rescue of the school girls by security operatives under the directives of President Muhammadu Buhari, he is rather ridiculing their efforts through a series of unwarranted media attacks that are seen as an attempt to instigate fear in the victims' parents and mislead the general public to tarnish the image of the APC led government.
Buhari has improved security
It is on record that the security situation of the country has improved since the assumption of Buhari as President.
Essentially, the nature of insecurity prior to the Buhari administration is different from the current security situation in the country.
If you could recall, there was a time when our daughters, sisters and wives of both basic and tertiary institutions cannot go to school without going through a thorough search.
The market was a no go place, places of worship became  places to  fear, while a one or two hours journey became a 10-hour journey due to stop and searches by security men on the roads.
All those measures did not stop terrorists from bombing mosques, churches, markets, and motor parks etc.
A typical example is the 2014 Kano central mosque bomb blast that claimed the lives of more than 1,000  people in a day.
The insecurity was not restricted to the North West and North East alone, as it escalated to the Federal Capital Territory where terrorists attacked the United Nations building in Abuja.
It is a mark of the improved security situation in the country that the recently abducted Kagara Students were released last Saturday.
The process that the government followed in ensuring the release of these students safely will be applied to rescue the Jangebe Students In sha Allah as I've been assured by the relevant security agencies and the governor of the state as well.
Yakasai playing Ganduje's script
Yakasai's attack is not surprising though, as he might be acting under the command of his principal, Governor Abdullahi Ganduje who is known for speaking from both sides of his mouth.
Ganduje had last year suspended Yakasai over a statement accusing the President of lacking empathy during the EndSARS protest.
Attack on Buhari: Ganduje suspends media aide
It was alleged that the governor planned the suspension like a movie where he promised to reinstate him back. This came to pass some months later.
It is obvious that his current purported sack has a political undertone.
It would be recalled that one of Ganduje's Commissioners celebrated the death of Chief of Staff Mallam Abba Kyari last year.
The governor in his usual manner of playing to the gallery and after pressure by Nigerians decided to sack the Commissioner but later appointed him  to serve in various government committees including the Chairmanship of the  AKK Gas Pipeline implementation Committee in Kano.
This is how the governor is working closely with people that personally berate President Muhammadu Buhari.
Ganduje sabotaging the APC
Ganduje's sabotage does not stop there; he has a good relationship with members of the opposition whom he appointed into juicy positions while other party members are kept aside.
Example of this is the Commissioner for water resources who is a card carrying member of the PDP.
His anti-party activities against the All Progressives Congress and other efforts he is making in frustrating party members in the state is an attempt to weaken the party because he has sensed that his political ambition in 2023 is looking unachievable.
A Commissioner for Education in his government was also seen displaying a ballot paper where he voted for PDP in the recent bye election at Kiru/Bebeji Constituency.
This is a sabotage to our party at a time we are trying to reconcile warring party members across states to further strengthen the capacity of the APC in the 2023 election.
The recent party registration and revalidation exercise in Kano was not a success as Ganduje was the decider of who should be registered or not as the revalidation documents were domiciled in the government house.
I'm a victim of this as I was denied revalidation of my APC membership at my ward in Sharada, despite being a stakeholder and member of the House of Representatives in the state.
Even an ordinary member of the party doesn't deserve this, especially when the party is targeting 25 million members.
Why is this injustice being meted out on members of the defunct CPC and loyalists of President Buhari?
Of all the Commissioners down to local government Chairmen and top government appointees, there is none from the defunct CPC.
I'm in contact with relevant security agencies and I am aware of efforts they are making to restore the security of our dear nation.
Nigeria is one, we should keep ethnic, religious and political sentiments aside, and we should tell the truth in real sense and not personal attack.
As a loyalist of the President who has worked closely with him, I know his commitment to seeing a prosperous, peaceful and united Nigeria.
His patriotism, transparency, and accountability is a testimony to his love for this country.
Hon. Shaaban Ibrahim Sharada represents Kano Municipal in the House of Representatives and chairs the House Committee on National Security and Intelligence.
Ganduje donates N3.6m to families of Doguwa flood victims
Nasiru Yusuf
Governor Abdullahi Ganduje of Kano state has paid condolence visit to the families of 18 Doguwa flood victims and donated the sum of two hundred thousand Naira to each of the victims family.
KANO FOCUS reports that Ganduje prayed for the repose of the departed souls of those who died as a result of the heavy downpour.
"When the information of this sad tragedy reached us we were seriously shocked. May Allah Forgive the victims, who died as martyrs, being washed away by flood. May He give them the ultimate reward of Jannatul Fiddaus, ameen," the governor prayed.
Families of the victims expressed appreciation to the governor and his entourage and prayed to God to guide him in steering the affairs of the state.
It will be recalled that on July 23, about 18 persons including six members of a family have perished in a ghastly car accident in Doguwa Local Government Area.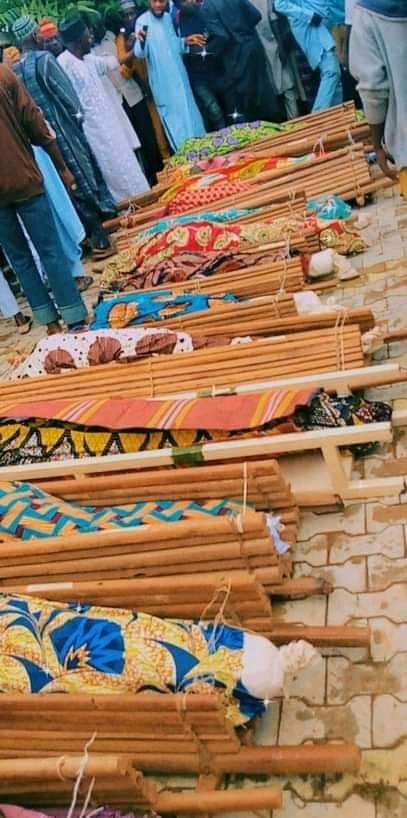 The Sector Commander of the Federal Road Safety Corps (FRSC) in Kano State, Zubairu Mato, said the accident occurred when a bridge linking Riruwai and Doguwa broke down as a result of the heavy downpour, and the driver wasn't aware that the bridge had broken down.
He explained that the vehicle plunged into the water, killing all the 18 passengers on board including six members of same family.
The family members have been identified as Bashir Doguwa, Malami Gidan-Tanimu, Safiya Mukhtar, Shahida Bashir, Fatima Rabi'u, Uzairu Bashir, all of Doguwa Local Government Area of Kano State.
Doguwa and his family were on their way from Doguwa to First Lady Secondary School in Dambatta Local Government Area of the state to visit his daughter, Firdausi Bashir, who is among the students writing the ongoing NECO SSCE examinations.
Kano records highest number of sickle cell patients in Nigeria
Nasiru Yusuf
Kano state has the highest sickle cell patients in Nigeria, a consultant haematologist at Aminu Kano Teaching Hospital said.
KANO FOCUS reports that Dalha Halliru Gwarzo disclosed this in an interview with Hospital's newsletter as part of the 2021 World Sickle Cell day.
He added that Lagos is the second state with highest number of sickle cell cases in the country.
Mr Gwarzo said India, Democratic Republic of Congo and Nigeria constituted 90% of the sickle cell patients worldwide.
On the causes of sickle cell disease, Mr Gwarzo said it is a genetic inherited disease from parents who are either SS, or AS genotype as a result of genetic condition or mutation of abnormal form of red blood cell.
He advocated for compulsory screening of infants after birth and school children, pre-marital counseling/tests, subsidising cost of medication/treatment and mass sensitisation campaign on dangers of the disease.
Mr Gwarzo noted that, although there is no known cure for sickle cell disease, but developed countries are using a high technology for manipulation of the genetic cells by bone marrow and stem cells transplant, which cost about fifteen million Naira in countries like United States, Germany, United Kingdom and Canada.
Kano missing children: Court convicts Paul Owne 104 Years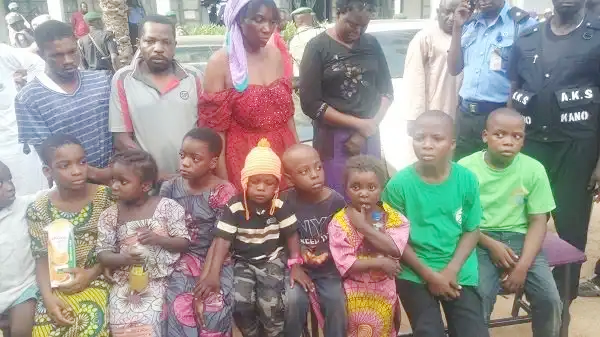 Kano State High Court has sentenced Paul Owne to 104 years without option of fine for abducting under five children and sold them in Onitsha, Anambra state.
KANO FOCUS reports that Mr Owne was reported to have conspired with six others in committing the crime.
Delivering the judgement on Friday Justice Zuwaira Yusuf sentenced the convict after pleaded guilty to all his 38 count charge against him by Kano State Government.
The court upheld that the convict was found guilty in count 2, 8, 9, 2, 27 and 34 therefore convicted him to 7 years each without option of fine in addition with the sum of N100,000 fine.
Similarly, the court found Owne guilty in count 3, 5, 10, 11, 22, 28 and 38 head count he was sentenced to 7 years.
Mrs Yusuf said the action of Owne was in contravention of count 4, 12, 13, 29 and 38, she convicted him to 4 years on each count without option of fine.
She ordered that all the count shall run Consecutively.
The 5 other defendants who pleaded not guilty to all the charges read over to them namely: Ogbono, Emanuel Igwe, Loise Duru, Monica Oracha and Chinelo Ifedigwe.
Kano Focus reports that the Kano Police Command had rescued nine missing children and paraded six Igbo persons who have confessed to abducting the kids, renaming and forcefully converting them to Christianity before selling them in Onitsha, Anambra state.