Consumer Preference Critical to Agricultural Development in Nigeria – VC Wudil
Mukhtar Yahya Usman
The Vice Chancellor, Kano University of Science and Technology, Wudil, Shehu Alhaji Musa has said consideration of consumption preference is critical to agricultural development in Nigeria.
Kano Focus reports that Mr Musa a Professor of agricultural economics and Extension worried that in spite of the huge deposited natural resource; Nigeria is still listed by Food and Agriculture Organization among nations who are technically incapacitated to meet its food demands.
The university don who made the submission while delivering the 46 series of Professorial inaugural lecture at Bayero University, Kano at the weekend emphasized on value addition, consumption pattern as key factors that determine agricultural viability in a country.
In the presentation titled: Crossing The Chasms of Agricultural Development in Nigeria: consumer Preference Studies, Market Integration Syntheses and Value Chain Diagnoses to the Rescue, Shehu dissected the clear demarcation between production and meeting consumer preference.
The Vice Chancellor submitted that given the enormous qualities and contributions of agriculture, the sector has not performed as expected essentially in the past four decades due to inadequate supply of inputs and the refusal to pay attention to the food demand, value chain and consumption pattern of consumers.
Shehu contended that Nigeria's agricultural policy must pay quality attention to Supply-Response Model which creates smart integration between production, value chain addition and consumers preferences to attain sustainable agriculture and food sufficiency.
The university Don declared that despite policy interventions, the agricultural sector is still largely underdeveloped, principally because substantial concentration is devoted more on production, rather than on enhancing value addition across value chain segments.
He stressed that FAO prediction also came even when the Federal government Economic Recovery and Growth Plan (ERGP) projected Nigeria's self-sufficiency in tomato paste, rice and wheat by 2020; a the targets that was yet to materialize because of the large and continuous dependency on importation.
Besides, he posited that ERGP prediction also emphasized on increase in the value of agricultural production by 31 per cent with tendencies to boost the country's revenue by N21 trillion by the end of 2020.
While applauding the border closure policy of government, the university administrator cautioned on the possible negative implication of the reopening of the Nigeria land borders on local production of products with competitive advantage.
He advocated deployment of technologies in the area of post-harvest and storage facilities to reduce produce damage especially in the Northern part of Nigeria just as he called for revamping of extension services to all agricultural clientele groups as well as improving budgetary allocation to agric sector to improve food sufficiency.
According to him " Nigeria has great potentials of becoming the food basket of the West Africa sub-region given that she is endowed with a huge expanse of arable land, beneficial climate, abundant streams, lakes, forest and grassland as well as large, active population that can sustain a highly productive agriculture. But we have failed to recognize the significance of consumption pattern.
"In any economy, consumer preferences and demand constitute the bedrock, which influence the production decisions of producers, since consumer's satisfaction is the major target of producers if they are to stay in business. The much talked about value addition in agriculture is founded on the preferences and demand of consumers," he noted.
Chairman of the Professorial lecture and Vice Chancellor Bayero University, Kano, Sagir Adamu Abbas explained that the lecture series are designed to enable professors showcase the output and relevant of their research findings.
Mr Sagir who expressed satisfaction on the 46 edition of the professorial lecture posited that the presentation will add value to policy implementation on agriculture and improve body of knowledge.
2021 Museum Day: Danbatta Harps on Innovative Museums for Sustainable Development 
Nasiru Yusuf
The Executive Vice Chairman and Chief Executive Officer (EVC/CEO) of the Nigerian Communications Commission (NCC), Umar Garba Danbatta has called for ingenious ways of collecting antiquities relevant to operations of various organizations in the country in order to preserve the relics that can bridge the knowledge gap needed for sustainable development of Nigeria.
KANO FOCUS reports that Danbatta, who was represented by the Executive Commissioner, Stakeholders Management (ECSM), NCC, Adewolu Adeleke, made the call recently in Abuja when the Commission joined in the celebration of the 2021 international museum day with the theme, "the future of museums: recover and reimagine".
While speaking on the theme, Danbatta said it appropriately captures the reason the commission established a special museum for the telecommunications industry in the country, as it is intended to bridge the historical knowledge gap in the evolution of communication as well as   meeting the need for information by future generations.
"The NCC communications museum was established in November, 2006 for documentation of historical collections on the evolution of communications in Nigeria. Communication artifacts were identified in various locations across the Country where postal and telecommunication offices were established in order to retrieve relics for exhibition".
Danbatta explained further that the museum should be seen as an important resourceful centre that can stimulate critical thinking and creative ideas for expanding the frontiers of knowledge and advancement of development in relevant sectors of the economy.
"Our museum is designed and reinvented to conserve the history of the Nigerian telecommunications industry and we see it as very important to collect, exhibit and preserve telecommunications items to enlighten and educate stakeholders on the evolution of communications with a view to nudging our minds towards critical thinking that will bring about new innovations to assist in building a better future for our industry and the nation.
"The NCC Museum plays valuable roles in supporting the Commission's agenda by providing unique information resources to cater for historical needs of the future generations, while building capacity and stimulating innovations to assist in fashioning out a better future for the Nigerian communications industry," Danbatta added.
Speaking further at the event, Danbatta said the NCC Museum Day is a demonstration of the Commission's commitment to facilitating learning and collaboration with relevant Museum professional bodies, in order to conserve antiquities used to develop the industry, in the best possible manner for socio-economic impact of the nation."
The Museum generally plays important roles in the society by conserving the past and helping to shape the future through providing needed insight into history, while educating future generations and equipping them with the requisite information and knowledge for sustainable development.
The Director General, National Commission for Museums and Monuments (NCMM), Abba Isa Tijani was represented at the event by the Assistant Director, Museums, Kilba Zainab Uche, who presented a brief on the 'Role of Museum in the Digital Era'.
Kano records highest number of sickle cell patients in Nigeria
Nasiru Yusuf
Kano state has the highest sickle cell patients in Nigeria, a consultant haematologist at Aminu Kano Teaching Hospital said.
KANO FOCUS reports that Dalha Halliru Gwarzo disclosed this in an interview with Hospital's newsletter as part of the 2021 World Sickle Cell day.
He added that Lagos is the second state with highest number of sickle cell cases in the country.
Mr Gwarzo said India, Democratic Republic of Congo and Nigeria constituted 90% of the sickle cell patients worldwide.
On the causes of sickle cell disease, Mr Gwarzo said it is a genetic inherited disease from parents who are either SS, or AS genotype as a result of genetic condition or mutation of abnormal form of red blood cell.
He advocated for compulsory screening of infants after birth and school children, pre-marital counseling/tests, subsidising cost of medication/treatment and mass sensitisation campaign on dangers of the disease.
Mr Gwarzo noted that, although there is no known cure for sickle cell disease, but developed countries are using a high technology for manipulation of the genetic cells by bone marrow and stem cells transplant, which cost about fifteen million Naira in countries like United States, Germany, United Kingdom and Canada.
Kano missing children: Court convicts Paul Owne 104 Years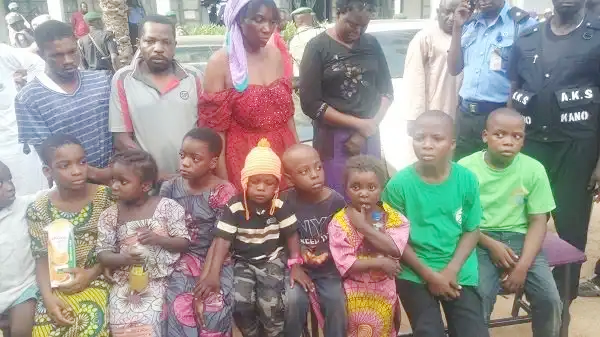 Kano State High Court has sentenced Paul Owne to 104 years without option of fine for abducting under five children and sold them in Onitsha, Anambra state.
KANO FOCUS reports that Mr Owne was reported to have conspired with six others in committing the crime.
Delivering the judgement on Friday Justice Zuwaira Yusuf sentenced the convict after pleaded guilty to all his 38 count charge against him by Kano State Government.
The court upheld that the convict was found guilty in count 2, 8, 9, 2, 27 and 34 therefore convicted him to 7 years each without option of fine in addition with the sum of N100,000 fine.
Similarly, the court found Owne guilty in count 3, 5, 10, 11, 22, 28 and 38 head count he was sentenced to 7 years.
Mrs Yusuf said the action of Owne was in contravention of count 4, 12, 13, 29 and 38, she convicted him to 4 years on each count without option of fine.
She ordered that all the count shall run Consecutively.
The 5 other defendants who pleaded not guilty to all the charges read over to them namely: Ogbono, Emanuel Igwe, Loise Duru, Monica Oracha and Chinelo Ifedigwe.
Kano Focus reports that the Kano Police Command had rescued nine missing children and paraded six Igbo persons who have confessed to abducting the kids, renaming and forcefully converting them to Christianity before selling them in Onitsha, Anambra state.