Consumer Preference Critical to Agricultural Development in Nigeria – VC Wudil
Mukhtar Yahya Usman
The Vice Chancellor, Kano University of Science and Technology, Wudil, Shehu Alhaji Musa has said consideration of consumption preference is critical to agricultural development in Nigeria.
Kano Focus reports that Mr Musa a Professor of agricultural economics and Extension worried that in spite of the huge deposited natural resource; Nigeria is still listed by Food and Agriculture Organization among nations who are technically incapacitated to meet its food demands.
The university don who made the submission while delivering the 46 series of Professorial inaugural lecture at Bayero University, Kano at the weekend emphasized on value addition, consumption pattern as key factors that determine agricultural viability in a country.
In the presentation titled: Crossing The Chasms of Agricultural Development in Nigeria: consumer Preference Studies, Market Integration Syntheses and Value Chain Diagnoses to the Rescue, Shehu dissected the clear demarcation between production and meeting consumer preference.
The Vice Chancellor submitted that given the enormous qualities and contributions of agriculture, the sector has not performed as expected essentially in the past four decades due to inadequate supply of inputs and the refusal to pay attention to the food demand, value chain and consumption pattern of consumers.
Shehu contended that Nigeria's agricultural policy must pay quality attention to Supply-Response Model which creates smart integration between production, value chain addition and consumers preferences to attain sustainable agriculture and food sufficiency.
The university Don declared that despite policy interventions, the agricultural sector is still largely underdeveloped, principally because substantial concentration is devoted more on production, rather than on enhancing value addition across value chain segments.
He stressed that FAO prediction also came even when the Federal government Economic Recovery and Growth Plan (ERGP) projected Nigeria's self-sufficiency in tomato paste, rice and wheat by 2020; a the targets that was yet to materialize because of the large and continuous dependency on importation.
Besides, he posited that ERGP prediction also emphasized on increase in the value of agricultural production by 31 per cent with tendencies to boost the country's revenue by N21 trillion by the end of 2020.
While applauding the border closure policy of government, the university administrator cautioned on the possible negative implication of the reopening of the Nigeria land borders on local production of products with competitive advantage.
He advocated deployment of technologies in the area of post-harvest and storage facilities to reduce produce damage especially in the Northern part of Nigeria just as he called for revamping of extension services to all agricultural clientele groups as well as improving budgetary allocation to agric sector to improve food sufficiency.
According to him " Nigeria has great potentials of becoming the food basket of the West Africa sub-region given that she is endowed with a huge expanse of arable land, beneficial climate, abundant streams, lakes, forest and grassland as well as large, active population that can sustain a highly productive agriculture. But we have failed to recognize the significance of consumption pattern.
"In any economy, consumer preferences and demand constitute the bedrock, which influence the production decisions of producers, since consumer's satisfaction is the major target of producers if they are to stay in business. The much talked about value addition in agriculture is founded on the preferences and demand of consumers," he noted.
Chairman of the Professorial lecture and Vice Chancellor Bayero University, Kano, Sagir Adamu Abbas explained that the lecture series are designed to enable professors showcase the output and relevant of their research findings.
Mr Sagir who expressed satisfaction on the 46 edition of the professorial lecture posited that the presentation will add value to policy implementation on agriculture and improve body of knowledge.
Army confirm arrest of 13 suspected 'Boko HARAM' terrorists in Kano
Nasiru Yusuf
The Nigerian Army has confirmed the arrest of 13 Boko Haram suspects in Hotoro quarters, Tarauni local government area, Kano state.

KANO FOCUS reports that the army spokesperson, Mohammed Yerima, confirmed this in a statement on Sunday evening.
According to statement the suspects were arrested by troops of the 3 brigade of Nigerian Army based in Kano.
Read the full statement below.
In an ongoing effort to flush out all forms of criminality within its Area of Responsibility, troops of 3 Brigade Nigerian Army have arrested 13 suspected Boko Haram terrorists around Filin Lazio, Hotoro axis of Kano State on Saturday 8 May 2021.
The ongoing operations is predicated on the need to apprehend criminals who may want to hibernate in any part of Kano State.
The general public especially residents of Filin Lazio Hotoro, are enjoined to go about their lawful businesses as security forces are on top of the situation.
The Nigerian Army wishes to use this medium to appeal to the peace loving people of Kano State to maintain high level of vigilance and continue to report suspected movement of strange individuals or groups in their environment to the relevant security agencies for prompt action.
Mohammed Yerima
Brigadier General
Director Army Public Relations
9 May 2021
NCC to Balance Competition with Disruptive Technologies for Sustainable Telecoms Growth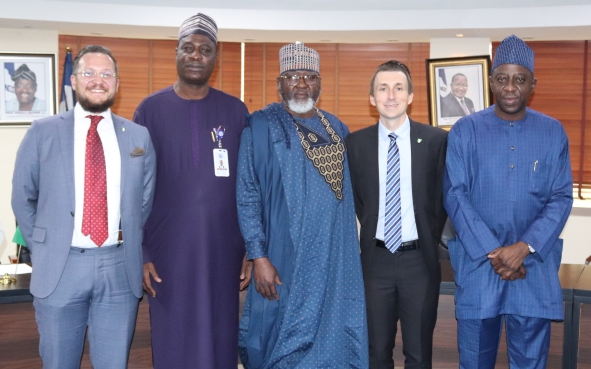 Nasiru Yusuf
The Nigerian Communications Commission (NCC) has emphasised that in light of disruption in the technology world, it is keen on balancing healthy competition with entry of disruptive technologies to ensure sustainable telecoms industry growth and development in Nigeria.
KANO FOCUS reports that  the Executive Vice Chairman (EVC) of NCC, Umar Garba Danbatta, stated this during a presentation to the Commission by a delegation from SpaceX, an American aerospace manufacturer and space transportations services company, in Abuja on Thursday.
A statement sent to KANO FOCUS by commission's spokesperson Ikechukwu Adinde on Friday explained that SpaceX is in the process of launching a low-earth orbiting (LOE) constellation of satellites to provide low latency, high bandwidths Internet to all corners of the globe and has identified Nigeria as a critical market.
It recalled that SpaceX has been in discussion with NCC virtually over the past several months to begin the process of pursuing all necessary licenses to bring Starlink, its satellite-based broadband services to Nigeria.
"Having made substantial progress in the discussion, the Commission granted SpaceX's request for a face-to-face discussion to gain better insights on the prospects of their proposal.
"Led by SpaceX's Starlink Market Access Director for Africa, Ryan Goodnight and supported by the company's consultant, Levin Born, the company provided an overview of its plans, expectations, licensing requests and deployment phases during the meeting," the statement said.
After the presentation by SpaceX team, the Executive Commissioner, Technical Services, NCC, Ubale Maska, who stood in for the EVC, said NCC will work on necessary modalities to ensure that it balances the need for healthy competition vis-a-vis the entry of new technologies, in order to protect all industry stakeholders.
"As the regulator of a highly dynamic sector in Nigeria, the Commission is conscious of the need to ensure that our regulatory actions are anchored on national interest. We have listened to your presentation and we will review it vis-à-vis our regulatory direction of ensuring effective and a sustainable telecoms ecosystem where a licensee's operational model does not dampen healthy competition among other licensees," Maska told the SpaceX delegation.
Maska further stated that the Commission is interested in making necessary regulatory efforts to drive the coverage of rural, unserved and underserved areas of the country through the accomplishments of the lofty targets contained in the Nigerian National Broadband Plan (NNBP), 2020-2025. He noted that the plan's target of 70 per cent broadband penetration target, covering 90 per cent of the population by 2025 is also in line with government expectations in the National Digital Economy Policy and Strategy (NDEPS), 2010-2030.
Other Senior Management staff of the Commission, at the briefing include the Executive Commissioner, Stakeholder Management, Adeleke Adewolu; Director, Licensing and Authorisation, Mohammed Babajika; Director, Technical Standards and Network Integrity, Bako Wakil; Director, New Media and Information Security, Dr. Haru Alhassan and Director, Spectrum Administration, Oluwatoyin Asaju, among others.
The statement added that "Section 70 (2) of the Nigerian Communications Act (NCA), 2003, empowers the Commission to regulate the provision and use of all satellite communications services and networks, in whole or in part within Nigeria or on a ship or aircraft registered in Nigeria.
"This is for the purpose of ensuring a well-developed and organised satellite communications market with appropriate legal framework that meets international best practices, encourages innovation, promotes competition and guarantees public safety in the rendering of commercial satellite services."
L-R: Consultant to SpaceX, Levin Born; Director, Spectrum Administration, Nigerian Communications Commission (NCC), Oluwatoyin Asaju; Executive Commissioner, Technical Services, NCC, Ubale Maska; SpaceX's Starlink Market Access Director for Africa, Ryan Goodnight and Executive Commissioner, Stakeholder Management, Adeleke Adewolu, during the SpaceX's presentation to the Commission in Abuja.
Yamadawa community foils armed robbery attack, kill suspect
Yamadawa community foils armed robbery attack, kill suspect

Yamadawa community in Kano metropolis have foiled armed robbery attack in the late hours Thursday which led to the arrest of two suspects.
KANO FOCUS  eye witness in the area told journalists that on Thursday around 11 pm two armed robbery suspects have attacked a resident in front of his house at Yamadawa Quarters, Gwale local government area, Kano State and attempted to snatch his Toyota Corolla Motor Vehicle.
He said upon alighting from the car, the victim used car door and knocked down one of the armed robbery suspects and took to his heels shouting at the top of his voice, which attracted the attention of members of the community.
According to the eyewitness on realizing their plan had failed, the armed robbers started shooting sprodically and snatched tricycle in an attempt to escape.
He added that the residents overpowered them and beat them handed them over to the police.
The police spokesperson in Kano Abdullahi Kiyawa confirmed the incident in a statement issued on Thursday evening.
Mr Kiyawa revealed around 11 pm on Wednesday, police received a distress call on armed robbery at Yamadawa quarters.
He said on the receipt of the report, teams of policemen mobilized to the area where they arrested the suspects with the help of the community.
The police spokesperson identified the suspects as 24 year old Abdullahi Ismail of Sani Mainagge Quarters and 24 years Abubakar Hussein of Kankara local government area, Katsina state.
"Suspects sustained various injuries on their body and were rushed to Murtala Mohammed Specialist hospital Kano for treatment. Abdullahi Isma'il was confirmed dead by a medical Doctor.
"On preliminary Investigation, the other suspect, Abubakar Hussain confessed that, they attacked the victim with intent to rob him of his Motor Vehicle," he said.
Mr Kiyawa said the Commissioner of Police, Sama'ila Dikko, has ordered transfer of the case to the Criminal Investigation Department of the Command for discreet investigation.